This easy Oatmeal Cookies recipe works every time. Soft and chewy, these are the best simple oat cookies around. Perfect for lunch boxes and snacks.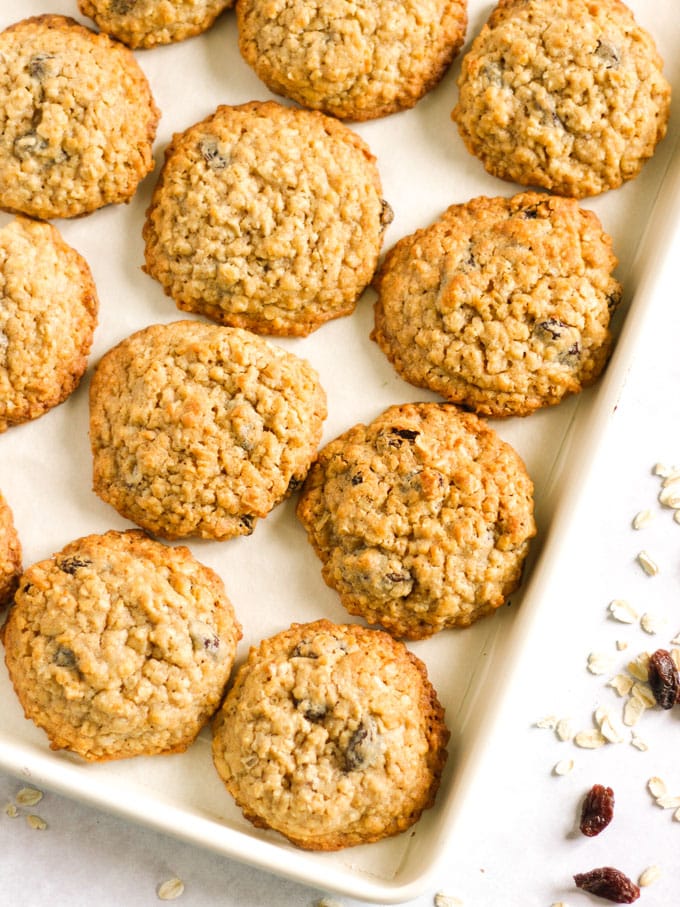 Look, I'm not going to tell you that a cookie is healthy..
BUT. If you're going to make a cookie, and it's going to have oats in, that's MORE healthy right?!
Here's why I think you'll love them:
✅ No time to bake? These are done in half an hour.
✅ A little healthier than your standard cookie.
✅ Fail safe, no spreading, they work every time.
These Oatmeal Cookies are a favourite after school snack here (or mid morning, or lunch or any time in fact..) They are a little crispy on the outside, pillowy soft inside and best news yet, they work every flipping time.
My children call them Flapjack Cookies (they've kind of got that flapjack thing going on), I call them Chewy Oat Cookies.
Whatever you want to call them, make them and I promise, you'll be super impressed by your baking skills.
(Harri wouldn't stop eating them long enough for me to take photos!)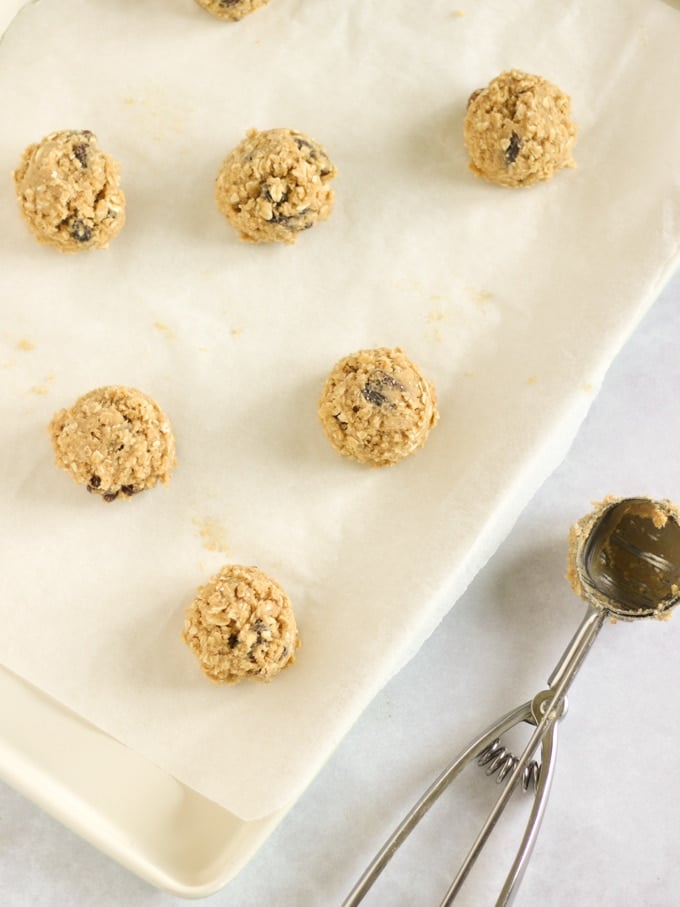 How to make Oatmeal Cookies:
Beat your butter and sugar together (either in a stand mixer, with a hand mixer or by hand). Then add in the egg and vanilla extract.
Mix in the flour, cinnamon, baking powder, salt, oats and raisins. Beat the mixture until it a stiff dough forms.
Scoop out the mixture into balls.
TOP TIP! To make sure that your cookies are of even sizing I use an ice cream scoop. It's my favourite cookie, cupcake and muffin baking trick and kids LOVE using a scoop too.
Place on to a baking paper lined baking tray and bake for 12 – 14 minutes.
TOP TIP: Leave plenty of space between your cookies on the baking tray, I wouldn't put more than six on a full size baking sheet.
Ingredients used to make Oatmeal Cookies:
Unsalted butter – Make sure to bring your butter to room temperature before using, I prefer to use unsalted butter and add salt to the recipe to ensure the flavour is just right.
Oatmeal (oats) – Generally found in two or even three types: jumbo, porridge (rolled oats) slightly smaller sightly bashed, and instant oats. Instant oats are really not suitable. I used 100g rolled oats and 25g of jumbo oats for extra bite and texture. It's fine to use all rolled oats, don't buy jumbo if you haven't got them. You could use ALL jumbo but the cookies will be drier and more crumbly.
Brown sugar – I have used soft light brown sugar to give a soft, chewy texture and light caramel flavour.
Vanilla extract – Be sure to use vanilla extract, not essence. It's a much better, natural flavour.
Raisins – These are Oatmeal Raisin Cookies, you can leave the raisins out it you prefer, but they do transform into sweet delicious nuggets when cooked. Be sure to use them from a fresh packet, not an ancient dried out pack at the back of the cupboard!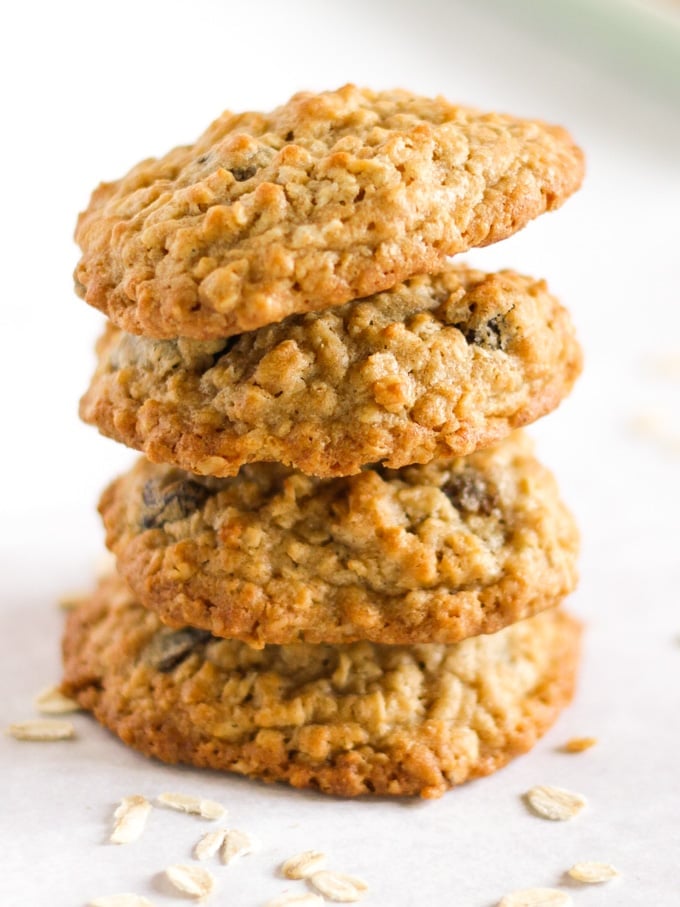 Tips for making Oatmeal Cookies:
Use an ice cream scoop to measure out each dollop of mixture.
Use baking paper (not greaseproof paper) to line your baking tray. It means you'll have no sticking problems.
You can also freeze the dough ahead of time and bake on the day you need them. The dough will keep for around a month in the freezer.
Variations on the Oatmeal Cookies recipe:
Chocolate Chip Oatmeal Cookies – Replace the raisins with Chocolate Chips.
Banana Oatmeal Cookies – Add a very ripe, peeled and mashed banana to the recipe with the egg.
Peanut Butter Oatmeal Cookies – Omit the raisins and add 75g of Chunky Peanut Butter.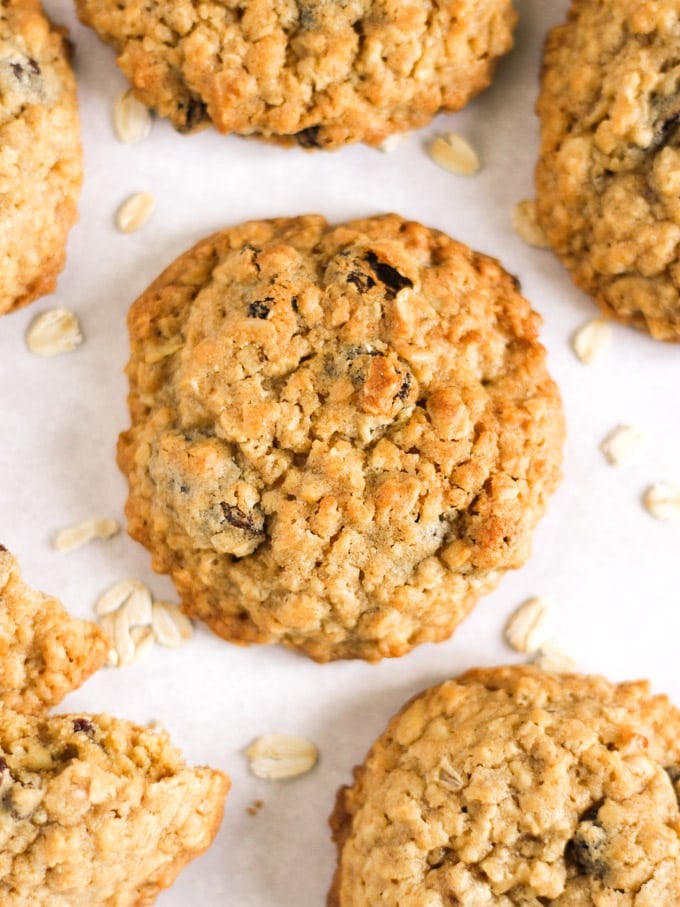 Cookies ticked your fancy…? HAVE A LOOK AT SOME MORE OF MY SWEET TREATS:
Hope you enjoy this recipe as much as we do. I'd love to know how you got on and what you thought of it if you make it. Give me feedback by rating the recipe and leave me a comment below if you do.
If you enjoyed this recipe, subscribe to my newsletter for weekly meal plans, and follow me on Facebook, Instagram and Pinterest for lots of chat, recipes and life updates!
How to make this Oatmeal Cookie recipe:
Oatmeal Cookies
Ingredients
100

g

Butter

150

g

Brown Sugar

1

Egg

1

tsp

Vanilla Extract

100

g

Plain flour

1/2

tsp

Ground Cinnamon

1/2

tsp

Baking Powder

1/2

tsp

Salt

125

g

Oats

75

g

Raisins
Instructions
Preheat the oven to 200C.

Beat the butter and sugar together until light and fluffy.


Beat in the egg and add vanilla extract until well combined.

Add the remaining ingredients and stir well.

Form the dough into 12 equal balls.


Bake on a lined baking for for 12 - 14 minutes depending on your oven.


Allow to cool on the baking sheet until they are firm enough to handle.
Nutrition Facts
Oatmeal Cookies
Amount per Serving
% Daily Value*
* Percent Daily Values are based on a 2000 calorie diet.