This post may contain affiliate links.
Cadbury's Creme Egg Cupcakes Recipe – The best Easter bake! My favourite recipe along with 5 must know TOP TIPS for making the perfect Creme Egg Cupcake. Light and fluffy chocolate cupcakes, filled with a surprise Easter treat and topped with swirled buttercream icing.
Creme eggs are a total "absence makes the heart grow fonder" for me. I don't actually love them or even like them for 10 months of the year. What's there to love? Sickly sweet, fondanty filling. Meh.
Then, in March every year. I cannot stop myself from compulsively buying them whenever I see them (which is a lot). Which of course led to my No Bake Creme Egg Cheesecake Recipe. Creme Egg Cupcakes were inevitable!
So, this crazed confectionery hoarding goes on until Easter Sunday, when I look at them and think, "what was I thinking?!"
But love them or loathe them, Creme Egg Cupcakes are genius. Done right, they add a pocket of gooey, chocolatey goodness inside a parcel your cake.
They somehow seem less less eye-wateringly sweet when they are inside a cupcake (I know, that makes no sense to me either but I promise it's true). They melt just enough to add a kind of truffle inside the cake.

So, whether you love Creme Eggs or loathe them or if you have a short term love affair with them like I do. Try them in a Creme Egg Cupcake, it's the best place for them.
Here are my tips for making perfect Creme Egg Cupcakes every time:
When you putting whole Creme Eggs into the cupcakes (or any other bake) if you can try to make sure they are completely covered they will survive much better. If they aren't protected by batter, they melt too quickly and collapse.
Always, always freeze your eggs before adding to the batter. Overnight is best if you have the time. I just keep some, in their wrapping, in the freezer at Easter time ready for use whenever the urge takes me.
In cupcakes, lay the mini eggs on their side, rather than pointing up. It means they they wobble about less when being put into the oven and they are also easier to cover with the batter.
Make sure that you're using a thick batter (like this one) to hold the eggs in place. Some recipes that are more like a muffin mixture, are too runny to hold the eggs where they need to be.
Try popping cut up eggs on top of your bakes for the last 10 minutes of cooking for a different effect. (Don't freeze them for this as you won't be able to cut them). They have a very different texture when baked like that, but also look meltingly good.
My top buys to use in the PERFECT Creme Egg Cupcakes:
Hope you enjoy this recipe as much as we do. I'd love to know how you got on and what you thought of it if you make this Creme Egg Cupcake recipe. Please rate the recipe and leave me a comment below if you do.
Also, if you fancy showing me a photo by tagging me on Instagram (@tamingtwins) I LOVE to see your creations.
Fancy some other cupcake recipes?
How to make the PERFECT Creme Egg Cupcakes: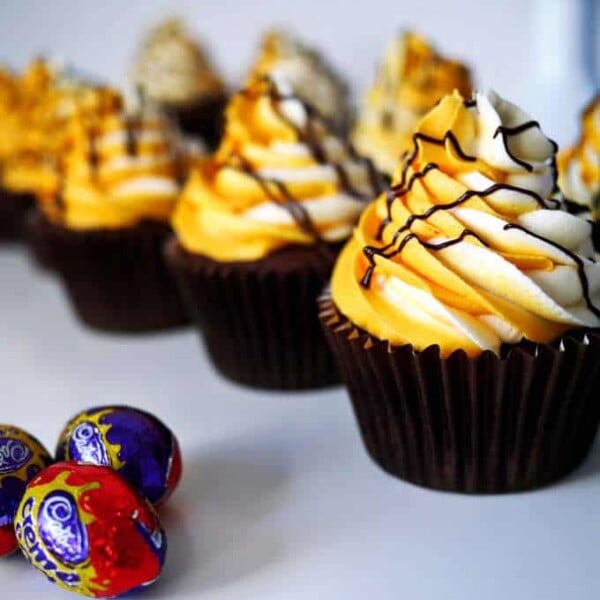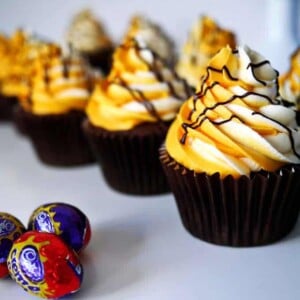 Cadbury Creme Egg Cupcakes
Cadbury's Creme Egg Cupcakes - The best Easter bake! My favourite recipe along with 5 must know TOP TIPS for making the perfect Creme Egg Cupcake.
Ingredients
150

g

Caster Sugar

150

g

Unsalted butter

,

softened

3

Free range eggs

,

medium size

1

Tsp

vanilla extract

120

g

Self-raising flour

30

g

Good quality cocoa

,

like Green & Blacks

12

Mini Cadbury Creme Eggs
For the icing:
175

g

Unsalted butter

350

g

Icing sugar

Egg yellow gel food colouring

75

g

Dark chocolate
You'll also need:
12

x Brown muffin cases

2

D Piping nozzle

2

x Disposable piping bags
Instructions
Freeze your mini Creme Eggs for a couple of hours, or overnight.

Pre-heat your oven to 180C.

Beat the caster sugar and butter until light and pale.

Beat in the eggs one at a time, followed by the vanilla extract, don't worry if the mixture begins to look a little curdled.

Mix in the flour and cocoa. If you've been using a mixer, do this bit by hand with a spoon or spatula.

Put a spoonful of batter into each muffin case, in a muffin tray.

Unwrap your Creme Eggs and place one, laying on it's side, in the middle of each muffin case, on top of the batter.

Top with the rest of the batter and with a spoon, gentle move the batter in the cases, so that you can't see any of the frozen eggs and they are totally covered with batter.

Bake for about 20 minutes or until they are slightly bouncy to the touch. You might need to adjust the time by 2 – 3 minutes either way depending on your oven.

Meanwhile make your icing, beat your butter until it's pale, light and fluffy.

Beat in your icing sugar followed by a teaspoon or two of boiling water to soften and lighten the texture of the buttercream.

Split the icing between two bowls and colour one using your Egg Yellow colour. Use just the tip of a knife and add more colouring as you go until you get the shade you fancy.

When your cupcakes are completely cold, put your 2D nozzle into a piping bag, then spoon in your white buttercream and your yellow icing. Spoon them in next to each other, so one goes down one side of the bag and the other down the other side.

Have a little practise squeeze until you get a two tone icing coming through, then pipe swirls onto your cakes.

Melt your chocolate and allow to cool. Pop into a disposable piping bag, snip 2 - 3mm off the end of the bag and use it to drizzle your cooled chocolate in squiggles over the top.
Nutrition
Calories:
451
kcal
Carbohydrates:
53
g
Protein:
3
g
Fat:
26
g
Saturated Fat:
16
g
Cholesterol:
99
mg
Sodium:
21
mg
Potassium:
114
mg
Fiber:
1
g
Sugar:
42
g
Vitamin A:
735
IU
Calcium:
22
mg
Iron:
1.4
mg
Nutrition information is automatically calculated, so should only be used as an approximation.