An oldie but a goodie… This super easy Tuna Pasta Bake recipe is an absolute classic. Not only is it amazingly budget-friendly, it's also made up of those pantry basics for ultra dinner convenience for the whole family.
Straight out of the store cupboard and into the oven for a comforting, good-for-the-soul, no-nonsense dish. Satisfaction all the way.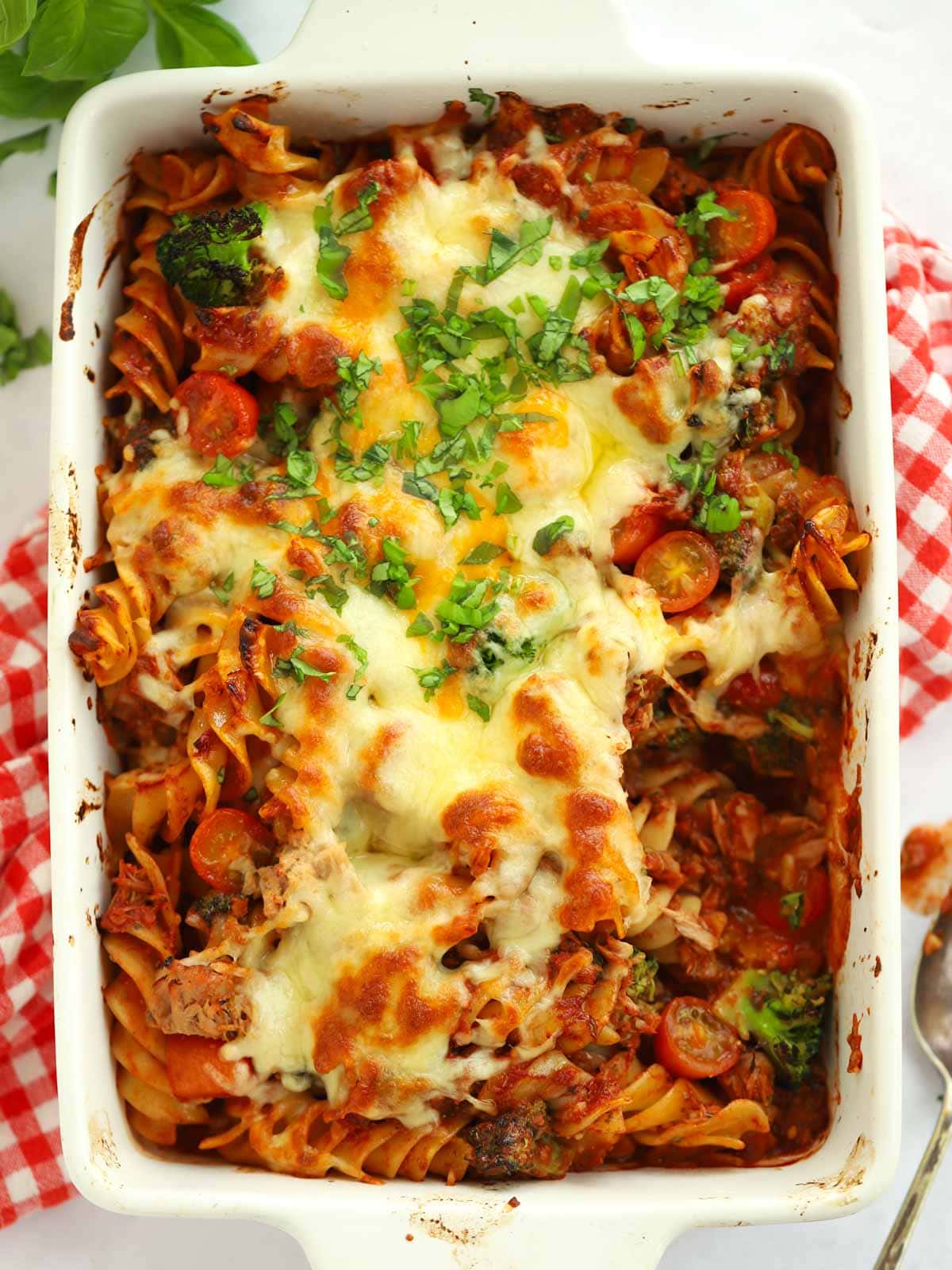 I'm not kidding when I say that this Tuna Pasta Bake recipe is the pinnacle of quick and easy midweek favourites. This has been a regular go-to dish on many a weekly meal plan, and my love of it started when my lovely mum discovered pasta (many moons ago)!
Everyone in our house loves it, which is good news for me because it's so bloomin' easy to make. When I get requests to make a healthy Tuna and Broccoli Pasta Bake, I know it's going to be a stress-free dinner time.
It has so much flavour without the calories, the broccoli brings a delicious and vitamin-packed addition, and the tomato sauce and cheesy Tuna Pasta Bake topping just finishes it off with that nourishing goodness that warms the cockles.

A perfect go-to pasta recipe you'll be making without your eyes closed in no time!
---
Why you'll love this recipe
⭐️ Inexpensive, simple store cupboard ingredients
⭐️ Comforting and delicious
⭐️ SO easy to make!
---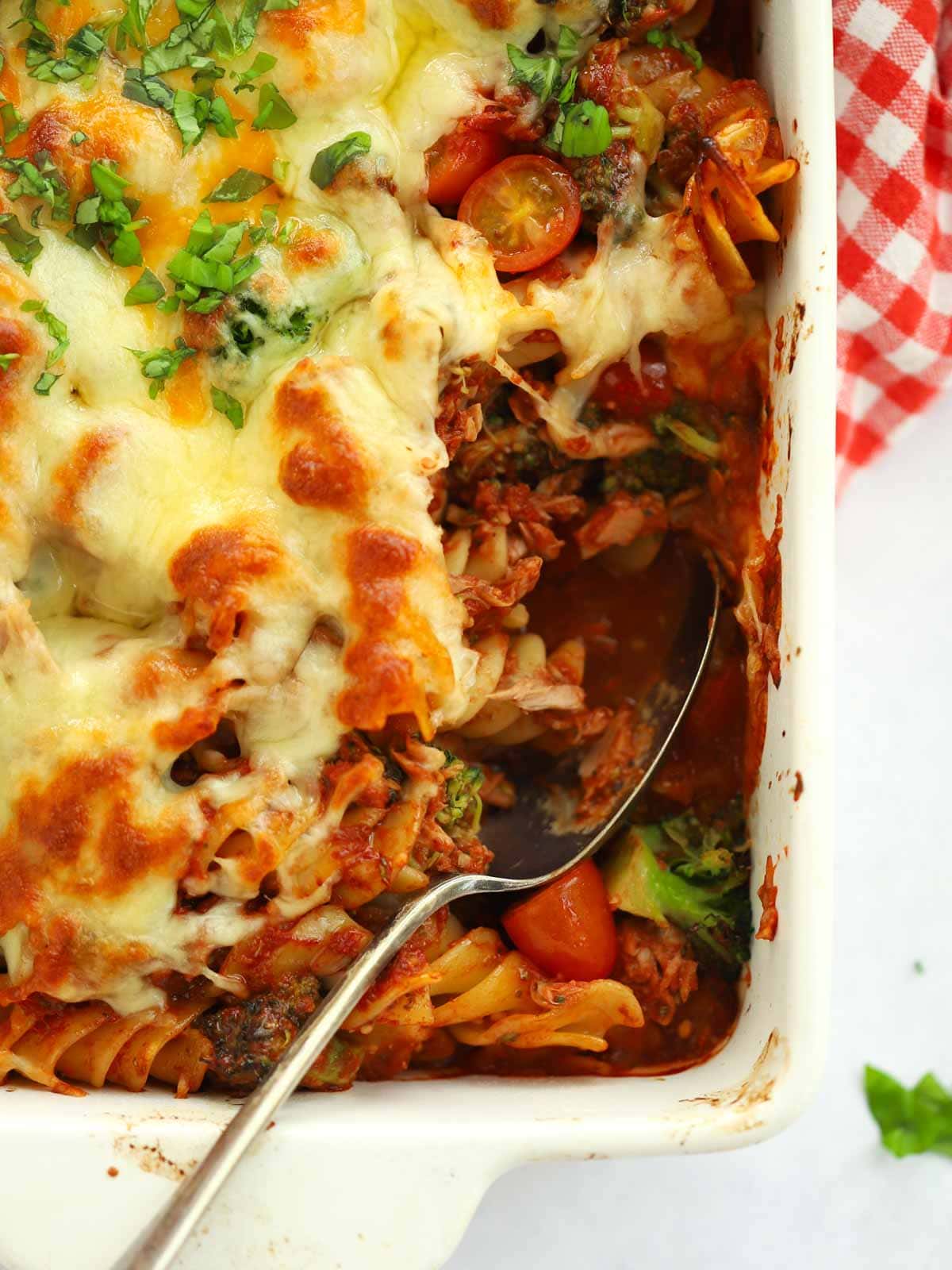 Variations of this Tuna Pasta Bake recipe
If you'd like to mix this up a little, you could try:
Tuna Pasta with Crisps – I know… RETRO! One of my friends swears by this. Simply crumble a bag of smashed crisps with your cheese for added crunchy texture.
Spicy Tuna Pasta Bake – Add 1tsp of dried chilli flakes (or more if you dare!) to the tomato sauce.
Breadcrumbs – Add 4tbsp of breadcrumbs when you sprinkle your cheese on top for added crunch.
Tuna Pasta Bake WITHOUT cheese – Fee free to omit the cheese from the top if you prefer. (You could add a few tablespoons of breadcrumbs instead.)
Higher fibre – Replace your normal pasta with wholemeal pasta to up the fibre content of your dish. Use the same quantities.
Other pasta recipes with fish
My other favourite fishy pasta dishes are my Prawn Pasta with Creamy Garlic Sauce and my Smoked Salmon Pasta. Not forgetting the very popular classic of Tuna Pasta Salad, of course!
Tuna Pasta Bake Ingredients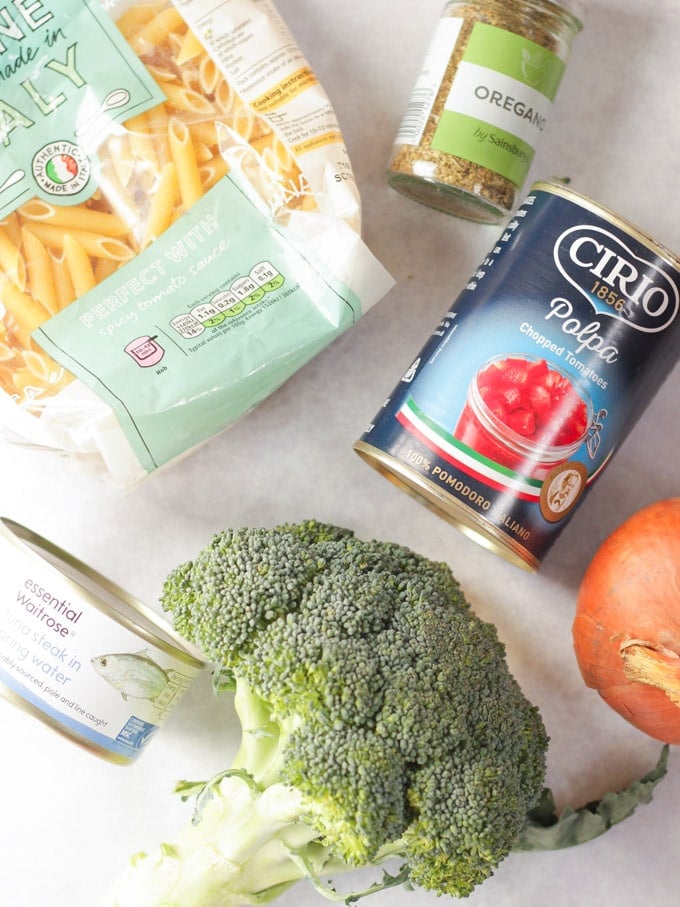 Pasta – Your preference
Broccoli
Passata
Garlic granules
Tomato puree
Dried oregano
Balsamic vinegar
Salt and freshly ground black pepper
Tinned tuna
Cherry tomatoes
Mature cheddar cheese – Or another cheese, to serve
---
How to make Baked Tuna Pasta
1. Cook the pasta and add the broccoli into the water when it's almost cooked. Drain, add the sauce, tuna and tomatoes and mix well.
2. Pour everything into a roasting dish, sprinkle cheese on top and pop it in a preheated oven for about 15 minutes until golden brown on top.
---
Substitutions
Veggies – If you don't have broccoli, add another vegetable you think might work. Sweetcorn or peppers would be nice.
Leftovers
In the fridge You can keep this recipe in the fridge for up to 3 days. You can either reheat this thoroughly in the microwave or in the oven, or eat it cold. It's an ideal lunchbox filler!
In the freezer You can but I wouldn't recommend it as pasta is never at its best once it's been defrosted. If you really want to freeze it, make sure you slightly undercook the pasta to begin with, so you don't then overcook it when you're reheating it.
Top tips
Grilling
If you're making this dish to serve straight away, pop it under the grill to melt the cheese instead of the oven. It'll be quicker.
Make in advance
If you want to make this ahead of time to save time later, you can. Just cook it until it's time to go in the oven, then you can bake it to heat through and melt the cheese on top when you're ready. (180C for about 20 minutes.)
You can do this with my other pasta bake recipes too: Meatball Pasta Bake, Chicken and Bacon Pasta Bake, Spinach and Ricotta Pasta Bake.
Creamy Tuna Pasta Bake
To get a more creamy sauce, add 100g of cream cheese or creme fraiche to the tomato sauce at the end of cooking when you add it to the pasta, and stir well.
FAQ
Do you pre-boil the pasta for Tuna Pasta Bake?
Yes, my recipe does involve pre-boiling the pasta beforehand. I know some pasta bake recipes don't but trust me on this one.

I have tried and tested this recipe to make sure it's just right, and this way gets the best results by far.
Let me know how you got on and what you thought of these recipes. Please rate the recipe using the ⭐️ below.
Also I'd LOVE to see your cooking creations. If you'd like to share yours with me, you can tag me on Instagram (@tamingtwins).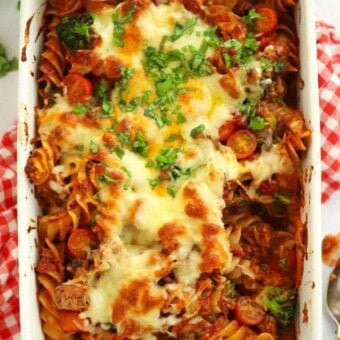 Easiest Ever Tuna Pasta Bake Recipe
There's a reason this is the ultimate Tuna Pasta Bake recipe. A budget-friendly classic that's super easy, healthy and good for the soul.
Ingredients
300

g

Dried Pasta

See notes.

200

g

Broccoli

One medium-sized head of broccoli
Sauce ingredients:
500

g

Passata

2

tsp

Garlic granules

3

tbsp

Tomato puree

1

tbsp

Dried oregano

2

tbsp

Balsamic vinegar

Salt and freshly ground black pepper
To serve:
200

g

Tinned tuna

Two regular-sized tins, drained

300

g

Cherry tomatoes

Halved

150

g

Mature cheddar cheese

Grated
Instructions
Preheat the oven to 200C.

Cook the pasta according to pack instructions. Add the broccoli into the boiling water with the pasta about 4 minutes before the end of its cooking time. 

Meanwhile, mix the sauce ingredients in a bowl or jug.

Drain the pasta, add the sauce, the drained tuna and cherry tomatoes and mix well.

Pop into a roasting dish with the cheese on top and pop into the oven for 15 minutes or until the cheese is golden.
Notes
Pasta shapes
Use whichever pasta everyone loves the most!
Nutrition (per serving)
Calories:
574
kcal
Carbohydrates:
79
g
Protein:
33
g
Fat:
15
g
Saturated Fat:
8
g
Cholesterol:
56
mg
Sodium:
425
mg
Potassium:
1250
mg
Fiber:
7
g
Sugar:
13
g
Vitamin A:
1802
IU
Vitamin C:
76
mg
Calcium:
370
mg
Iron:
6
mg
Made it? Tag me!
Tag @TamingTwins so we can admire your make ⭐️