A super simple cheat's version of Banoffee Pie. Your new go to simple dessert recipe!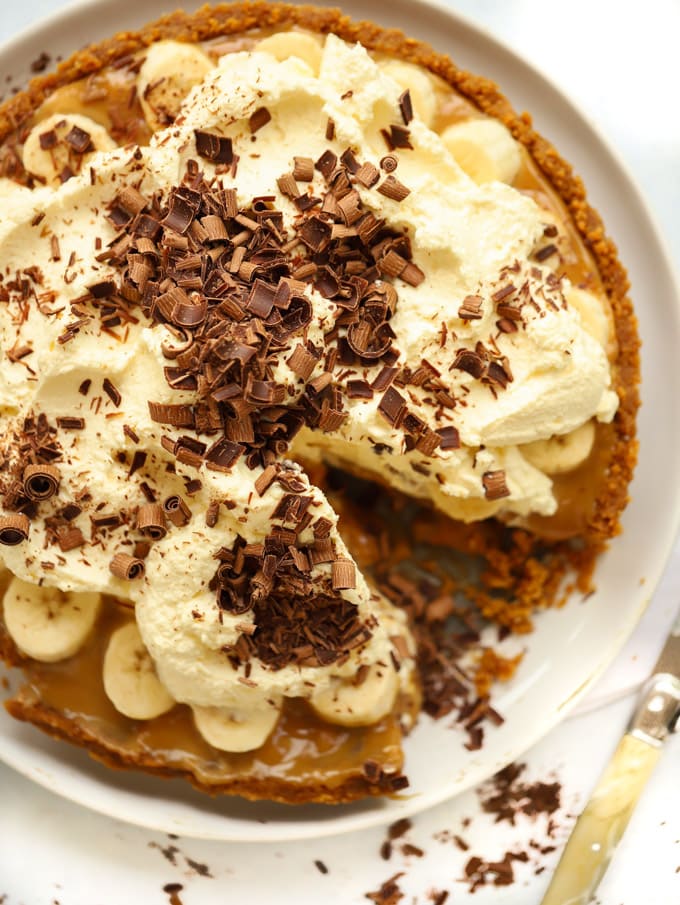 This is my go to, I have no time to spare, pudding that everyone loves. There's just 5 ingredients and 15 minutes between you and this Banoffee Pie dessert. Dangerous right?! 🤣
Just to get one thing straight from the off, this is not a neat, take a tidy slice kind of pie. It's soft and delicious and spoonable.
Maybe not to everyone's taste if you like neat and precise, but I'm all about the shortcuts where possible. Not having to boil sugar and make my own caramel is DEFINITELY a good shortcut for me.
You'll love this Banoffee Pie recipe because:

✅ Made in under 15 minutes.
✅ Looks super impressive.
✅ Just 5 ingredients!
Some top tips for making the Banoffee Pie recipe:
Use two cans of caramel instead of one if you want a whopper of a pie.
Toss the banana slices in lemon juice before putting on the pie if you don't want them to go brown.
Add vanilla and/or icing sugar to your cream before whipping for added flavour.
Grate chocolate, or use a vegetable peeler to make curls, or add a sprinkle of cocoa to top the pie.
Why is my banoffee pie soft and a bit collapsed?!
This recipe uses caramel from a can, which is made in exactly the same way you'd make it at home. But saves time and faff. It's a great shortcut but it is not as solid.
I accept this as a pay off, that this pie will need to be semi scooped rather than sliced, and I am a-okay with that as it's so quick.
If you really want it to be more solid, you can freeze the base (without bananas or cream) for an hour before serving.
What dish should I use for the Banoffee Pie?
Two options here:
Use a loose bottomed tart dish as I did and attempt to remove it from the tin. HOWEVER, you do risk the sides falling down under the weight of the caramel (what a way to go 😆). It's easier to slice this way. I don't bother trying to remove the bottom of the tin before serving.
Use a pyrex type pie dish. This is much more forgiving if the side of the pie collapse BUT is harder to slice to serve. If you don't mind 'dolloped' servings, this is all good.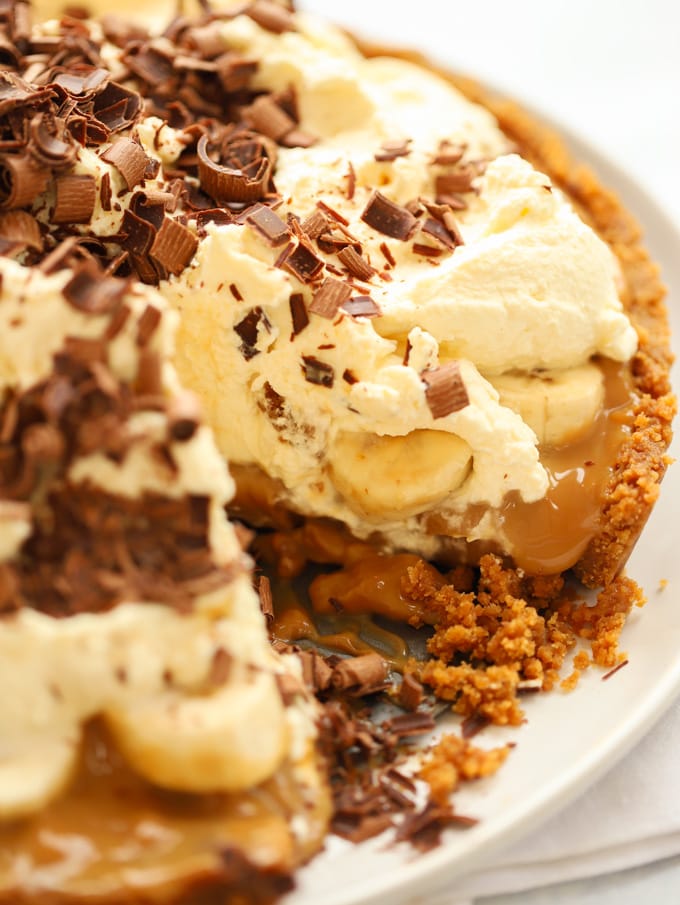 Fancy some other quick dessert inspiration?
Hope you enjoy this recipe as much as we do. I'd love to know how you got on and what you thought of it if you make this Easy Banoffee Pie recipe. Please rate the recipe using the ⭐️ by the recipe.
Also, if you'd like to show me a photo by tagging me on Instagram (@tamingtwins) I LOVE to see your creations.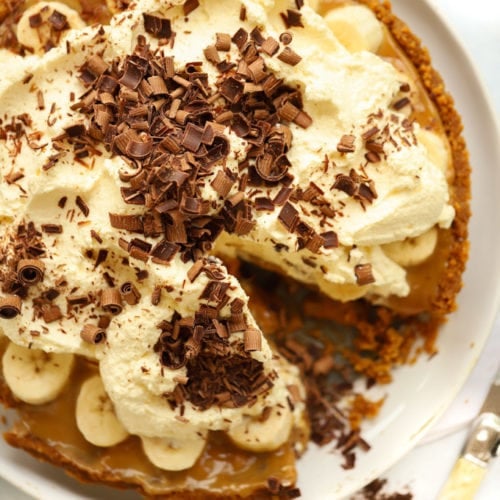 Easy Banoffee Pie
A super simple cheat's version of Banoffee Pie. Your new go to simple dessert recipe!
Ingredients
300

g

Gingernut Biscuits

Crushed (See note 1)

100

g

Butter

Melted (See note 2)

397

g

Can of Caramel

(See note 3)

3

Bananas

Peeled and slices (See note 4)

300

ml

Double cream

Whipped (See note 5)
Optional
2

tsp

Vanilla extract

(See note 6)

2

tbsp

Icing sugar

(See note 6)

100

g

Dark chocolate

(See note 7)
Instructions
Mix the crushed biscuits with the melted butter and press firmly into a tin using the back of a spoon. If you have time, chill for 30 minutes.

Spoon the caramel into the biscuit base and smooth over. If you have time, chill or pop into the freezer for an hour or until you are ready to serve.

Top with bananas, then the whipped cream (mixed with vanilla and icing sugar if you are using).

Add chocolate sprinkles if you're using them and serve.
Notes
Note 1 - Gingernut Biscuits
You can use any other type of dry biscuit you fancy, but you may need to adjust the amount of butter to get the right 'sandy' consistency as some will be more 'damp' than others. Also, the ginger flavour does really add some additional taste which works so well!
Note 2 - Butter
You can use unsalted or salted depending on what you have. I actually like salted in this to add a savoury element. If you have used a food processor to blitz your biscuits you may need a little less butter as when they are very fine, they absorb it more.
Note 3 - Caramel
Be sure to buy the canned CARAMEL not condensed milk! Also, you can make this recipe with either one OR two cans of caramel, depending on how large you want the end result to be. 
Note 4 - Bananas
If you want to stop your bananas going brown and sticky, and also add a 'tang' you can toss them in a little lemon juice before putting on top of the pie.
Note 5 - Double Cream
Whip until firm but still floppy and soft. It should hold it's shape but not be starting to look 'lumpy'.
Note 6 - Vanilla and Icing Sugar
You can add these to the cream before whipping if you have them. They add another flavour element but they aren't vital.
Note 7 - Chocolate
I like to finish with some dark chocolate, curled using a vegetable peeled on top. You could use sprinkles or cocoa powder if you prefer. Again, not vital but a nice touch.
Nutrition
Calories:
625
kcal
Carbohydrates:
81
g
Protein:
5
g
Fat:
33
g
Saturated Fat:
19
g
Cholesterol:
79
mg
Sodium:
468
mg
Potassium:
447
mg
Fiber:
4
g
Sugar:
18
g
Vitamin A:
937
IU
Vitamin C:
4
mg
Calcium:
94
mg
Iron:
4
mg
Made it? Tag me!
Tag @TamingTwins so we can admire your make ⭐️