This easy Lemon Drizzle Cake recipe is a fail safe, works every time, method. The classic bake, so simple and delicious.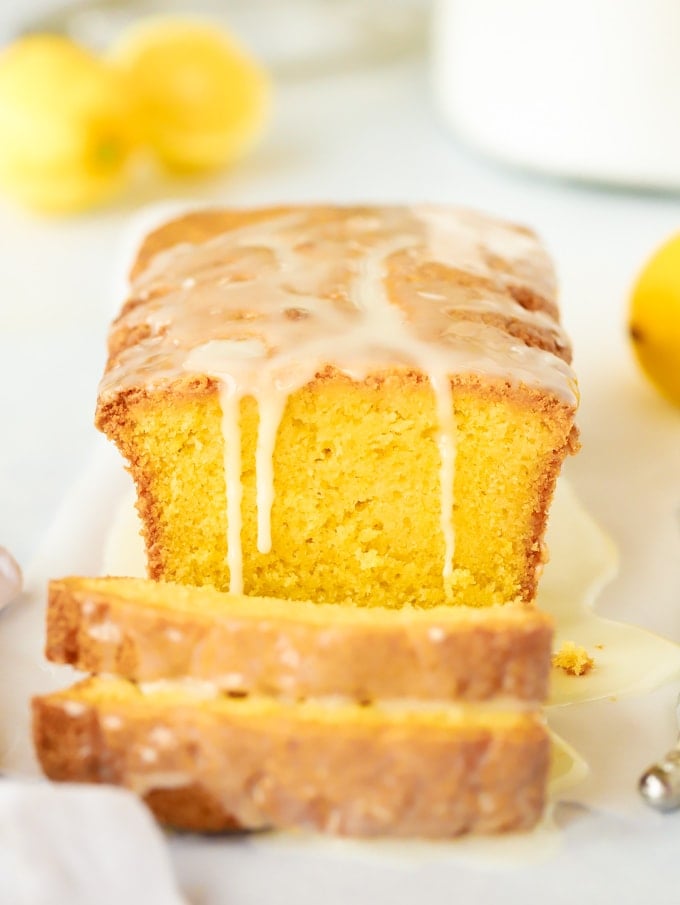 This is, without a doubt, one of our favourite cakes ever. It's easy, delicious and works every time. What more could you want from a Lemon Drizzle Cake recipe?!
Oh yes! It needs to be moist (sorry for the moist word haters out there but it is TRUE) and super zesty (lemony?! Someone find me some better words here pls where has my brain gone).
This recipe has it all in bucket loads. Whip it up in 5 minutes and brighten your week. 🍋
You'll love this Easy Lemon Drizzle Cake recipe because:

✅ Mix it up in just 5 minutes.

✅ A failsafe simple recipe.

✅ Zingy enough to brighten up the greyest day!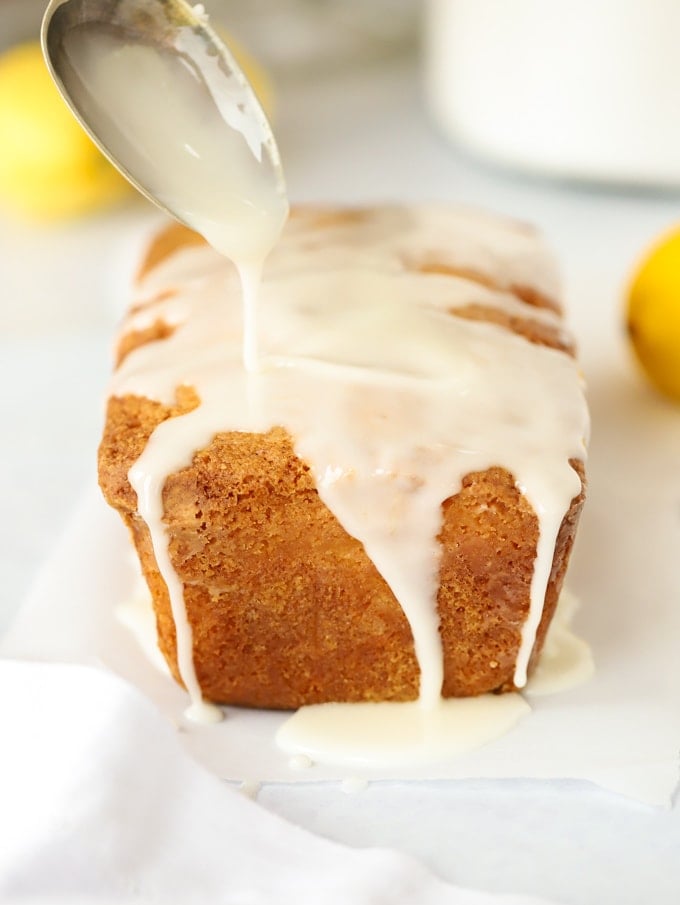 Lemon Drizzle Cake Recipe FAQs
How do I know when my Lemon Drizzle Cake is cooked?
First check the cake isn't still wobbly when you move it. If it is, put it straight back into the oven.
If it's not wobbly, go ahead and push a skewer or a sharp, thin knife into the centre of the cake. It should come out clean. Some crumbs on it are fine, but not wet cake mixture.
When you're checking your cake, just slide it out on the oven shelf, don't take it all the way out. If it's not done, you want to be able to push it back in quickly otherwise it will sink.
What's the best way to zest the lemons?
Invest in a great zester and it will change your cake making life!
I like this Microplane Zester. I've had one for years and it makes it SO easy.
Why has my lemon drizzle cake sunk?
If your cake sinks in the middle the most common reason is opening the oven door before the cake was set. Be sure not to check it before 40 minutes and even then, do it by opening the oven door and be as quick as possible.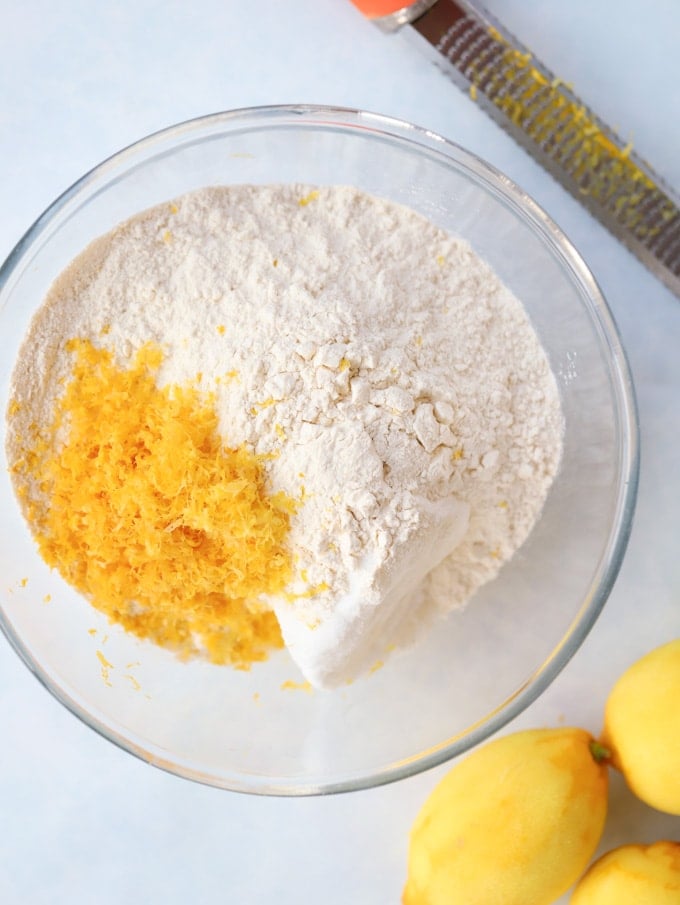 How should I store the Lemon Drizzle Cake?
Store the cake in an airtight tin or container for up to 5 days.
Don't store it in the fridge or it will become quite hard.
Can I make the cake gluten free?
Yes. Just replace the flour with a gluten free self raising flour. It may sink a little more in the middle, but it will still taste fantastic.
Can I make the cake dairy free?
Yep, just replace the butter with your normal favourite dairy free baking spread.
Which tin should I use to make Lemon Drizzle Cake?
I like to make mine in a loaf tin.
Loaf tin sizes can sometimes be very confusing, mine is technically called a 1lb tin.
This one is the perfect size: Masterclass 1lb Loaf Tin.
How do I stop my cake sticking?
Rub softened butter all around the tin and then line it with baking paper.
Be sure it's baking paper or baking parchment, NOT greaseproof paper (they are different!).
Can I add extra icing to the Lemon Drizzle?
Yes! I like to make the drizzle with the lemon juice and then use the same amount of icing sugar again but with less juice to make a thicker icing to go on top.
Double decker icing for the WIN.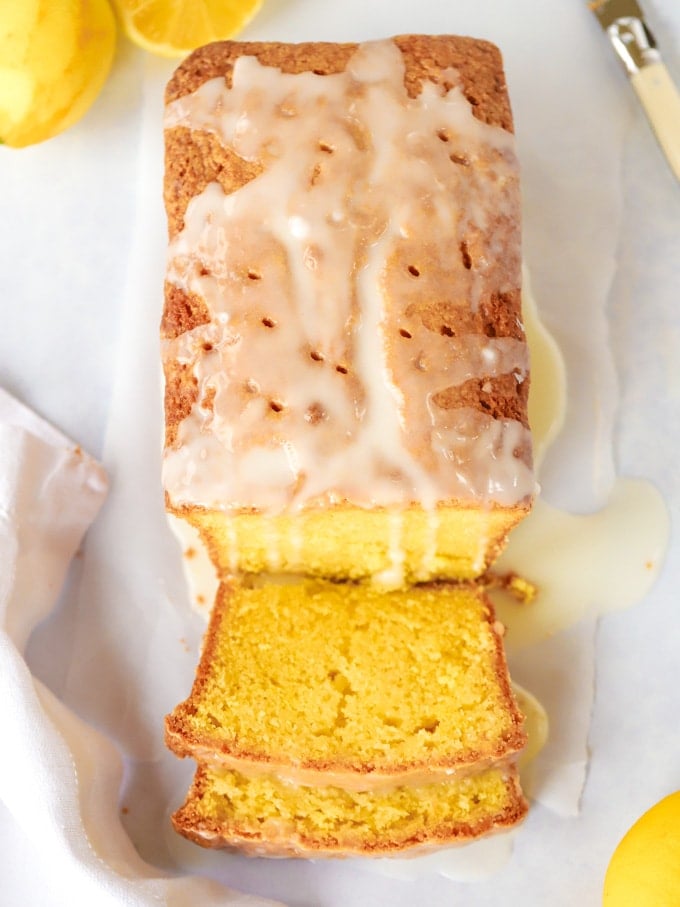 How long will the Lemon Drizzle Cake keep for?
The cake will keep in an airtight container for up to 5 days.
Can I freeze this Lemon Drizzle Cake?
Yes! Freeze wrapped in a couple of layers of greaseproof paper and defrost at room temperature.
Can you tell me the measurements for this cake in cups please?
No, sorry! Baking relies on very specific quantities to be successful and if you use cups (which measure in volume) there's such a big room for error. You're making things much harder for yourself as a baker.
Please invest in a low cost set of digital scales and see your baking transform!
Fancy more loaf cakes?
Hope you enjoy this recipe as much as we do. I'd love to know how you got on and what you thought of it if you make this recipe. Please rate the recipe using the ⭐️ by the recipe.
Also, if you'd like to show me a photo by tagging me on Instagram (
@tamingtwins
) I LOVE to see your creations.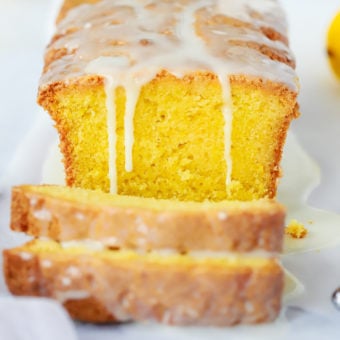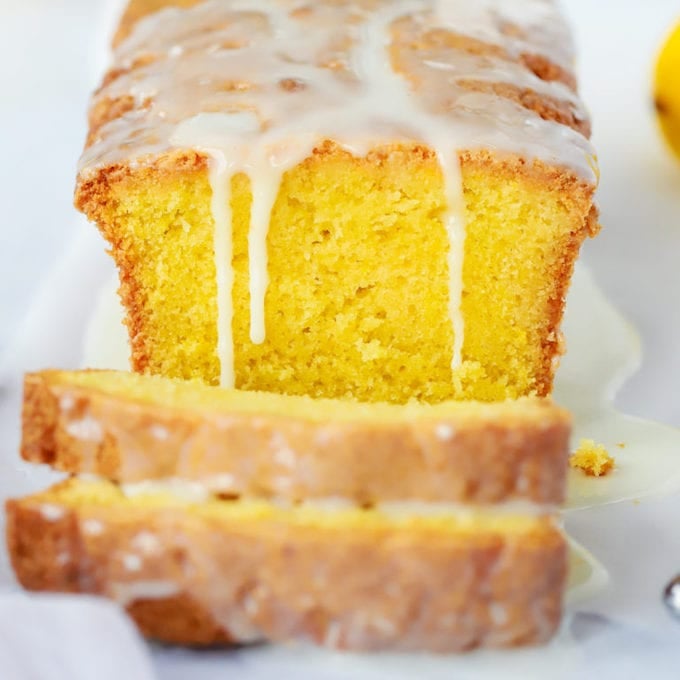 Lemon Drizzle Cake Recipe
This easy Lemon Drizzle Cakerecipe is a fail safe, works every time, method. The classic bake, so simple and delicious.
Ingredients
Cake ingredients
250

g

Unsalted butter

Plus extra for greasing your tin. See Note 1.

250

g

Caster sugar

See Note 2.

4

Eggs

Medium. See Note 3.

250

g

Self raising flour

3

Lemons

Zest only. (Reserve the zested fruit for the juice for the drizzle.) See Note 4.
Instructions
Preheat the oven to 160C and grease your loaf tin and line it with baking paper.

Put all of the cake ingredients into a large bowl and beat until smooth.

Spoon into the prepared tin and smooth out. Bake for 40 - 50 minutes or until a skewer comes out clean.
For the drizzle:
Whilst the cake is still warm in the tin, use a skewer or thin sharp knife to poke holes all over it.

Mix the icing sugar with enough of the juice of the lemons to make a thin paste. Add the liquid gradually so it stays nice and smooth. (This is normally 1 and half lemons but will depend on how big and juicy they were!)

Pour all over the cake and allow to sink in.
Notes
Note 1 - Butter
I like to use unsalted butter for baking as it's flavourless. If you only have salted it will be fine though. It's not vital. Note 2 - Caster sugar
Golden caster sugar works well here if you have it. Note 3 - Eggs
Free range please! If you want to be exact and ensure success, weigh them in their shells and they should total about 250g.  Note 4 - Lemons
If you can buy unwaxed lemons, these are best as you will be eating the zest.
Nutrition
Calories:
440
kcal
Carbohydrates:
56
g
Protein:
6
g
Fat:
22
g
Saturated Fat:
13
g
Trans Fat:
1
g
Cholesterol:
119
mg
Sodium:
29
mg
Potassium:
101
mg
Fiber:
2
g
Sugar:
36
g
Vitamin A:
727
IU
Vitamin C:
17
mg
Calcium:
28
mg
Iron:
1
mg
Made it? Tag me!
Tag @TamingTwins so we can admire your make ⭐️