Easy Banana Muffins – These simple, quick to make muffins are perfect for baking with toddlers, deliciously moist and make a yummy treat or a breakfast on the go.
(Originally published on 4th August 2015 and updated 19th March 2019)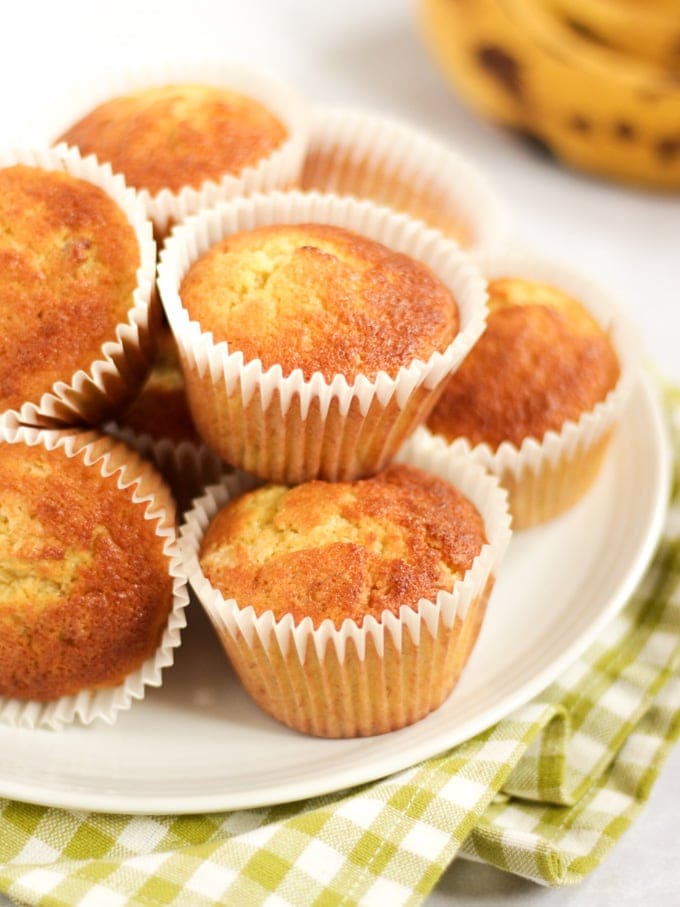 I first blogged about these banana muffins way back in 2015, and they still are one of the most popular recipes on my blog. I thought it was about time that they had a bit of a facelift and some new photos as I still make them every couple of weeks with George and Harri.
I mean, what's not to like?
So easy to make – These banana muffins are the perfect intro to baking with kids. Just five ingredients and in 30 minutes they are ready.
Uses up leftovers – Over ripe bananas make the best muffins, so there is no need to throw those lingering brown bananas away.
Packed lunches for the week – These muffins are so moist due to the fruit content, they will last in an airtight container for a week so they are the perfect make ahead snack.
Often muffin recipes are American, which means that they use vegetable oil (and cup measurements) in the UK we are most accustomed to using butter in our baking so I wanted to come up with a English alternative recipe. This recipe also uses self raising flour, to give the muffins a light and fluffy texture.
How to make Banana muffins:
These Banana Muffins are made using a really simple cake batter.
I used the same method in my Nutella Muffins recipe. (Which would also be amazing with bananas added in.)
The Banana Muffins are mixed up in just a few minutes. Preheat your oven to 180C. Then start by creaming your butter and sugar together, either using a mixer or wooden spoon.
They should be pale and fluffy. Wipe down the sides of the bowl with a spatula as you go to make sure everything is well mixed.
Next, add you eggs, self raising flour and bananas.
Some recipes tell you to mash your bananas before adding, but if your bananas are REALLY ripe (like, very brown and spotty on the peel and very soft inside) I tend to just add at the same time for a little shortcut as they get squished with the batter mixing.
If your bananas are not quite OVER brown, to be safe and make sure that your Banana Muffins aren't lumpy, you can mash the bananas before adding to the mixture.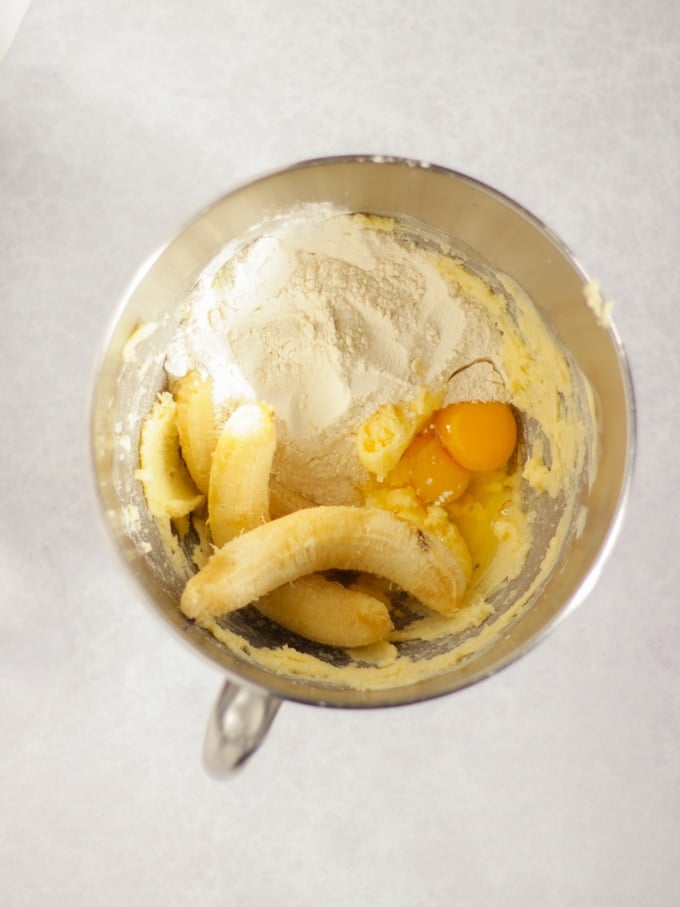 Next you need to line a muffin tray with paper cupcake cases.
Then scoop your mixture evenly between the cases. I use an ice cream scoop for this. It's my favourite cupcake and muffin baking trick and kids LOVE using a scoop too.
Pop into the oven for about 25 minutes or until springy on top and golden.
You could top these with icing if you fancy, or drizzle with melted chocolate. I tend to keep it simple as they are pretty sweet already.
HOW DO I KNOW IF MY BANANA MUFFINS ARE COOKED?
These Banana Muffins should take around 20 – 25 minutes to cook, once out of the oven they should look golden and springy on top.
To make sure they are properly cooked, take a metal skewer and put it into the centre of the muffin. When you pull out the skewer it should be clean. If there is any batter on your skewer return the Banana Muffins to the oven for a few more minutes.
What I used to make this recipe for Banana muffins:
Top tips for making the Banana Muffins recipe:
You could add chocolate chips, a spoonful of peanut butter or for more grown up muffins, some chopped walnuts.
These banana muffins will keep in an airtight container for a week, and they can also be cooked, and once cooled frozen for up to one month, before defrosting fully at room temperature.
If you have enough brown bananas to sink a ship and no time to cook the muffins you can also freeze the whole bananas in their skins and defrost when you have time to bake.
This basic recipe makes a great base for lots of other muffin flavours. You could try adding in blueberries, raspberries or chopped apples.
Fancy some other sweet treats? Check out my: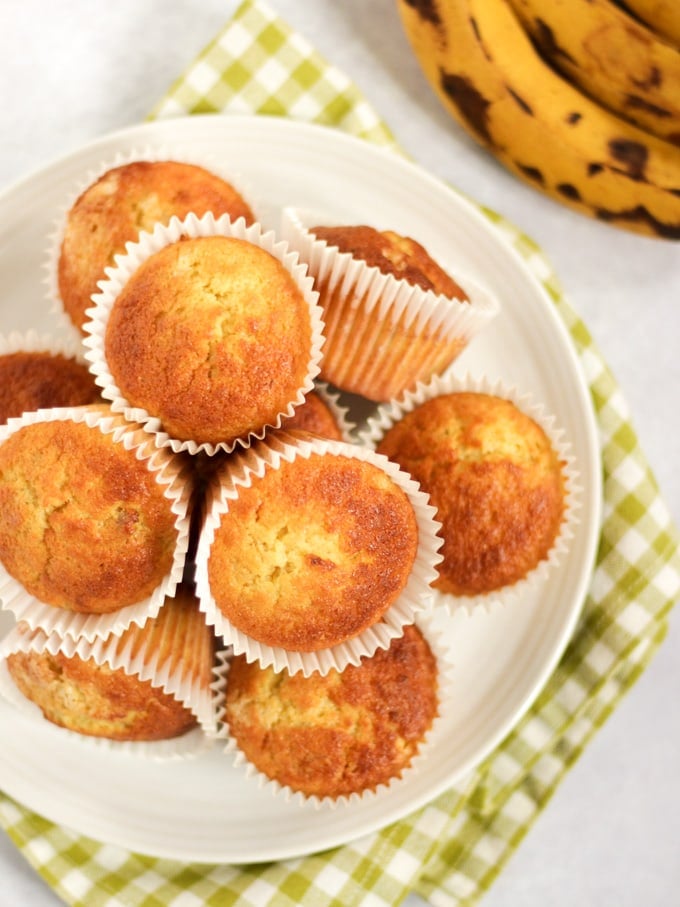 Now, in case you have a spare 5 minutes and fancy going back in time with me..
When I first blogged this recipe, my lovely friend Emma at BrummyMummyof2 and I cooked this recipe with our teeny tiny children. It's captured forever more in video below!
It feels like a life time ago now and watching this back, all I can think is, HOW WERE THEY SO SMALL! And.. Whilst I'd love to just cuddle those tiny babies again, life is SO much easier now!
I hope you enjoy this recipe as much as we do. I'd love to know how you got on and what you thought of it if you make this Banana Muffins recipe. Please rate the recipe and leave me a comment below if you do.
Finally, if you fancy showing me a photo by tagging me on Instagram (@tamingtwins) I LOVE to see your creations.
How to make the Banana Muffins Recipe:
Banana Muffins
Easy Banana Muffins - These simple, quick to make muffins are perfect for baking with toddlers, deliciously moist and make a yummy treat or a breakfast on the go
Servings
12
Banana Muffins
Ingredients
100

g

Unsalted butter

150

g

Caster sugar

3

Medium eggs

150

g

Self raising flour

3

Very ripe

peeled and mashed bananas
Instructions
Preheat the oven to 180C.

Cream the butter and sugar together until light and fluffy.

Add the eggs, flour and mashed bananas and beat until combined.

Scoop the banana muffins into 12 cupcake liners in a muffin tray.

Bake for 20 minutes until golden and springy.
Nutrition Facts
Banana Muffins
Amount per Serving
% Daily Value*
* Percent Daily Values are based on a 2000 calorie diet.