An Easy Banana Cake recipe with chocolate chips. All mixed in one bowl, this bake is a winner for the whole family. Perfect for lunchboxes and after school snacks.
Every baker/family/living person who eats food needs an Easy Banana Cake recipe in their repertoire, this, my friends, is FACT.
Frugal and easy peasy to make, Banana Loaf has the added benefit of using up very ripe bananas, no longer fit for eating uncooked. Add in chocolate chips and melted chocolate on top and honestly, what more could you want from a bake?
Here's why I think you should give it a try:
✅ One bowl, no faff.
✅ Uses up those brown bananas hanging around.
✅ Makes an energy packed snack.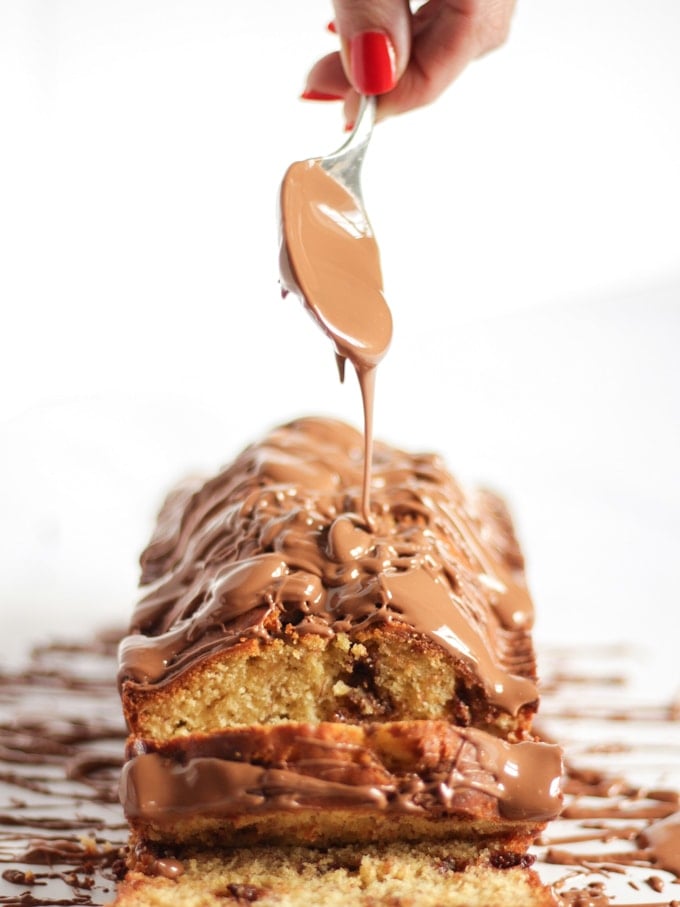 I first posted this recipe way back in 2016 when Goggy* (my Mum) came to visit and made it with George and Harriet. (*"Goggy" named by my children years ago, I think it came from the Postman Pat days when they thought she looked like Mrs Goggins?!)
I thought I'd leave those photos of making the cake in as.. Just. Too. Cute. (Oh and btw where are my tiny children these days? 😱)
George and Harri love making (and eating) this Easy Banana Cake recipe. Now, at age 7, Harri can make the recipe almost entirely on her own. I'm happy to selflessly take on the role of taste tester of course!
How to make Banana Cake at home:
Preheat your oven to 180C. Grease your tin with butter (really make sure all of the tin is completely covered or your cake will stick).
Put the eggs, melted butter, sugar, flour, mashed bananas and chocolate chips into a bowl and beat until totally combined.
TOP TIP: If your bananas are super soft and over ripe (black skins), you don't even need to mash them, just thrown them in and they'll get squished with everything else.
Spoon the mixture into the tin, smoothing the batter out with the back of the spoon.
Bake in the oven for 40-50 minutes. Leave to cool completely in the tin before removing.
For additional chocolatey goodness melt 100g of milk chocolate and drizzle over the top with a spoon.
Enjoy with a hot cup of tea!
Variations to this Banana Loaf recipe:
Banana and Walnut Loaf (or Banana and Walnut Cake) – Follow the same recipe but add in 85g of chopped walnuts (you could also try pecans or hazelnuts.)
Peanut Butter Banana Bread – Add 100g of peanut butter and for added peanut crunchy goodness 50g of salted peanuts. Or you could simply follow this recipe and drizzle some peanut butter icing (peanut butter, butter and icing sugar) over the top for banana cake with peanut butter icing.
Banana Bread with Nutella – Swirl in 100g of Nutella when you have put the batter in the baking tin..
Gluten free Banana Bread – Substitute the self raising flour for a gluten free variety.
Banana Bread with Raisins – Add in 100g of raisins instead of chocolate chips.
Top tips for making Easy Banana Cake:
This Banana Bread will keep in an airtight container for a week.
You can also cook the Easy Banana Cake and once completely cooled it can be frozen (whole or in slices). Defrost fully before eating.
If you have enough brown bananas to sink a ship and no time to cook the Banana Loaf you can also freeze the whole bananas in their skins and defrost when you have time to bake.
How do I know when my bananas are ready to make Banana Cake?
To make banana cake, your bananas need to be very ripe.
As they ripen, they get softer and sweeter, this is what gives the banana cake it's texture and flavour. Please don't try to make this with green or very firm bananas, it just won't work in the same way.
The banana skins should be very speckled, or (ideally) almost totally brown or black on the skins.
When you peel the bananas they will be very soft.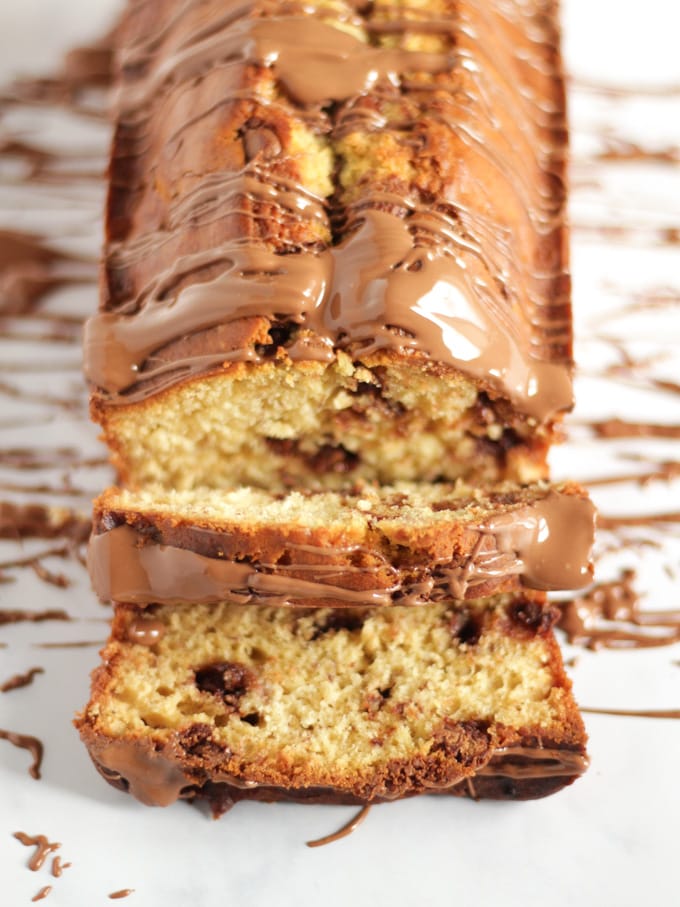 What I used to make the Banana Bread with Chocolate Chips:
Inspired to do some more baking? How about:
Hope you enjoy this recipe as much as we do. I'd love to know how you got on and what you thought of it if you make this Easy Banana Cake recipe. Please rate the recipe using the ⭐️ below!
Also, if you fancy showing me a photo by tagging me on Instagram (@tamingtwins) I LOVE to see your creations and try and share as many of them as I can.
First published October 4th 2016, June 5th 2019.
Easy Banana Cake with Chocolate Chips
A quick and easy Banana Cake recipe with chocolate chips. Mixed in one bowl, you can't go wrong with this failsafe bake. Brilliant to make with kids!
Ingredients
For the Banana Loaf:
Butter for greasing the tin

75

g

Butter

melted

100

g

Caster sugar

2

Medium free range eggs

225

g

Self Raising Flour

3

Large bananas

very ripe, peeled and mashed

100

g

Chocolate chips
To drizzle:
75

g

Chocolate, melted

(Use, dark, milk or even white, whichever you prefer)
Instructions
Grease the tin with soft butter (or line with baking paper).

Break the eggs into a mixing bowl, add the melted butter, sugar, flour, mashed bananas and chocolate chips.

Mix very well either by hand or using a mixer.

Spoon into the tin, smoothing out with the back of the spoon.

Bake for 40 mins - 50 mins at 180C.

When cool, drizzle with the melted chocolate.
Recipe Notes
A short cut to melting and drizzling chocolate on top, is just to sprinkle extra chocolate chips on top of the cake for the last 2 minutes in the oven. Remove the cake from the oven and they will be all melted, you can spread them if you fancy.
Nutrition Facts
Easy Banana Cake with Chocolate Chips
Amount per Serving
% Daily Value*
* Percent Daily Values are based on a 2000 calorie diet.