Easy Pil Pil Prawns – Gambas Pil Pil is a delicious, quick and simple garlic prawns recipe, the perfect Spanish supper dish.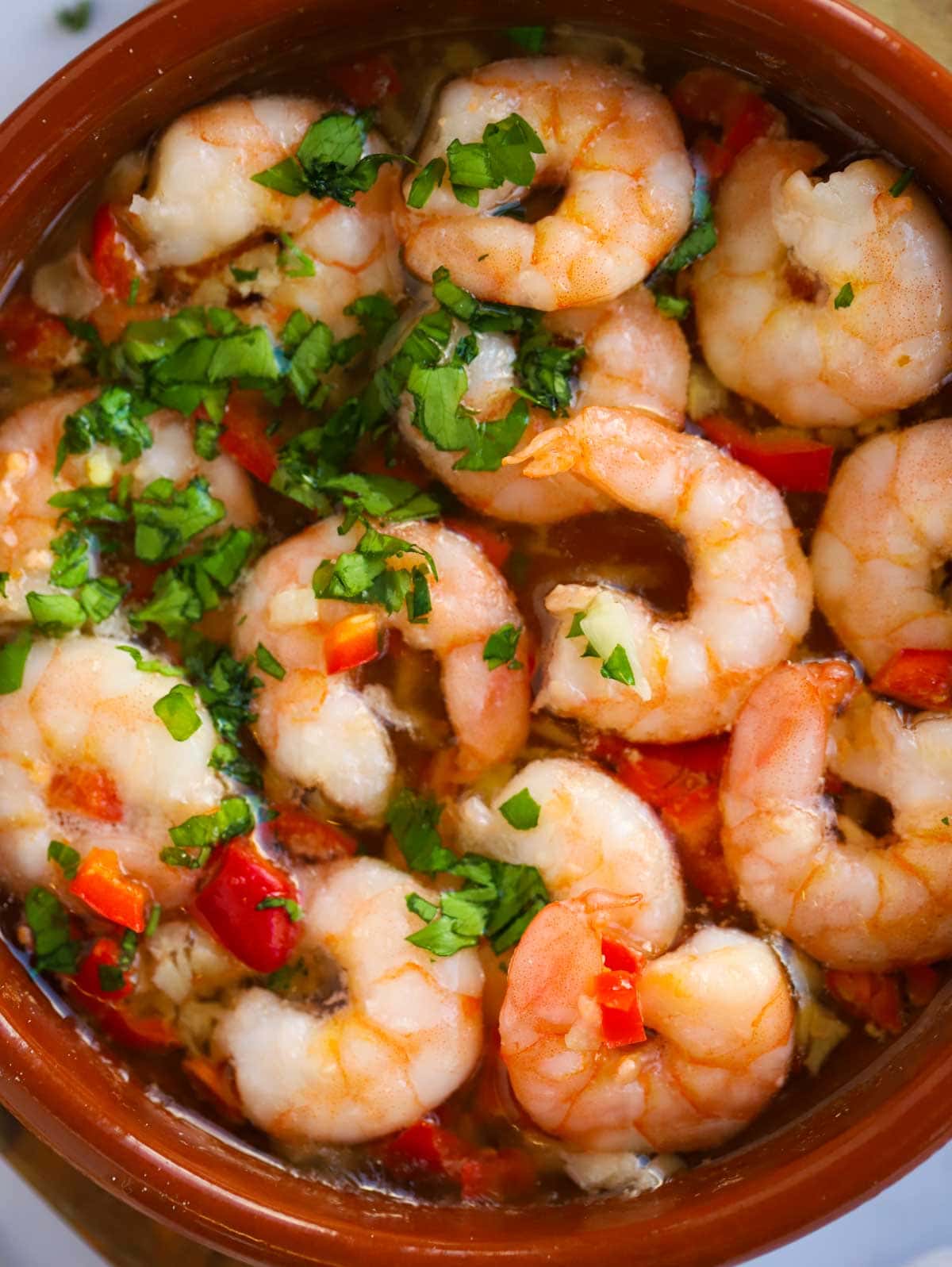 I'm reading a book called The Happiness Project for book club at the moment.
It's an interesting look at how the author tried to improve their life to be the best it can be over 12 months. Each month relates to a different part of her life.
Reading the book, I've thought a lot about what makes me happy. Things that have made me happy this week include..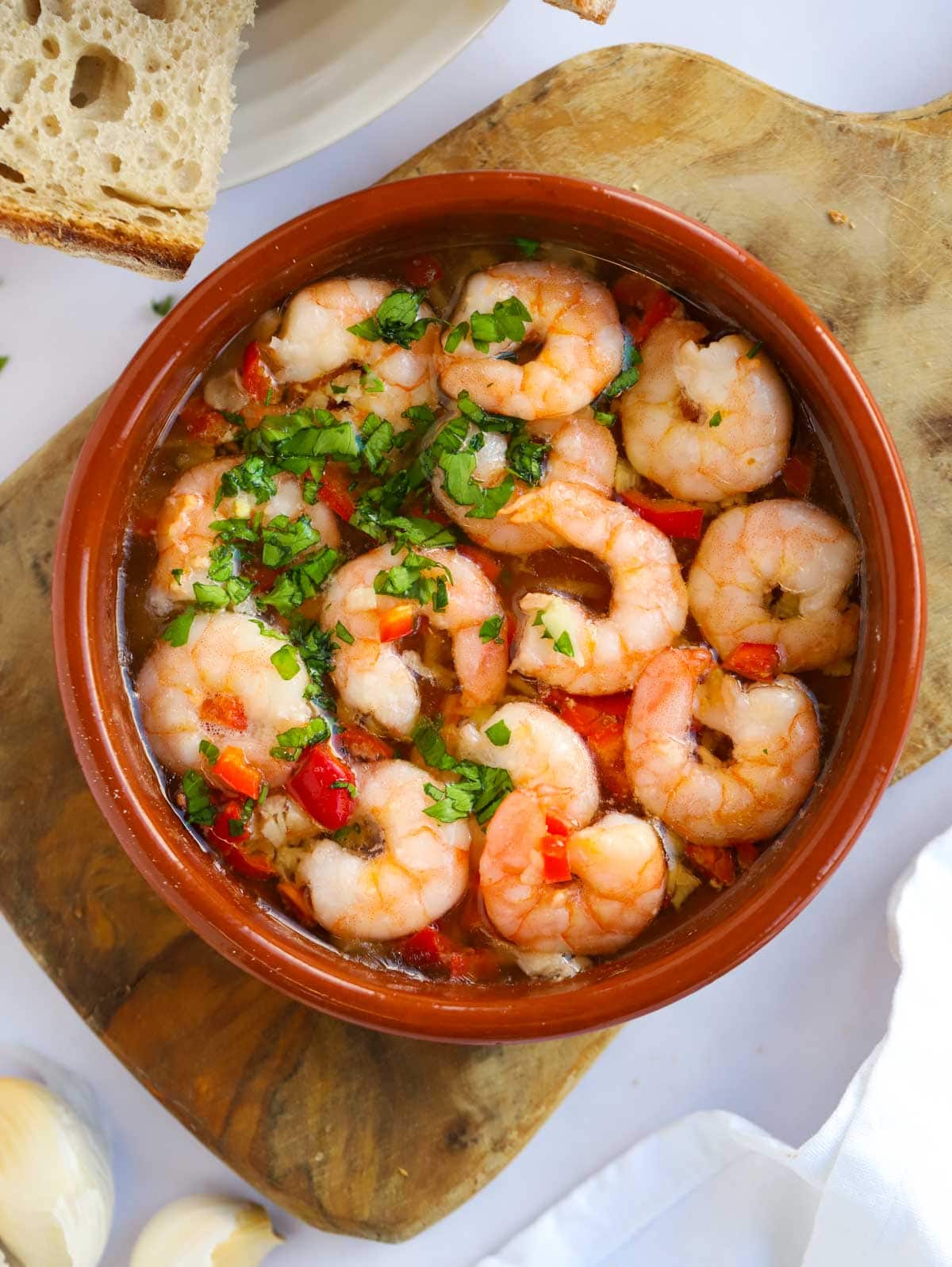 Speaking to my oldest friend on the phone for so long that my face overheats.
Standing by our pizza oven with a cup of tea in the rain, listening to the pop and crackle of the fire.
Re-organising my baking cupboard.
The anticipation of Jack Bauer* coming back onto our TV screens.
My babies kissing each other goodnight and howling with laughter playing hide and seek.
Oh and cake. Of course, cake (as always) has made me very happy.
*(Everything I know about fighting crime and escaping baddies and disarming bombs comes from Jack.)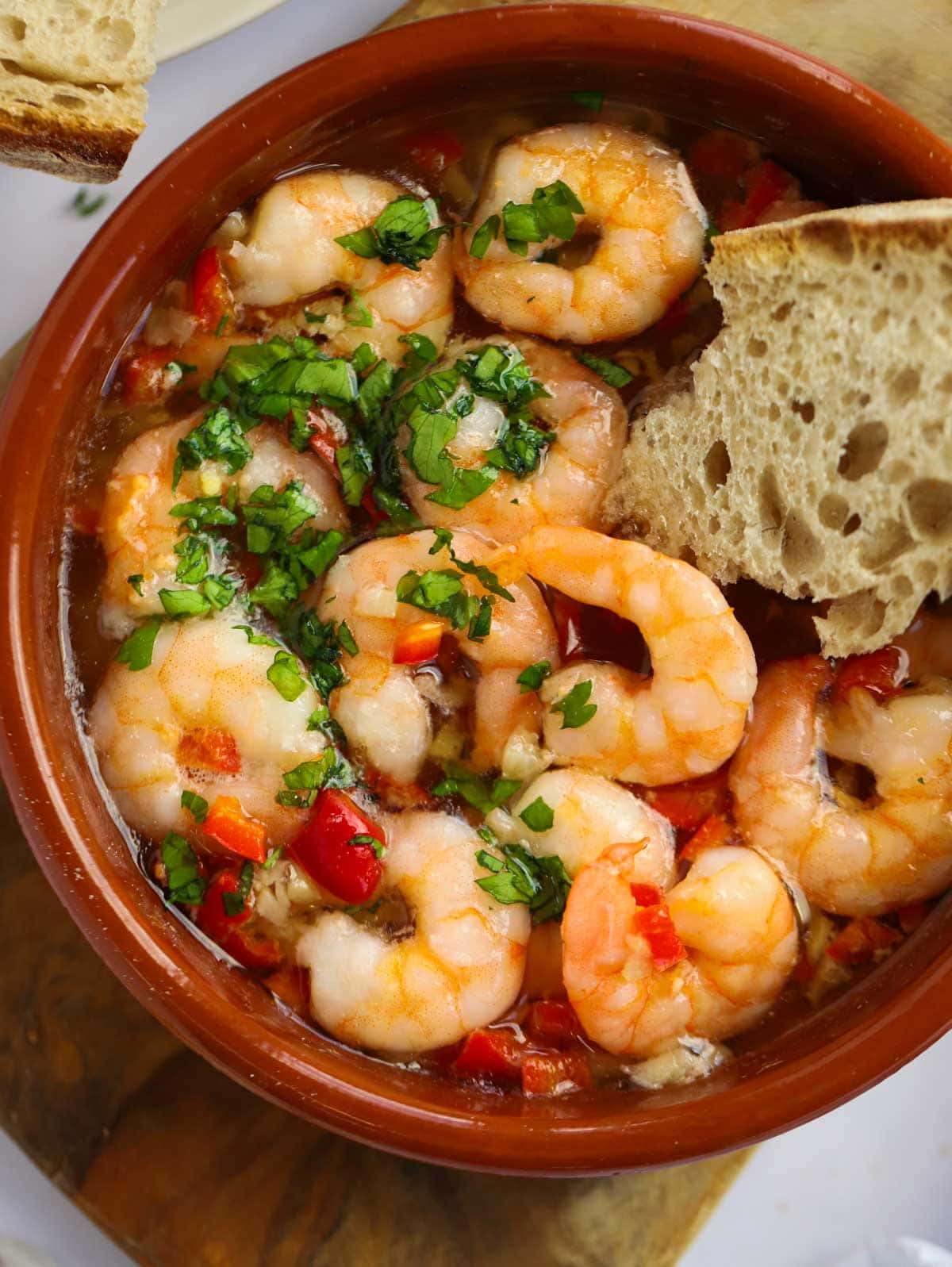 I suppose I've realised it's the simple things. This simple little dish makes me happy.
It reminds me of a certain holiday to Spain. I went away on a last minute break with a friend. There was sunshine and Sangria and laughter and a lot of these hot, spicy Gambas Pil Pil garlic, chilli prawns.
I'm not sure if this Pil Pil Prawns recipe is in any way authentic, but it's how I've enjoyed it in Spain so I hope it is a suitable tribute.
It's so quick, there's time to knock it up in between episodes of 24. That's got to make anyone happy, right?
(Dunking is totally the best bit…)
Fancy some other fish recipes?
How to make the Gambas Pil Pil:
Pil Pil Prawns with Garlic and Chilli
Easy Pil Pil Prawns - Delicious, quick and simple, this garlic prawns recipe is the perfect Spanish supper dish.
Ingredients
300

g

Raw king prawns

2

Tablespoons

Olive oil

not Extra Virgin

1

Chopped red chilli

leave the seeds in if you like it hot

2

Cloves

of garlic

peeled and chopped

Salt and chopped flat leaf parsley to serve
Instructions
In a small frying pan, heat your oil until it's almost smoking.

Add your chilli, garlic and prawns.

Cook until the prawns are pink all over, moving the pan around so that the garlic doesn't burn.

Sprinkle with salt and parsley.
Nutrition
Calories:
166
kcal
Carbohydrates:
1
g
Protein:
30
g
Fat:
3
g
Cholesterol:
378
mg
Sodium:
1290
mg
Potassium:
120
mg
Vitamin A:
30
IU
Vitamin C:
7.1
mg
Calcium:
223
mg
Iron:
3.2
mg
Made it? Tag me!
Tag @TamingTwins so we can admire your make ⭐️