Here's recipe two in my Slow Cooker Fakeaway series. Chilli Con Carne is the classic dish that so many of us turn to time and time again, but have you tried a Slow Cooker Chilli version?!
No browning necessary. Simply throw all the ingredients in and out comes a bubbling, delicious chilli a few hours later… Yes, it WORKS. And it's so good and so easy.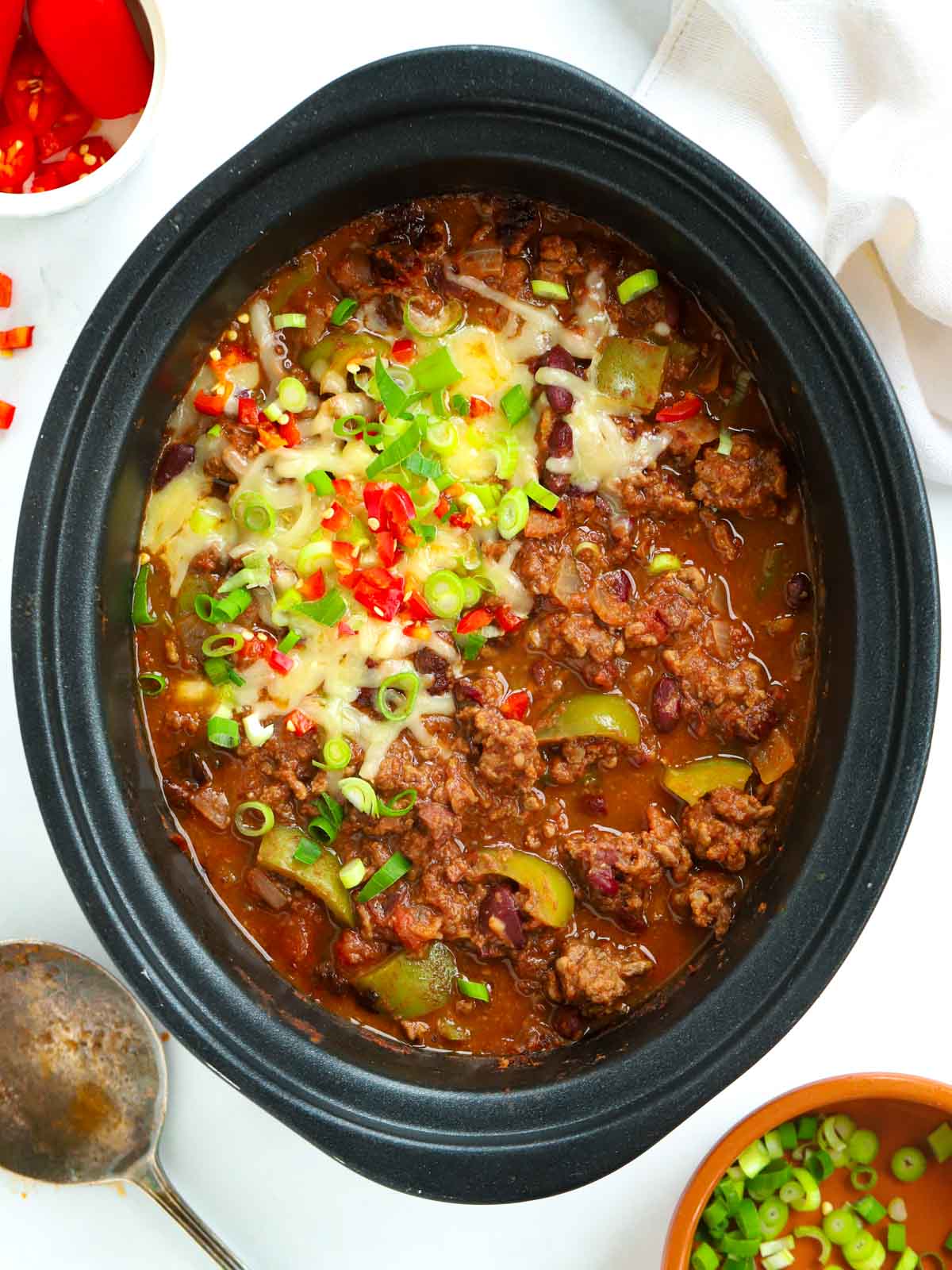 We all love an easy beef mince recipe and Slow Cooker Chilli Con Carne is another tick in that box. Except this one is even more convenient because, after a little prep, it can be left to cook on its own in our trust slow cooker.

This works so well as a fakeaway for weekends or entertaining because of the Mexican-style side dishes you can whip up to make this a fully impressive feast.
It's also a perfect dump bag recipe, which means you can stick all of the ingredients in a bag and freeze for another day's slow cooking! Alternatively, cook a double batch and freeze another ready-to-go portion that you'll just have to heat up.
---
Why you'll love this Slow Cooker Beef Chilli
⭐️ Low cost and low effort
⭐️ Nutritious and full of flavour
⭐️ Perfect to double and feed a big group
---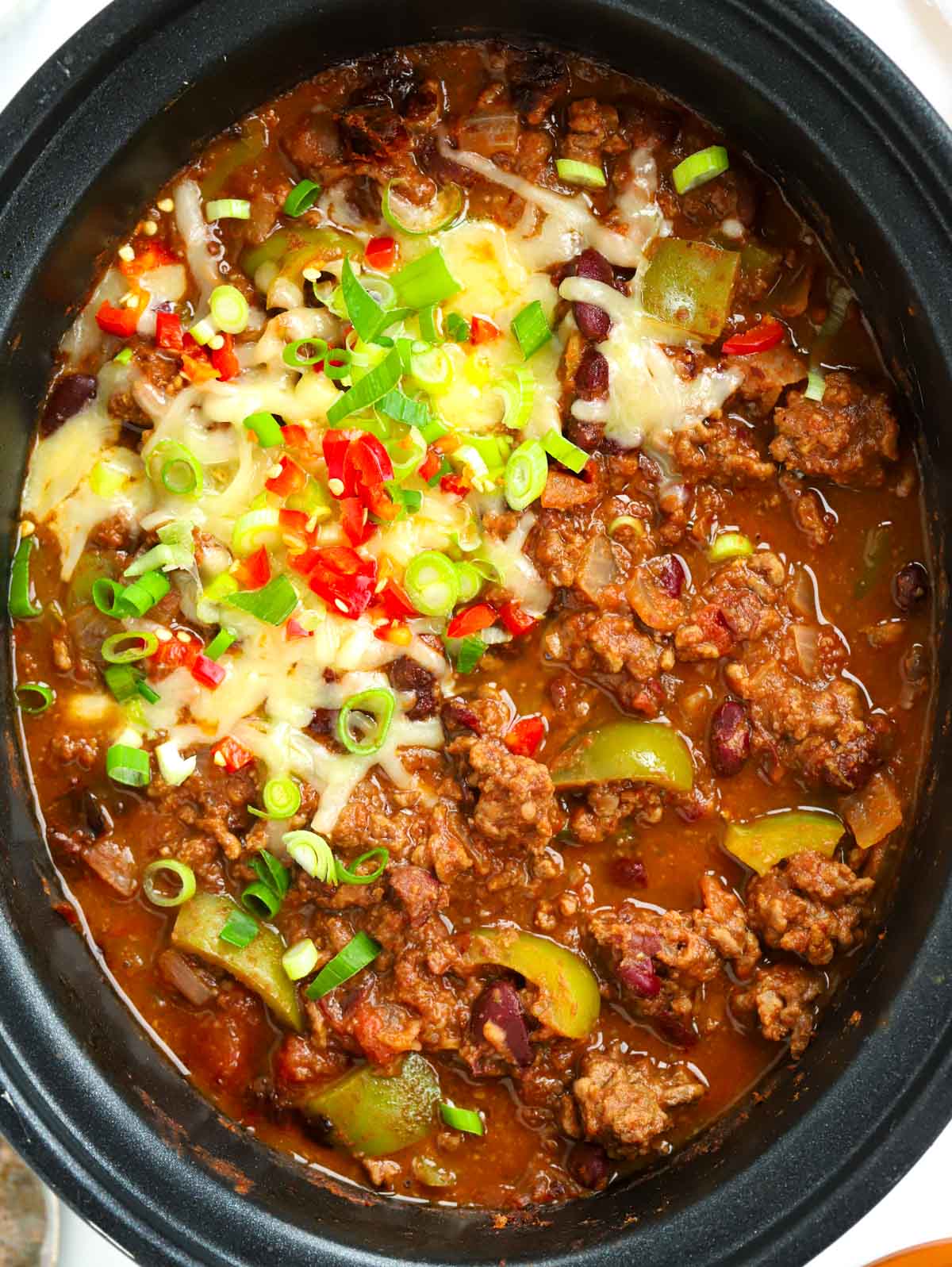 About Slow Cooker Chilli Con Carne
People far and wide have their own take on the humble Chilli Con Carne recipe but it's thought to have originated in northern Mexico or southern Texas a few centuries ago.
This report explains some of the history and the traditional ingredients if you'd like to learn more.
This Slow Cooker Chilli is my take on the similar flavours, but using our beloved slow cookers and plenty of store cupboard ingredients.
Ingredients for Slow Cooker Chilli
Lean beef mince – Try and use the low fat (5%) option if you can. This will avoid too much fat in the dish, as none will be cooking off like it might in a pan. Any mince will still work though so it's up to your preference. If using a higher fat mince, you may want to brown if off first and drain some of the fat.
Onion – Dice one fresh onion or cheat and use pre-chopped frozen. One onion is about 200g of pre chopped.
Chopped tomatoes
Tomato puree
Red kidney bean
Beef stock cubes – No need to dilute, just put them straight in. Stock pots are fine too but just use one.
Cumin
Cayenne pepper
Dried oregano
Garlic powder – Use the same ratios for garlic granules or dried ground garlic. Not garlic salt, that's very different.
Chocolate – This brings a lovely depth of flavour without adding sweetness. It's a well-known secret ingredient! It's important to use a very dark (70% or over) chocolate. If you only have milk chocolate, just skip it altogether, it'll be too sweet.
Salt and freshly ground black pepper
Green peppers – You can also use frozen or the colour of your choice instead.
---
How to make Chilli Con Carne without browning the mince
1. Put all of the slow cook ingredients (apart from the peppers) into the slow cooker and cook for 6 hours on HIGH or 8 hours on LOW.
2. Add the peppers 30 minutes before the end of cooking. Serve with your chosen side dish.
---
Substitutions
Beef mince – If you want to save money, you can buy the meat with a higher fat content. Just be aware that more liquid will come out of it as it cooks, which you may have to drain away if it gets too much.
Peppers – I use green peppers but any colour will work. You can also cheat by using frozen peppers, but bear in mind these tend to be cut up quite small.
Leftovers
In the fridge You can keep this recipe in the fridge for 3 days. Reheat fully in the microwave or on the hob before serving.
How to freeze leftover Chilli Con Carne This recipe freezes really well. Just wait until it's totally cold and then put into a freezer proof container and freeze for up to 3 months. Defrost thoroughly before reheating in the microwave or oven.
Top tips
What to serve it with:
There are so many ways to serve up Chilli Con Carne, how about in tacos, on baked potatoes, on nachos, with rice.

You can also dish it up as part of a buffet banquet if you're feeding guests, with side dishes and dips like sour cream/yoghurt, chopped chillies, guacamole, tortilla chips, salsa, refried beans or my Mexican-style salad.
You can make this a little EXTRA by:
⭐️ Using the best quality tinned tomatoes and tomato puree you can afford
⭐️ Brown off the onions and mince before adding to the slow cooker
⭐️ Adding 2 tbsp of Worcestershire Sauce at the end of cooking
⭐️ Stir every so often during cooking, this helps the meat to break up and cook evenly
FAQ
Can I make this vegetarian?
Not if you want to use a substitute meat. For example, Quorn says its mince is not recommended for slow cooking. Try my Vegan Chilli recipe here instead.
Should I brown the meat before adding it to the slow cooker?
If you want to get scientific, the reason we brown meat before slow cooking is because it causes a Maillard reaction. The process of frying and heating it until it's hot and turns brown changes the flavour compounds in the meat, which adds a depth of flavour.

Does it add something to most slow cooked dishes? Yes. Is it vital in this dish though? No. If you want to brown the meat, go ahead. BUT I feel that sometimes we need a super quick preparation dinner and it's worth sacrificing maybe 10% of extra flavour? Your choice.
Is this recipe spicy?
I'd say this is a very mild spice level, suitable for kids and families. If you like it more pokey, use double the cayenne pepper, or add in 2 or 3 tsp of chilli powder.

If you get to the end of the cooking time and taste it and it's not spicy enough, you can add in some chilli sauce too. I sometimes add to the grown up portions only.
Can you recommend a slow cooker?
Easy slow cooker recipes are a saviour for family dining, so it's important to get one that works well for you. The Morphy Richards Sear & Stew Slow Cooker is my all-time favourite because you can use it for initial browning on the hob and it's really light. For induction hobs, I recommend the Lakeland Digital 6.5l Slow Cooker instead.
Let me know how you got on and what you thought of these recipes. Please rate the recipe using the ⭐️ below.
Also I'd LOVE to see your cooking creations. If you'd like to share yours with me, you can tag me on Instagram (@tamingtwins).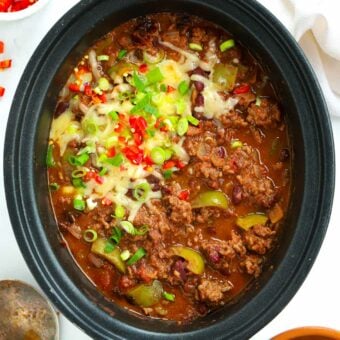 Slow Cooker Chilli Con Carne
Chilli Con Carne is a classic dish that so many of us turn to time and time again, but have you tried the slow cooker version?! So good, so easy.
Ingredients
For the slow cook
750

g

Lean beef mince

1

Onion

Peeled and chopped

800

g

Chopped tomatoes (2x 400g tins)

800

g

Kidney beans (2x 400g tins)

Drained and rinsed

75

g

Tomato puree

2

Beef stock cubes

3

tsp

Ground cumin

1

tsp

Cayenne Pepper

2

tsp

Dried oregano

4

tsp

Garlic powder

Salt and pepper

25

g

Dark chocolate

70% cocoa type
Before serving
2

Green peppers

Cut into medium sized chunks
Instructions
Put all of the slow cook ingredients (apart from the peppers) into the slow cooker and cook for 6 hours on HIGH or 8 hours on LOW.

Add peppers about 30 minutes before the end of cooking.
Notes
Mince: Try and use the low fat (5%) option if you can. This will the finished dish being too fatty, as none will be cooking off like it might in a pan.  Onions and garlic: I like to use pre chopped, frozen to save time where I can.  Stock cubes: No need to add any additional liquid, just the cubes themselves.
Nutrition
Calories:
424
kcal
Carbohydrates:
45
g
Protein:
41
g
Fat:
9
g
Saturated Fat:
4
g
Polyunsaturated Fat:
1
g
Monounsaturated Fat:
3
g
Trans Fat:
0.4
g
Cholesterol:
78
mg
Sodium:
605
mg
Potassium:
1464
mg
Fiber:
14
g
Sugar:
7
g
Vitamin A:
531
IU
Vitamin C:
49
mg
Calcium:
126
mg
Iron:
10
mg
Made it? Tag me!
Tag @TamingTwins so we can admire your make ⭐️