Really easy to make soft Flatbreads. Just 3 ingredients, no yeast, cooked in 5 minutes. Served with homemade tzatziki and dripping with garlic butter. These homemade flatbread can also be turned into pizzas with toppings, used for sandwiches or as a replacement for naan breads.
This post is an ad sponsored by St Helen's Farm Goats' Milk products. Thanks as always for supporting the blog.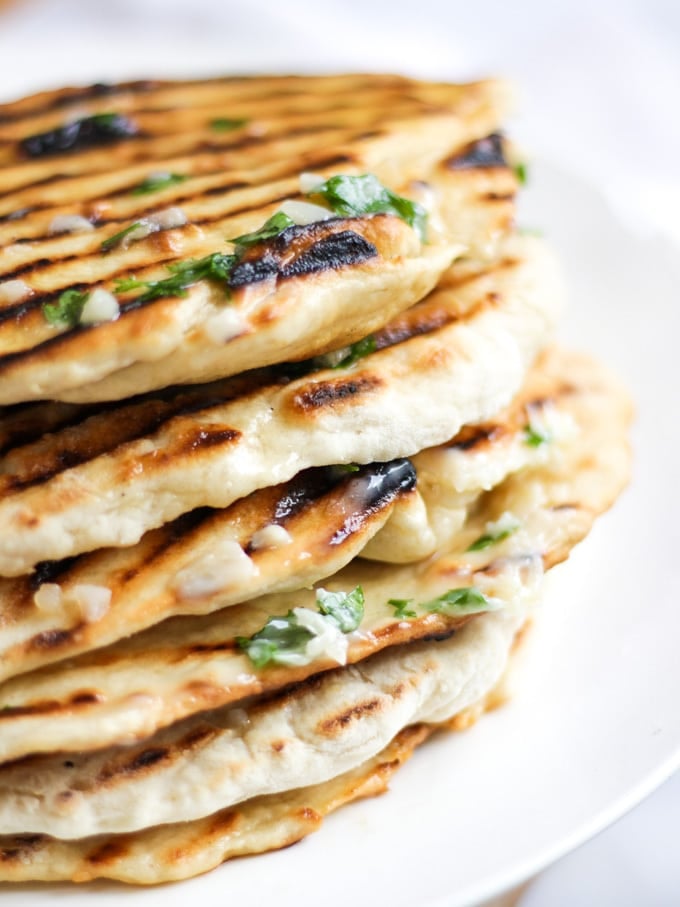 Look, I don't mean to be dramatic. BUT. How have I lived my whole 27 (cough – 37) years without realising how easy it is to make flatbread?
These were SO delicious (and obviously all things in life are better when coated in melting, delicious, herby garlic butter). I could literally eat them every single day.
These flatbreads were extra special, because they were made with Goats' Milk Yoghurt.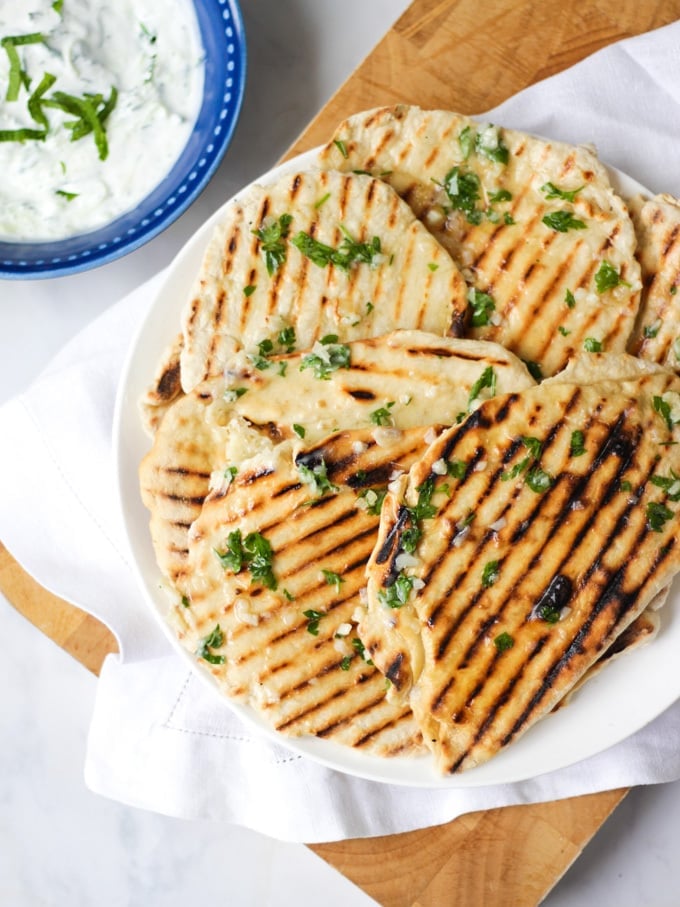 A few weeks ago, the people at St Helen's Farm got in touch with me and asked me if I'd like to try swapping my regular cows' milk products for their goats' milk products.
They explained that goats' milk products can be more easy to digest, and so, gentler on the stomach.
This makes the products the perfect choice for making positive, Naturally Good, changes in your diet, you can read more about making Naturally Good changes on their super helpful site.
I was really happy to give the swap a try and come up with a couple of recipes using the products. This easy flatbread recipe is the first, and there will be another next week. I'll also let you know how I've got on with the swap!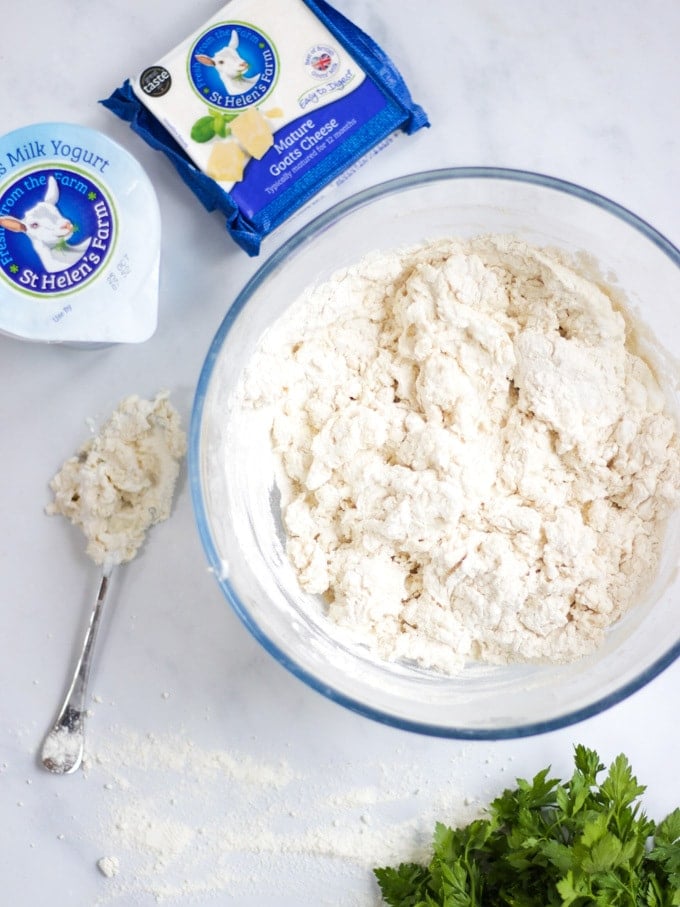 Goats' milk yoghurt works particularly well in this easy flatbread recipe, as the refreshing tang keeps them light. I used the regular Goats' Milk Natural Yoghurt for these, but you could try it with regular yoghurt or low fat yoghurt too.
It also adds a delicious taste to the tzatziki recipe, with much more flavour than plain old cows' milk yoghurt.

How do you make flatbread?
This easy flatbreads recipe is super simple to make. You mix the flour, yoghurt and baking powder in a large bowl. The mixture will be quite sticky but keep mixing, it will get smoother.
The best part is no kneading is required, once the flatbread dough is well combined and smooth you cut it in half, each piece in half again, and finally half again to give you eight pieces.
Now liberally flour your work surface and rolling pin, and roll the pieces into even, round shapes. Then you simply cook your flatbread on a griddle or frying pan, three to five minutes on each side.  Once cooked they should be a delicious golden brown.
Can flatbread be gluten free?
To make gluten free flatbread you would substitute the self raising flour for a gluten free version. Also double check your baking powder to ensure that's gluten free too.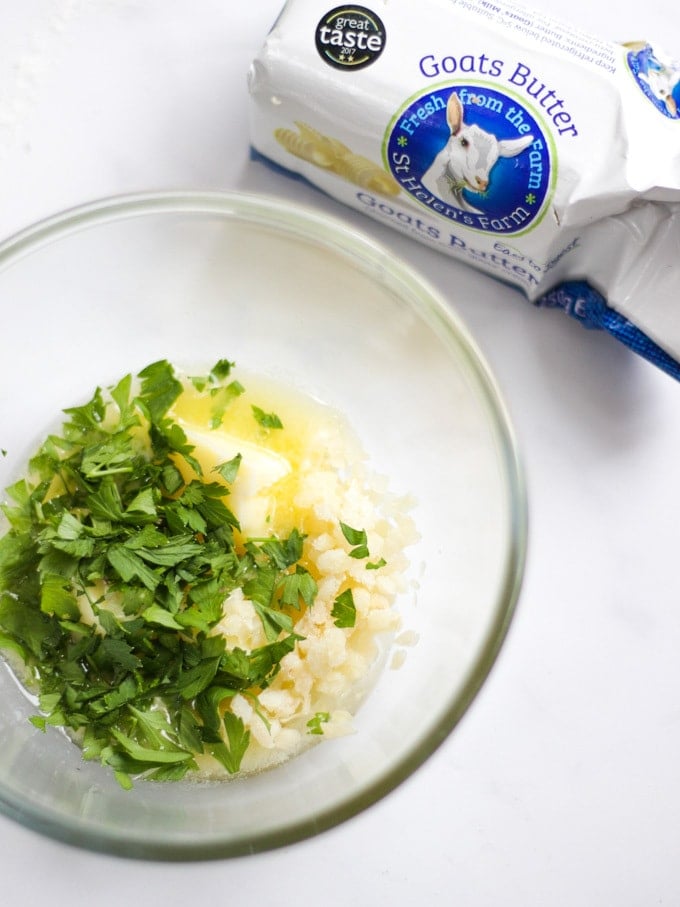 Is flatbread good for you?
This flatbread recipe is made without using yeast which some people can be sensitive to.
We have also used Goats' Yoghurt which is easier to digest and lower in lactose so its kinder on our stomachs than cows milk products.
If you are following a low carb diet you could try using wholewheat flour to reduce the amount of carbohydrates.
Can you make flatbreads in the oven?
Whilst I have chosen to fry these for speed you can cook flatbread in the oven. They would need be cooked on a very hot baking tray at 200C for between 10-12 minutes, or until golden brown.
For even better results bake them on a pizza stone if you have one – I haven't tried this particular pizza stone but it's been recommended and is under a tenner… bargain.
Tips on making Easy Flatbreads:
The easy flatbreads dough doesn't need any kneading, but it will be very sticky, make sure you use extra flour to bring it together.
For an extra treat I cut pieces of the hard goats' cheese and rolled them inside the dough before frying…yummy.
If you have left over garlic butter you can wrap in greaseproof paper and freeze it.
These flatbreads are best eaten on the day they are made, but they will last a couple more days if kept in an airtight container, they will need refreshing by heating through quickly in the oven or grill.
This is the griddle pan that I used Pro cook cast iron griddle, I really like it as its reversible as has a flat side which is perfect for pancakes too.
I used goats' milk yoghurt in this recipe which gave a deliciously tangy flavour which we loved but you could use any natural yoghurt.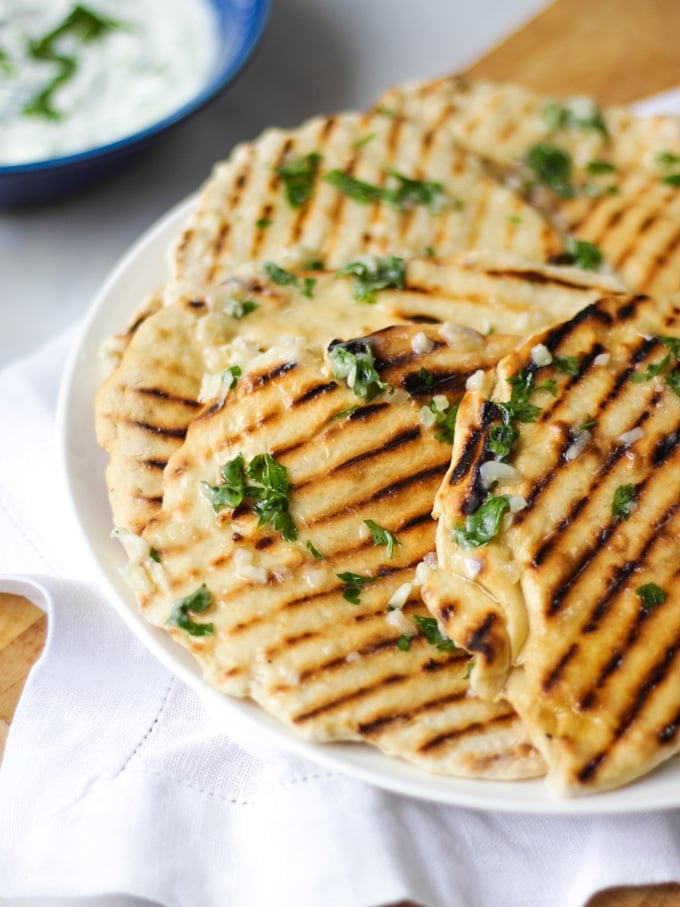 What else could you do with flatbreads?
You can use the flatbread as a quick pizza base, simply top with tomato puree and add your favourite toppings, a simple margarita would be George and Harriet's top pick.
These would also be the perfect side dish to my Slow Cooker Beef Curry or Easy Lamb Tagine.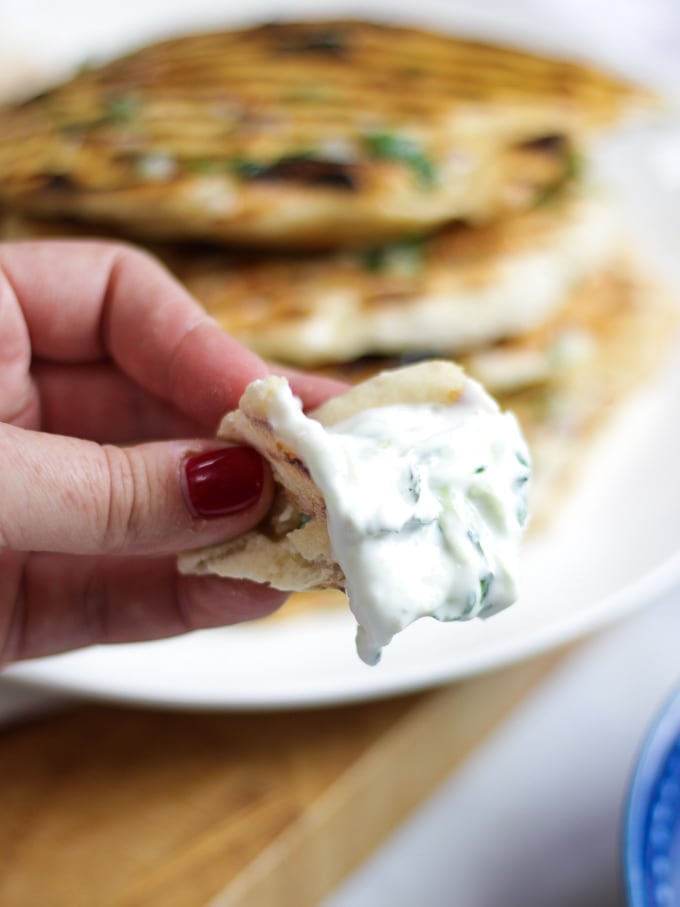 Hope you enjoy this recipe as much as we do. I'd love to know how you got on and what you thought of it if you make this Easy Flatbread recipe. Please rate the recipe and leave me a comment below if you do.
Also, if you fancy showing me a photo by tagging me on Instagram (@tamingtwins) I LOVE to see your creations.
How to make the Easy Flatbreads Recipe: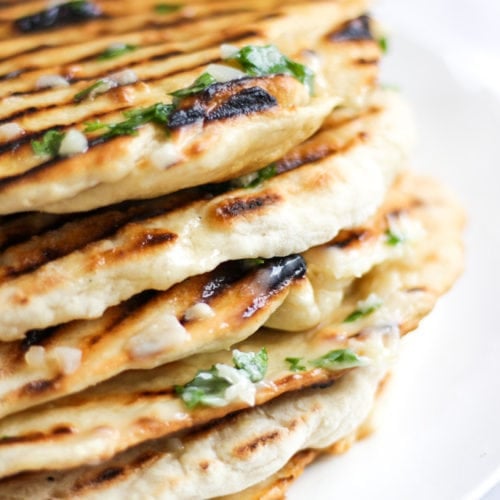 Easy Flatbreads Recipe
Really easy to make soft Flatbread. Just 3 ingredients, no yeast, cooked in 5 minutes. Served with homemade tzatziki and dripping with garlic butter.
Ingredients
450

ml

St Helen's Farm Natural Goats' Milk Yogurt

450

g

Self raising flour

1

tsp

Baking powder

Extra flour for rolling
For the garlic butter:
100

g

St Helen's Farm Goats' Butter

4

Cloves

Garlic

Peeled and crushed

10

g

Fresh parsley

Finely chopped

Sea salt
For the tzatziki dip:
200

g

St Helen's Farm Natural Goats' Milk Yogurt

0.5

Cucumber

Grated, liquid squeezed out

20

g

Fresh mint

Finely chopped

Sea salt
Instructions
For the flatbreads:
To make the flat breads, mix the yoghurt, flour and baking powder in a large bowl. It will be very sticky but keep going and it will get smoother. (There's no need to knead it though.)

Cut it in half, both pieces in half again and each piece in half again, so you end up with 8 even pieces.

Using plenty of extra flour and a well floured rolling pin, roll the balls of dough into flat round shapes. (I cook 2 at a time and roll the next ones whilst they cook.)

Heat a griddle pan or heavy frying pan until hot and cook each flatbread for about 3 minutes on each side, until golden and cooked through. (You can keep warm in an oven on low heat if you're serving immediately.)
To make the garlic butter:
Mix softened butter with the garlic, parsley and sea salt. Spread over the flatbreads when you're ready to serve.
To make the tzatziki:
Mix the yoghurt, grated cucumber, mint and salt well and pop in a bowl to serve as a dip.
Nutrition Facts
Easy Flatbreads Recipe
Amount Per Serving
Calories 349
Calories from Fat 117
% Daily Value*
Total Fat 13g 20%
Cholesterol 37mg 12%
Sodium 130mg 5%
Potassium 297mg 8%
Total Carbohydrates 46g 15%
Protein 10g 20%
* Percent Daily Values are based on a 2000 calorie diet.