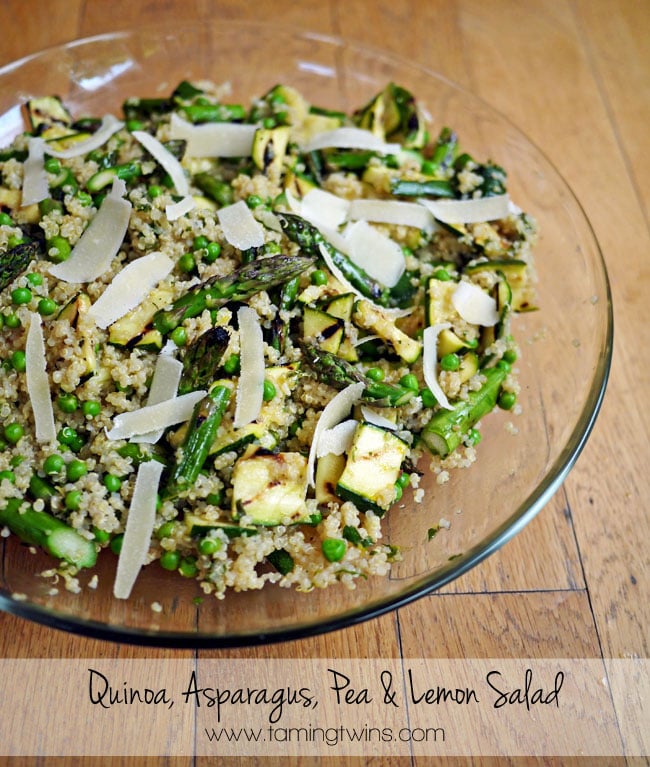 To my very dear blog reader friends,
We are friends, right? I feel like we've become friends over the last 6 months. I feel like we have shared interests, we know what each other likes (giant towering cakes and anything with caramel in). We've shared tender moments and moments of frustration. Well, we've reached a stage where I feel you can trust me, yes? So, just hang in there, this recipe is.. Wait for it..
H-E-A-L-T-H-Y. It has quinoa (key-nee-wah) in.
Trust me, this salad is the good stuff.
It's full of super stuff, it's ridiculously tasty and it's great to keep in the fridge for lunches. It also makes me a bit less guilty about eating cake for breakfast (sometimes).
This is lucky as normally something that takes three pans to make would turn me right off. There's nothing fiddly though, this is simple and fresh and you should totally make it tonight.

Quinoa has confused me since Gillian McKeith went on and on about it 10 years ago. When I went on a yoga retreat was the first time I had it and loved it. The lovely chef there told me her quinoa secret. Basically, you need to toast it in the pan first. I guess like frying risotto rice before adding liquid? I find it makes a massive difference. Also, making sure that the cooked quinoa can sit in the pan, covered for at the very least 5 minutes, makes it fluff up perfectly.
What makes quinoa so special? It's gluten free, easy to digest, a complete protein and high in fibre. It's nutty bite when cooked properly is totally moreish.
I've used asparagus as it's in season this month and tasting amazing. Don't bother if it's out of season, it's always a disappointment. If you want to make this any other time, you could use chopped ripe avocado instead. Avocado makes everything instantly brilliant in my opinion.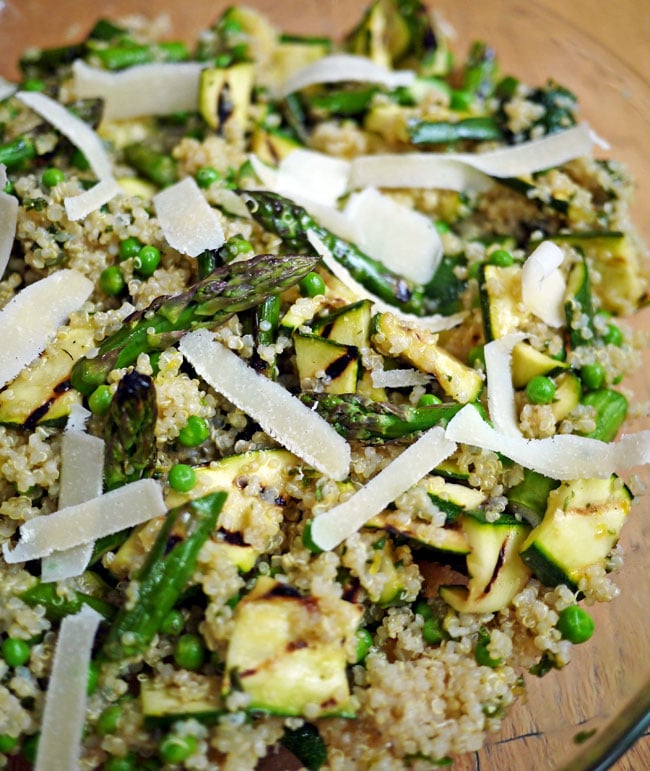 Quinoa, Asparagus, Pea and Lemon Salad
A light and citrusy spring meal which is packed full of flavour
Ingredients
1

tablespoon

olive oil

250

g

quinoa

750

ml

good quality vegetable stock

I use Marigold brand

4

courgettes

300

g

asparagus

250

g

frozen petit pois
For the dressing:
Zest and juice of 2 lemons

6

tablespoons

extra virgin olive oil

2

tablespoons

honey

Big handful of finely chopped fresh mint

Plenty of sea salt and freshly ground pepper
Instructions
Rinse your quinoa thoroughly in a sieve until the water runs clear.

Put your oil into a saucepan over a medium heat and fry your quinoa for 5 minutes.

Add the stock and boil for 20 minutes.

Meanwhile, thinly slice your courgettes lengthways and trim your asparagus and griddle them all for a few minutes on each side until soft.

Make your dressing by mixing all of the ingredients together and whisking well or shaking in a jam jar.

Cook the peas in boiling water for 3 or 4 minutes and drain.

When the 20 minutes is up, switch off the heat and leave the lid on the quinoa saucepan for 5 minutes. Fluff with a fork.

Roughly chop the courgette and asparagus and mix with the quinoa, peas and dressing.

Serve with shavings of Parmesan cheese.
Nutrition (per serving)
Calories:
541
kcal
Carbohydrates:
67
g
Protein:
15
g
Fat:
26
g
Saturated Fat:
3
g
Sodium:
851
mg
Potassium:
1136
mg
Fiber:
10
g
Sugar:
16
g
Vitamin A:
7295
IU
Vitamin C:
46.3
mg
Calcium:
96
mg
Iron:
6
mg
Made it? Tag me!
Tag @TamingTwins so we can admire your make ⭐️

Thank you, thank you, thank you again dear friends. Can't wait to see what the next 6 months brings.
Quinoa, love or loathe? Discuss!
Sarah x

Let's be friends
Keep in touch on Facebook ¦
Chit chat on Twitter ¦
Pinning like my life depends on it Pinterest ¦