This Pesto Chicken bake is an easy, one pan, oven baked, family dinner. Chicken breast pieces are marinated in delicious pesto, along with crispy pesto roast potatoes, vine tomatoes and green beans. A complete one pan meal this makes the perfect midweek supper dish. 
In collaboration with Sacla' Free From Pesto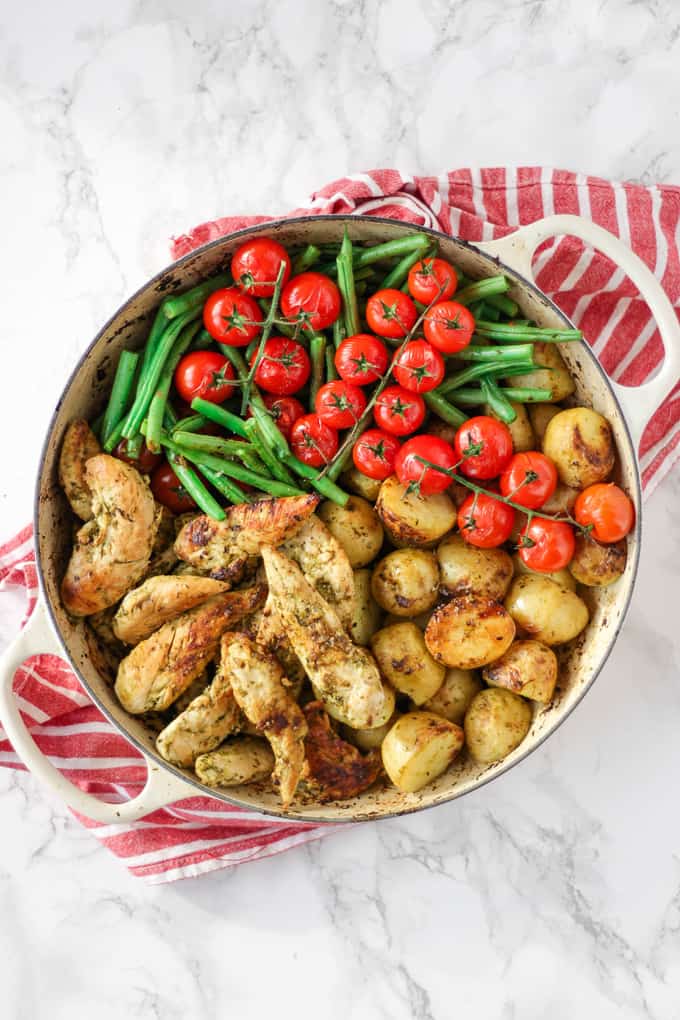 Chicken Pesto was one of the first foods that my children loved unreservedly. If I can coat it in the rich green, basil sauce, they will eat it. Always a useful trick to have in my Mum toolkit when I want them to try a new vegetable or two.
It's easy to fall into a rut though, pasta, peas and pesto (perhaps the alliteration that adds to the appeal?!) when we are in need of a quick 10 minute meal. They love it and it's super simple when you're a bit frazzled at the end of the day.
Sacla' sent me some of their Free From range to try recently and it was a perfect opportunity to extend our pesto eating repertoire.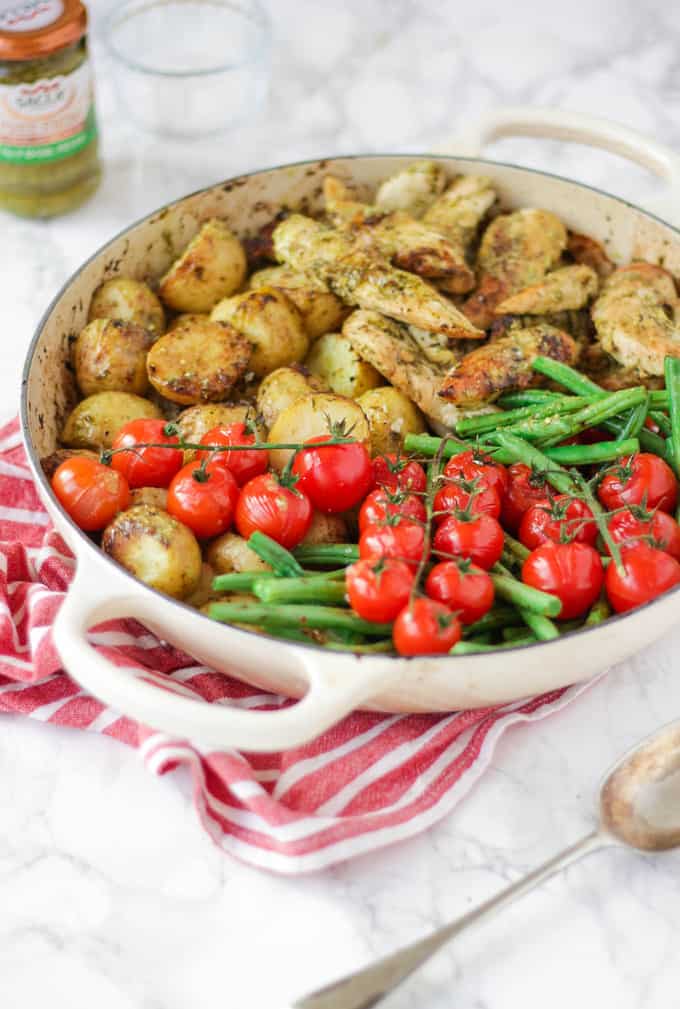 I came up with this one pan traybake, it takes a little longer than the standard pasta pesto, but it's so easy.
Hardly any washing up, piles of veggies all cooked together with tender chicken and crispy potatoes. I made this version if Chicken Pesto with Sacla' Free From Pesto, so it's also gluten free, wheat free and dairy free.
As you know, I love a one pan dish, they are just perfect for midweek meals. Easy to pull together during that late afternoon witching hour whilst looking after tired little ones. Plus, this Pesto Chicken Bake obviously involves lots of pesto, so bonus, they are sure to love it too – dinner success – hurrah!
How do you make Pesto Chicken?
Coating chicken breast pieces in ready made pesto is the simplest and easiest way to make a delicious Pesto Chicken. Just bake until tender and you're ready to serve. In this dish I've added in potatoes and vegetables to make a complete one pan meal, full of pesto flavour.
Is Chicken Pesto healthy?
This recipe for Chicken Pesto is a great healthy option meal as it contains under 500 calories and only 2g of Saturated Fat as well as two portions of vegetables. (This will of course depend on which brand of pesto you use.)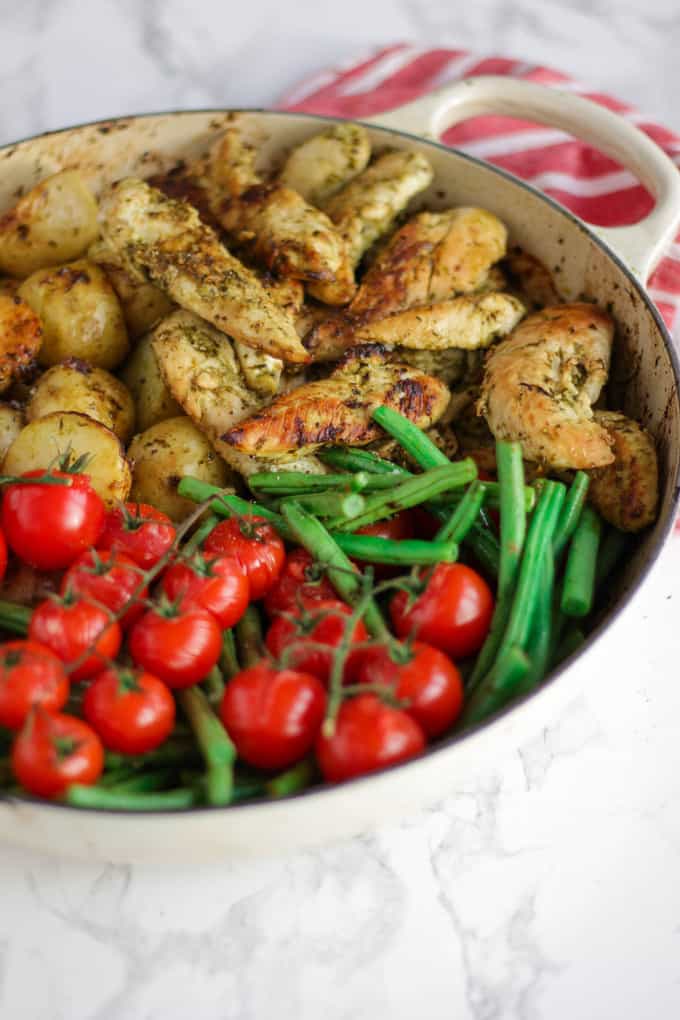 How many calories are in Chicken Pesto?
This Pesto Chicken dish contained under 500 calories per portion for a complete meal with potatoes and vegetables too.
Top Tips for making this recipe:
This makes a fantastic make ahead lunch, or if you have any leftovers, pack up for the following day.
You could add some pine nuts when you add the green beans and tomatoes to add texture.
Broccoli or sliced courgettes would also work very well in this recipe.
You could substitute the chicken mini fillets for sliced chicken breasts or pieces of turkey.
This recipe is also BRILLIANT for meal prep!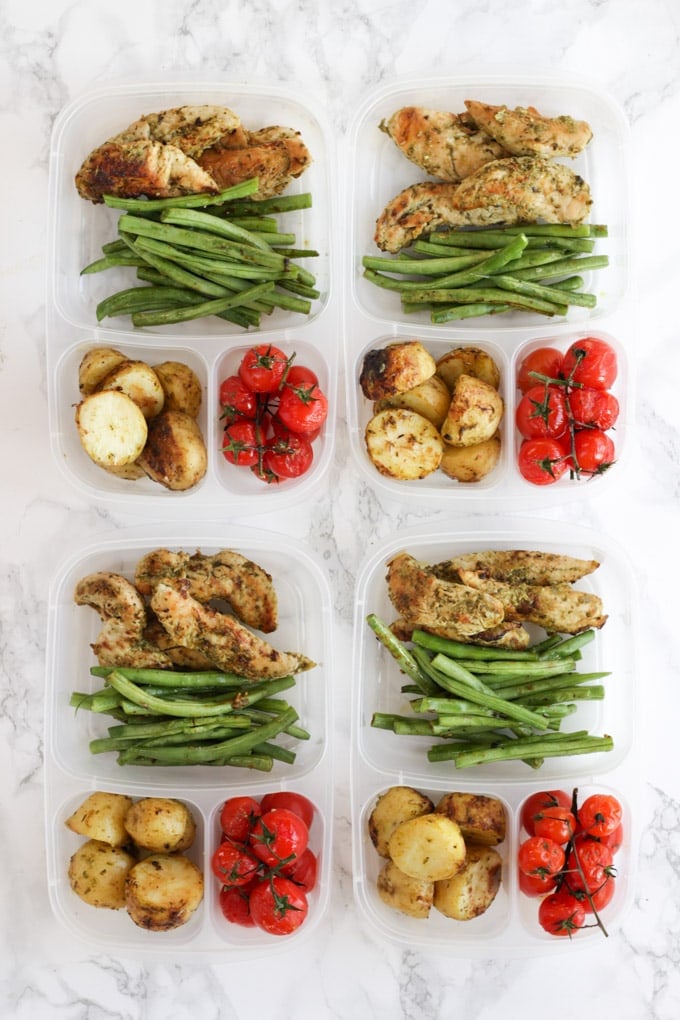 What I used to make the Pesto Chicken Bake recipe:
Fancy some other easy chicken recipes? How about my Easy Slow Cooker Chicken Cacciatore or my One Pan Lemon Asparagus Chicken?
Hope you enjoy this recipe as much as we do. I'd love to know how you got on and what you thought of it if you make this Pesto Chicken Bake recipe. Please rate the recipe and leave me a comment below if you do.
Also, if you fancy showing me a photo by tagging me on Instagram (@tamingtwins) I LOVE to see your creations.
How to make the Pesto Chicken Bake recipe:
One Pan Pesto Chicken Bake Recipe
This pesto chicken bake is an easy, one pan, oven baked, family dinner. It's also dairy free and gluten free and packed with two portions of colourful vegetables.
Ingredients
750

g

New potatoes

2

tbsp

Olive oil

500

g

Mini chicken fillets

120

g

Sacla' Free From Pesto

400

g

Fine green beans

400

g

Vine cherry tomatoes

Salt and pepper
Instructions
Pre heat the oven to 200C.

Put the potatoes and olive oil into the pan, toss the potatoes until coated and bake for about 30 minutes, until starting to soften.

Add the chicken fillets and then spoon the pesto on top of the potatoes and chicken. Put back into the oven for 10 minutes.

Add the green beans and tomatoes, with salt and pepper and toss in the pesto-y juices. Put back into the oven for 10 more minutes or until the chicken is cooked through.
Nutrition Facts
One Pan Pesto Chicken Bake Recipe
Amount per Serving
% Daily Value*
* Percent Daily Values are based on a 2000 calorie diet.