The easiest ever Salted Caramel Brownies recipe. Gooey chocolate brownies, smothered in caramel sauce and a sprinkle of sea salt. What's not to love?!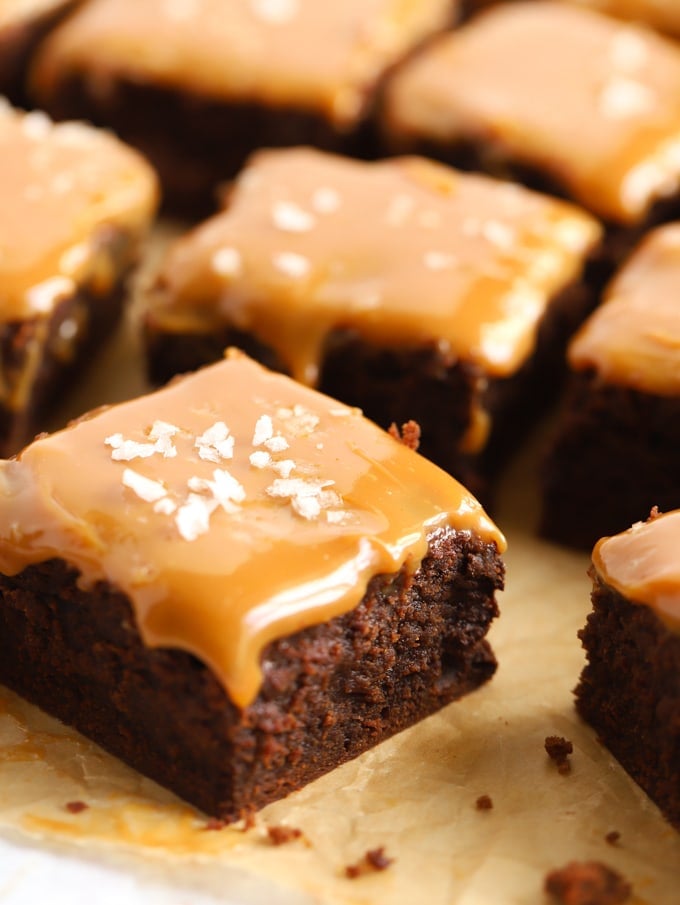 Stop what you're doing my friends. Put down your work. Forget the chores.
You NEED to take an hour and make these Salted Caramel Brownies appear in your life. (Self care RIGHT.)
I accidentally took my favourite brownie recipe (hello one pan mega simple hardly any mixing) and basically just slathered a can of caramel on top. And what cannot be made better with a pile of caramel sauce on top, I ASK YOU.
Going to tell you some truths here about this recipe:
They are a nightmare to transport/eat/move off of the plate into your mouth (so sticky).
They are in no possible way or stretch healthy.
But they are also one of the most delicious things I've baked this year soooo I'm willing to forgive these failings and so should you.
✅ All mixed up in one saucepan – no faff.
✅ Totally decadent, delicious and a super treat.
✅ Uses ready made caramel as a tasty shortcut
Serve as a cake treat or pudding with ice cream, as a celebration cake or breakfast. However you eat them – I hope you love them as much as I do ♥️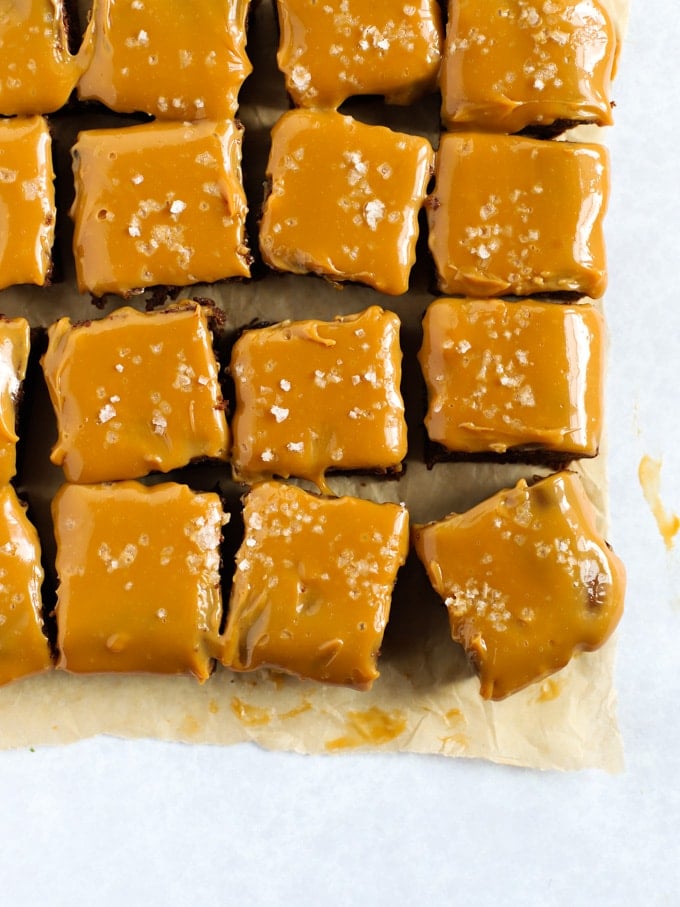 How to make the BEST Salted Caramel Brownies recipe:
Gently melt your butter, sugar and chocolates in a large saucepan.
TOP TIP: I put the butter into the pan and allow it to melt slightly first before adding the sugar and chocolates. This prevents anything burning. BUT you must melt VERY slowly on a VERY low heat.
Beat in the eggs and flour and pour into a lined baking dish.
Bake until just set but still a little wobbly. Pour over a can of caramel and pop into the fridge until set.
Give a good sprinkle of sea salt and cut up into deliciously sticky squares.
SIMPLE!
What I use to make the Salted Caramel Brownies:
Butter – I use salted butter for this recipe as it's what I always have in the house and adds a touch of salt to the brownie itself. If you only have unsalted, add a pinch of salt.
Chocolates – Use good quality chocolate. I love this chocolate for cooking, it's so easy to use and gives the best results, if you buy in bulk from Amazon it also works out about the same price as regular chocolate – win!
Sugar – This recipe uses soft light brown sugar for a rich, caramel flavour.
Eggs – Medium or large eggs are fine, free range. (If you use large eggs, you may get a slightly more risen brownie.)
Caramel – I always use a can of ready made Carnation Caramel for this recipe. You could use another brand/jar of ready made caramel if you prefer, but I really like the consistency and taste of this one.
Salt – I use good quality flakes of sea salt. These are the ones I always use.
Baking tin – I use a baking tin like . Sometimes I split this mixture between two, and reduce the cooking time for thinner brownies.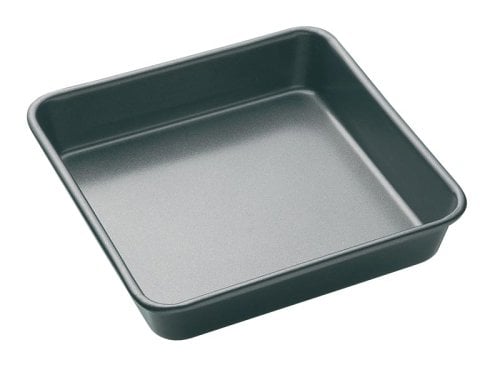 If you want to make a few batches of these Brownies then I would recommend using disposable foil baking trays as they are the perfect size, save on washing up and mean these are so easy to transport or give as gifts. I like these disposable foil trays from Amazon.
Baking parchment – I use baking parchment or baking paper for almost all of my bakes and cakes. It means no sticking, ever. I buy it in bulk from Amazon so I never run out and it's also heaps cheaper that way. Not to be confused with greaseproof paper, which needs to be oiled first.
Top Tips for making these Brownies:
Don't over bake your brownies, cook until only just set.
Be sure to resist and let your brownies cool down fully before cutting. They will fall into a mess if you cut them before they are cold.
Try serving your brownies for dessert with vanilla ice cream.
If you keep the Salted Caramel Brownies in an airtight tin they will stay fresh for five days. There is no need to refrigerate them after the initial setting of the caramel (unless it's a very hot day).
I'm often asked, can you freeze chocolate brownies? Yes! After cutting them into portions, when they are completely cool, pop them into the freezer on a lined baking sheet (without any wrapping touching their sticky tops). When they are fully frozen (about 2 hours) wrap them individually and put back in the freezer for up to 3 months. Defrost at room temperature for a treat whenever you fancy.
Fancy some other sweet treats?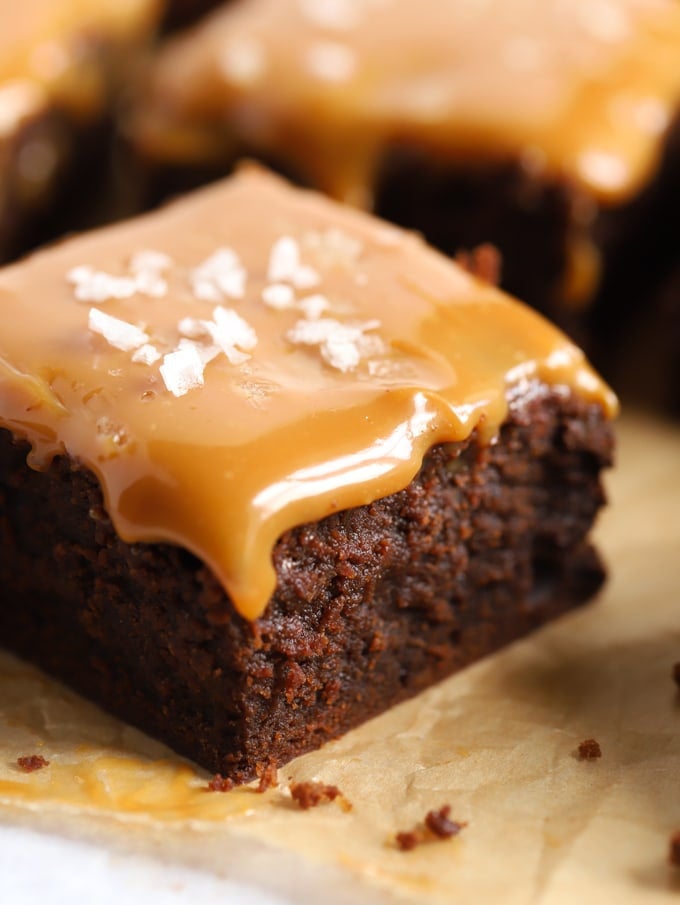 Hope you enjoy this recipe as much as we do. I'd love to know how you got on and what you thought of it if you make these Salted Caramel Brownies.
Please rate the recipe using the ⭐️ below!
Also, if you fancy showing me a photo by tagging me on Instagram (@tamingtwins) I LOVE to see your creations and try and share as many of them as I can.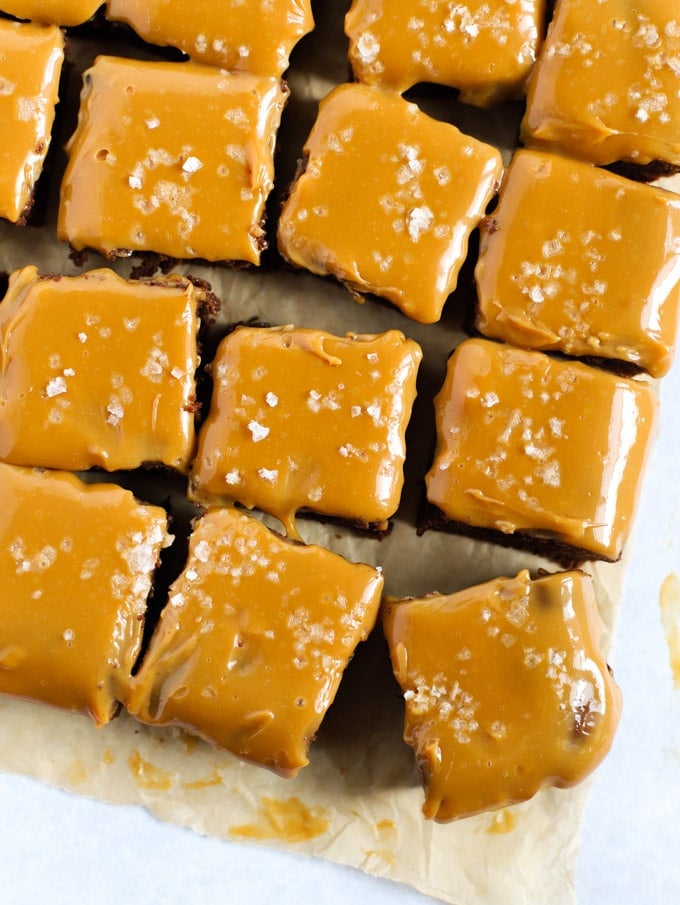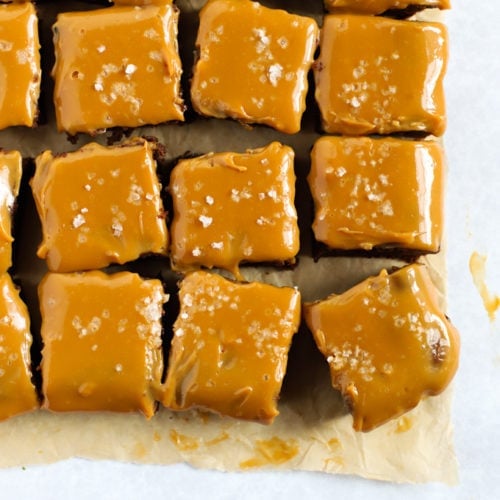 Salted Caramel Brownies
The easiest ever Salted Caramel Brownies recipe. Gooey chocolate brownies, smothered in caramel sauce and a sprinkle of sea salt. What's not to love?!
Instructions
Preheat the oven to 180c.

Line a baking tray with baking paper (I used a 25x25cm tin).

Melt the butter, sugar, milk and dark chocolates together over a very low heat. 

Once they are melted remove from the heat and leave to cool for 5-10 minutes.

Beat in the eggs and flour.

Pour your mixture into the tin and smooth out with a spatula. 

Bake for 30 - 40 minutes, or until the edges are just solid but the middle still has a little wobble. Don't overbake them!

Ovens do vary so don't be alarmed if you recipe takes that little bit longer. Brownies are better under-done than over.

When they come out of the oven, pour over the caramel (see recipe notes). Smooth out and pop into the fridge for at least an hour.

Sprinkle with sea salt and cut into squares.
Notes
You can pour the caramel over when the brownies are still warm, or later when they are cold. I find that if they are still warm it sinks in a little more, if you like that!
Ideally, for food safety in your fridge, you should allow the brownies to come to room temperature before putting in the fridge.
If you don't have time to chill the brownies, they will still be fine, just a bit more gooey and sticky. It is always best to let brownies go cold at least before cutting or they will fall apart.
Nutrition (per serving)
Calories:
381
kcal
Carbohydrates:
50
g
Protein:
4
g
Fat:
19
g
Saturated Fat:
12
g
Cholesterol:
76
mg
Sodium:
662
mg
Potassium:
176
mg
Fiber:
2
g
Sugar:
22
g
Vitamin A:
490
IU
Vitamin C:
0.1
mg
Calcium:
56
mg
Iron:
2.4
mg
Made it? Tag me!
Tag @TamingTwins so we can admire your make ⭐️