A simple version of this classic vegetarian cheese dish. Paneer Tikka is so quick and tasty, it makes a delicious dinner cooked in the oven, under the grill or even on the barbecue.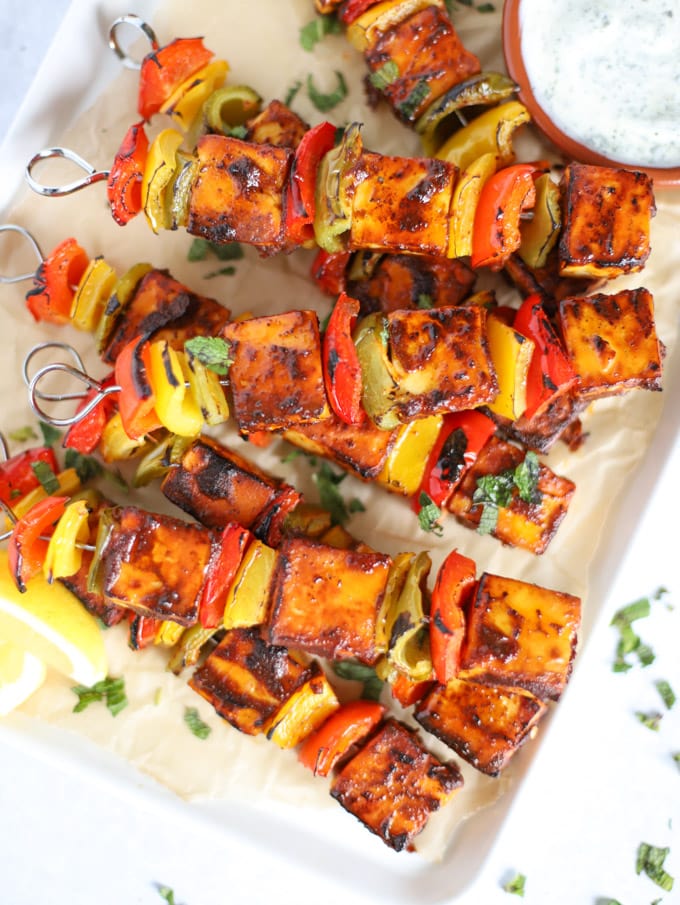 What's better than a cheese based main course? A SPICY cheese based main course of COURSE!
So many of you made my Grilled Halloumi Cheese Bake recently, I thought I'd focus my attention on the important things in life – more cheese based meals.
Paneer Tikka is one of my favourite Indian restaurant dishes.
If you've never had it before, it's cooked in a hot and smokey tandoor oven, with blackened edges and the delicious firm cheese squeak like halloumi (apart from the texture is a little bouncier maybe?).
Alas, my kitchen does not quite stretch to a tandoor for authentic tandoori cooked food, so I've come up this version to cook under the grill.
✅ Squeaky cheese – YES!
✅ Uses a ready made paste to make it super quick.
✅ Really tasty dinner in under 30 minutes.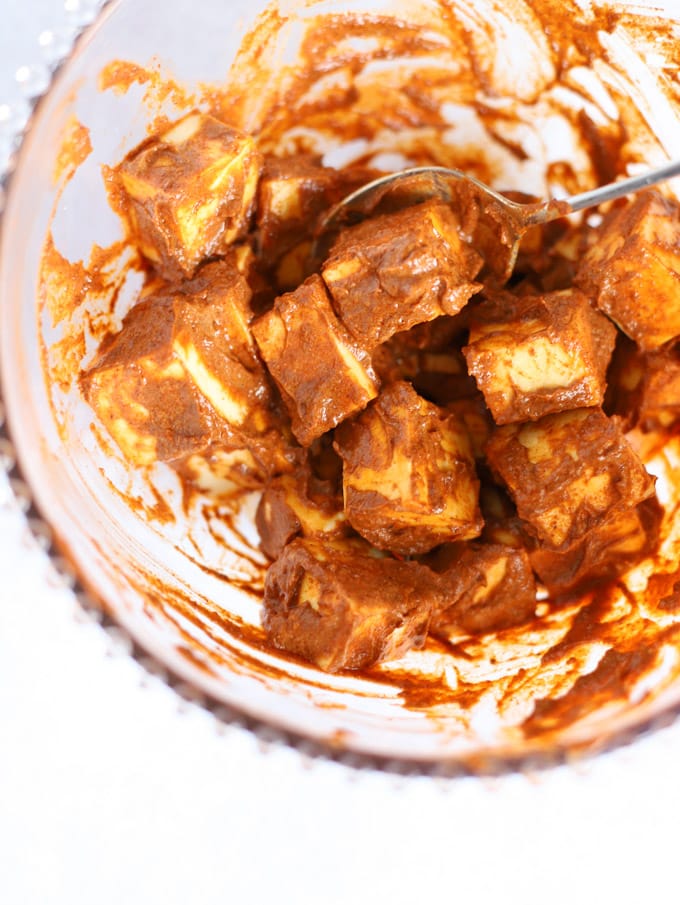 How to make the Paneer Tikka:
To make this simple Paneer Tikka recipe at home, cut up your paneer cheese into cubes and mix with the yoghurt and tikka spice paste.
Leave to marinate if you have time.
(Honestly? I haven't found that this makes a huge difference, at all and I never have time to marinade during the week. If you DO, leave it for about 2 hours.)
Thread onto skewers, along with cubes of pepper.
TOP TIP: If you're cooking in the oven (see recipe instructions) there's no need to thread onto skewers. I LOVE this short cut!
Cook under the grill, in the oven or on the barbecue.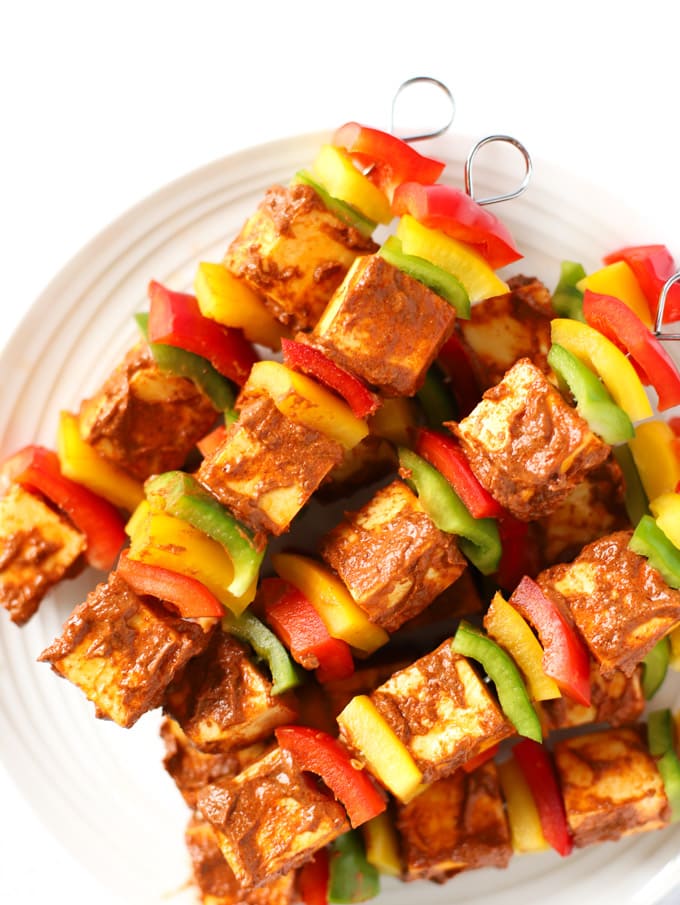 FAQs about Paneer Tikka
What is Paneer cheese?
You can buy paneer cheese in most supermarkets now. It is an Indian firm, non melting, cheese.
It has a mild taste, and is similar to halloumi cheese.
Just to note, I have occasionally seen a SOFT version of Paneer, more like a cottage cheese. Obviously this is not what you need for this recipe. You're looking for a block.
Paneer is also naturally totally vegetarian as it doesn't contain rennet.
Is this recipe authentic?
This is my take on restaurant style Paneer Tikka from having eaten it and loved it. If like to learn more about the authentic dish and learn how to make a more in depth version, there's a great post here from Veg Recipes of India.
What to serve with the Paneer Tikka Kebabs:
Rice – I use a pouch of microwave rice if I'm in a mega rush during the week
Raita – I cheat and mix natural yoghurt with some mint sauce and a little water for an easy dip. I add cucumber cubes for extra veg.
Poppadums – Obviously!
Naan Breads – Serve in a naan bread or wrap as a delicious alternative sandwich
Variations on the Paneer Tikka Kebabs:
Non Skewered Version – Bake without skewers in the oven, just toss the cubes of cheese and peppers in a baking dish with the spice mix and cook.
Paneer Tikka Masala – Serve with a curry masala sauce/gravy.
Different veggies – Swap peppers for onions, mushrooms, tomatoes – whatever you prefer.
Change the spices – Mix up the spices and use a different curry paste.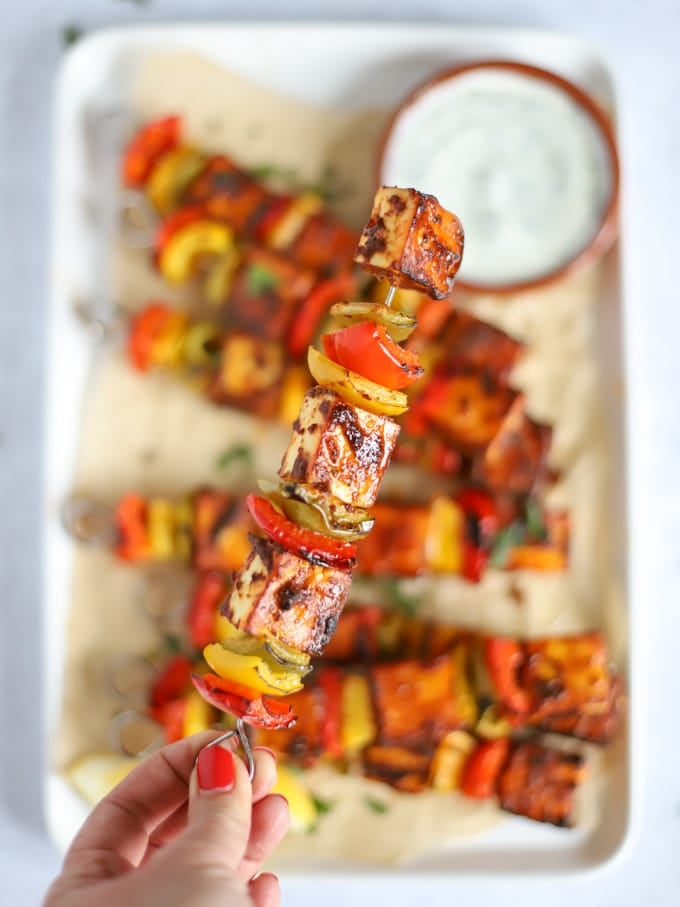 Looking for some more easy Indian style dinners?
Hope you enjoy this recipe as much as we do. I'd love to know how you got on and what you thought of it if you make this Paneer Tikka recipe.
Please rate the recipe using the ⭐️ below!
Also, if you fancy showing me a photo by tagging me on Instagram (@tamingtwins) I LOVE to see your creations and try and share as many of them as I can.
Paneer Tikka
A simple version of this classic Indian vegetarian cheese dish.
Ingredients
450

g

Paneer cheese

Cut into small cubes

3

tbsp

Natural yoghurt

150

g

Tikka spice paste

6

Peppers (Capsicum)

Deseeded and cut into cubes
You will also need:
8

Metal skewers

Or wooden skewers, soaked for 2 hours in water before use
Instructions
Mix the yoghurt and tikka paste in a large bowl, add the paneer and coat fully.

If you are marinating, cover and leave in the fridge until you're ready to use.

Thread onto the skewers, along with the peppers.
To cook under the grill (broil if you're in the USA):
Preheat the grill to the hottest setting. Please the skewers on a rack over a baking sheet (or grill pan). Cook for 15 - 20 minutes, turning once, until browned and golden all over.
To cook in the oven:
Preheat the oven to 220C.

Option a) Please the skewers on a rack over a baking sheet (or grill pan). Cook for 15 - 20 minutes, turning once, until browned and golden all over.

Option b) To cook in the oven you do not need to skewer the pieces of paneer if you prefer. Just throw everything into a lightly oil baking dish and bake for 15 - 20 minutes until starting to turn crunchy on the outside.
To cook on the BBQ (barbecue):
Put the kebabs on a rack and then place the rack on a hot barbecue. (This helps to lift them off as they soften and avoids them getting lost in the coals.) Cook for about 10 minutes (depending on the BBQ heat) until just starting to blacken.
Notes
You can replace the Tikka Paste with Tikka Powder if you prefer (or are trying to reduce calories). Use 6 tbsp Tikka Paste (depending on strength and your taste). Personally, I don't think the flavour is quite as good but up to you.
If cooking in the oven, you don't need to skewer the Paneer Tikka into kebabs. Even quicker!
Nutrition (per serving)
Calories:
433
kcal
Carbohydrates:
17
g
Protein:
19
g
Fat:
32
g
Saturated Fat:
18
g
Cholesterol:
76
mg
Sodium:
43
mg
Potassium:
400
mg
Fiber:
5
g
Sugar:
11
g
Vitamin A:
11510
IU
Vitamin C:
231.1
mg
Calcium:
623
mg
Iron:
1.7
mg
Made it? Tag me!
Tag @TamingTwins so we can admire your make ⭐️