This fragrant Lamb Tagine recipe is a simple version of the classic casserole stew dish from Morocco. Made with chicken peas and almonds, this dish is an easy dinner, ideally served with cous cous. This recipe is gluten free and also easily made in a slow cooker.
Today I thought I'd share with you one of my most regularly made recipes – Lamb Tagine with Butternut Squash. Come rain of shine, this fragrant casserole features on my weekly menus so often.
I LOVE Moroccan food. I was lucky enough to visit Marrakesh a few years ago and do a cookery course. Oh my goodness, dream come true and I'm so desperate to return. In the meantime, a steaming dish of this Lamb Tagine recipe served on a pile of buttery cous cous will have to suffice.
Morocco as a place, and the food there, are full of colour and warming scents. I hope that this Lamb Tagine recipe brings you some of that magic to your midweek menus as it does to ours!
It's so easy to make, especially with a great quality Ras el Hanout spice mix (I like this Spicentice one from Ocado and Waitrose).
How do you make Lamb Tagine?
To make the lamb tagine recipe, you start with pieces of lamb (you can use whichever cut you prefer – I like to use lamb leg steaks cut up to keep it lean, but lamb shoulder will give a softer texture) and brown them in a heavy pan.
Next, you brown onions with garlic and spices, add the lamb back into the pan with stock. Cook slowly until the lamb falls apart with a spoon, adding the butternut squash and chick peas for the last part of the cooking time.

Can I cook Lamb Tagine in a traditional Tagine pot?
This Lamb Tagine recipe can easily be adapted to be cooked in a traditional Moroccan Tagine Pot. I brown the lamb in this recipe before cooking, so you would need to check your Tagine can go on the hob. If not simply fry the meat in a pan and transfer to your Tagine once its browned. Just a quick point to note, you don't need to invest in a specific Tagine pot, this recipe is delicious cooked in any casserole dish!
Can you make Lamb Tagine in a slow cooker?
Lamb Tagine is a really versatile dish, you can make it on the hob as described in this recipe, but also in a slow cooker (or crockpot). Simply fry your lamb on the hob, add all of your ingredients (except the chickpeas – pop them in about an hour before the end) and cook on HIGH for 4-6 hours or LOW for 6-8 depending on which suits your timings best.
You can also cook Lamb Tagine in the oven, pre-heat your oven to 180deg fan (160deg conventional) follow all of the steps as outlined in the recipe but rather than simmering on the hob cook in the oven for around 2 hours.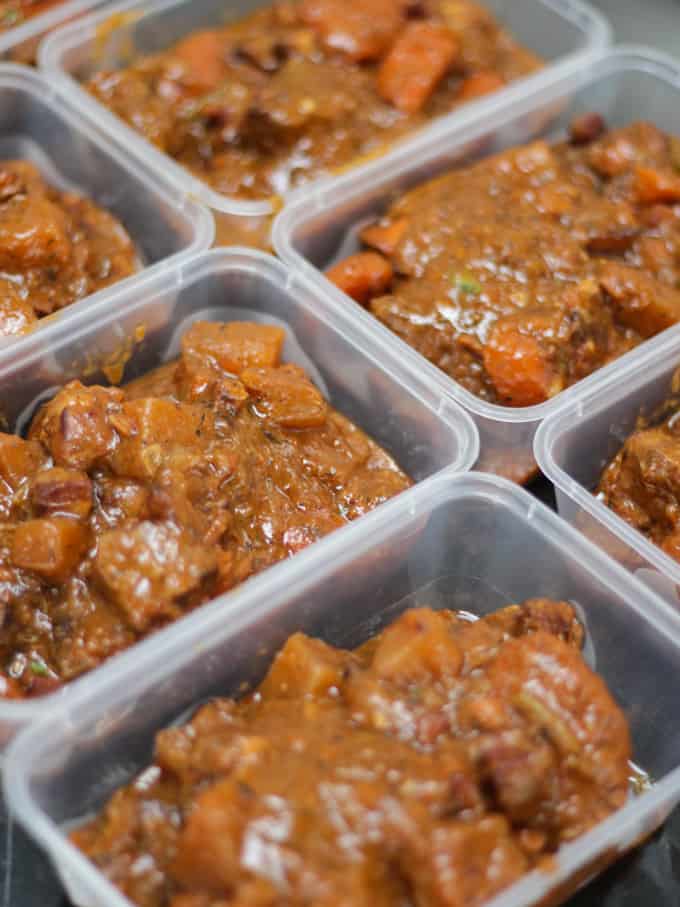 Can you freeze Lamb Tagine?
Lamb tagine freezes brilliantly, it's one of my favourite go to freezer meals. Lamb Tagine is the perfect batch cook recipe, cook double and freeze half. Once the Lamb Tagine has cooled portion it up into takeaway containers (I buy them in bulk from Amazon, about £8 for 50).
I then defrost and warm through when needed. The sauce will thicken even more on reheating, just add a splash of water if you would like more sauce.
What can you serve with Lamb Tagine?
This lamb tagine recipe is perfect served with simple buttered cous cous (TOP TIP: cook the cous cous using stock instead of boiling water for added flavour).
Lamb tagine is also works well with flatbreads (I have a super simple recipe for Easy Flatbreads, they are much easier to make than you would think!) or rice is perfect for mopping up the delicious sauce.
What I used to make this Lamb Tagine Recipe:
I like to cook this Lamb Tagine recipe in a lidded casserole dish so it doesn't dry out. The one in these photos is available here on Amazon. It's Le Creuset so it's investment buy but I've used it about twice a week for the last 10 years,  so it's been worth it!
My favourite 'spoon-atula' – I use this every single day (in fact I have a few of them!) Perfect for scraping sauces from pans and getting the last bits out of bowls. Oh and LOOK AT THE COLOURS!
As I mentioned, this Lamb Tagine recipe freezes really well. When it's cold, I portion it up into takeaway containers and pop in the freezer. I use these containers from Amazon, about £8 for 50.
Tips for making the Lamb Tagine recipe:
Make sure you dry the lamb prior to frying, it really helps the meat brown more easily.
A top tip for preparing your Butternut Squash is to heat it in the microwave to soften slightly before you start peeling and chopping. It honestly makes it so much easier. Or buy ready chopped like me!
It it really is worth investing in a good quality stock, it does make a difference the the taste, I promise!
You could also add some dried apricots or raisins, to make this a Fruity Lamb Tagine. 
Fancy some other slow cooked recipes? How about my Beef Stifado or my Easy Chilli Con Carne (made with beef steak)?
Hope you enjoy this recipe as much as we do. I'd love to know how you got on and what you thought of it if you make this Lamb Tagine recipe. Please rate the recipe and leave me a comment below if you do.
Also, if you fancy showing me a photo by tagging me on Instagram (@tamingtwins) I LOVE to see your creations.

How to make the Lamb Tagine recipe:
Lamb Tagine Recipe
This fragrant Lamb Tagine recipe is a simple version of the classic dish from Morocco. Made with chicken peas and almonds, this dish is an easy dinner, ideally served with cous cous. This recipe is gluten free and also easily made in a slow cooker.
Cook Time
2
hours
45
minutes
Total Time
2
hours
55
minutes
Ingredients
2

tsp

Olive oil

900

g

Lamb pieces

1

Onion

Peeled and chopped into chunks

3

Garlic cloves

Peeled and crushed

2

tsp

Fresh ginger

Peeled and finely chopped

2

tsp

Cumin seeds

3

tbsp

Ras el Hanout spice mix

500

ml

Lamb stock

500g

Butternut squash

Peeled and cubed (or I use from frozen)

400

g

Chickpeas

From a tin, drained, is fine
To serve:
25

g

Flaked almonds

20

g

Fresh mint

Chopped, optional
Instructions
In a heavy saucepan, heat half of the oil over a medium heat and brown the meat in batches, moving aside when browned.

Add the remaining oil to the empty pan and lower the heat. Add the onion, garlic, ginger, cumin and Ras el Hanout. Cook over the low heat for 10 - 15 minutes until everything turns sticky and fragrant.

Add back in the meat and stock, put a lid on and continue cooking over a low heat for about 1.5 - 2 hours until the meat is almost totally softened.

Add in the butternut squash and drained chickpeas and cook for a further 30 minutes with the lid on.

Give everything a good stir, check the meat is very soft and serve sprinkled with almonds and mint.
Nutrition Facts
Lamb Tagine Recipe
Amount Per Serving
Calories 391
Calories from Fat 99
% Daily Value*
Total Fat 11g 17%
Cholesterol 97mg 32%
Sodium 225mg 9%
Potassium 1009mg 29%
Total Carbohydrates 33g 11%
Protein 39g 78%
* Percent Daily Values are based on a 2000 calorie diet.