These light, extra moist Lemon Drizzle Cupcakes are the perfect treat. Baked in just 20 minutes using a basic cupcake recipe, made even more delicious with the simple addition of a lemon juice drizzle, lemon buttercream and finished with some lemon curd.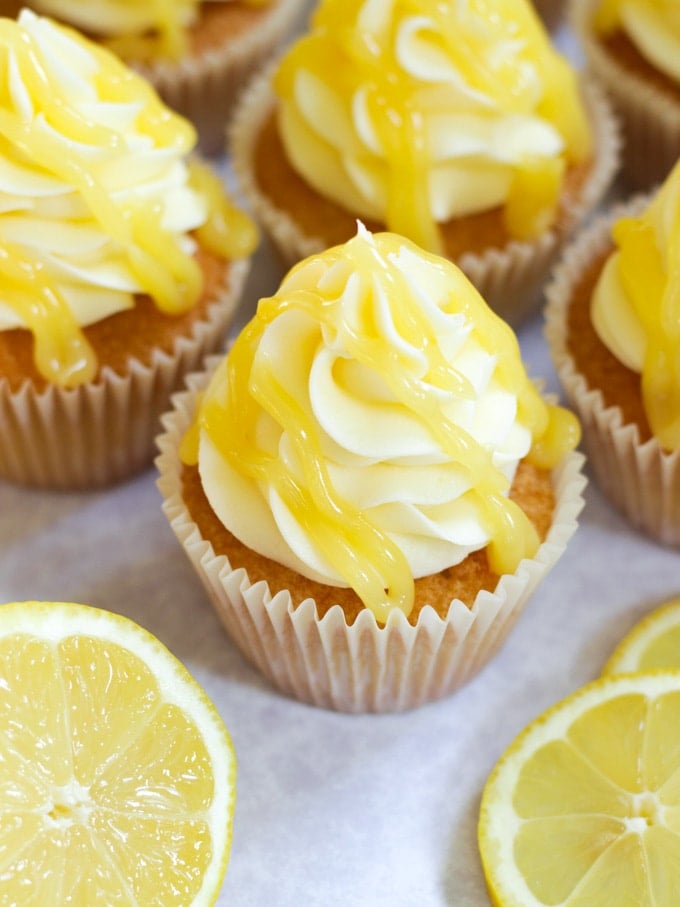 It has been SO long since I've cooked any cupcakes. How can that be?
I went from baking 20,000 a year (in a former life I ran a cake business, baking for weddings did you know that?!) to NONE lately. I have included all my insider knowledge on baking the VERYT BEST cupcakes in the notes section of the recipe.
Cupcakes were so on trend for a while, I'm not sure if maybe they are a little out of favour now? Has that moment passed?
I can't decide. And do you know what, when cupcakes taste as good as these moist little Lemon Drizzle beauts they should definitely still be right on trend.
That classic combo of sour lemon wrapped up in sweet cake in a cupcake version, what's not to love? PLUS:
They are so quick to make, but are really impressive looking.

No super fancy cake making equipment needed.

For me, these are apparently Harri's favourite cake in the world, so there's no arguing with that obvs.
HOW DO YOU MAKE LEMON DRIZZLE CUPCAKES?
These Lemon Drizzle Cupcakes are mixed up in just a few minutes. Preheat your oven to 180C. Then start by creaming your butter and sugar together, either using a mixer or wooden spoon.
They should be pale and fluffy. Wipe down the sides of the bowl with a spatula as you go to make sure everything is well mixed.
I find it really helps if the butter is quite soft, but not melting. Zap in the microwave for a couple of seconds before mixing if yours isn't mega soft.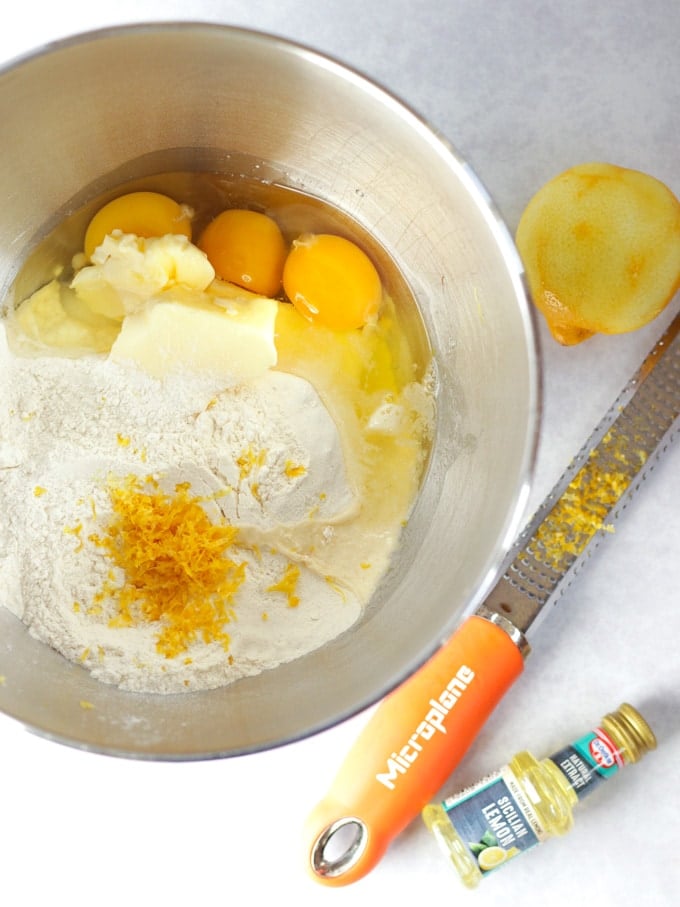 Next, add you eggs, self raising flour and lemon juice extract, and lemon.
Now, line a muffin tray with paper cupcake cases. Dollop your mixture evenly between the cases.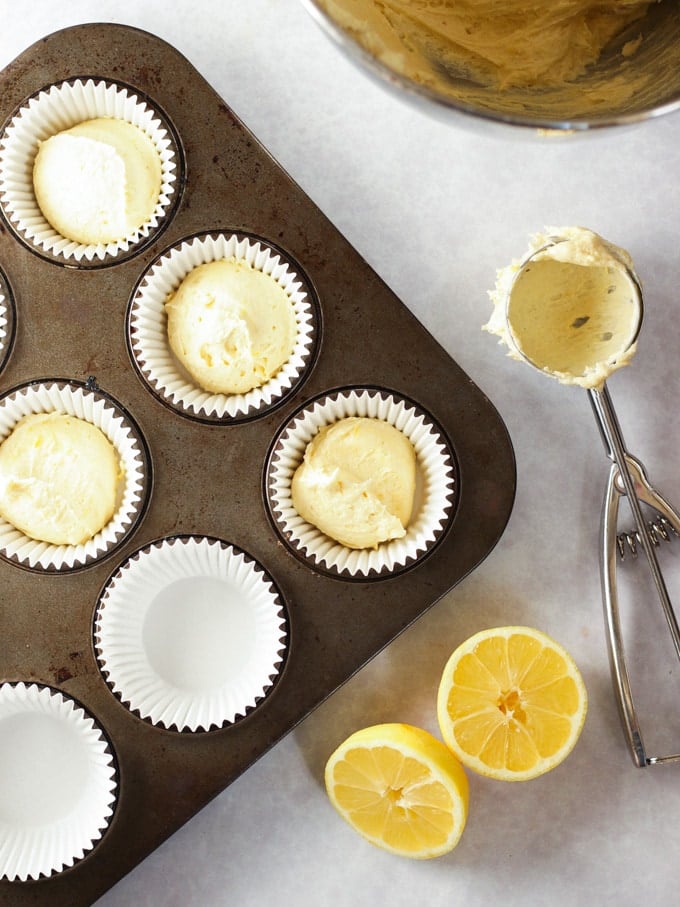 While the Lemon Cupcakes are baking start making your lemon drizzle.
This is so easy, just mix the juice from your zested lemon with some icing sugar and when the cupcakes are fresh from the oven pour it over the top of each one.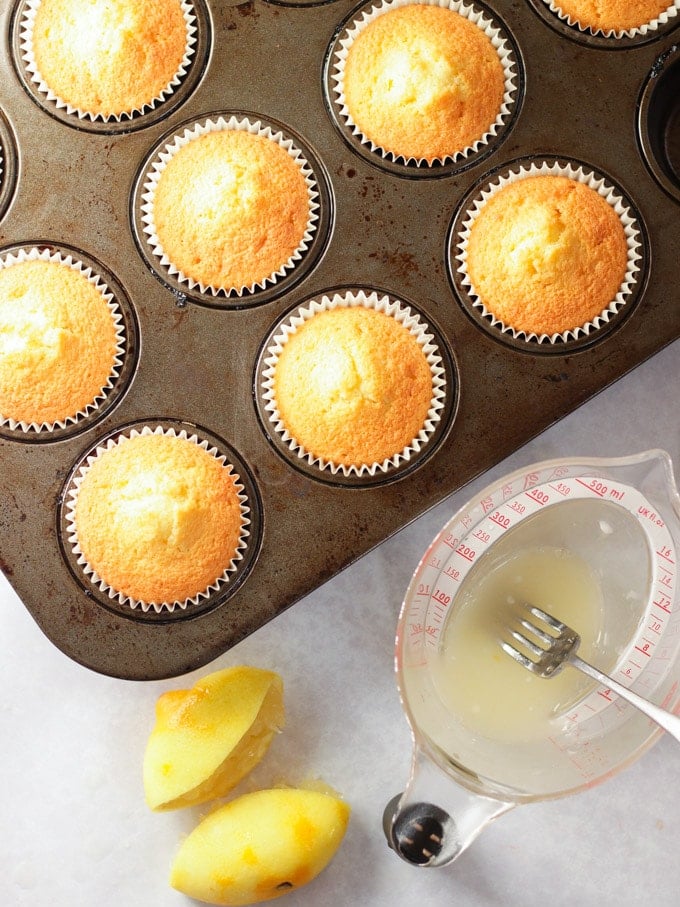 Allow the Lemon Cupcakes to cook in the tin while the drizzle sinks down into them.
You can prick holes in the cakes as you do in a regular Lemon Drizzle Cake but honestly, I don't think you need to with these.
Also, it's worth saying that you don't actually need to ice these cakes if you don't want to. They are just gorgeous with the lemon drizzle and nothing else.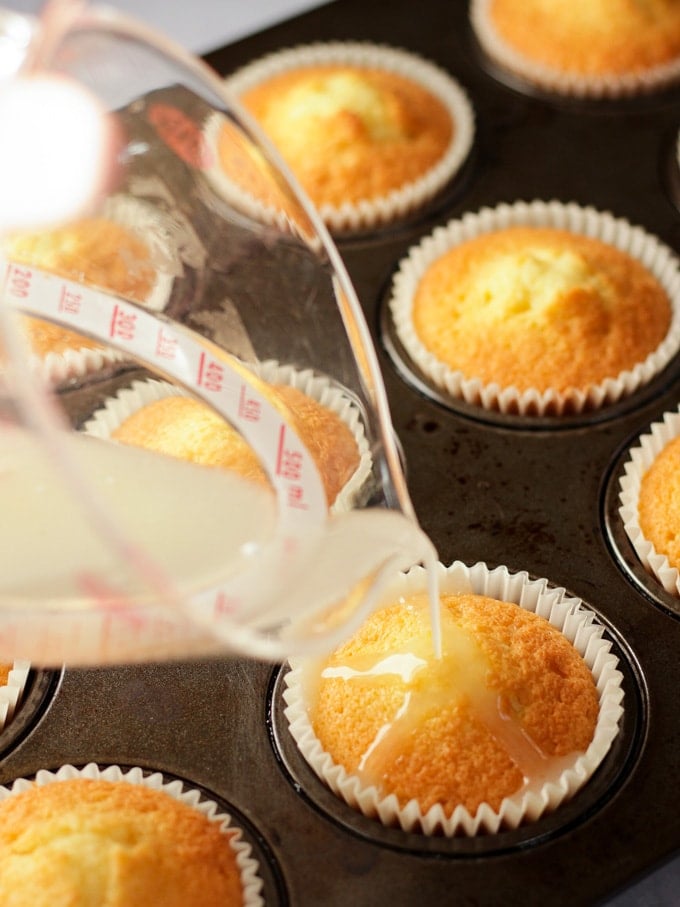 HOW DO YOU MAKE LEMON BUTTERCREAM?
Firstly, beat the butter until it is light, pale and fluffy.
Now add in your icing sugar. If you can, sieve this before you add it in. It makes a big difference to the texture in my opinion.
Continue to beat the mixture until everything is well mixed, wiping down the sides of the bowl occasionally. The longer you beat your buttercream for, the lighter in texture it will be.
Finally mix in your lemon extract.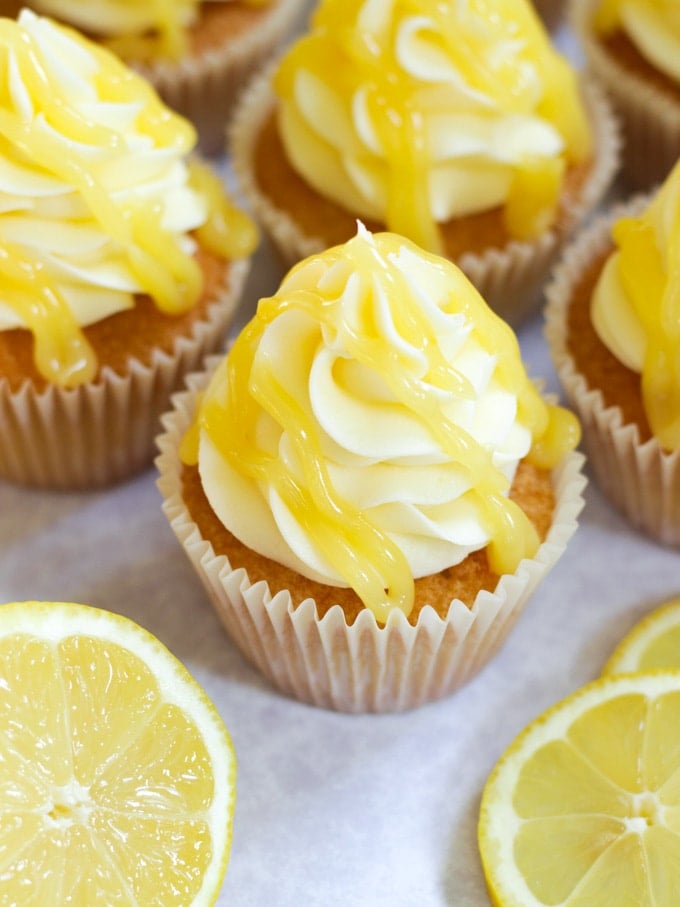 WHAT I USED TO MAKE THESE LEMON DRIZZLE CUPCAKES:
You don't NEED any of those items to bake these cupcakes, but they do make it easier and help to give that really special finish.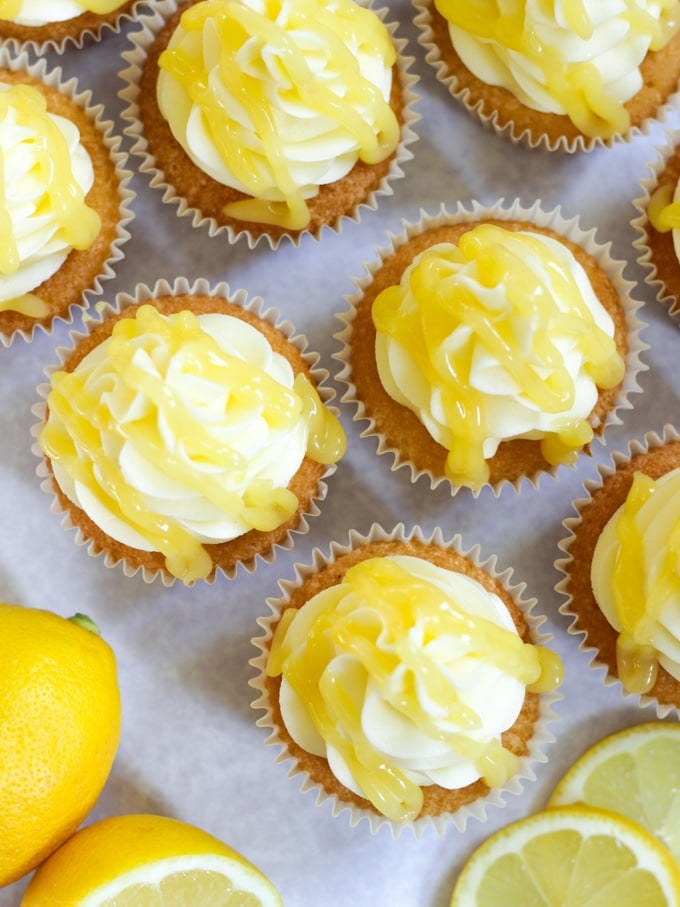 HOW DO YOU KEEP YOUR LEMON DRIZZLE CUPCAKES MOIST?
For extra moist Lemon Drizzle Cupcakes follow these steps:
Don't over cook your cupcakes, they should be slightly golden, and springy to the touch. If you aren't sure if they are done, use a metal skewer to check. (Put your skewer into the middle of the cupcakes, it should come out clean).
Drizzle the lemon juice and icing sugar mixture on the cupcakes when they have just come out of the oven.
Eat the cupcakes within two days of baking (if they last that long!)

IN THE MOOD FOR MORE SWEET TREATS? How about…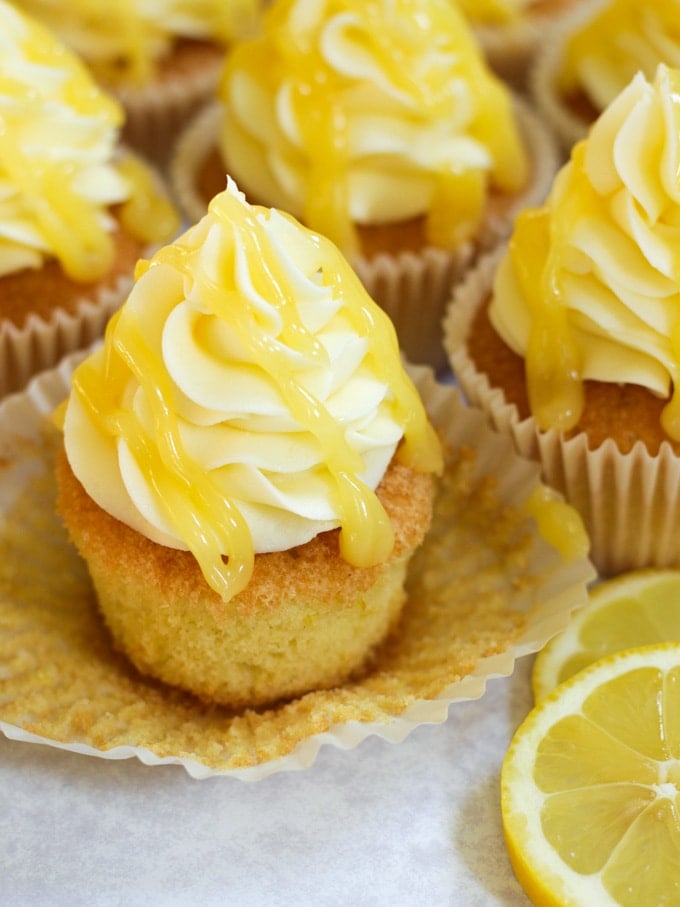 I hope you enjoy this recipe as much as we do. I'd love to know how you got on and what you thought of it. Please rate the recipe and leave me a comment below if you do.
If you enjoyed this recipe, subscribe to my newsletter for weekly meal plans, and follow me on Facebook, Instagram and Pinterest for lots of chat, recipes and life updates!
How to make the Lemon Drizzle Cupcakes recipe:
Lemon Drizzle Cupcakes
These light, extra moist Lemon Drizzle Cupcakes are the perfect treat. Baked in just 20 minutes using a simple cake recipe with added zing!
Ingredients
For the cupcakes:
150

g

Sugar

150

g

Butter

3

Eggs

150

g

Self Raising Flour

1

Lemon

Zest Only (reserve lemon for the drizzle)

1

tsp

Lemon Extract
For the drizzle:
25

g

Icing Sugar

Lemon Juice

From the lemon you used for zest in the cupcakes
For the buttercream icing:
250

g

Butter

500

g

Icing Sugar

1

tsp

Lemon Extract
To decorate:
1/2

jar

Lemon Curd

Approx 160g
Instructions
Preheat oven to 180deg fan (200deg conventional).

Put 12 cupcakes cases into your tin ready.

Cream your room temperature butter with your sugar until its pale, light and fluffy.

Either: Beat in the eggs, one at a time, mixing really well after each egg. Don't worry if it curdles slightly, it will come good OR: Add all of the eggs, flour, zest and lemon extract.

Mix together by hand or with a mixer until everything is well combined.

Spoon equal amounts of mixture into your cupcake cases. I use an ice cream scoop as this gives the perfect amount and ensures some uniformity.

Bake for 15 minutes approx. You may need to adjust this depending on your oven. The cakes should be golden and slightly bouncy to the touch.

Meanwhile make your drizzle. Mix together icing sugar, and the juice from the lemon you previously used for the zest.

Now make the buttercream icing, beat your butter until its, pale, light and fluffy.

Beat in your sieved icing sugar and add in your lemon extract.

Take your cupcakes out of the oven, whilst they are still warm in the tin, drizzle over your lemon drizzle.

Once the cakes are cooled pipe over the icing, and then either take a fresh bag with the end snipped off or drizzle the lemon curd on top.
Notes
TOP TIP! 
My secret weapon for any recipes with citrus zest in is my Microplane Zester. I know I'm a wimp but I used to hate making anything with lemon zest in before splashing out on one of these. They have SO many glowing reviews. You can buy them here on Amazon: Microplane Premium Zester.
TOP TIP!
To make sure that your cupcakes are of even sizing I use an ice cream scoop to put the mixture into the cupcakes. It's my favourite cupcake and muffin baking trick and kids LOVE using a scoop too.
TOP TIP! 
If your buttercream is too stiff add a teaspoon of boiling water, one at a time until it is a smooth pipe-able texture
. 
TOP TIP! It is really important to use a good quality lemon extract, not essence. An extract will contain flavouring produced from lemons, rather than an essence which is a chemically produced flavouring, which has probably never seen a lemon in it's life!
TOP TIP! I used piping bags for the icing and lemon curd, but you can pop on with a knife and spoon if you don't have any.
TOP TIP! Don't overbake the cupcakes. Be sure to take them out of the oven when they are only JUST cooked as the heat in the pan will continue to cook them for a little while.
Nutrition (per serving)
Calories:
521
kcal
Carbohydrates:
66
g
Protein:
3
g
Fat:
28
g
Saturated Fat:
17
g
Cholesterol:
112
mg
Sodium:
255
mg
Potassium:
48
mg
Sugar:
55
g
Vitamin A:
890
IU
Vitamin C:
4.8
mg
Calcium:
18
mg
Iron:
0.4
mg
Made it? Tag me!
Tag @TamingTwins so we can admire your make ⭐️