Chicken breasts topped with pizza toppings and mozzarella cheese, a higher protein, wheat free, gluten free, alternative to regular pizza. Served with potato wedges and salad for a delicious dinner.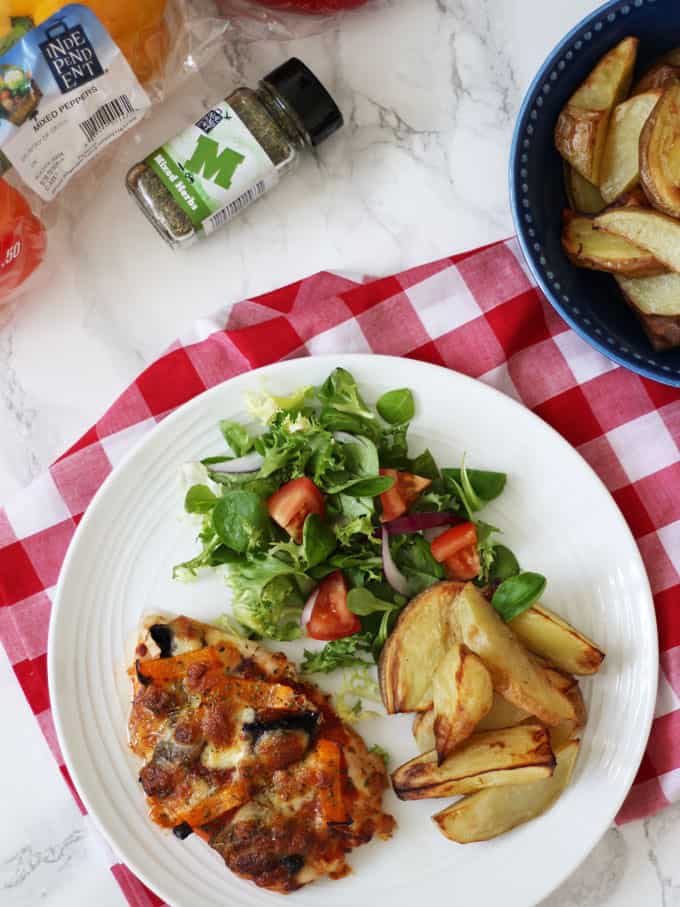 Do you watch YouTube? I'm a bit behind with my viewing at the moment, because of school holiday juggling, but I'm lined up for a full on gorge of viewing when life slows down. Gone are the days of just searching for "how to repair my dishwasher", YouTube has replaced traditional TV for Millennials and I'm right there with them. I love it.
Granted, there is a lot of odd niche channels, 30 minutes of unwrapping Kinder Eggs = 50 million views. See what I mean? Grocery haul videos are also a thing on YouTube. A BIG thing. Who knew? I guess it's like peeking inside someone's trolley for inspiration.
So, if you've watched my ramblings on YouTube you might know that I do a regular, big grocery shop (and yes, I make grocery haul videos of them!) I'm always trying to be organised with food shopping and meal planning, but over the summer, I've struggled to keep on track with a bit shop each week as we've been out and about so much.

The food brand, Independent, got in touch with me recently and challenged me to try out their range of products. The award winning brand is available from local stores across the UK (including Costcutter, Mace, Kwiksave, SuperShop and SimplyFresh). Perfect for those times when you need to stock up without going to a big supermarket.
The brand offers an huge range of products including fresh meats and vegetables through to household items and treats, all on your doorstep. I was really impressed by not only the range, but also the quality.

Using the Independent range, I came up with this Pizza Topped Chicken recipe, which makes a really easy, family meal. Perfect for midweek, it feels like a bit of a treat, whilst still being balanced. Use whatever toppings you fancy and I served with homemade potato wedges and salad.
The kids loved getting involved and adding their own toppings to the chicken. Always a good activity to keep them distracted until dinner is ready!
Pizza Topped Chicken
Ingredients
4 Chicken breasts
4 Tbsp Tomato & Garlic Sauce
1 Red or Yellow Pepper, deseeded and sliced
4 Mushrooms, sliced
Half an onion, thinly sliced
120g Mozzerella cheese
Olive oil to drizzle
Instructions
Preheat the oven to 180C.
Flatten the chicken breasts using a rolling pin.
Pop onto a baking sheet and top each one with some of the Tomato & Garlic Sauce.
Add your toppings (peppers, mushrooms,onions or anything else you fancy).
Sprinkle on the cheese and herbs, drizzle with a little olive oil.
Bake for 25 minutes until cooked through and the cheese is crispy.
Serve immediately with salad and potatoes.
What's your go to midweek meal when you haven't managed to get to the supermarket?
Pin the Pizza Topped Chicken for later:
Disclosure: This recipe was commissioned by Independent by Costcutter. As always, all opinions are truthful.
Keep in touch on Facebook ¦
Chit chat on Twitter ¦
Never miss a trick on Bloglovin' ¦
Circle with me on Google+ ¦
Pinning like my life depends on it Pinterest