I'm ashamed to say that until last week, I'd never been to the beautiful Wyre Forest. It's 10 sq miles of woodland, with rambling paths and spaces for kids and grown ups to run wild and even better, it's right here in the Midlands, only a short drive from home. This year the forest has been playing host to the Gruffalo to celebrate his 15th birthday.
On a bright, crisp September morning, we packed our backpacks and trundled off to the deep dark wood..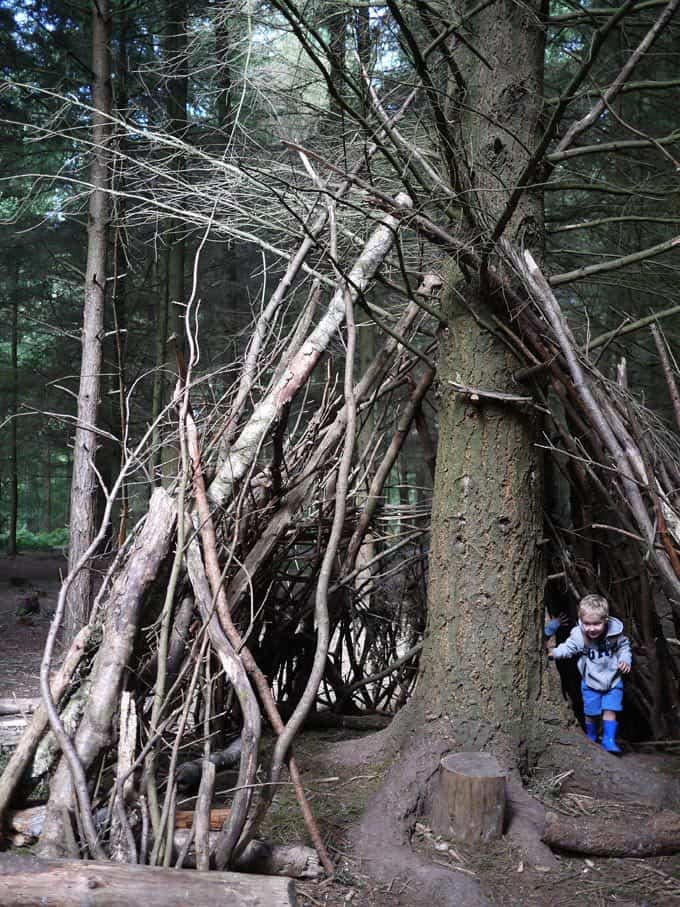 The wood has three marked trails to follow from the visitor centre. The Gruffalo path is the Wren trail, marked in yellow and is the easiest route, about a mile long. On the morning of our visit, there were only one or two other explorers making their way around the trail.
It felt like we had the entire forest to ourselves and it was magical. We ran and jumped and counted trees until we spotted him.. Right there, asleep..

We happily wandered the rest of the path, before stopping to enjoy our picnic in the sunshine (don't forget to enter to win your own personalised lunchboxes like ours!).
There's also a fantastic play area by the visitor centre, totally made from wood it was perfect for my pair of 2 and a half year olds. Lots to climb, balance and slide on. Even better, the excellent café has a window to the outside area so you can order food and coffee without dragging the kids away.
We didn't eat in the cafe but the menu looked totally delicious and inside was a lovely light, airy space with comfy sofas and a homemade cakes a plenty.

The Gruffalo is leaving the Wyre Forest on 30th September, so if you want to see him, catch him quickly. Whether he's there or not, Wyre Forest, we'll be back soon!
Sarah x
Let's be friends..
Keep in touch on Facebook ¦
Chit chat on Twitter ¦
Never miss a trick on Bloglovin' ¦
Circle with me on Google+ ¦
Pinning like my life depends on it Pinterest ¦