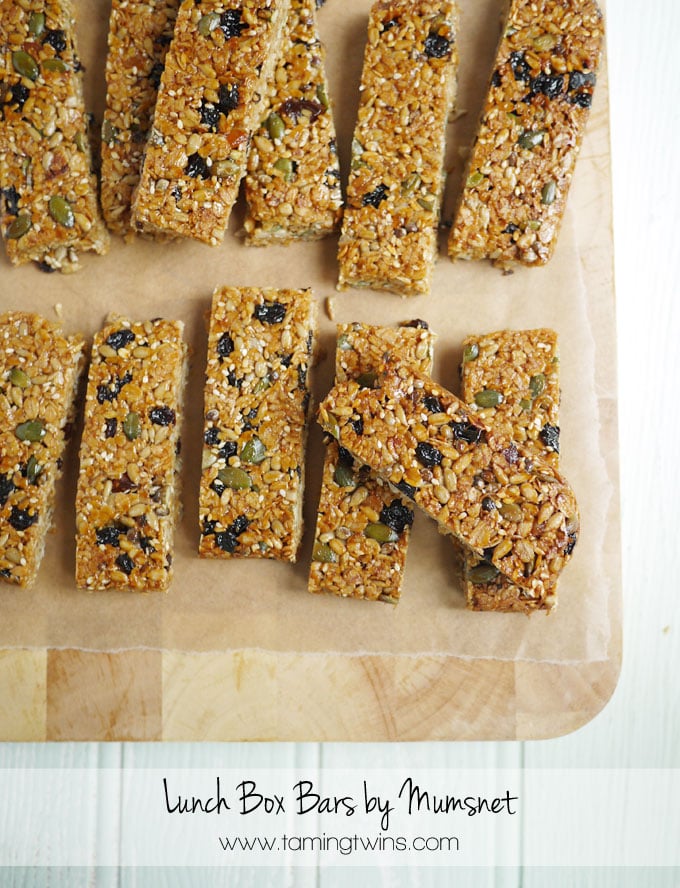 I love Mumsnet. Always outspoken and thought provoking, it's home of the things I wish I was brave enough to say and witty enough to articulate.
When they asked me to review their new cookery book Top Bananas!: The best ever family recipes from Mumsnet
, I was rubbing my hands together with glee at the thought of sweary commentary about rude shaped vegetables. Alas, it's not that type of book. It is however, as totally tuned in to family life as you'd expect from Mumsnet.

This is family food for every day. It's a bible of simple, classic dishes with a Mumsnet twist. If you're hoping to gain a Michelin star any time soon, this isn't the book for you. It's not going to teach you to make a quenelle or build a croquembouche, but it's given me a go-to place for mid-week inspiration.
The book has 12 sections, including; Breakfast, Packed Lunches, Slow Cooking, One Pot Wonders and Party Food. Recipes I've got my eye on for the coming weeks include Keep-it-Simple Kleftico, Pear and Ginger Upside-Down Pudding and Marmite Swirls (not all in one sitting obviously). We decided to road test the lunchbox section and set about making the recipe for Lunch Box Bars.
G&H are 2 and 1/4 and they loved making these bars, not too fiddly, not too much waiting around. They helped with:
Weighing out the butter and sugar
Weighing out the oats
Putting raisins into the bowl
Mixing the melted butter in
Buttering the tin
Squashing it all down into the tin
A couple of tips from me for this recipe:
I used half jumbo oats and half normal oats as the recipe didn't specify. If you only have one type, I'm sure either would be fine, but I liked the texture that at least some jumbo oats gave.
Cut them with a sharp serrated knife.
Don't cut these until they are almost completely cold, it will stop them from crumbling and falling apart.
As I am a total rebel (and had toddlers waiting, ready to burst into a rage at any moment) I didn't toast the oats, I don't think it would have made a huge difference. I did toast the seeds.
I poured the melted butter and sugar out of the saucepan to be stirred with the over ingredients, so it wasn't hot for little hands.
I sliced into 12 slices as the portions would be whopping (even for me) in 10 as the recipe states.
So, before we set about making these, I was thinking, yep, another flapjack, granola bar type recipe, good stable recipe, nothing too exciting. But do you know what? These were really, bloody good. Real bite and crunch, the perfect ratio of butter and sugar to be baked into crisp and moreish submission. The seeds add texture and nuttiness. A total winner.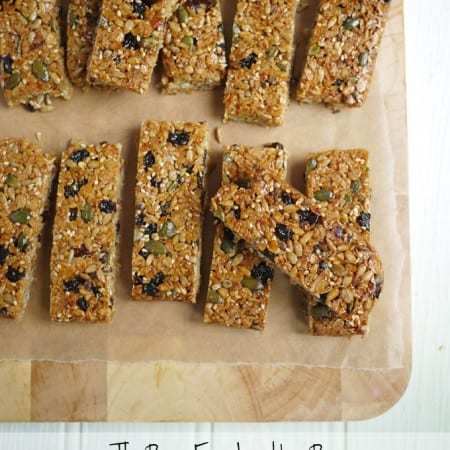 Lunch Box Bars by Mumsnet
These are fabulous snacks and lunch box bars for children and adults.
Ingredients
100

g

unsalted butter

plus extra for the tin

200

g

porridge oats

see my note above

200

g

mixed seeds

3

tbsp

honey

100

g

light brown sugar

100

g

dried fruit

chopped into bits if large (I used a mixed fruit bag from Aldi, you could add dried apricots, sultanas, whatever you fancy)

1

tsp

ground cinnamon
Instructions
Preheat the oven to 160C/fan 140C/gas mark 3. Butter an 18cm x 25cm shallow tray-bake tin and line the base with greaseproof paper.

Toast the oats and seeds, separately in a baking tray in the oven until lightly brown; this will take five to 10 minutes. Watch them carefully, as they burn quickly.

Warm the 100g of butter, the honey and sugar gently in a saucepan. Don't let if boil, or it will become like flue.

Add the toasted oats and seeds and the dried fruit, plus the cinnamon, if you like it, to the saucepan. Mix until everything is nicely coated.

Top into the tin, press down lightly and bake for 30 minutes.

Allow the bake to cool in the tin before you slice it into 10 bars, otherwise they will crumble.
Nutrition Facts
Lunch Box Bars by Mumsnet
Amount Per Serving
Calories 357
Calories from Fat 171
% Daily Value*
Total Fat 19g 29%
Cholesterol 21mg 7%
Sodium 15mg 1%
Potassium 91mg 3%
Total Carbohydrates 38g 13%
Protein 7g 14%
* Percent Daily Values are based on a 2000 calorie diet.

Mumsnet is normally totally in your face, Top Bananas! on the other hand is a silent assassin. It's quietly impressive, sneaking stealthily into your kitchen to impress when you least expect it. The recipes don't look like show-stoppers but then they surprise you with a twist here and there to make them absolute family classics.
I'd thoroughly recommend the book for fantastic every day family food inspiration. You can buy your copy here: Top Bananas!: The best ever family recipes from Mumsnet
What's your favourite family recipe book? Are you a Mumsnet lover or hater? Is it totally wrong to eat 'lunch box bars' with a glass of wine?
Sarah x
(The book was sent to me by Mumsnet for review, all opinions are truthful and my own.)
Let's be friends..
Keep in touch on Facebook ¦
Chit chat on Twitter ¦
Never miss a trick on Bloglovin' ¦
Circle with me on Google+ ¦
Pinning like my life depends on it Pinterest ¦