The delicious and classic Italian dessert in cake form. This Tiramisu Cake is layers of chocolate coffee and vanilla sponge, sandwiched with light, fluffy cream cheese buttercream icing, finished with chocolate shavings. What a teatime treat!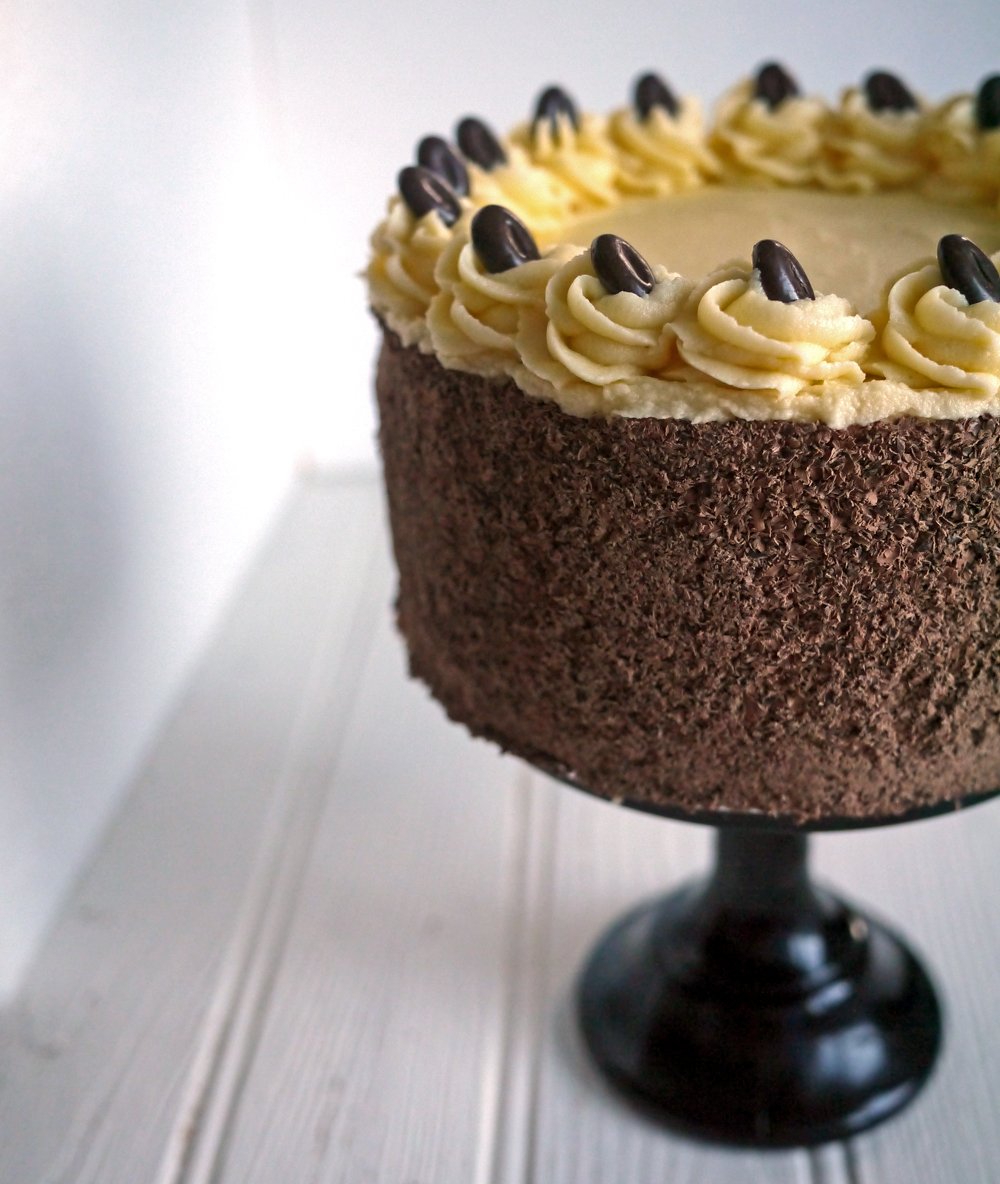 Picture the scene.. It's 1996, I'm 15, wearing black lipstick, listening to The Cure and writing cringingly bad poetry. I have a secret. A big secret.
The truth is, I love cooking. I mean I really love cooking. It's way not cool to be a teenage goth that knows how to make a soufflé. I had Mary Berry's Complete Cookbook and I was not afraid to use it. I adored Mary before The Bake Off made her cool. I poured over that book for hours. I dreamed of the creations in it, sophisticated duck á l'orange, fluorescent yellow mango cheesecake and fancy pants coronation chicken. (Surely they were a bit out of date even in the 1990s? I'm not that old, right? Please? Someone?)
One dish stood out even more than all the others. The dreamy, creamy, light tiramisu. It was the height of cosmopolitan cooking, European, with booze in too! I loved making it. Seeing the eggs transform into this silky, cloud-like dessert never failed to secretly cheer me from my teenage angst. I made it at every opportunity.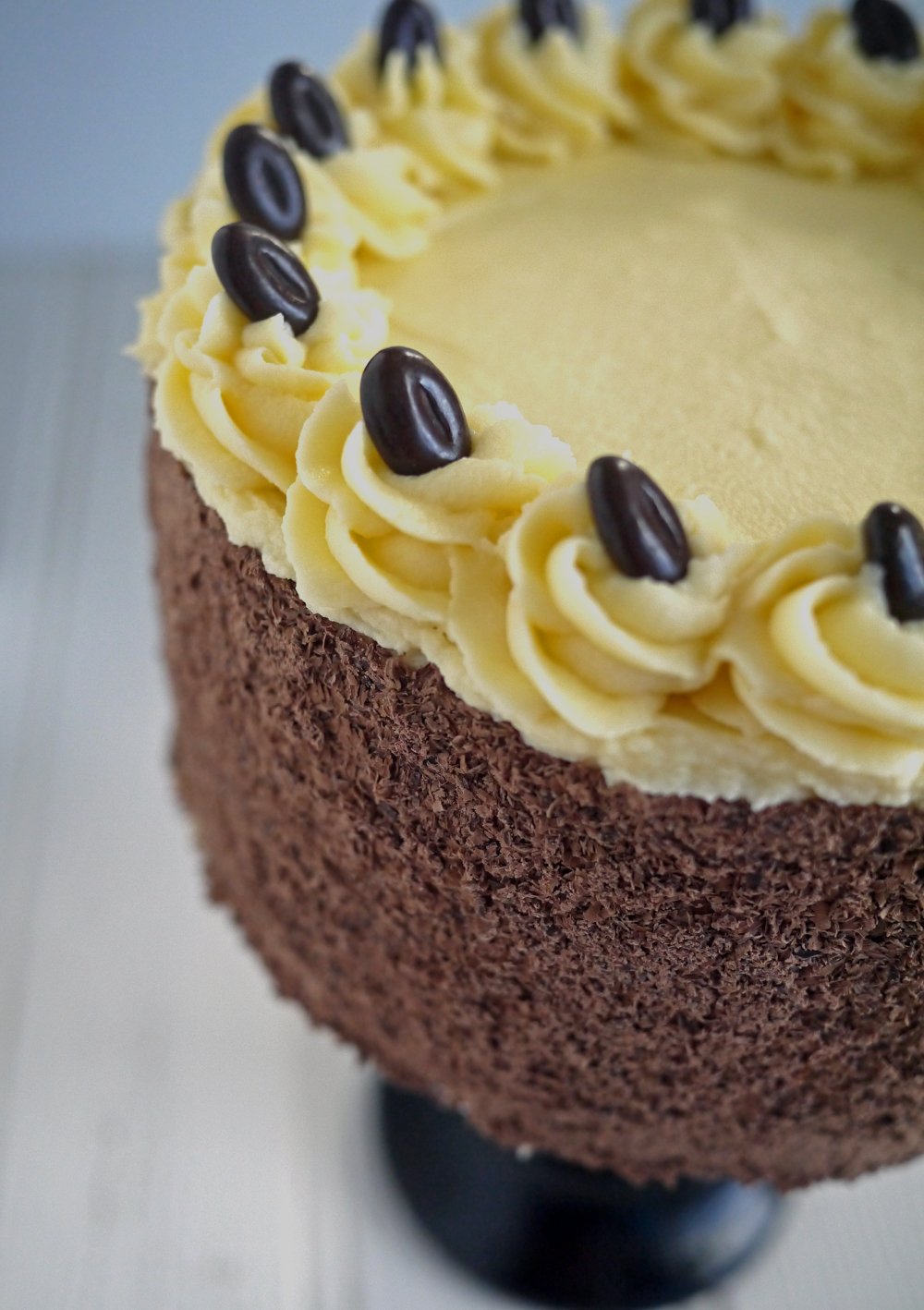 I still love and use that same recipe for tiramisu now, 18 years later. It was only a matter of time before the flavours made it into a cake and so I give you; Tiramisu Cake.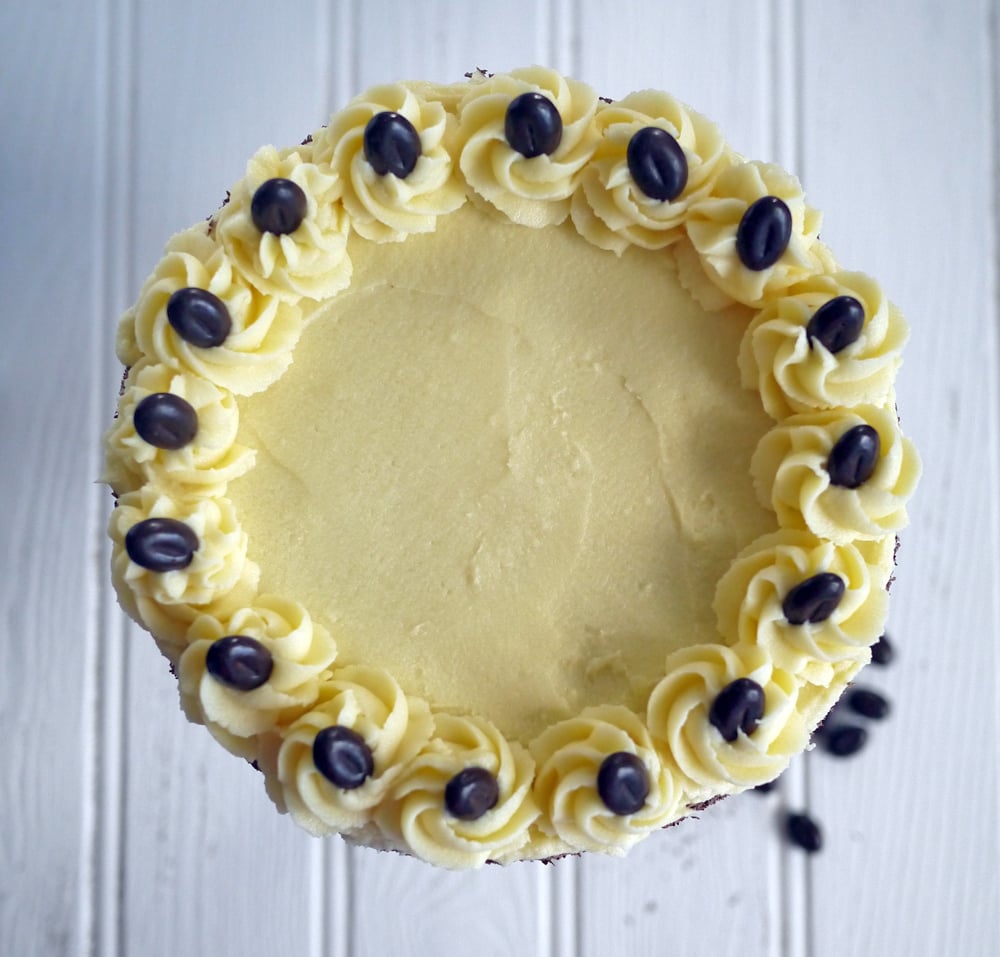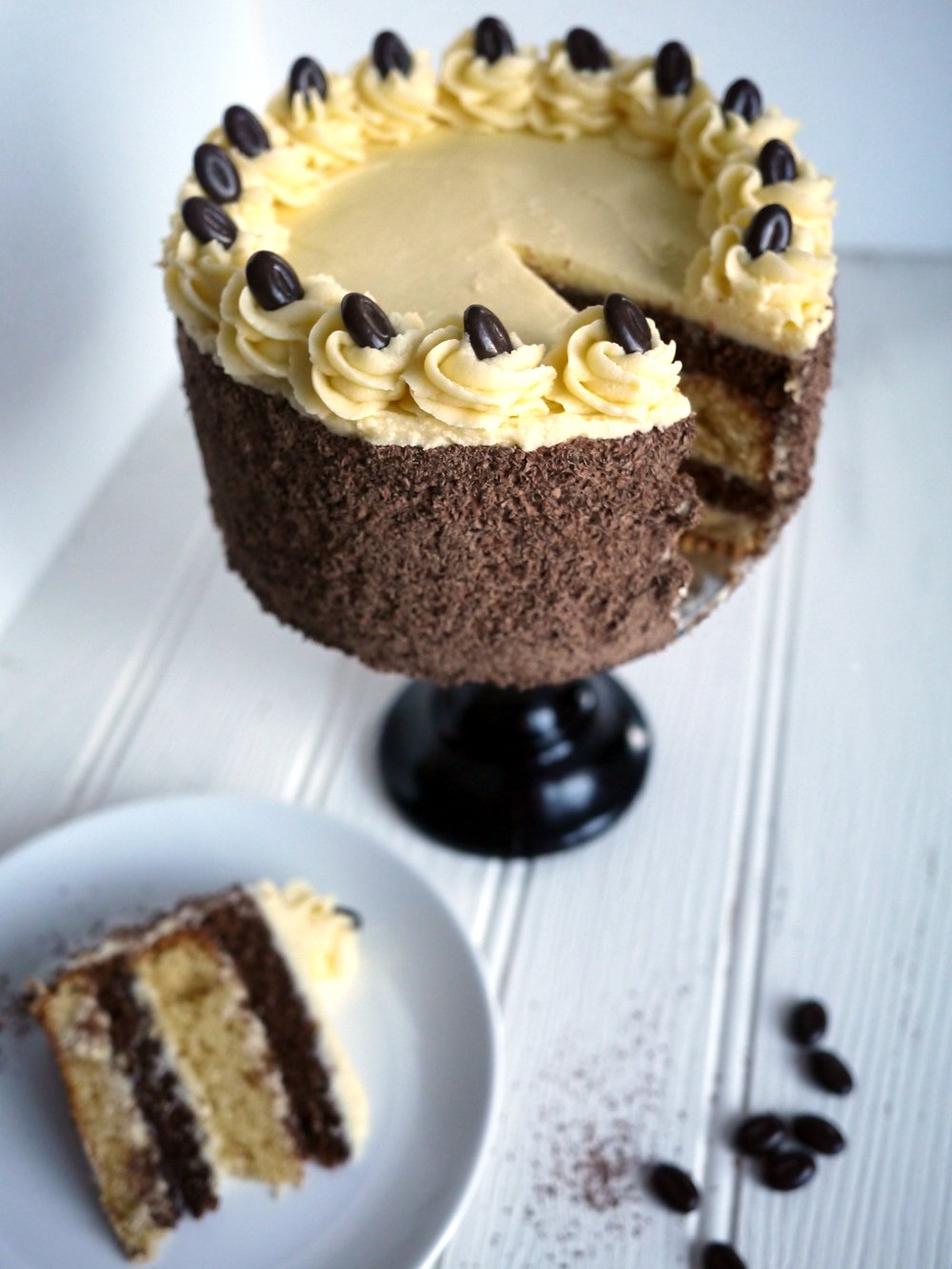 How to make the Tiramisu Cake recipe:
Tiramisu Cake recipe
This delicious layer cake is a must for all Tiramisu or coffee fans.
Ingredients
350

g

Unsalted butter

125

g

Soft light brown sugar

225

g

Caster sugar

6

Free range eggs

350

g

Self-raising flour

2

Tbsp

cocoa

2

Tbsp

instant coffee granules

2

Tbsp

boiling water
For the icing:
500

g

Unsalted butter

500

g

Coffee flavoured icing sugar*

200

g

Full fat cream cheese

1

Tsp

vanilla extract
To decorate:
100

g

Dark chocolate

grated
Instructions
Grease 2 x 7″ round deep cake tins.

Preheat the oven to 180C.

Cream your room temperature butter with your brown sugar and caster sugar until it's pale, light and fluffy.

Mix in the eggs, one at a time, beating really well after each egg. Don't worry if it starts to look a bit curdled, it'll all come good.

Mix in your flour. If you've been using a mixer, do this bit by hand. It helps to keep the sponge light.

Pop one of your greased tins on the scales and weigh in 650g of the cake batter you have in your bowl (or just guess half).

In a mug, mix together the cocoa, coffee and boiling water until dissolved.

Stir this into the remaining half of the cake batter and put into the second prepared tin.

Smooth out both tins of batter with the back of a spoon. Make a bit of a dip in the middle to account for rising.

Bake for about 30 - 35 minutes or until a skewer comes out clean. You might need to adjust the time by 5 minutes either way depending on your oven.

Meanwhile make your icing. Beat your butter until it's pale, light and fluffy.

Beat in your icing sugar. Beat for about 10 minutes until light and pale.

Beat in the cream cheese.

When your cakes are completely cold, use a carving knife to level them. Trim the top crust off. This is important, it's not a waste of cake (taste testing compulsory). If you don't do this, with a cake this size it will be wonky.

Then split each cake in half horizontally, so you'll end up with 4 layers of cake.

Sandwich each layer together (alternating the sponge types) with your buttercream, and a layer on top.

Cover the sides of your cake with buttercream, then roll in the grated chocolate.

Now cover the top of the cake with more buttercream, pipe swirls and add your chocolate coffee beans.
Notes
* Or 500g normal icing sugar and 2 tbsp of instant coffee dissolved in 1 tbsp of boiling water. See my note above about the icing sugar.
Nutrition (per serving)
Calories:
773
kcal
Carbohydrates:
73
g
Protein:
6
g
Fat:
52
g
Saturated Fat:
31
g
Cholesterol:
189
mg
Sodium:
74
mg
Potassium:
162
mg
Fiber:
1
g
Sugar:
54
g
Vitamin A:
1585
IU
Calcium:
50
mg
Iron:
1.5
mg
Made it? Tag me!
Tag @TamingTwins so we can admire your make ⭐️
What's your oldest cookery book and your most loved recipe? What were you cooking when you were 15…?