This week sees the opening of The Magical Journey at The Belfry near Sutton Coldfield. It's billed as "The Ultimate Christmas Experience" but it's had some pretty poor feedback already on the Facebook page. We were invited along to review the experience, so I'll tell you about our visit first, along with some top tips and then give you our honest opinion at the end of the post.
There's a video of our trip here:
When we arrived, we were ushered into the Christmas market and welcome area by the very friendly elves. We were an hour early so we had a wander around the market area. There were about 9 or 10 stalls to look at, selling fairly ordinary sweets and toys. Don't expect this to be a big part of the experience, I was for some reason and it's really not. Somehow I did manage to get duped by a pair of 2 and a half year olds into spending £10 on a pair of blow up penguins.
There is just one 'stall' offering food. It's not too expensive compared to some similar attractions (£2 for a coffee, £2 for a tub of Hagen Daz ice cream). There's a few hot sandwich options and some sweet treats. A good menu, also offering gluten free options. Unfortunately, we seemed to queue at just the wrong moment and I ended up waiting in line for 30 minutes whilst my children battered unsuspecting bystanders with their inflated penguins.
The journey starts with a visit to Mary Christmas and then a Simon Cowell style Elf (I know, I don't understand either). My toddlers were engrossed as they explained that Father Christmas has lost one of his reindeer. This section was all a bit random for me, but clearly the humour went over my head as the kids loved it and were very concerned about the lost reindeer.

After this we were taken by the elves to the little road train for a very short journey through the forest. The forest was beautifully lit and my children were wide eyed. We left the train at a bell-tent in the forest. Inside, more was explained about the lost reindeer, before we walked out into the woods. I have to say, the talk from this elf was pretty lacklustre and I couldn't quite work out the point of it.

There's not a huge amount to see on the short walk through the woods, but it was very exciting for a pair of toddlers who have hardly ever been out of the house in darkness. You're not hurried and it doesn't feel crowded, there's time to wander as you please. We stopped along the way to chat to some elves who encouraged us to sing and dance and get in the festive spirit.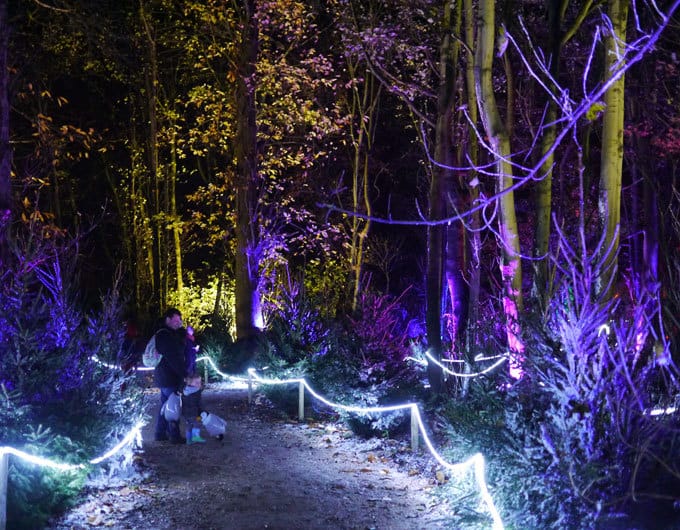 The path led us to another bell tent where we waited just a very short while. Now, whatever anyone says, or any reviews say, or any teething problems that there may have been, for us, this part was magical. It really was. Each family is led by their very own elf, through the trees, along a winding path until a snow covered cabin appears in front of you. There at the window of the cabin, a man with a very big white beard was waving…

The cabin, and everything inside were faultless. From the glowing Christmas tree to the wooden stools for the children, it really did look totally believable. Father Christmas himself was everything you'd ever dream of the main man being. Cheery, friendly, but firmly reminding the children to be good. We weren't hurried, we spent a good 10 minutes in Santa's cabin with him and his elf. They were in total awe. This moment was as magical as all of the hype about the event promised.
Top tips for visiting:
Don't buy food there if you can help it. The queue can be slow moving.
Go when it's dark if possible. I can't quite picture how the experience would look in the day time, without the forest lights and so on.
Don't arrive too early. You ticket says go 20 minutes early, this is more than enough. There's not a huge amount of seating so if you're hanging around too long it could get a bit uncomfy.
Do not buy a pair of blow up penguins at the start of the journey, they will need a lot of care and attention and result in a lot of toddler aggression if you accidentally sit on one.
The good bits:
Father Christmas and the walk to see him is magical.
It doesn't feel crowded, no pushing or shoving.
Plenty of parking.
Friendly, helpful elves.
The not so good bits:
The gifts from Santa were fairly small (wooden puzzles) and weren't wrapped. The kids loved them so the lack of wrapping and the size didn't bother me, but I can understand why it may bother people.
The price. Bottom line, the experience would be fantastic if it were say, £30 for a family of 4. At £65 for a family of four, sadly it does feel eye-wateringly expensive.
As it's so expensive, everything other than Santa feels a little shoddy for the price.
Overall we enjoyed the visit. However, we didn't pay to attend as we were invited there to review. If we'd paid £65, I'd have been disappointed. There's lots of talk about improvements being made so I'm sure there will be positive changes happening every day. However, so much has been spent on the PR and marketing effort for The Magical Journey  (without many photos or details of the actual reality) I'm not sure how it could ever live up to the enormous task it had given itself?
If we'd paid £30 ish and gone in with an open mind, we would've rated the event 9 out of 10 just for how much our children loved it. Sadly, it's over twice the price of that and has given itself so much hype that it's tainted the reality slightly.
If you've booked to go and are worried about the poor feedback, I'd say try to go in with an open mind and enjoy the experience for what it is. There are lots of really good points, sadly, the price definitely isn't one of them.
Sarah x
Let's be friends..
Picture this on Instagram ¦
Keep in touch on Facebook ¦
Chit chat on Twitter ¦
Never miss a trick on Bloglovin' ¦
Circle with me on Google+ ¦
Pinning like my life depends on it Pinterest ¦


We were provided with free tickets for The Magical Journey but all opinions are honest.