The afternoon was not going well. We arrived at The Elms during a torrential downpour with grey moods to match the weather. It had been a grim, rainy, miserable week and we were all a bit weary. (I had also forgotten my camera memory card – oops – iPhone photos only, sorry.)
We hadn't quite planned a stay like this. Weeks before I'd bought a TravelZoo voucher. My thinking was, fairly close to us, chance for a hot date with Mr TT. True to chaotic life, we hadn't quite got around to using it when I had planned to. So, the hotel had been utterly charming and squeezed us in on this, the last day, en famillie.

We trudged our soaking wet selves through the rain and into reception. Spirits instantly lifted when G&H discovered by the playroom under the stairs, featuring stacks of DVDs, drawing pens and a plenty of push along toys to noisily harass other guests with. Although, that's the thing about The Elms, no one seems harassed by the children. This is a place for adults and children in equal measure. You don't feel the need to apologise for them throwing their scone in the air or explaining that that loud noise came from their 'boppom'.

Once we'd checked into our room, I installed the children in front of the Ninky Nonk briefly (#badmum) whilst I enjoyed a glass of fizz that the hotel had sent up for me, to say thanks for tweeting about our visit. (I like your style Luxury Family Hotels.)
For each night you stay at the hotel, included is a 2 hour session for each child in the amazing Bear's Den nursery. Fully Ofstead registered, it does get busy, so make sure you book it in advance. The activities they offer in the sessions include cooking, art, craft and outdoor exploring. We actually ended up running out of time, with swimming and running around in the rain, that we didn't use it. (I have grand plans for a trip back to use the spa whilst the children review the childcare.)

We spent the afternoon in the deliciously warm swimming pool, jumping and splashing and generally causing chaos. G&H then enjoyed the children's high tea at 5pm. A special menu, perfect for wearied swimmers, was served in the relaxed cafe area by totally accommodating staff.
Exhausted from all of the excitement, G&H settled into their cots in our room, provided by the hotel. An amazing touch at the hotel is the baby listening service. It is so well done, with a listening device in each room that goes straight through to the reception team listening in, there's no worry about safety.
Leaving us to check out the wine list..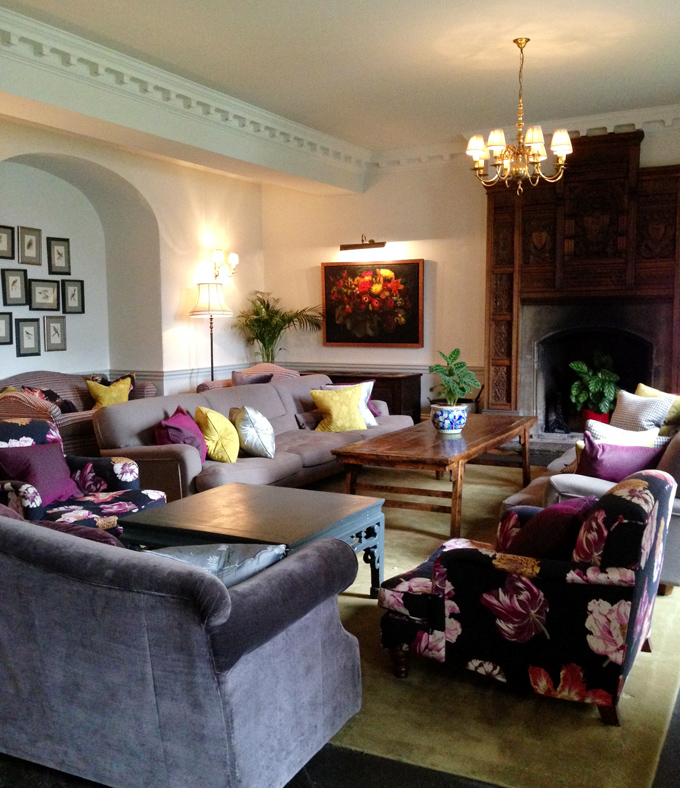 After drinks in the lounge, we enjoyed supper together in the Brookes Restaurant. Peaceful but not dull, the atmosphere reminded me that I am actually a grown-up. Until I proceeded to drink too much of the excellent wine and say to Mr TT approximately 37 times "I love it so much here, please can we live here?".

I had scallops and prawns to start (hard to believe that we're so far from the sea when they taste that good) followed by venison (perfectly cooked and well paired with some crunchy German gnocchi for texture). The star of the show was the chocolate torte though, I've been dreaming about it ever since.
We all slept well (other than H announcing to me at 5am "it's dark Mummy, LOOOOOOOK it's DARK Mummy!) In the morning, we worked our way through the continental breakfast in The Terrace restaurant (there's a big cooked breakfast menu too).

Our favourite bits of our stay included:
Outside toys to use
DVDs to take to your room
Fabulous showers
Baby listening
Super friendly staff
The special children's meal times
Bottle washing service
George the resident cat (here's when George met George)

The Elms is classic, country house luxury but with small touches everywhere to keep the little people in your life happy. It felt blissfully relaxing and peaceful, even with our pair in tow. They loved every moment and so did we.
Thanks to The Elms for a super stay, we'll be back.
Sarah x
Let's be friends
Keep in touch on Facebook ¦
Chit chat on Twitter ¦
Never miss a trick on Bloglovin' ¦
Circle with me on Google+ ¦
Pinning like my life depends on it Pinterest ¦