This Sausage Casserole is slowly braised with Cider and Bacon for the most delicious sauce and the ultimate in comfort food.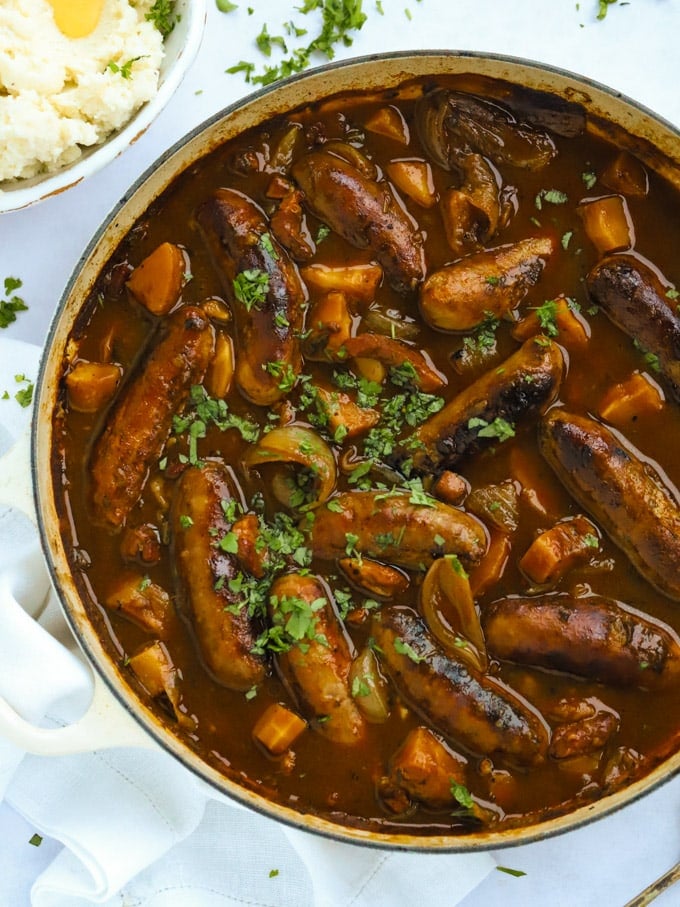 Oh hello new favourite comfort food recipe!
I've been making sausage casserole forever, but over the last few weeks I've been making this and testing and improving and oh, get ready to fall hard in love my friends ♥️
This is everything you need in winter warmer recipe. Thick, warming gravy, plenty of hearty vegetables and cooks away slowly, filling the house with the promise of something magic to dive into.
I hope this recipe brightens your grey days as it has done for us.
You'll love this Sausage Casserole recipe because:

✅ It makes it's own delicious gravy as it cooks.

✅ Just add crusty bread or mash for a complete meal.

✅ The ultimate in comfort food.

FAQs about making Sausage Casserole
Do you really have to brown the sausages at the start?
The short answer is no, they will still be edible if you don't BUT the skins can be a bit chewy 😬 and also they look SO much nicer if you do. It's worth the time in this case.
If you don't want to stand over the hob, your other option is to pop them into the oven for 15 minutes before you add the vegetables. I'm not normally organised enough for this as the oven is preheating whilst I'm browning them on the hob!
Can this sausage casserole be made vegetarian?
Yes. Just replace the sausages with vegetarian sausages and leave out the bacon. You can add 1 tsp of Sweet Smoked Paprika to give a little of that smoky flavour if you'd like.
Can I make this sausage casserole in advance?
You can make this in advance. If I know I'm going to prepare this and then heat it up later, I'll just stop cooking before I add the apples.
Then, when I want to serve, I'll add the apples and heat through.
Be sure to check it's piping hot.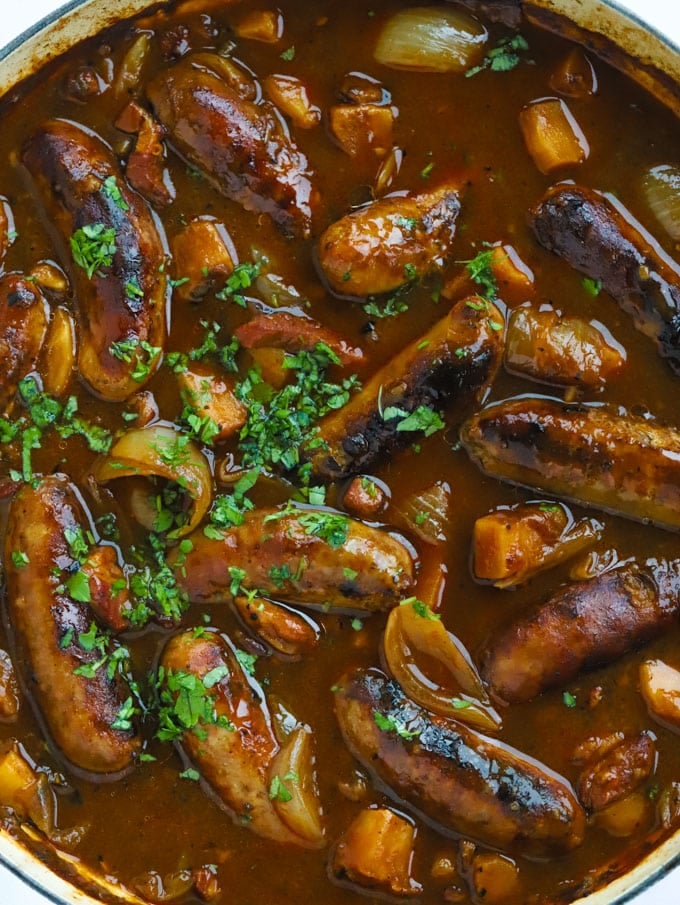 Can I freeze leftovers?
Sure. Just pack it up into portions, label it and freeze when it's cooled.
When defrosted, just be sure to heat through fully before serving.
How can I make this gluten free?
Just be sure to use gluten free sausages and use a gluten free plain flour.
Can I cook this recipe on the hob/stovetop rather than in the oven?
Yes you can, just keep it on a low heat so that the bottom doesn't stick. Stir it occasionally and keep the lid on. You may need to add a little more stock as more will evaporate if cooked this way.
Fancy more easy comfort food recipes?
Hope you enjoy this recipe as much as we do. I'd love to know how you got on and what you thought of it if you make this recipe. Please rate the recipe using the ⭐️ by the recipe.
Also, if you'd like to show me a photo by tagging me on Instagram (
@tamingtwins
) I LOVE to see your creations.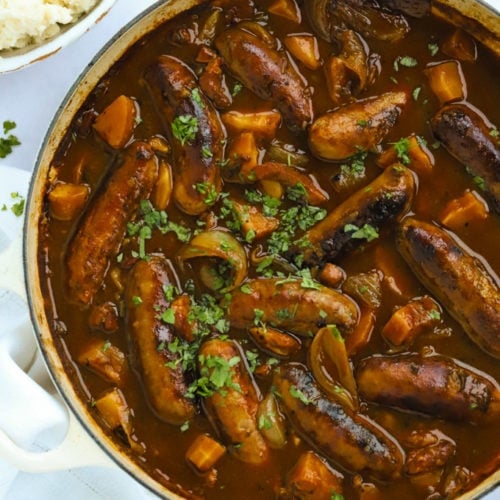 Sausage Casserole with Cider and Bacon
This Sausage Casserole is slowly braised with Cider and Bacon for the most delicious sauce and the ultimate in comfort food.
Ingredients
1

tbsp

Olive oil

800

g

Sausages

About 12. See Note 1.

200

g

Smoked bacon

Chopped into small pieces.

2

Onions

Peeled and sliced into wedges. See Note 2.

3

Garlic cloves

Peeled and chopped. See Note 2.

2

Parsnips

Peeled and chopped into small chunks

3

Sticks

Celery

Chopped into small chunks.

3

tbsp

Plain flour

3

tbsp

Tomato puree

3

tbsp

Fresh sage

Finely chopped. See Note 3.

500

ml

Cider

Note 4.

150

ml

Chicken stock

Note 5.

Salt and freshly ground black pepper

3

Apples

Note 6.
Instructions
Preheat the oven to 180C.

In a large, lidded, ovenproof pan, heat the oil and brown the sausages over a medium heat until the have some colour all over. (About 10 minutes.)

Remove the sausages from the pan and put in the bacon pieces, let them brown lightly (about 2 - 3 minutes).

Add in the onions, garlic, parsnips and celery and brown for a further 5 minutes.

Stir in the flour until everything is coated. Add the tomato puree, sage, cider, chicken stock and salt and pepper. Stir well and sit the sausages on top.

Put the lid on and put into the oven for 40 minutes.

Add the apples and cook for a further 5 minutes.
Notes
Note 1 - Sausages
Use whichever sausages your family like. You could also use Chipolata (thin sausages) if you prefer. You could also reduce the amount of sausages if your pack is smaller.
Note 2 - Onions and Garlic
This is one of the rare times I don't use the shortcut of frozen onions! I just think that the onions work very well in this recipe as big chunky wedges. Frozen are fine if you need the shortcut, but the texture of the sauce will just be a little different.
I do use the pre-chopped frozen garlic in this recipe.
Note 3 - Sage
If you have fresh, it works really well in this. Just finely chop it. Otherwise replace with 2 tsp of dried Sage.
Note 4 - Cider
I used a fairly standard dry cider. Don't use anything too super sweet. If your cider is in a different sized bottle (say 330ml) just replace the remaining amount with extra stock, no need to open another whole bottle. The total amount of liquid should be 650ml.
Note 5 - Stock
Made with a cube is fine. I still use one cube for this small amount as it adds extra flavour.
Note 6 - Apples
Regular eating apples (not cooking) are fine here as they hold their shape. I like to peel mine before adding as I'm not keen on the cooked skin texture. It's up to you though.
Nutrition (per serving)
Calories:
821
kcal
Carbohydrates:
51
g
Protein:
37
g
Fat:
48
g
Saturated Fat:
15
g
Trans Fat:
1
g
Cholesterol:
134
mg
Sodium:
1504
mg
Potassium:
1265
mg
Fiber:
9
g
Sugar:
25
g
Vitamin A:
385
IU
Vitamin C:
28
mg
Calcium:
116
mg
Iron:
4
mg
Made it? Tag me!
Tag @TamingTwins so we can admire your make ⭐️