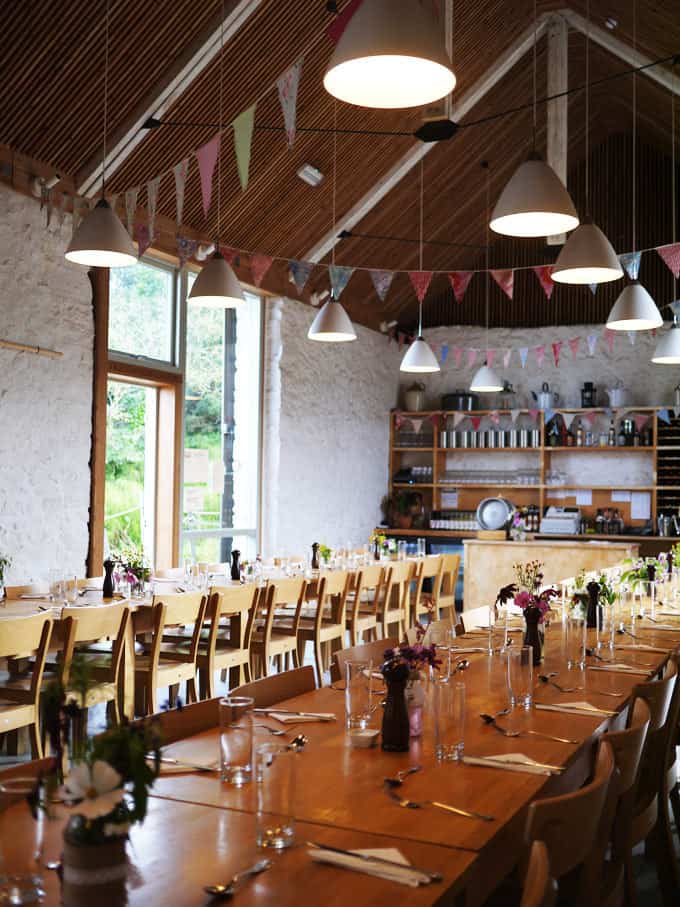 A lot of my blogging life is spent clearing up icing sugar and editing photos at 1am. Then, there are days filled with blogging opportunities and moments where I really have to pinch myself because I just don't want them to end. Yesterday, was one of those amazing days that made me so grateful for all of the hours of work that have gone into this little blog. Myself and a group of other bloggers were invited to spend the day at River Cottage HQ.
We arrived via an excitable tractor ride down the hill, to wafts of wood smoke from the yurt and pastries on the deck overlooking the valley. There were lots of new faces, along with some familiar ones of blogging pals I've made over the last couple of years.

After we settled in, we were parted into 3 groups and I spent the day with a fantastic group of food and family bloggers, including the lovely Mel, Vicki and Vic. Our day began in the teaching kitchen, the resident chef taught us to make our own butter by hand (the simplest thing ever, who knew?!). We then used the leftover buttermilk, along with some blackberries we'd foraged in some soda bread.
Simple, fresh, delicious. There are no photos at that point as I managed to get covered in butter (there is a few seconds in the video at the bottom of the post). It was so much fun and a brilliant ice breaker to start the day with. Being plunged to the elbows in butter is rather a good bonding experience it turns out!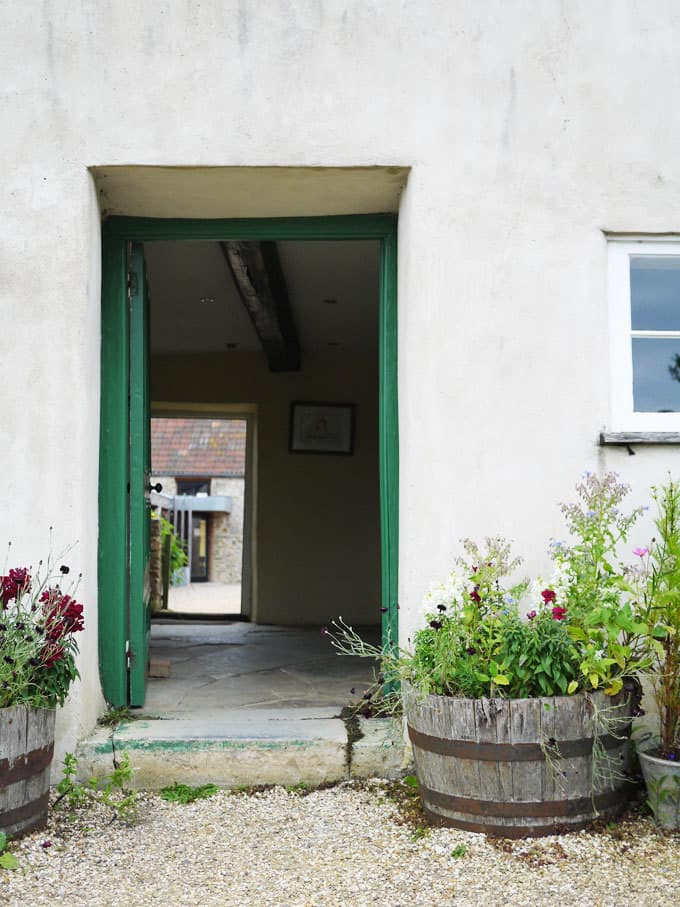 Our next session was food photography and styling with the super talented Lucy of Capture by Lucy. Lucy's boundless enthusiasm for capturing the perfect image was, as always, really inspiring. She's full of ideas and insights, encouragement and love for what she does. I adore hearing from people who are so clearly passionate about their job.
Lucy's sunny enthusiasm is catching and I came away full of new inspiration and excited to get photographing some food.

We stopped for lunch in the barn, the room full of laughter and chatter about the adventures of the morning.
We ate a stunning 36 hour slow cooked beef ravioli on vegetables from the farm followed by one of the best puddings of my life (and there's been a LOT). Fennel flower meringue, coffee infused ice cream with salted caramel, honey drizzled roasted foraged damsons and molasses crumble. Seriously, does a Wednesday lunchtime get any better than that?

Our next stop was a tour of the farm with the head gardener for the site. It was a beautiful end to the day to wander around and understand some more about the unique, certified organic plot and the slow living ethos behind the small but perfectly formed River Cottage empire.
It gave further meaning to the the lunch we'd just enjoyed and underlined how truly special the place is.

(Mel chatting to some new pals.)

Before we knew it the day was over and we were embarking upon a tractor ride home up the hill.
River Cottage is an incredibly special place, created and managed by people who so obviously adore and care deeply about what they do. It was an absolute treat to spend the day there and thank you SO much to River Cottage HQ and Foodies100 for organising such a special event. Thanks too to my pal Jo of Jo's Kitchen for driving me there for the day. I will definitely be back for a course soon.
Watch a snippet of the day below:
If you're interested in visiting, you can read more about River Cottage courses here: River Cottage Cookery School, Dining, Canteens and Bespoke Events. I can't recommend the place highly enough!
Keep in touch on Facebook ¦
Chit chat on Twitter ¦
Never miss a trick on Bloglovin' ¦
Circle with me on Google+ ¦
Pinning like my life depends on it Pinterest ¦