Mini banana muffins, made with a secret ingredient! With no need to add oil or eggs, delicious, light, packed with chocolate chips, these little cakes make a super afternoon snack or breakfast treat.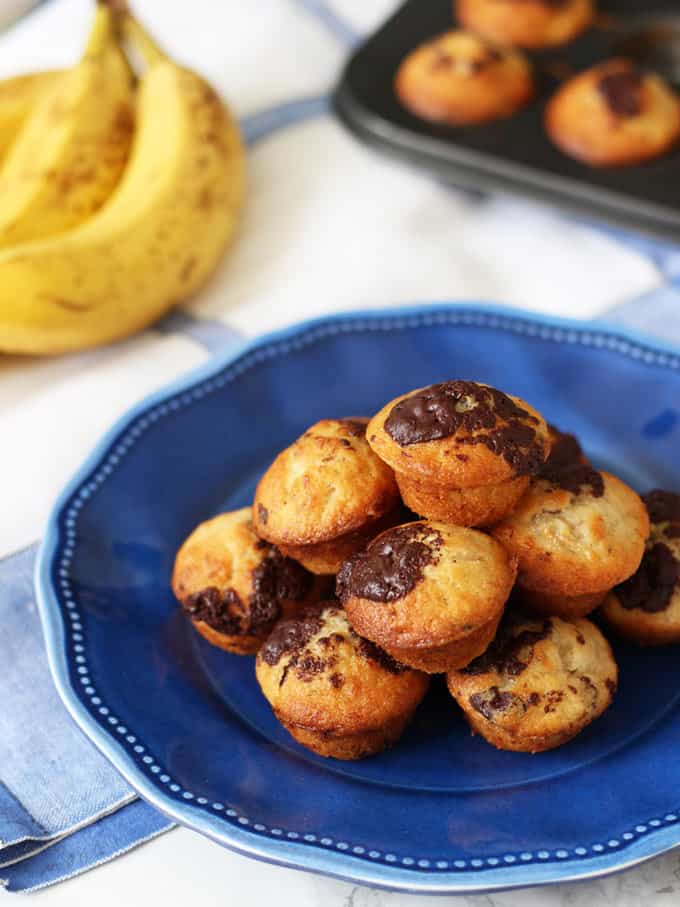 Over the last few months, I've made a big effort to get fit. For the first time in my life, I've found an exercise I love and, wonders will never cease, I am sticking to it. SAY WHAT?
I've taken up Metafit, it's this crazy kind of High Intensity Interval Training (HIIT) but the thing I love the most, is it's over in 27 minutes and those 27 minutes of feeling like the world is going to end it's so hard, leave me feeling amazing for days and days afterwards. I'm a total convert.
The only downside to this is I am really super, duper hungry a lot of the time. I'm eating piles of good stuff, but sometimes, you kind of want a bite sized treat to congratulate yourself (whilst waiting for your abs to appear. Just me?)
If I'm going to have a treat, I'd like it to be homemade and at least feel slightly virtuous. Step in Banana Mini Muffins. (Should they be Banana Mini Muffins or Mini Banana Muffins? Does the latter sound like they are made using mini bananas?!)

Heinz have just launched their new [Seriously] Good Mayonnaise and yes, it is really, very good. It's the secret ingredient in these mini muffins and it gives them a really light texture.
It also makes them a brilliant storecupboard standby bake. Always good for everso slightly disorganised bakers like me, who go to bake something and realise that they have no eggs to hand.
Heinz are also running a competition to create a recipe using the [Seriously] Good Mayonnaise to create the most moreish mouthful. A miniature dish that will be judged on just one spoonful.
Think you've got a recipe that could be in the running?
Pop over to http://seriouslygoodspoonfuls.co.uk/ to enter.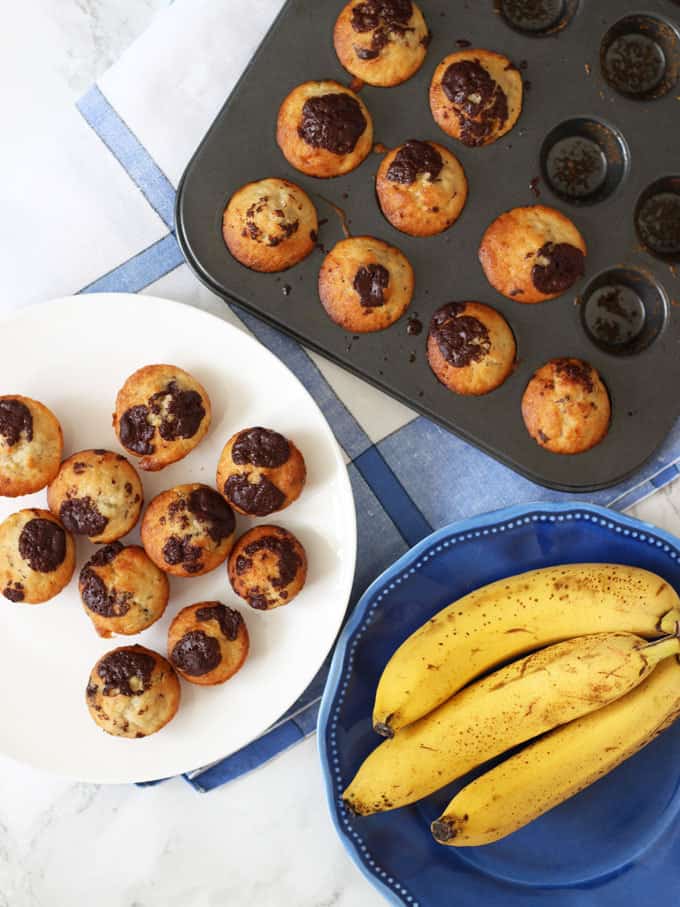 Tips for the Mini Banana Muffins:
I bake using a Mini Muffin Pan like this one from Amazon, Non-Stick Mini Muffin Pan. I think these pans are a great investment as making miniature anything suddenly makes them prettier somehow?
Make sure that you oil the tin well so that the muffins pop out easily.
Please use Vanilla Extract NOT essence, it's the real deal and you'll notice the difference. This is the only brand I use (because it's the best!), you can buy it on Amazon here: Vanilla Extract.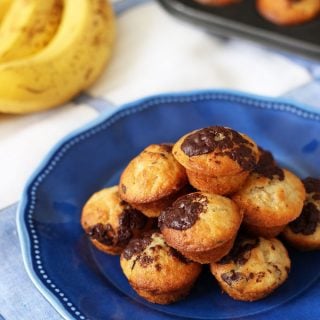 Mini Banana Muffin Recipe
Delicious Banana Muffins are a low calorie option for a snack or breakfast
Ingredients
2

Bananas

small and very ripe

1/2

tsp

Vanilla extract

100

g

Heinz [Seriously] Good Mayonnaise

100

g

Self raising flour

80

g

Caster sugar

1/2

tsp

Baking powder

30

g

Dark chocolate chips

or chocolate, chopped into chunks

Oil for greasing
Instructions
Pre-heat the oven to 180C.

If using a food mixer, pop the peeled bananas in and blend until well mashed (otherwise, mash in a bowl using a fork).

Add the vanilla extract and mayonnaise and mix well.

Add the flour, sugar, baking powder and chocolate chips and mix until just combined.

Grease a mini muffin pan and fill the muffin cavities about two thirds full.

Bake for 12 - 14 minutes or until golden brown.

Allow to cool for 5 minutes in the tin and the gently take out.

Best served on the day they are made, or frozen.
Nutrition Facts
Mini Banana Muffin Recipe
Amount Per Serving
Calories 72
Calories from Fat 27
% Daily Value*
Fat 3g5%
Cholesterol 1mg0%
Sodium 28mg1%
Potassium 57mg2%
Carbohydrates 9g3%
Vitamin A 10IU0%
Vitamin C 0.8mg1%
Calcium 9mg1%
Iron 0.1mg1%
* Percent Daily Values are based on a 2000 calorie diet.
Used in this recipe: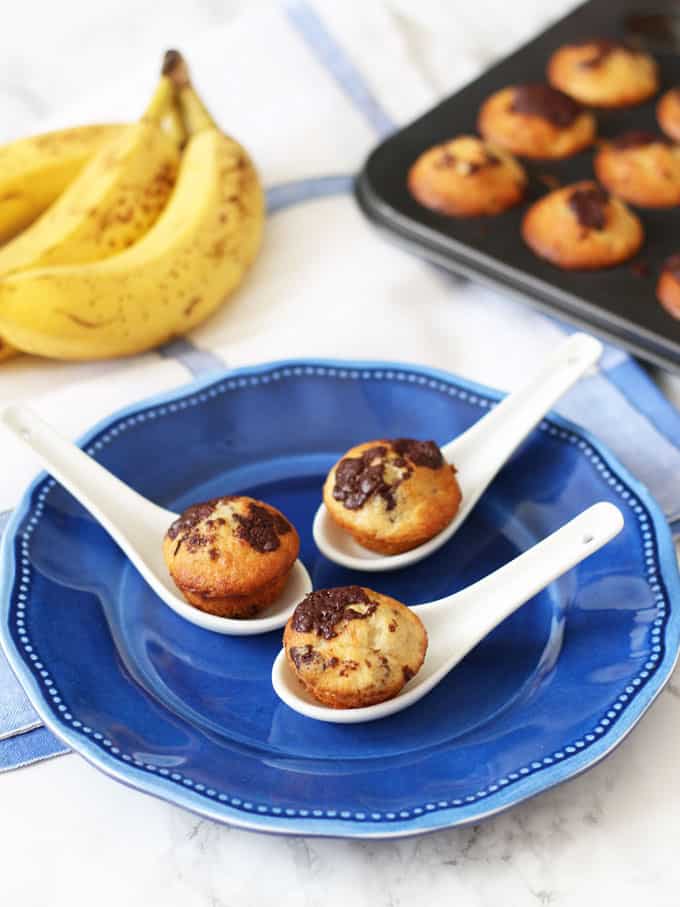 Pin the Mini Banana Muffin recipe for later..
Disclosure: This recipe was commissioned by Heinz. As always, all opinions are truthful and I wouldn't endorse a product I didn't genuinely think was brilliant.
This post contains affiliate links, this means that if you buy something after clicking through a link on this page, I will receive a very small commission at no cost to you.
Keep in touch on Facebook ¦
Chit chat on Twitter ¦
Never miss a trick on Bloglovin' ¦
Circle with me on Google+ ¦
Pinning like my life depends on it Pinterest