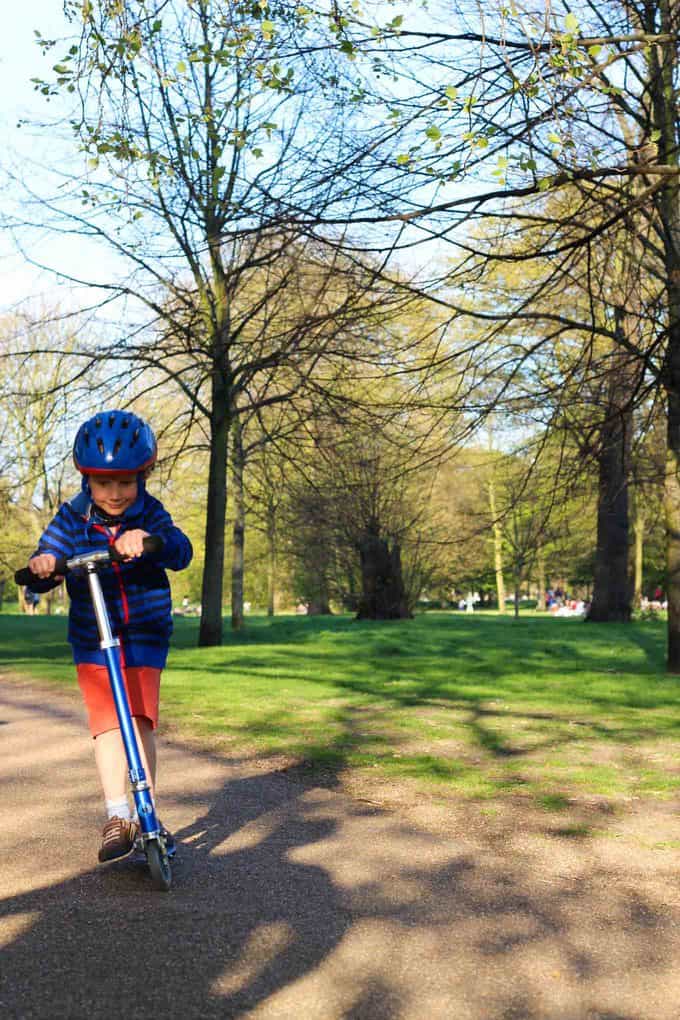 It's been a long, tiring run up to the Easter holidays here. Emotional, short tempered and just in need of a change of pace – and that's just me (ha!) Really though, their first half a year of big school is definitely taking it's toll. They love it, for which I'm super grateful, but up until last week, we were definitely not getting the best of each other.
I'm torn because I miss them when they are there and then come 3pm, they've been so frazzled that frankly? None of us enjoy each other's company much. Please tell me it's not just me where school has resulted in such a mixed bag of emotions?!
Anyway, I could not WAIT for them to be home for two whole weeks over Easter. A break from the routine and a chance to just recharge and get my little pals back to their usual chirpy selves, without homework or early starts.
We decided to start the break with a little adventure to London. We took the kids for the first time last year, but there were some important missions in the capital that they'd been waiting patiently for..

The first was a trip to Kidzania at Westfield. Kidzania is a 75,000 sq ft mini city, run totally by kids. Spoiler: it's amazing. They can try out more than 60 real life activities, each designed to encourage a variety of skills and independence.
Within the space of a couple of hours, G&H carried out a liver transplant, put out a fire, learned to be a hotel receptionist, worked in a tortilla factory, trained to be cabin crew, fixed the air conditioning and learned to be window cleaners. They even made their own lunch as chefs at a branch of Gourmet Burger Kitchen.
For most jobs they get paid a salary in Kidzos the local currency, (window cleaning pays the best at 12 Kidzos). At the end of their visit they can go into the Kidzania Department Store and choose a little something to buy with their earnings.
The whole experience is incredibly well designed. The staff were fantastic with the children and the Kidzania city was spotlessly clean and well thought out.
After they splashed out their Kidzos, we made our way the short drive to Kensington High Street to the Royal Garden Hotel, our home for the next few days.
The hotel is at the end of Kensington High Street, on the corner of Kensington Gardens. They are on a mission to provide a 5 star hotel service, that's also welcoming to little ones. For parents, this means all of the service and facilities you'd expect, without any stuffiness.
We got settled into our huge suite (over looking Kensington Gardens and Hyde Park). The double bedroom of the suite was connected to an airy living space with sofa bed for G&H. The lovely hotel team had even left a surprise wigwam for them to play with during our stay. Five year old dream room!
That afternoon we headed downstairs to the Park Terrace hotel restaurant to test out the Royal Garden children's afternoon tea. I am ever so slightly afternoon tea obsessed, so I was really excited for G&H to have their first experience of this special ritual.
The kids afternoon tea includes peanut butter and jam sandwiches, crisp sandwiches and chocolate chip scones. Instead of tea, the attentive staff made them each their own cocktail (smoothie) to include each of their own favourite fruits.
The whole tea was beautifully presented and such a fantastic experience for little ones. H turned to me and whispered "isn't this meant for grown ups?!". They were thrilled to have their own version of this smart treat.
After a super comfy sleep in our fantastic Royal Garden rooms, we enjoyed breakfast in the Park Terrace restaurant. As always the breakfast lived up to the hotel's 5 star standards. Stunning buffet, with every morning treat or healthy option you could wish for, plus a full menu of cooked options.
If you follow me on Instagram you may have seen on my Stories H's excitement at a croissant "as big as my head!". What an endorsement.. The breakfast really is the most important meal of the day here and it is absolutely wonderful.
All set up for the day, we headed off to find our chariot – a Big Bus Tour. As part of the London Explorer package at The Royal Garden Hotel you are provided with tickets for a Big Bus Tour – a hop on, hop off bus which starts right outside the hotel. You can ride around London's landmarks until your heart's content, saving the children from tired legs. Hurrah!
We took the map provided by the hotel (they created it especially for kids, pin pointing all of the must visit sights and things to do close by, along with how to get to them). This was really useful and G&H really enjoyed map reading (kind of) all weekend. (You can find the map here: Kensington a Guide for Families.)

One of the most important stops for our visit was the Lego store in Leicester Square. We tried to visit at the start of the year but after much excitement we were turned away as the queue to get in was SO long (3 hour wait!).
Every day since, G has talked about visiting the shop. He has patiently saved birthday money, he's dreamed of what the shop might sell and imagined the models he might see.
That day we finally made it there, I was slightly concerned in case it couldn't live up to expectations.. But oh it did. His little face as we entered the shop and he saw the walls of those much loved bricks was a picture and well worth the wait.
That evening, after a peek at the breathtaking new White Garden (the Princess Diana memorial garden which opened this week) we made our way back to our suite.
We were all flagging after a day of bus adventures around the capital, so we opted for a spot of room service. Fish fingers for the kids ("it's our dinner. ON A TROLLEY!") followed by incredible dim sum for us from the Min Jiang Chinese restaurant on the top floor of the hotel. What a treat for parents to be able to enjoy an adult supper from such a fantastic restaurant, even with sleeping little ones in the room next door.

The next morning, before heading home we visited the Science Museum and the Natural History Museum for a mooch. We saw the actual spacecraft capsule that returned Tim Peake to earth and enjoyed splashing around in the basement indoor science garden.
We spent a couple of hours in the Natural History Museum, meeting the huge roaring T-Rex and learning about our favourite dinosaurs. Before leaving we popped for lunch to the new T-Rex Grill restaurant in the museum. A little pocket of calm within the heaving museum, we enjoyed freshly grilled burgers and tasty smoothies. (If you're in the museum, it's worth a stopping to find it, it's quite hidden.)
After a long and grumpy end to the school term, this trip could've gone one way or the other with my tired pair. Thankfully, they loved the time and adventures with us and behaved fantastically.
It was such a treat to see all of these new experiences, new sights and sounds, through their eyes. They remind me of how exciting all of these little things around us really are.
London, we loved spending that spring weekend with you – thank you for the blue skies.
If you're planning a visit to London with children, I can't recommend the Royal Garden Hotel highly enough. They really go the extra mile to may a visit to the capital as easy as possible for parents and heaps of fun for kids.

Facts
The Royal Garden Hotel
Facebook: Royal Garden Hotel on Facebook
Twitter: Royal Garden Hotel on Twitter
The Family Explorer Package is available to stay any day of the week between 7 – 23 April 2017. Also available Friday, Saturday and Sunday between 3 March – 25 June 2017. It's based on a two night stay in an Executive Room or Park Suite for two adults and two children. Children are classed as under 12s. The package includes English Breakfast, one Food & Flicks package and a Big Bus Tour family ticket.
Disclosure: We were kindly invited to stay as guests of The Royal Garden Hotel, however, as always all opinions are our own and truthful.