Want to learn how to make a pavlova? Here's a simple recipe for an easy and delicious Salted Caramel & Apple Autumn Pavlova. 
This post is an ad sponsored by Bakewell baking products. Thanks as always for supporting the blog.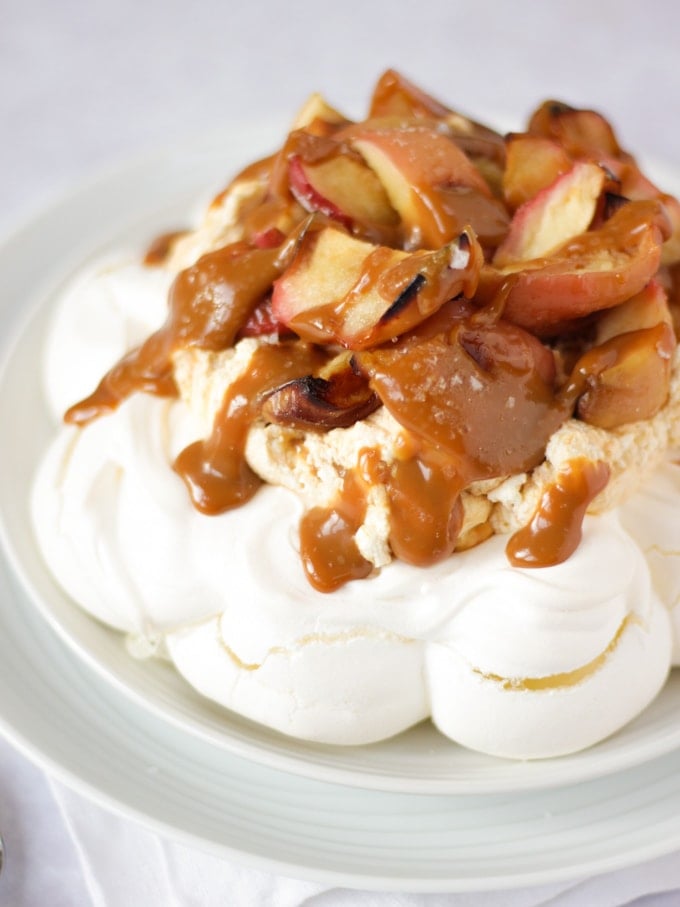 Is there anything more comforting in life than a cosy autumn Sunday afternoon?
Maybe it's the food (hi giant roast dinner and crunchy roast potatoes!)
I love these Sundays, with a walk or a bike ride, conker collecting, then delicious food and a movie in front of the fire. It reminds me of why I love this season so much.
We're in the very middle of moving house at the moment, so I can't WAIT for us to get back to reality and gorgeous Sundays. The first weekend there, I will be making this autumn pavlova (with apples from our new trees!) to celebrate.
The people from Bakewell products got in touch with me recently and asked if I'd like to test out their baking paper.
I knew exactly what I'd been planning to make for autumn, that would find out if it was up to the job – a delicious pavlova with an autumn twist.
When you make a pavlova, it's SO important to use good quality non-stick baking paper. Meringue has hardly any fat, so will stick to lesser quality baking paper in a flash.
Bakewell have been making their products and supplying across the globe for over 40 years. So they should know a thing or two about the best baking paper! I was really impressed by the paper and would thoroughly recommend it for this recipe.
To find out more information on purchasing the paper contact: sales@bakewellproducts.com or you can pick it up at Hobbycraft (Harri's favourite shop!).
How do you make a Pavlova?
It's surprisingly simple to make a pavlova. You need a very very clean bowl, egg whites, sugar, a whisk, good quality baking paper, baking tray and an oven!
Whisk up your egg whites until very light and fluffy and gradually add the sugar.
When it forms beautiful stiff peaks, spoon it onto your baking paper and bake, very low and slow until crisp on the outside and fluffy on the inside.
A pavlova is this meringue base, topped with cream and fruits.
Can pavlova be made in advance?
The meringue base of your pavlova needs to be baked as soon as you have finished whipping your egg whites.
Once it is cooked it can be kept in an airtight container for two days before you assemble it. Make sure it is kept somewhere cool before filling as humid weather can cause it to spoil.
Add the cream and topping JUST before serving.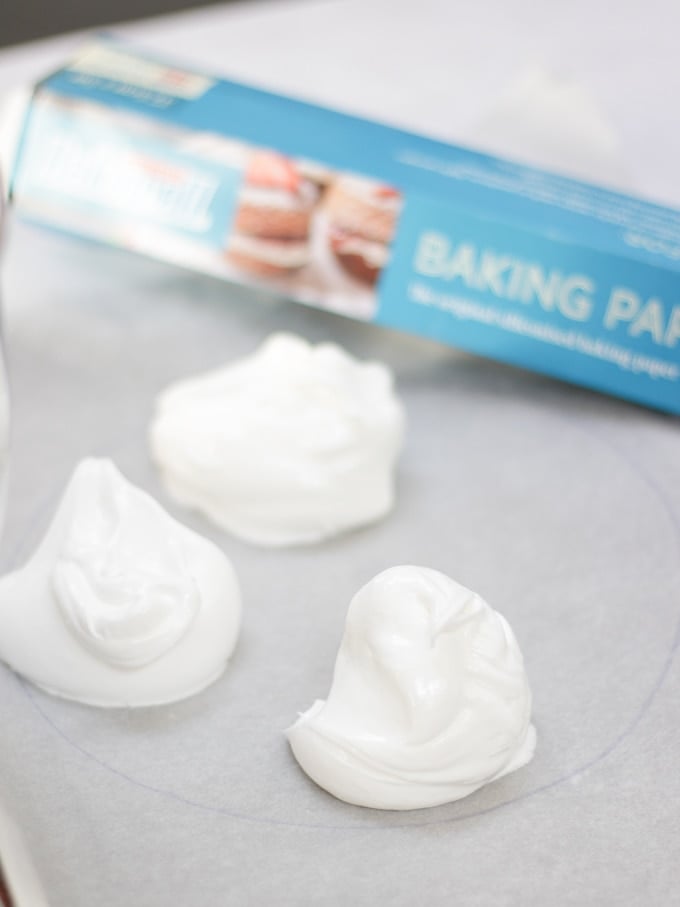 Can pavlova be frozen?
The cooked meringue of your pavlova can be frozen for up to one month.
A frozen meringue is very fragile so make sure its wrapped in baking parchment and placed into an air tight container or tin befre it goes in the freezer. It will defrost in around 2-3 hours at room temperature. Once defrosted fill with your cream and fruit filling.
If this tickles your fancy it makes the perfect dessert after my warming Beef Bourguignon with Braised Red Cabbage. Hello perfect autumn comfort food meal!
TIPS FOR MAKING THE CARAMEL APPLE PAVLOVA
Make sure that you use a VERY clean bowl to whisk your egg whites in, they won't fluff up otherwise.
Be sure to use good quality baking parchment like Bakewell not greaseproof paper to line your baking sheet. The meringue won't peel off otherwise.
Use a plate to draw around to make a guide for the shape of your meringue. This makes SUCH a difference!
You can make the meringue base a good few days in advance. You can also make the caramel sauce and whip the cream the day before, then just assemble at the last minute.
Assemble as late as possible to avoid soggy meringue.
Hope you enjoy this recipe as much as we do. I'd love to know how you got on and what you thought of it if you make this Caramel and Apple Pavlova recipe. Please rate the recipe and leave me a comment below if you do.
Also, if you fancy showing me a photo by tagging me on Instagram (@tamingtwins) I LOVE to see your creations.
How to make the Caramel and Apple Pavlova recipe: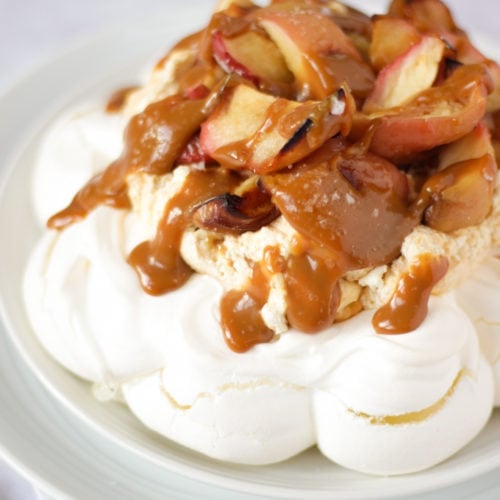 Caramel and Apple Pavlova
Want to learn how to make a pavlova? Here's a simple recipe for an easy and delicious Salted Caramel & Apple Autumn Pavlova.
Ingredients
For the Meringue
4

Egg whites

250

g

Caster sugar

2

tbsp

Icing sugar
Instructions
Preheat the oven to 140c (fan).

Whisk the egg whites until stiff.

Gradually add the sugar, whisking well in between each addition.

Spoon into a circular shape on baking parchment paper on a baking sheet.

Slice the apples into wedges, place them on to another baking sheet lined with baking parchment. Sprinkle with caster sugar.

Put both the meringue and the apples into the oven for about an hour. Check your apples after 30 minutes, they are finished when they have turned golden and caramelised.

Turn off the oven and allow the pavlova to cool for around an hour.

Whisk the cream in another bowl and then stir in a half of the tin of caramel.

When you are ready to serve, top with cream, cooled apples and rest of the caramel. Sprinkle with sea salt.


(You can also warm the caramel very slightly before drizzling over the apples to make it easier to spoon over.)
Nutrition (per serving)
Calories:
444
kcal
Carbohydrates:
81
g
Protein:
3
g
Fat:
14
g
Saturated Fat:
8
g
Cholesterol:
51
mg
Sodium:
206
mg
Potassium:
189
mg
Fiber:
2
g
Sugar:
45
g
Vitamin A:
645
IU
Vitamin C:
4.4
mg
Calcium:
55
mg
Iron:
0.2
mg
Made it? Tag me!
Tag @TamingTwins so we can admire your make ⭐️