This post may contain affiliate links.
These super impressive Hot Chocolate Bombs are so much easier to make than they look. A really fun and cosy winter activity and better still, you get to drink the cocoa afterwards!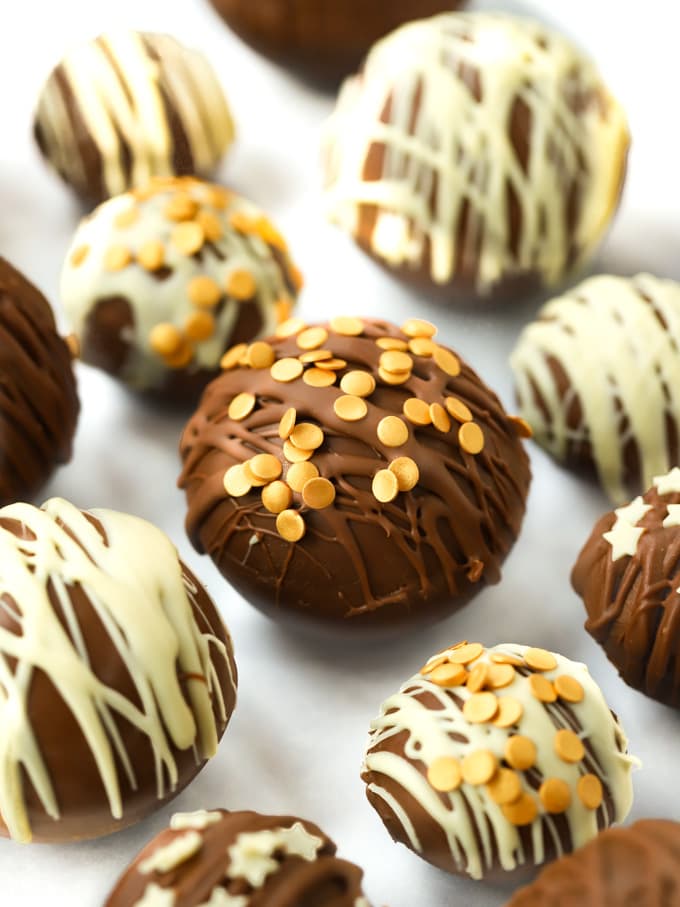 I've seen these Hot Chocolate Bombs all over TikTok this year. I decided to plough on and have a go and ended up having a LOT of (delicious) disasters in the process 😆
Having now made about 20 batches to perfect the technique and try and keep it as simple as possible.
I thought I'd share with you in case you fancy having a fun afternoon being a chocolatier.
It's a really lovely cosy winter afternoon activity and you get to drink the fruits of your labour – yessss!
You'll love making these Hot Chocolate Bombs because:

✅ They make super cute homemade gifts.
✅ Really simple after you get the knack!
✅ Makes delicious hot chocolate every time 😍
What do I need to make Hot Chocolate Bombs?
A mould
Chocolate
Fillings (hot chocolate powder and mini marshmallows)
Gloves (optional but super helpful)
How do I attack making these then?!
Buy the moulds (see below.)
Buy the chocolate (see below.)
Melt your chocolate and smooth over the inside of the moulds.
Pop into the freezer.
Fill the halves with hot chocolate powder and marshmallows.
'Glue' the two halves together by slightly melting the edge.
Set again in the freezer.
Decorate!
Do I need a mould?
In short. Yes. These silicone moulds are pretty affordable and also make it really simple to make these.
I use two different sizes:
50mm Silikomart Silicone Mould
The 50mm size moulds are harder to make as they are a little more fiddly. However, they are small enough to fit in almost any mug.
70mm Silikomart Silicone Mould
The larger moulds are much easier to handle BUT you do need to check first that your mugs are wide enough for them to fit in!

How do I melt chocolate?
I have form for burning chocolate A LOT in the past.
It's actually pretty simple, the key is: stir even if it looks like it doesn't need it. It helps to move around the melting molecules so they don't burn in one spot.
So, zap in the microwave for 30 seconds, stir very well. Repeat and repeat until smooth.
Which chocolate should I use?
I always try to use Callebaut Chocolate. Here's why:
It works out about the same price as supermarket chocolate when you buy it in bulk.
It melts SO easily and is much more easy to use and handle when cooking.
It tastes AMAZING.
Do I need to temper the chocolate?
Hmm! Honestly? These would be more shiny and stable if you did temper the chocolate before using. (Tempering is a process where you heat the chocolate, cool it, and heat it again to very specific temperatures to align all of it's molecules and make it set in a more rigid way.)
However.. I don't have the time or brain space if I'm honest.
SO. I've made them like this with a few extra tweaks to keep them a success (extra quality chocolate, freezing, wearing gloves) without having to temper.
Any top tips to help?
Wear disposable gloves to handle the bombs when you stick them together.
Be sure to freeze (both times) until very solid.
Use chocolate drizzles to hide any imperfections or fill any gaps or holes in the chocolate.
If you're really struggling with the bombs collapsing or not being sturdy enough, you can do a second coat of chocolate inside the mould. So get to point 3 of putting them in the freezer. Freeze and then repeat 1 – 3 so they are a double wall of chocolate.
Fancy some more homemade chocolate treats ?
Hope you enjoy this recipe as much as we do. I'd love to know how you got on and what you thought of it if you make this recipe. Please rate the recipe using the ⭐️ by the recipe.
Also, if you'd like to show me a photo by tagging me on Instagram (@tamingtwins) I LOVE to see your creations.
Ingredients
For the filling
3

tbsp

Hot chocolate powder

,

See Note 2.

3

tbsp

Mini marshmallows
To decorate
50

g

Milk chocolate,

See Note 3.

1

tsp

Vegetable oil

,

See Note 4.

Sprinkles

,

See Note 5.
Instructions
Make the 'shells'
Melt the chocolate by putting in a microwave proof bowl and cooking for 30 seconds, then stirring for about 30 seconds. Repeat (probably twice) until all is smooth and runny.

Coat the inside of your sphere moulds. Turn them over and tap the base to shuffle the chocolate down the sides.

Turn back over, check for any gaps that have appeared (fill with more chocolate if there are any) and pop into the freezer for about 15 minutes.
Filling the bombs
Put gloves on if you're using. Remove the half spheres from the freezer and pop out of the moulds.

Fill half of them with the hot chocolate powder and marshmallows. (Don't overfill or they will be harder to close.)

Warm a dinner plate (either in a hot oven for 2 - 3 minutes or by running under a very hot tap for a couple of minutes and drying off - don't let water touch chocolate!)

Put the edge of one of the unfilled shells onto the warm plate very briefly. Use a knife to lift it off and sit it on top of one of the filled shells.

Push together in your hands and smooth the edges with your fingers.

Put back into the freezer for 15 minutes.
To decorate
Melt your additional chocolate and drizzle all over the bombs. Add sprinkles if you like and chill until set.
To use the Hot Chocolate Bombs
Heat up a mug of milk until very hot. Drop in a bomb and watch it do it's stuff! Stir well before drinking.
Notes
Note 1 - Chocolate
These measurements are for the larger, 70mm moulds I mentioned. You will need to adjust depending on which mould you are using (and if you want to do 2 coats of chocolate or not). Note 2 - Hot Chocolate Powder
Be sure this is drinking chocolate powder, not cocoa (which has no sugar added). Note 3 - Chocolate to decorate
You can mix this up and use white or dark chocolate if you prefer. Note 4 - Oil
You only need to add this if your drizzling chocolate feels to thick to give a nice stripy drizzle. It just thins it down. Note 5 - Sprinkles
Use colourful sprinkles or chocolate ones. Go wild!
Nutrition
Calories:
196
kcal
Carbohydrates:
37
g
Protein:
4
g
Fat:
4
g
Saturated Fat:
3
g
Cholesterol:
9
mg
Sodium:
216
mg
Potassium:
197
mg
Fiber:
1
g
Sugar:
29
g
Vitamin A:
265
IU
Calcium:
142
mg
Iron:
1
mg
Nutrition information is automatically calculated, so should only be used as an approximation.