A whole month of Healthy Lunch Ideas all in one place – These make ahead, healthy lunch ideas for work or home are all quick and easy to make. Including vegetarian and clean eating options.
This post is sponsored by Addis food storage containers.

Thanks, as always, for supporting TamingTwins.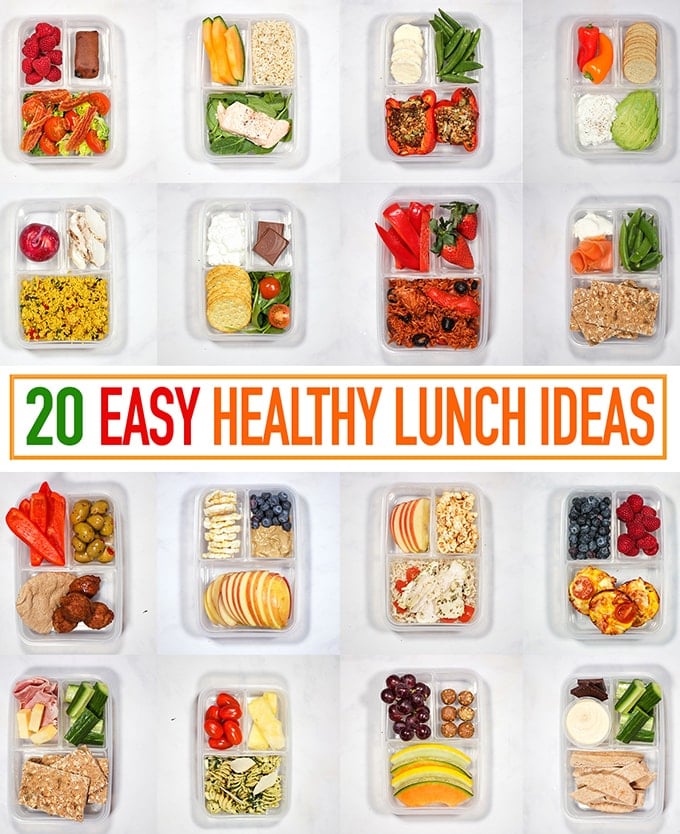 I've been making such an effort with dinner meal planning lately (have you signed up to get the weekly email yet?!)
It's really helping us to eat better and for me to feel a little bit less chaotic during the week – hoorah!
Dinner is only one meal of the day though and, oh my goodness, my lunches have been a sorry state this year. Addis got in touch with me and asked if I'd like to try out some of their Clip and Close food storage containers. When I spotted this little compartment gem, I knew it could be my healthy packed lunch saviour!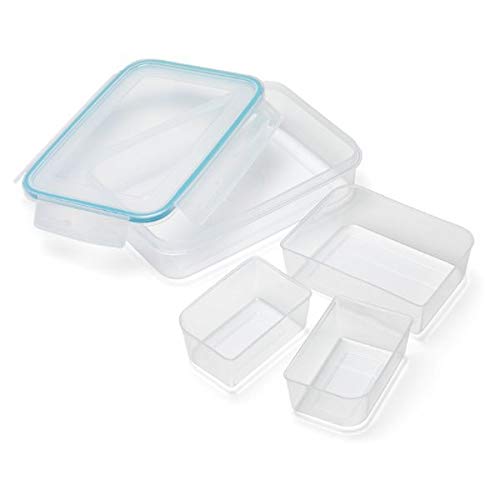 This Addis 1.1 litre Clip and Close storage tub is the perfect size for holding a healthy packed lunch. Not too big to carry around and not too small to leave you hungry.
The Clip and Close fastening is really firm and secure, no escaping lunches here thank you very much.
Possibly I need to get out more (haha!) but I really do love these little containers for making healthy packed lunches.
Whether I'm working away from home or working alone, I've been trying to up my game, with no sandwiches and prepping my lunch boxes a few days in advance.
I thought I'd share 20 of my favourites, so you've got a month of weekday ideas if you're struggling to think of healthy lunchbox ideas too.
20 Healthy Lunch Box Ideas: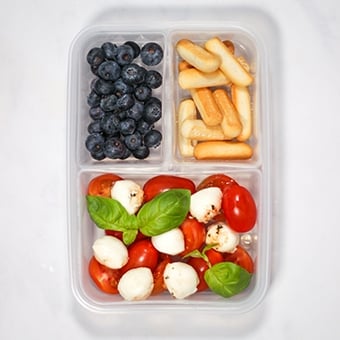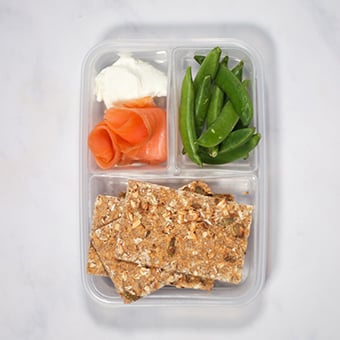 Mozzarella and Tomato Salad with Basil – with some mini bread sticks and blueberries.
Rye Crispbreads with Smoked Salmon and Cream Cheese – plus some green veggies like sugar snap peas. (Replace the smoked salmon with hummus for a vegetarian option.)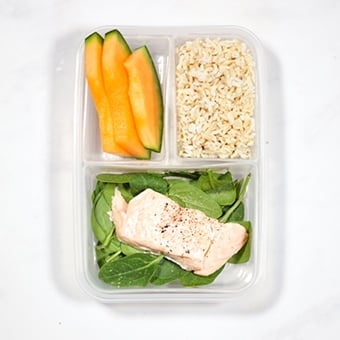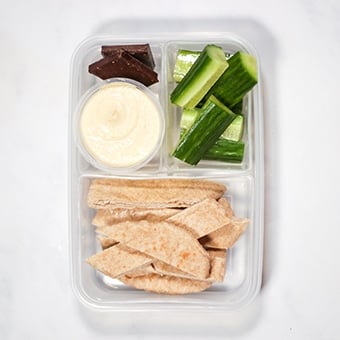 Cooked Salmon and Spinach Salad – served with some brown rice and cantaloupe melon. (Replace the salmon with Quorn pieces for a vegetarian option.)
Hummus with Pita bread fingers – with cucumber, and a couple of squares of dark chocolate.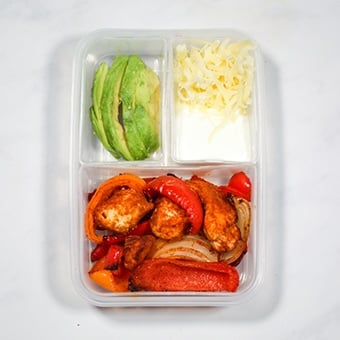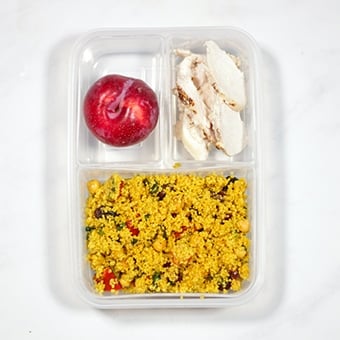 Leftover (or made for lunchbox filling) One Tray Chicken Fajitas – with avocado, yoghurt/sour cream and grated cheese. This is my favourite lunchbox ever – it feels like a real treat! (Replace the chicken with Quorn pieces for a vegetarian option.)
Cous cous and chickpea salad – with cooked chicken and a piece of fruit, here it's a plum.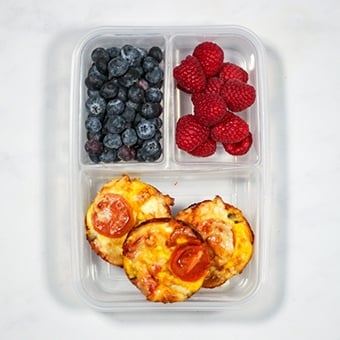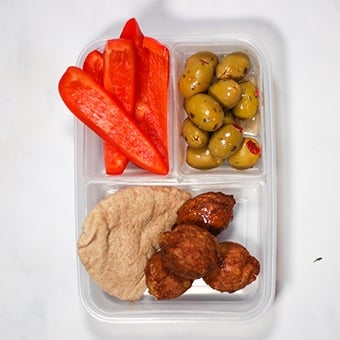 Mini Crustless Quiches – with fresh berries. This is SUCH a useful little lunch recipe. Super easy to freezer and pull out for lunches or breakfasts.
Falafels  – with pita breads, peppers and your favourite olives.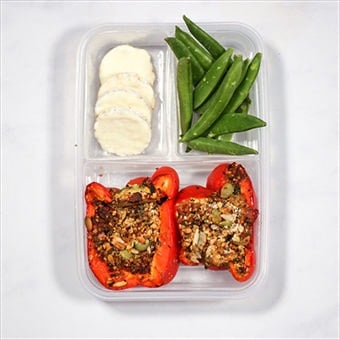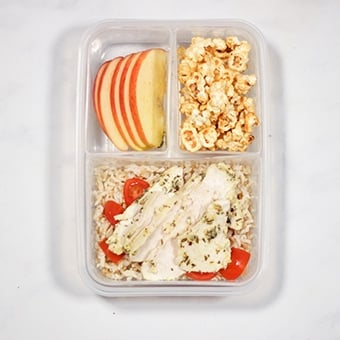 Stuffed peppers – you can buy these from most supermarkets in the prepared vegetables section, or make yourself and stuff with quinoa, cous cous, rice or even yummy halloumi. Bake and then cool before popping into your lunchbox. I've included some sugar snap peas and yoghurt covered rice cakes.
Chicken and Rice – with some tomatoes, apple slices and popcorn. (Replace the chicken with chickpeas for a vegetarian option.)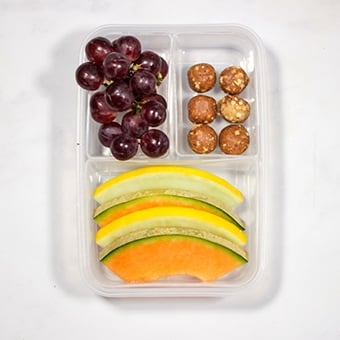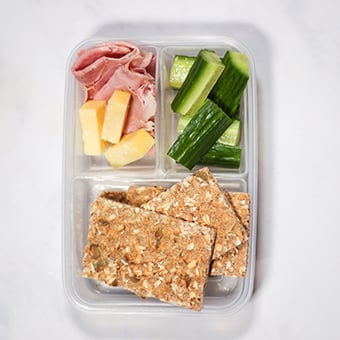 Fruit Salad and Protein Balls – if you fancy a change for a sweet style lunch, this is really delicious. Make your own protein balls or buy them ready made. Your lunch will see off your sweet cravings!
Cheese and Ham Crackers – with rye crackers and cucumber to make a mini "ploughman's" lunch. (Replace the ham with Quorn or another cheese as a vegetarian option.)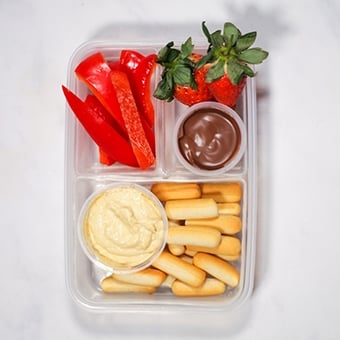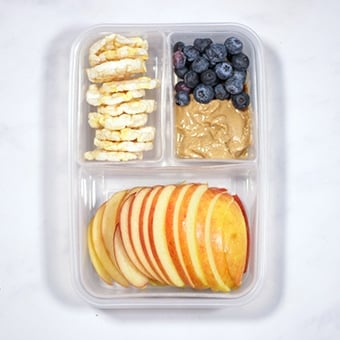 Hummus and Breadsticks – with pepper slices for dipping and a mini dark chocolate pot plus strawberries as a treat.
Apple and Peanut Butter – this makes a nice fun change, dip the apple slices! With mini rice cakes and some blueberries.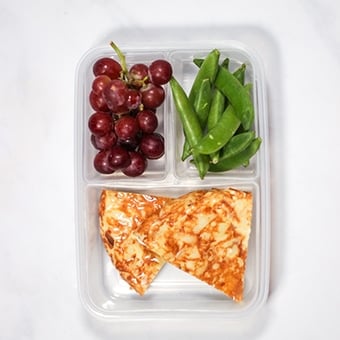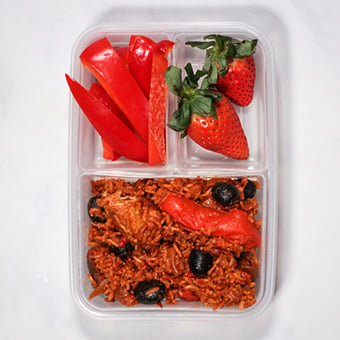 Frittata slices – serve cold or warm them up to eat them. The recipe linked is with salmon but you can substitute in so many different fillings, here is the classic Spanish tortilla style, with onions and potatoes. With sugar snap peas and grapes.
Leftovers! (This is a Spanish Chicken and Rice dish but you can use anything you fancy.) Eat them cold or reheat fully before serving. Served here with extra pepper slices and strawberries.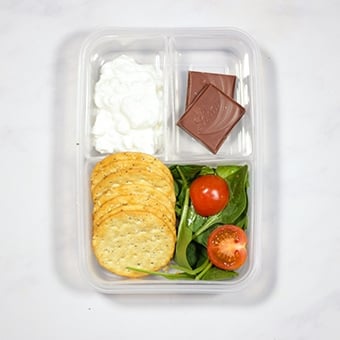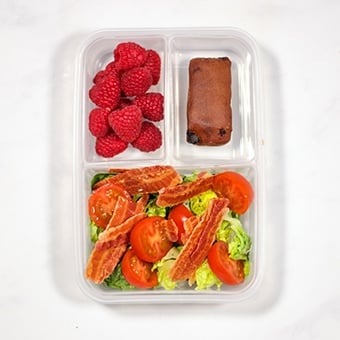 Cottage Cheese with Crackers – with some spinach greens and a couple of squares of dark chocolate as a treat.
BLT Salad – I LOVE this salad! I use the super crispy pre cooked bacon (available in most supermarkets) if I need to save time. I add dressing or balsamic vinegar just before serving. Served with a mini Malt Loaf and some raspberries. (Replace the bacon in the salad with lentils, chickpeas or avocado as a vegetarian option.)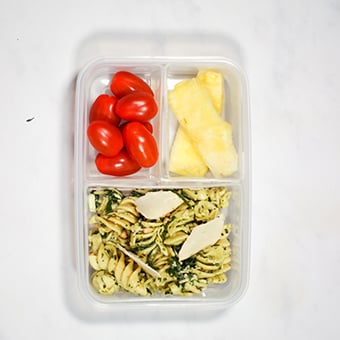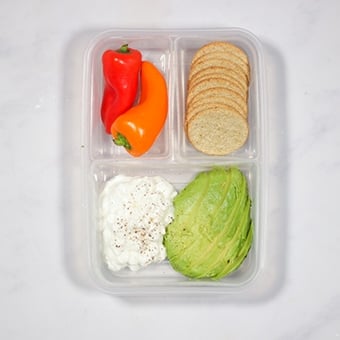 Pasta Salad – Use any pasta, salad shop bought, homemade or dinner leftovers (this one is pesto with some cheese, spinach and pine nuts added). With some tomatoes and pineapple fingers.
Cottage Cheese and Avocado – with some mini oatcakes and some sweet peppers to dip.
I hope you found my 20 Healthy Lunch Ideas useful. What are your favourite lunchbox fillers? I'd love to know.