This post may contain affiliate links.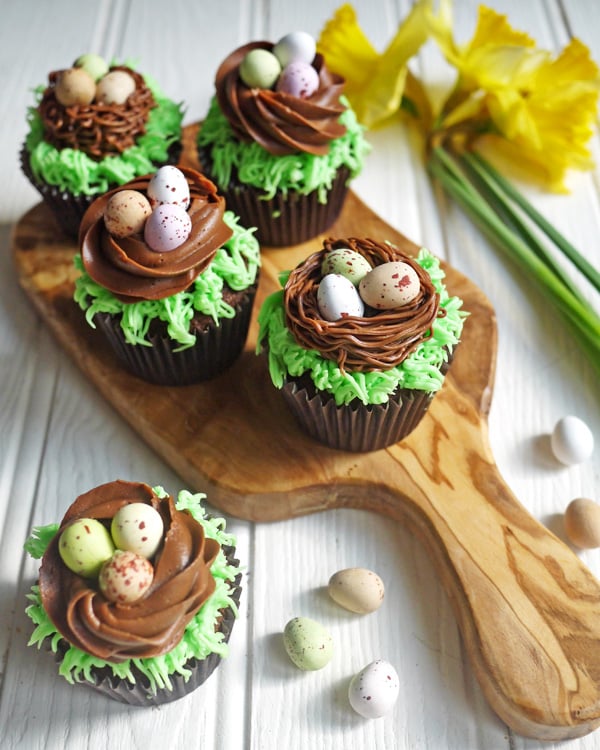 Talk about jinx it. I was one of those awful mothers that said "gosh, my children seem to prefer bananas to chocolate, what luck!" Yes, I am a total idiot.
Oh how those tides have turned. Let them try the chocolate I said. It'll be fun I said. A special treat I said. Oh look how they seem to love it I said. Oh look how they sit beautifully and wait for it with excitement I said.
3 weeks later. I've created 2 chocolate monsters.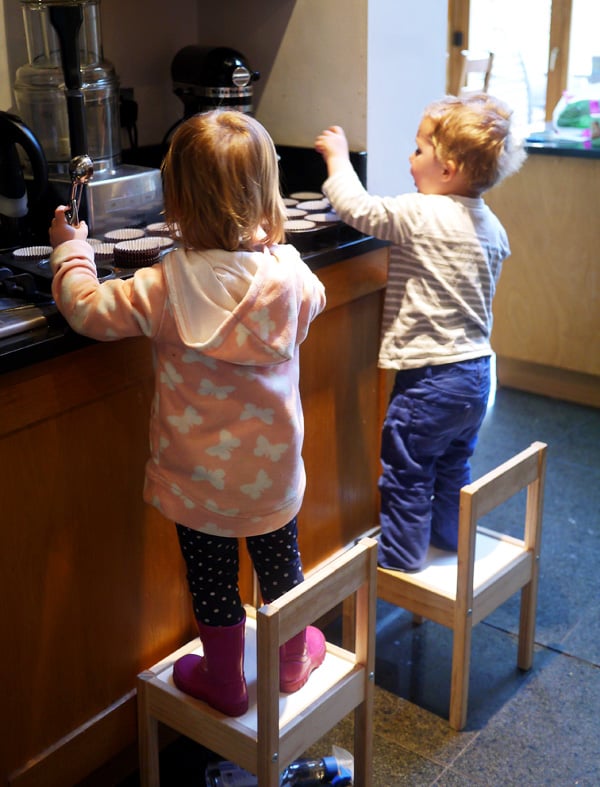 My stroke of genius (or so I thought) was to call it "having a treat" instead of "chocolate". On the VERY VERY slim chance that my children would indeed, eventually have a passing interest in chocolate, I didn't want them to be able to shout their demands for it from the rooftops.
Oh no. So much better that they shout "Harri want chok TEAT. Mummy give Harri chok teeeeaaat!" at the doors of nursery whilst laying on the floor and kicking her legs. Excellent.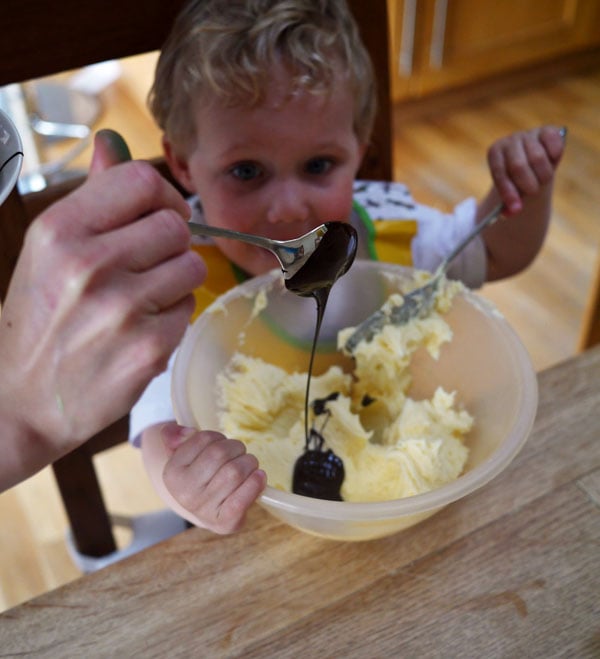 Watching intently…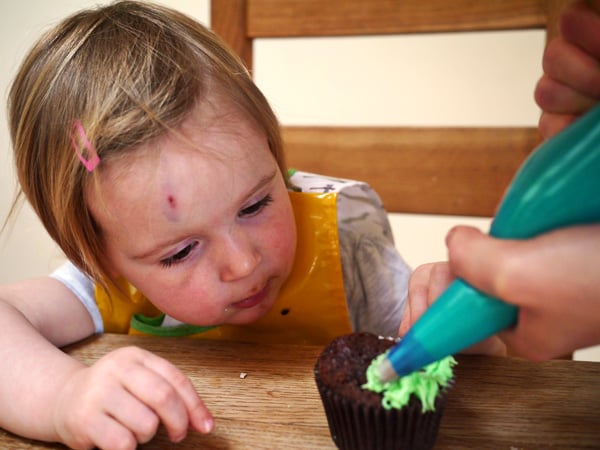 Then showing us how it should be done. (Note the giant Easter egg sized bump on H's head. In case you were planning on trying, that's what happens when you run with full force at a door frame. Poor little lamb.)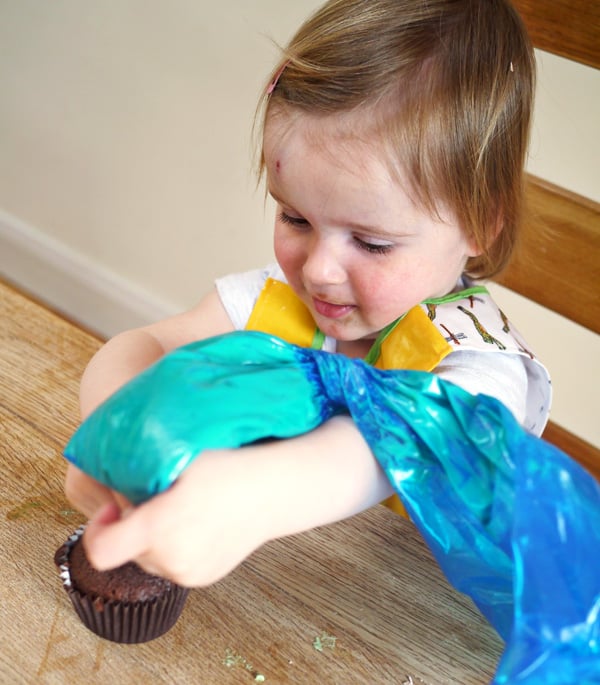 Just as a word of advice. If your children enjoy a spot of cocoa related refreshment, don't try and make these cupcakes with them at 9am. There will mainly be icing eating going on and chocolate toddler paw prints around the house for the whole weekend.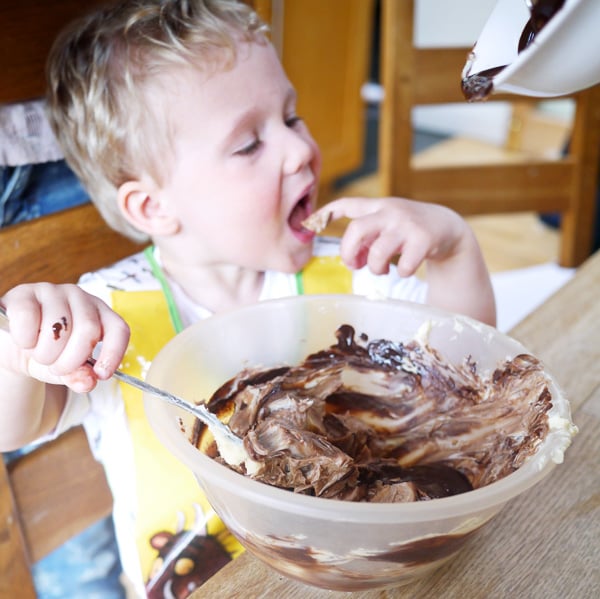 Spot the Mini Egg in the mouth? Well, can you blame her?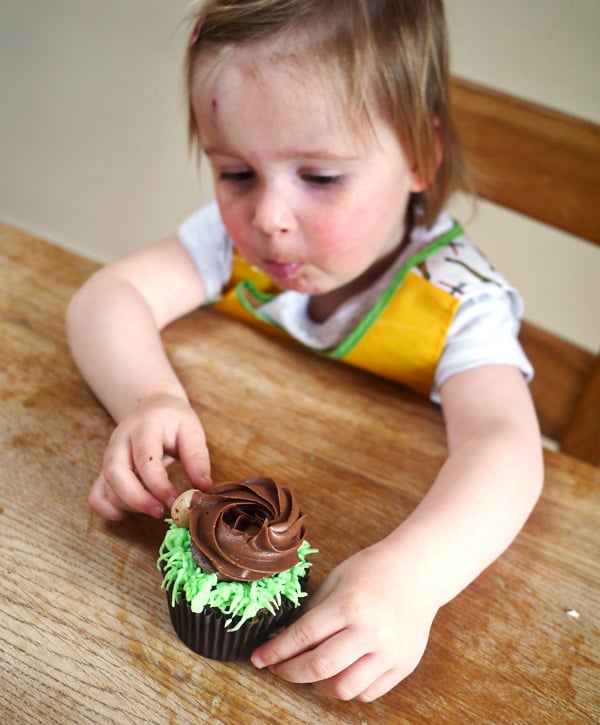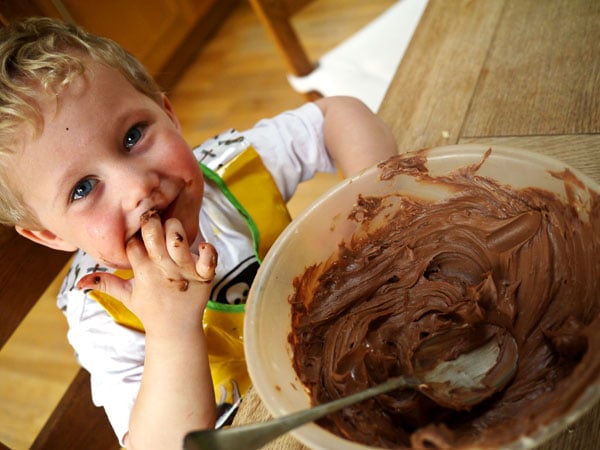 G&H are 25 months old and they helped with:
Putting the ingredients into the mixer bowl
Weighing the ingredients out
Scraping down the bowl
Putting the muffin cases out (they love this bit, we count the cases out)
Scooping the batter out (with quite a lot of help)
Mixing the icing
Squeezing the piping bag
Dropping the mini eggs in the nests
For the piping you'll need disposable piping bags, a grass nozzle and a 2D nozzle.
We used the cupcake and icing method I wrote in this post. When you split the icing, instead of colouring one half yellow, colour it green (using Sugarflair- Party Green). With the half a batch of icing left over, add about 50g of 70% cocoa chocolate, melted and cooled.
Pop the green into a piping bag with a grass nozzle in and pipe a circle of grass. Then put your chocolate icing in another piping bag with either a grass nozzle or a 2D nozzle in (we did some of each). From the centre of the cupcake, pipe a swirl, circling out. Then pipe another circle on top of the outer one to build up the height – taadaaa a nest!
Add your eggs to each nest. One in my mouth, one in a nest is an excellent system for this.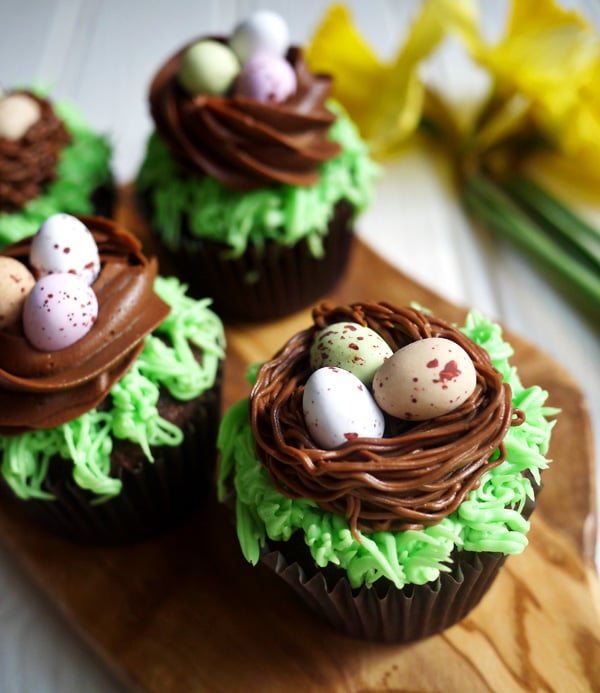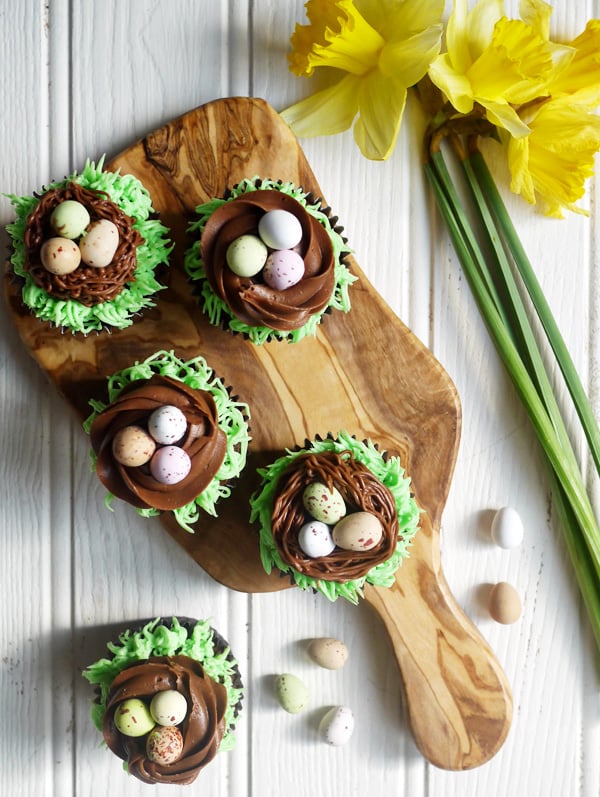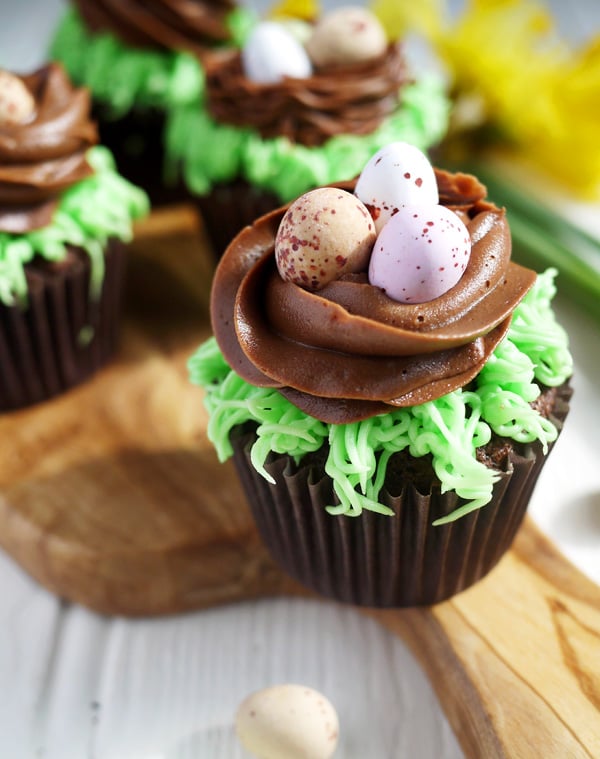 My advice for making these with sugar crazed 2 year olds, is enjoy one of the finished product with a cup of tea whilst you ignore the mess and tantrums, all will be at peace with the world again. Happy Easter lovely blog friends.
Sarah x
Let's be friends
Keep in touch on Facebook ¦
Chit chat on Twitter ¦
Never miss a trick on Bloglovin' ¦
Circle with me on Google+ ¦
Pinning like my life depends on it Pinterest ¦