Overload on Easter treats with this decadent, delicious and rich Easter chocolate cake. Topped with Cadbury's Creme Eggs, Mini Eggs, white chocolate drizzle, bunnies and Caramel Eggs. What more could you need in an Easter dessert?!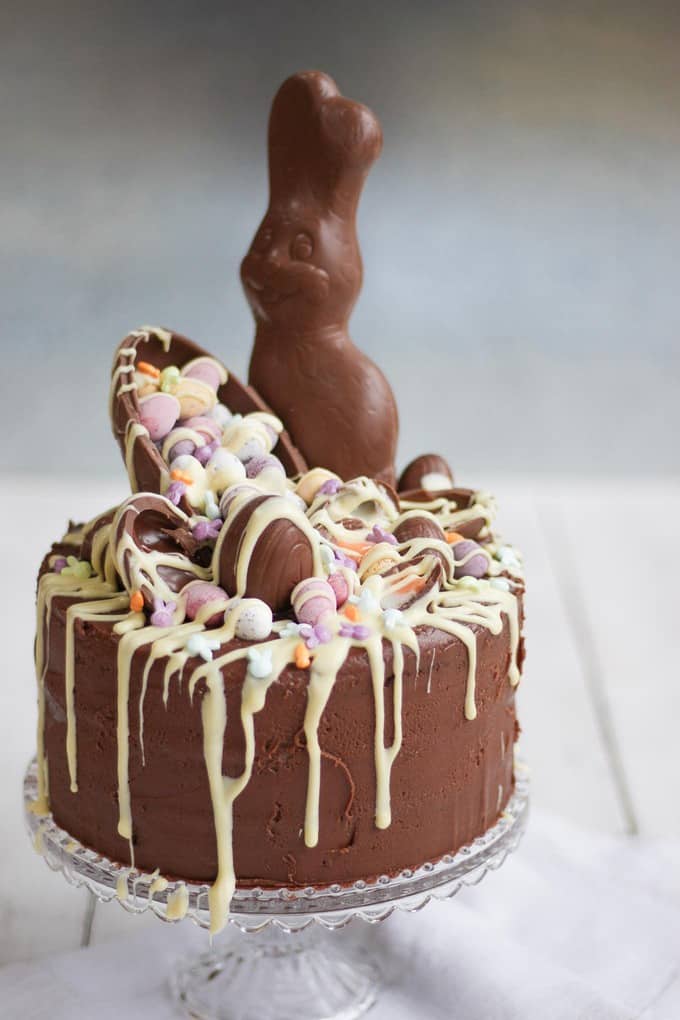 It's always a busy month leading up to Easter here on the blog, I'm not sure why but I seem to be just crazy attracted to Easter desserts and cakes. I'm not even that keen on Creme Eggs (did I say that out loud?! Sorry.)
I just love Easter, the feeling of Spring in the air, four days together as a family and no pressure of perfection, shopping and seeing everyone like at Christmas. Whether you're religious or not, Easter is such a lovely time to come together isn't it?
And if you're getting together.. You need cake right?

A couple of weeks ago, I made a YouTube and Facebook video showing how to make my No Bake Creme Egg Cheesecake Recipe. Oh my goodness, the Facebook video went a bit crazy. It's been viewed 4.4million times. It's here on Facebook if you fancy a peek.
I love blogging for the fun of getting better at taking photos, learning more and sharing, it's also now become my job. BUT there's something so special about the thought of hopefully helping to bring a little bit of dessert enjoyment to so many homes this Easter.
Will you be making the cheesecake? Please send me a photo if you do, I love to see them.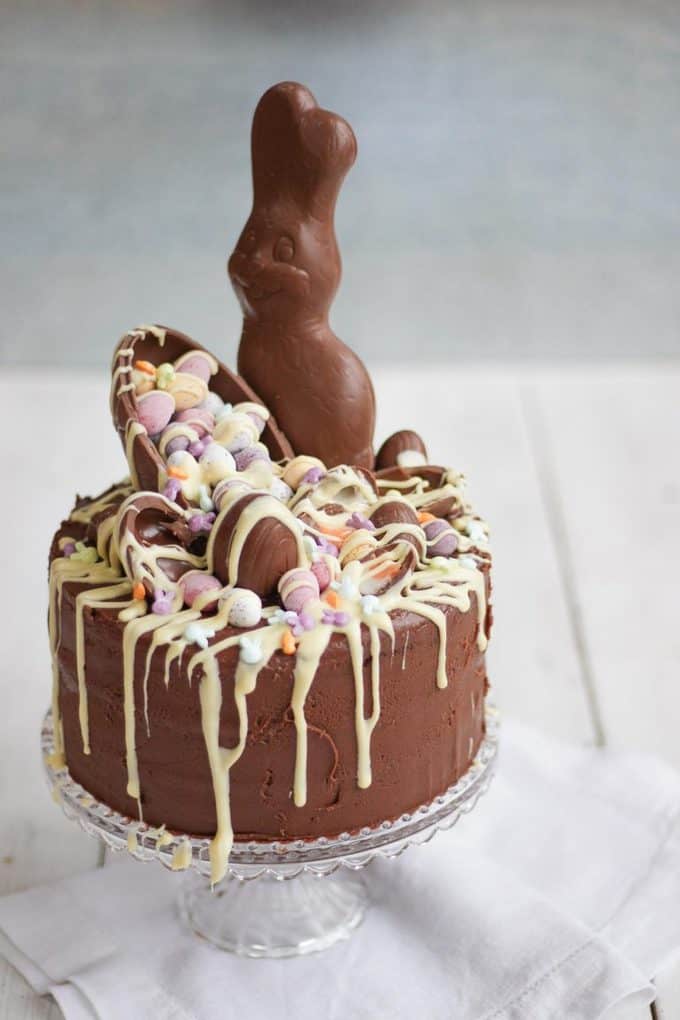 Anyway, on to this Easter Chocolate Cake.. I know not occasion is suitable for a no bake cheesecake, sometimes we need good old chocolate cake don't we?
I love this cake as it's super simple and great fun to make with the children. It's also a fantastic make after Easter to use up all of that chocolate (because what you need then is more sugar – right?!)
What's on your to bake list for this Easter? Are you bulk buying Easter treats too?!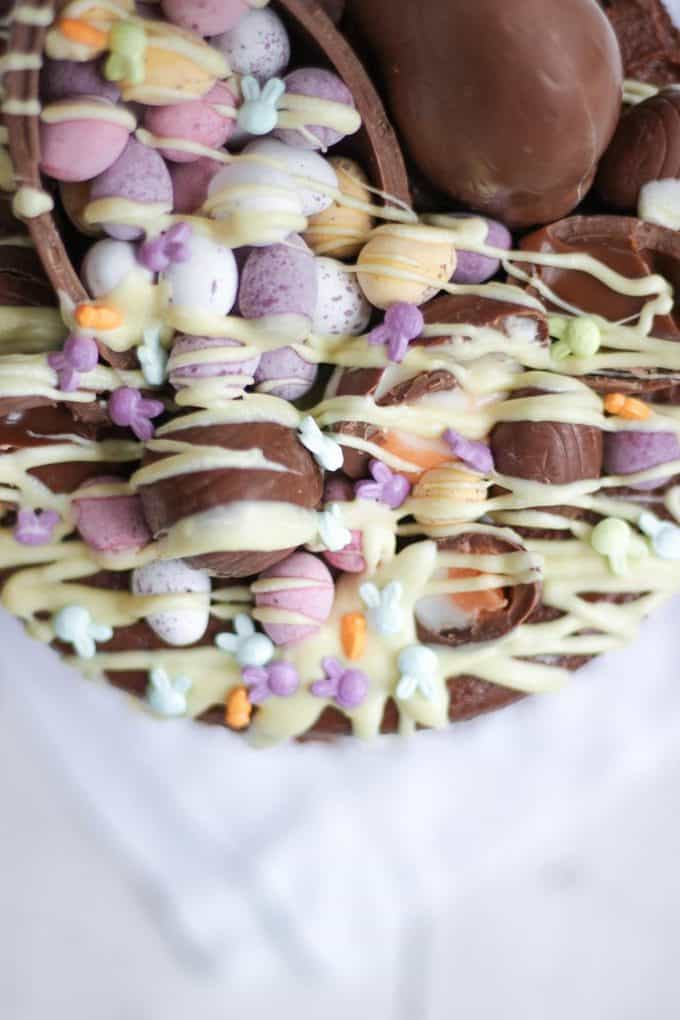 Tips for making this Easter Chocolate Cake Recipe:
As always, it really helps to use good tins for baking, I use and recommend something like these, available on Amazon, they are a great investment: Masterclass 7″ Deep Round Tin
As always, don't trim and ice the cakes until they are completely cold.
Invest in good quality cocoa for this cake, you will notice the difference. I really like this one, available on Amazon: Green & Blacks Organic Fairtrade Cocoa
If you don't have them and fancy making layer cakes now and again, the two things that will improve the look of your cakes the most are these little beauties; an Angled Palette Knife (about £4 on Amazon) and a Cake Side Scraper (about £2 on Amazon). Honestly, they make SUCH a difference!
This icing can be a bit temperamental as it is so fudgy. If it looks like it has split a bit DON'T PANIC! Just continue and put it onto the cake. As soon as it goes harder it will come back to a lovely consistency.
What I used to make this Easter Chocolate Cake Recipe: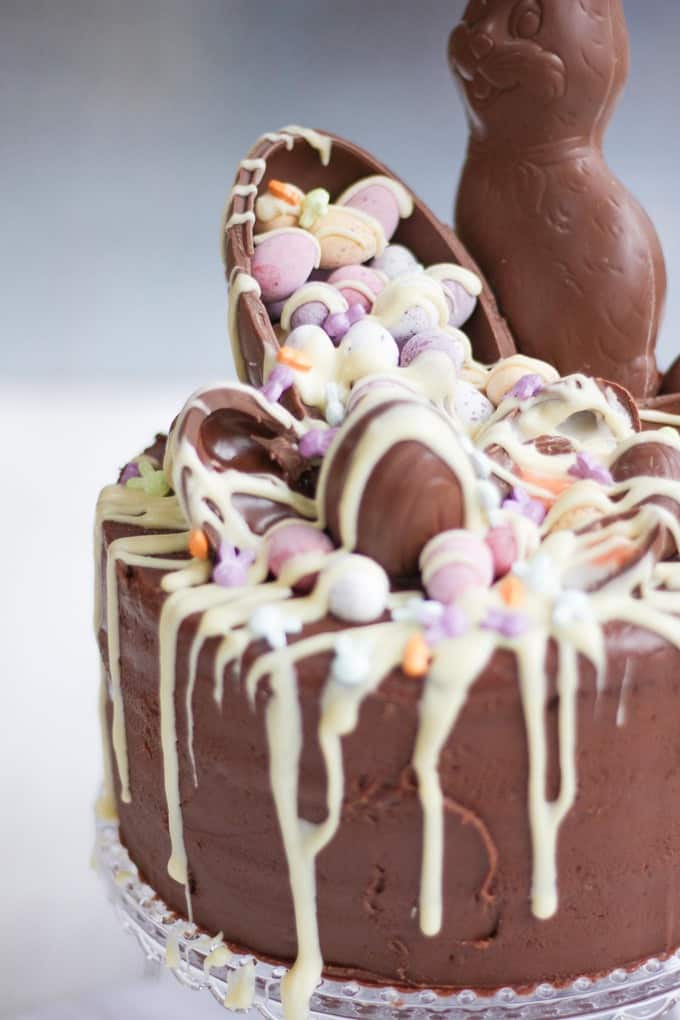 How to make the Easter Chocolate Cake Recipe:
Easter Chocolate Cake Recipe
A chocolate layer cake like no other! Embrace the chocolates and make this indulgent chocolatey cake at Easter.
Ingredients
350

g

Unsalted butter

350

g

Caster sugar

6

Free range eggs

40

g

Good quality cocoa

270

g

Self raising flour

90

g

Melted dark chocolate

4

tbsp

Milk
For the icing:
300

g

Unsalted butter

600

g

Icing sugar

150

g

Dark chocolate
To decorate (if you fancy):
A mountain of Easter chocolate goodies!

50

g

White chocolate

melted
Instructions
Grease 3 x 7″ round sandwich tins (or 2 x 8″).

Preheat the oven to 180C.

Cream your room temperature butter with your sugar until it's pale, light and fluffy.

Next, mix in the eggs, one at a time, beating really well after each egg. Don't worry if it starts to look a bit curdled, it'll all come good.

After this, mix in your flour and cocoa. If you've been using a mixer, do this bit by hand. It helps to keep the sponge light.

Stir in the melted and slightly cooled chocolate and milk.

Spoon into a your tins, smooth out with the back of a spoon. Make a bit of a dip in the middle to account for rising.

Bake for about 30 minutes or until a skewer comes out clean. You might need to adjust the time by 5 minutes either way depending on your oven.

Meanwhile make your icing. Beat your butter until it's pale, light and fluffy.

Beat in your icing sugar and then add the melted and cooled dark chocolate. Mix well.

If the buttercream is too stiff, beat in a teaspoon or two of boiling water to soften and lighten the texture of the icing. (See note above about splitting!)

When your cakes are completely cold, use a carving knife to level them. Just trim the top crust off. Remember, this is important, it's not a waste of cake. If you don't do this, with a cake this size it will be wonky.

Top each layer with a spread of your chocolate buttercream, stack up and then smooth over the sides and top.

Top with your Easter treats, using a little of the melted white chocolate to stick them on if needed. Then drizzle the white chocolate all over!
Nutrition (per serving)
Calories:
956
kcal
Carbohydrates:
110
g
Protein:
8
g
Fat:
56
g
Saturated Fat:
34
g
Cholesterol:
200
mg
Sodium:
56
mg
Potassium:
272
mg
Fiber:
3
g
Sugar:
86
g
Vitamin A:
1485
IU
Calcium:
79
mg
Iron:
2.7
mg
Made it? Tag me!
Tag @TamingTwins so we can admire your make ⭐️
Pin the this Easter Chocolate Cake Recipe for later..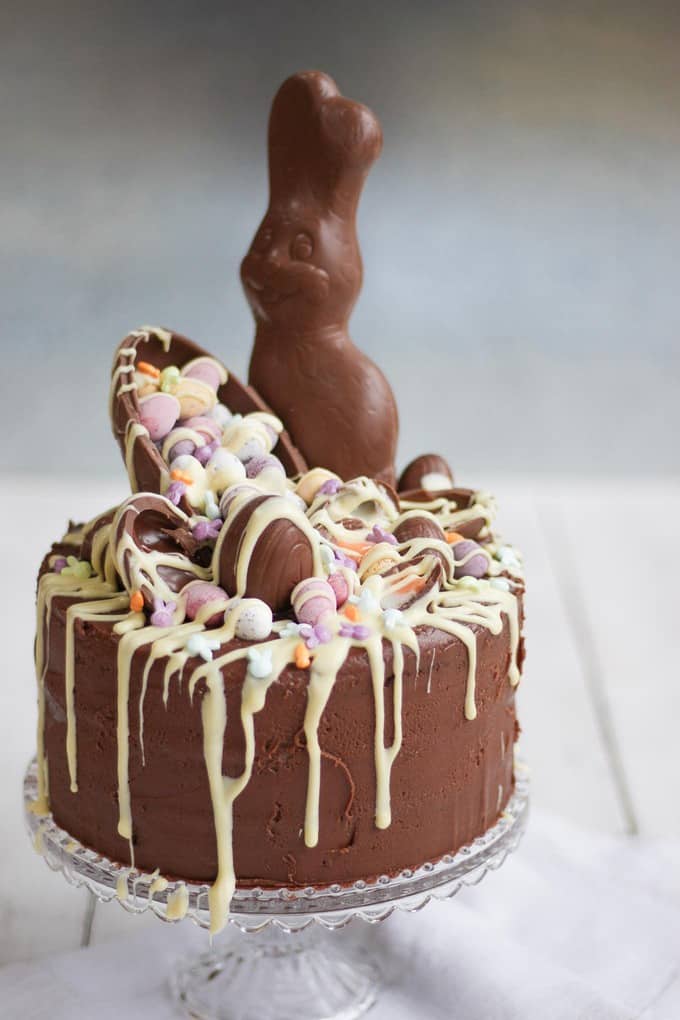 Keep in touch on Facebook ¦
Chit chat on Twitter ¦
Never miss a trick on Bloglovin' ¦
Circle with me on Google+ ¦
Pinning like my life depends on it Pinterest