This easy GIANT Chocolate Easter Nest Cornflake Cake Recipe is so much fun to make. Simple and really tasty, a fab No Bake Easter make full of chocolate treats.
This post was sponsored by Belling. They asked me to come up with a selection of recipes, using one of their nifty new hobs. Thanks, as always, for your support.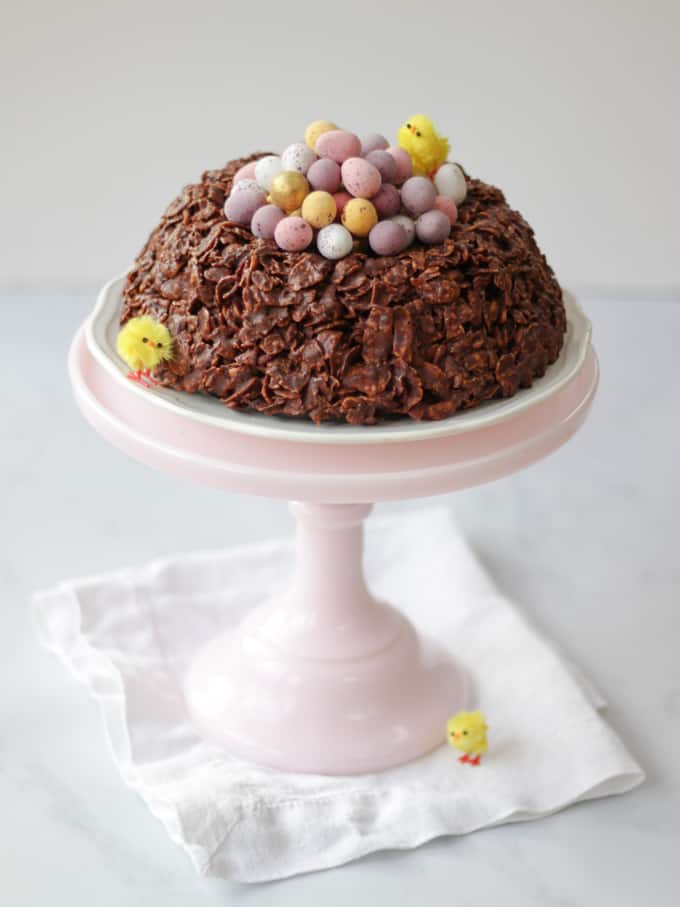 It's been a funny old week here. Lovely Laura who helps me keep on top of all of my social media blog tasks, posted the video for my Mini Egg Cheesecake recipe to my Facebook page. Within about 5 minutes there were notifications popping up everywhere and Easter had definitely come early to Taming Twins.
The Mini Egg Cheesecake recipe was going crazy and taking on a life of its own. Thousands of people were losing their Mini Egg loving minds over my little recipe.
I LOVED the thought that one of my recipes would hopefully bringing so much sweet treat happiness to so many people as spring arrives. Did you see it? Will you make it?! Please let me know how it goes if you do.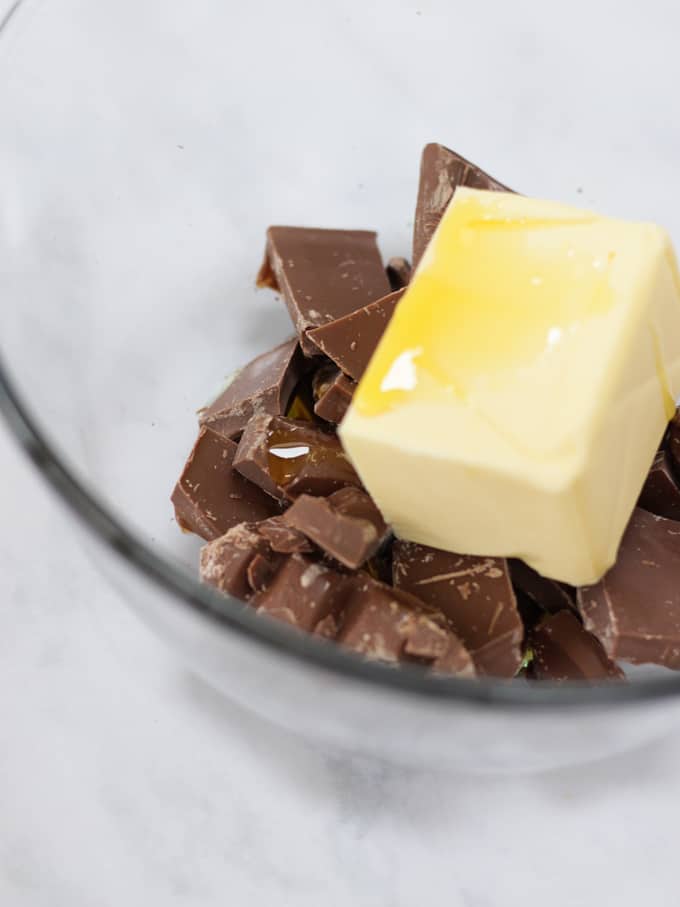 So, feeling Mini Egg love inspired, I came up with this Chocolate Easter Nest Cornflake Cake recipe this week. I always loved making rice crispy cakes at Easter with my Mum or nests using Shredded Wheat.
In this Easter Nest Cornflake Cake recipe, I've supersized the idea of Easter nest cakes using a bundt tin. Oh and how cute does it look?
I used my new Belling hob to gently melt my chocolate (more on how to melt it in my tips below). The hob has five burners, so plenty of choice to find the right amount of heat for the job. I find cooking on gas SO much easier, really easy to control and instant heat. Perfect for impatient me.
How do you make Easter Nests, Cornflake Cakes or Crispy Cakes?
Chocolate Easter nests are basically the same as cornflake cakes or crispy cakes, just with added Easter chocolate candy in the centre. They are super quick and fun to make.
Start by gently melting chocolate with butter and golden syrup and combine with whichever cereal you fancy. For this recipe I've used cornflakes, you can substitute Rice Crispies, Weetabix or Shredded Wheat if you prefer.
Tips for making the Chocolate Easter Nest Cornflake Cake Recipe:
Be careful to heat the chocolate very slowly, either in a heavy pan with the butter and the heat on very very low or, even better, in a Bain Marie (a bowl over a pan of simmering water, letting the steam heat the bowl).
What can you do if the chocolate mixture goes lumpy, seizes or starts to burn? If you do overheat the chocolate, a great tip is to add a tablespoon at a time of water and whisk vigorously until it recovers. I know, sounds crazy but it works.
I made this Chocolate Easter Nest Cornflake Cake recipe in a simple bundt tin. These tins are under £10 and a great investment as they make SO many different types of cake look impressive! This is the one I've used here available on Amazon: Masterclass Non Stick Bundt Tin.
If you can't get the cornflake cake out of the tin, just hold the outside of the tin under a hot running water tap. It will release in just a couple of seconds.
What I used to make the Chocolate Easter Nest Cornflake Cake Recipe: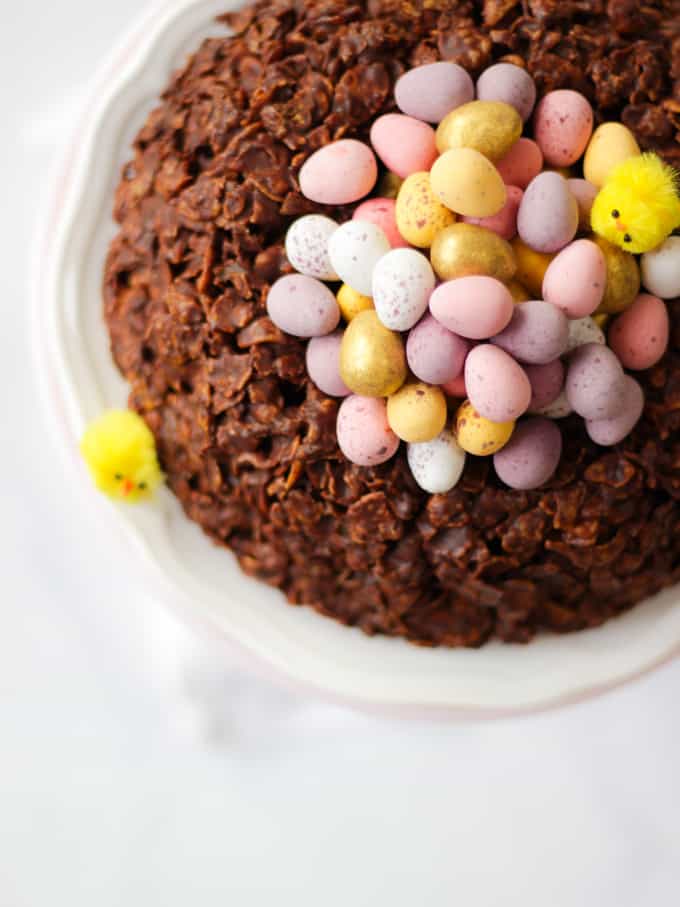 I'd love to know how you got on and what you thought of the recipe if you make these Chocolate Easter Nest Cornflake Cake Recipe. Please rate the recipe and leave me a comment below if you do.
Also, if you fancy showing me a photo by tagging me on Instagram (@tamingtwins) I LOVE to see your creations.
How to make the Easter Nest Cornflake Cake Recipe: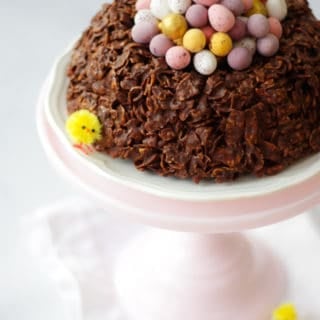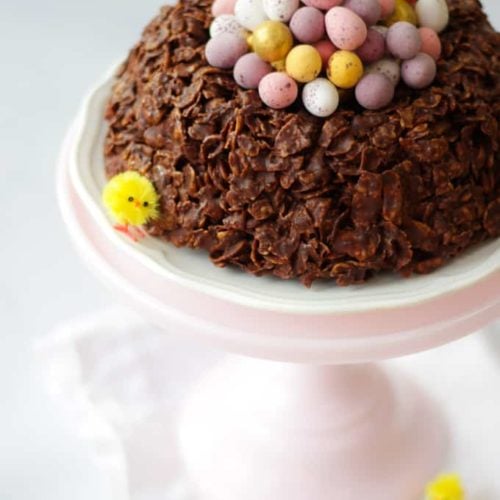 Easter Nest Cornflake Cake Recipe
This easy GIANT Easter Nest Cornflake Cake Recipe is so much fun to make. Simple and really tasty, a fab no bake Easter make full of candy treats. It uses just 5 store cupboard ingredients - butter, chocolate, golden syrup and cornflakes.. Topped with Mini Eggs of course!
Ingredients
200

g

Dark chocolate

4

tbsp

Golden syrup

100

g

Unsalted butter

170

g

Cornflakes

300

g

Mixed Easter chocolate eggs
Instructions
Gently melt the chocolate, syrup and butter. Ideally in a bowl over a simmering pan of water. Stir until smooth and remove from the heat.

Stir in the cornflakes and mix until totally coated and no bare cornflakes remain.

Press into the bundt tin and chill in the fridge until set, about 2 hours.

Remove from the fridge, flip out of the tin and pour your chocolate eggs into the centre. Serve immediately.
Nutrition (per serving)
Calories:
360
kcal
Carbohydrates:
40
g
Protein:
3
g
Fat:
22
g
Saturated Fat:
13
g
Cholesterol:
18
mg
Sodium:
111
mg
Potassium:
215
mg
Fiber:
3
g
Sugar:
24
g
Vitamin A:
470
IU
Vitamin C:
3
mg
Calcium:
21
mg
Iron:
6.8
mg
Made it? Tag me!
Tag @TamingTwins so we can admire your make ⭐️
Disclosure: This post was sponsored by Belling. As always all opinions are truthful. This post contains affiliate links.