i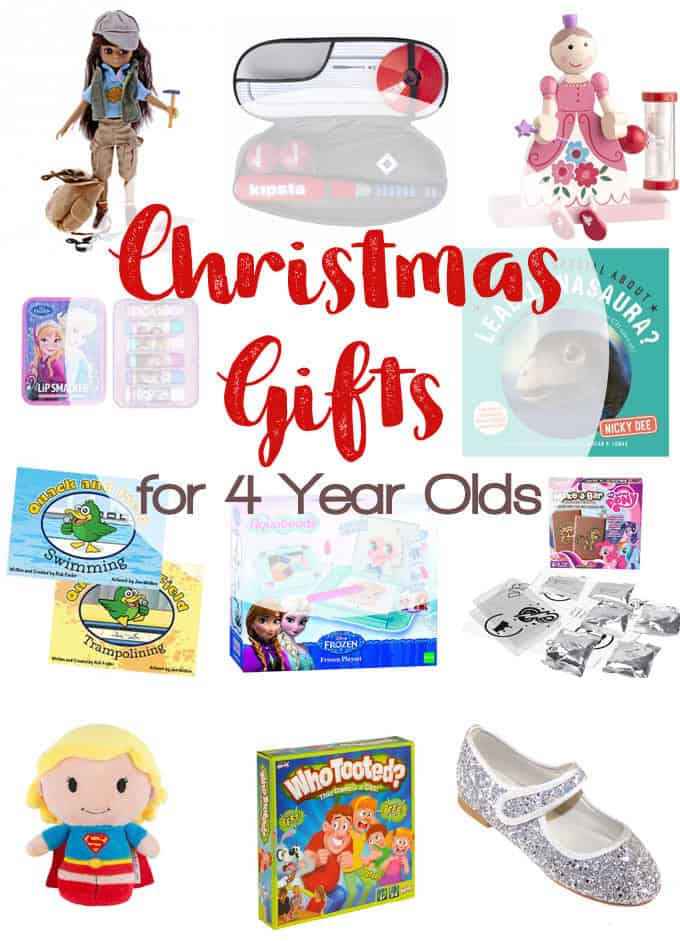 It's Christmas present shopping time again and as my little ones get older, their wish lists change (and grow!) along with their age.
So, here are some of our favourite buys this year for 4 and 5 year old boys and girls. We hope you like them and find it useful.
What will be in your little one's stocking this year..?
Lottie Fossil Hunter Doll £20
This really unique doll has an age realistic body shape and makes an inspiring roll model for young children. Lottie comes with her fossil finding tools, a map, backpack, hat, Ammonites and a collection of cards about her favourite female scientists including Mary Anning and the Natural History Museum's own Dorothea Bate.
Decathlon Baseball Beginner's Kit £14.99
Decathlon have a huge range of fun kits under £20 to get you started trying new sports. We are super excited to try out this baseball kit when the weather is a little warmer. They'd make a great gift to encourage kids to try something new.
Toothbrush Timers – The Contemporary Home £9
These nifty little timers would make a fab alternative gift for kids. They are a fun way of making sure that they are brushing their teeth for long enough. Available in Fairy and Pirate styles, they are bound to keep them interested in brushing for as long as possible.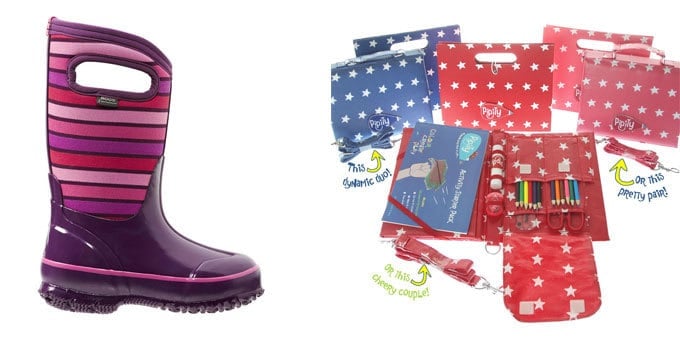 Bogs Children's Boots from £35
These super cosy waterproof boots arrived in the UK last year from Oregon USA. The are a genius combination of sturdy, warm and easy to pull on. Perfect for splashing about outside in all weathers. We are definitely going to be packing these for all of our outdoor adventures this winter.
These boots come in heaps of funky designs and colours, they would make a super useful and fun gift for any children.
Pipity Activity Cases – £24.99
This multi award winning new product is just the best idea I've seen for kids for a long time. It's a little case, that's easy for them to carry, packed with heaps of bits and bobs for them to make and do and craft with. There's also activity book add ons to insert (including a Thank You Card making kit – hurrah!) that mean that the case will always have interest for little ones.
Having been away on holiday this year and packed mountains of bits and bobs to take with us to keep my two amused, this is such a brilliantly neat solution. These would make a fantastic gift for little ones, that the parents will thank you for too!
Itty Bittys from £5.99
These super cute, pocket sized little cuddly toys would make really fun stocking fillers. I particularly love the fact that this range doesn't forget the strong girls, like Super Girl and Wonder Woman. Well done Hallmark!
Who Tooted?! Game £19.99
Complete with 'toot maker' this game with be the highlight of Christmas for my children I am sure.. Laughing at toots by guessing who made the noise?! What could be more fun? (I'm sure Mr TT will find it pretty hilarious too.)
Girls Silver Glitter Shoes from Sparkle Club £16
Seriously, if you were 4 or 5, are these not the prettiest shoes you've ever seen?! Comfy and easy to take on and off, with velcro strap, these feel really sturdy and well made. Perfect for party going or playing dress up. Sparkle Club have a huge range of carefully selected, beautiful girls shoes. Definitely worth a look for the festive season.
Disney Lip Smackers £13.99 & Disney Cube Lip Balms
This really fun set of lip balms would make a fab gift for little ones. Really colourful and useful for keeping lips soft in the cold weather. Includes: Cool Vanilla Mint, Chilled Cranberry Grape, Strawberry Shake, Ice Pop, Berry Slush, Coconut Snowball.
'What's so Special about Dinosaurs?' Books £5.99 each
We LOVE this series of kids books from Nicky Dee. They go above and beyond the usual dinosaur books for kids, with funky graphics and interesting facts, making each individual dinosaur really memorable. We can now tell you how big a Leaellynasaura brain was, how cool is that?!
Quack & Field Books £6.99
Quack and Field is an exciting, new series of picture books designed to introduce young children to the dozens of different Olympic and Paralympic sports. Aimed at children aged 3-7, each book explores a different sport, e.g. swimming, trampolining, wheelchair rugby and javelin. As H wants to be an Olympic Cyclist, these books are perfect for some inspiration!
Frozen Aquabeads Playset £21.99
Having LOVED the original Aquabeads sets we received for Christmas last year, I know H will really enjoy this set. These little beads provide hours of fun, creative concentration in this house. Perfect for quiet time.
My Little Pony Chocolate Make-a-Bar £9.99
This kit contains everything young chocolatiers need to design and make their own chocolate bars. Includes three types of delicious Belgian chocolate, molds and My Little Pony templates. Simply melt the chocolate pouches in warm water and you're away. I know that my kids will LOVE this kit and eating their products!
Dinosaur Hooded Towel £19.99
Perfect for keeping your little dinosaur warm when they come out of the bath or swimming pool, these fun towels are thick, cosy and really well made. Jersey lined and ROAR-some for playing in too. Also available as a Flamingo Hooded Towel.
Girls Gold Star Handbag £8.50
This cute over body bag would be perfect for dressing up and parties. The ideal size for little ones and in a really fun shape, if only they made one big enough for me!
Paw Patrol Inkredibles Books £5.99
These clever little books would make a brilliant stocking filler, or for something to amuse little ones whilst in restaurants or in the car. Complete with all of their favourite characters from the show and puzzles to keep them guessing.
Disclosure: Items in this post were sent to us for review but as always all opinions are our own. This post contains affiliate links.
Keep in touch on Facebook ¦
Chit chat on Twitter ¦
Never miss a trick on Bloglovin' ¦
Circle with me on Google+ ¦
Pinning like my life depends on it Pinterest