Deliciously simple and healthy vegan Cauliflower Cous Cous with Artichokes and Capers from Waitrose Beautifully Simple recipe ideas. 
This post was sponsored by Waitrose to show you their Beautifully Simple recipe cards range. Thanks as always for your support.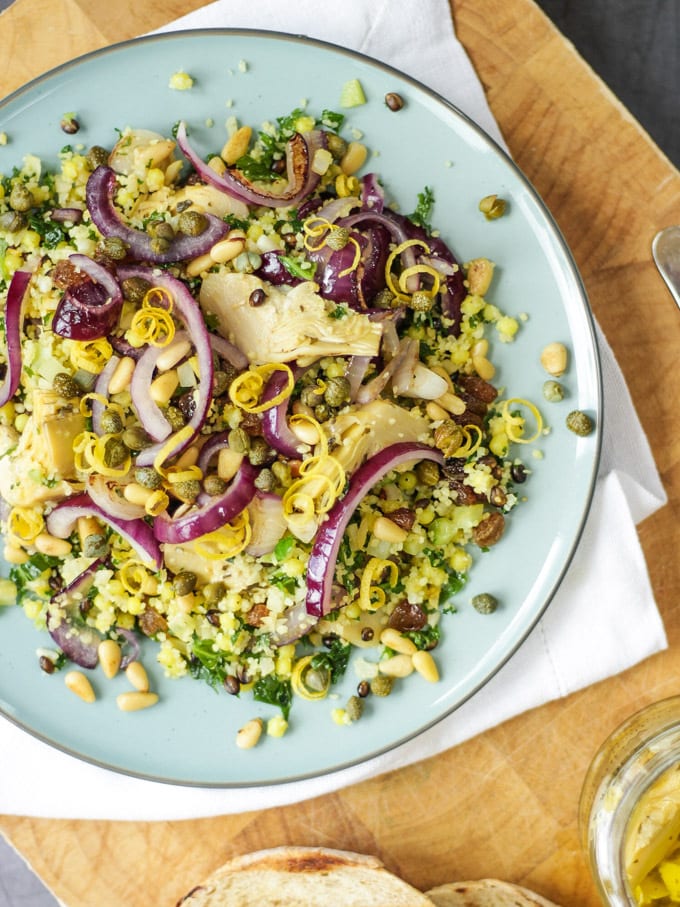 As you'll know if you've read the blog for a while, I think about food a lot. Like, before I've eaten breakfast, I'm thinking about dinner.
But even for me I do get a bit stuck in a rut. A pattern of simple meals that I know everyone will eat without too much fuss.
Waitrose got in touch last week and told me about some new recipe cards in store called #BeautifullySimple.
The #BeautifullySimple meals are delicious recipes, made in just 3 steps and with only 7 ingredients. With clever, foodie touches that you'd expect from Waitrose, these seemed like a perfect chance to try something new.
This week we opted to try the Waitrose #BeautifullySimple Cauliflower Cous Cous with Artichokes and Capers.
Super simple and so pretty on the plate. It was really easy to make, especially with the short cut of using the ready made Cauliflower and Kale Cous Cous, only available from Waitrose.
George and Harriet loved the addition of the sweet sultanas (although they did pick out the onions, you can't win them all 'eh?)
I love the idea behind these recipe cards, that #BeautifullySimple food is easy to make when you start with great food.
Plus, just 3 steps and 7 ingredients? What can possibly go wrong?! Perfect for changing it up a little for midweek family meals.
You can pick up the ingredients and the recipe card together in Waitrose now. I'll be posting a couple more of the recipes over the coming weeks and watch out for them in store.
For more #BeautifullySimple recipes and information visit Waitrose.com/BeautifullySimple for more information.
How to make the Cauliflower Cous Cous with Artichokes and Capers:
Cauliflower Cous Cous with Artichokes and Capers
Cauliflower Cous Cous with Artichokes and Capers
Ingredients
140

g

Waitrose Artichoke Hearts Marinated In Garlic & Parsley

(Half a jar)

1

Red onion, halved and thinly sliced

1

tbsp

Pine nuts

300

g

Waitrose Cauliflower & Kale Couscous

(1 pack)

15

g

Sultanas

1

Unwaxed lemon

(Zest and 2 tbsp juice)

2

tbsp

Cooks' Ingredients Nonpareille Capers, drained

Sourdough bread

(To serve)
Instructions
Spoon 1 tbsp of the oil from the artichokes into a medium saucepan. Fry the onion for 10 minutes over a medium-high heat until softened and caramelising. Tip in the pine nuts and cook for 1 minute until toasted.

Stir the cauliflower couscous and sultanas into the onions, then add 2 tbsp water and let the cauliflower warm through. Off the heat, stir in the lemon zest and juice and the capers then season to taste.

Tip into a serving bowl, fold in the artichokes and their garlic, and serve with sourdough.
Nutrition Facts
Cauliflower Cous Cous with Artichokes and Capers
Amount Per Serving
Calories 210
Calories from Fat 90
% Daily Value*
Fat 10g15%
Sodium 553mg24%
Potassium 689mg20%
Carbohydrates 28g9%
Protein 5g10%
Vitamin A 700IU14%
Vitamin C 119.7mg145%
Calcium 74mg7%
Iron 2.1mg12%
* Percent Daily Values are based on a 2000 calorie diet.
Disclosure: This post was sponsored by Waitrose. As always, all opinions are truthful.