Simple and delicious, this Oven Baked Salmon is cooked with potatoes and courgettes for a one pan meal. Drenched in garlic, herbs and lemon it's quick and healthy. Also gluten free and suitable for the Slimming World plan.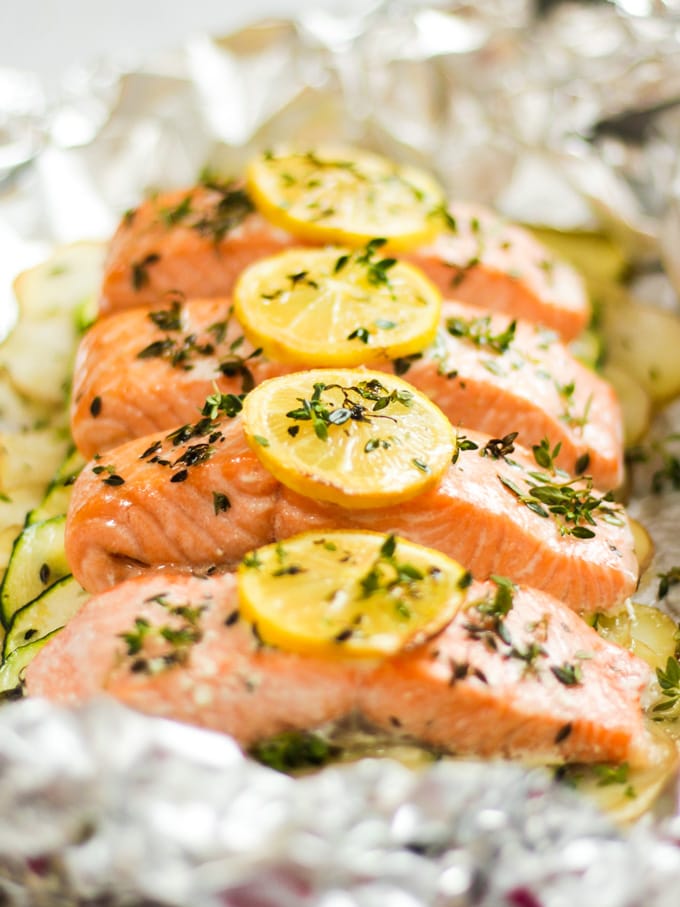 I've been making an effort to reduce the amount of meat we eat lately. It's dawned on me that we normally end up eating red meat or chicken most days of the week, by habit more than choice.
George and Harriet don't LOVE fish (unless it's in batter..) but I'm persevering and it's definitely getting easier. I love this dish as it's so simple and adaptable, no thought required for a weekday night.
Also.. For some reason this recipe goes down better than I call it 'Pink Fish Parcel' rather than 'Oven Baked Salmon'?!
Hope it helps if you're looking for quick recipes that maybe encourage you to eat a little more fish too.
Here's why I think you'll like it:
TIME – There is minimal prep and it takes only 20 minutes in the oven.
It's HEALTHY – the salmon is full of amazing Omega 3's which I keep telling George is brain food (anyone else have that drummed into them as a child), healthy fats, a portion of vegetables and a healthy balance of carbs.
It is cooked in ONE PAN (I did mean to shout that!). Hands up who loves a one pan dish, I'm a big fan.
HOW TO MAKE BAKED SALMON:
Firstly par boil your potatoes, for about 10 minutes (I left mine in the skins) until they are just beginning to soften. (You can do this in the microwave too if you prefer. Just prick them with a fork, wrap in kitchen paper and microwave for about 10 minutes).
Meanwhile, thinly slice your courgettes and lemon. They should be about a 0.5 cm thickness.
TIME SAVING TIP: I use a mandolin to slice for this dish – they are about £15 on amazon and they are great for dishes like this, but they really feel like an essential purchase when making potato dauphinoise, or a hot pot, and even homemade chips.
Drain your potatoes and slice thinly too.
Next take a piece of foil, spray or brush with oil and start arranging your potato slices across the foil, over lapping them slightly. Then do the same with your courgettes. Now sprinkle with approx half of your fresh thyme. See the photos below for how I arranged my slices.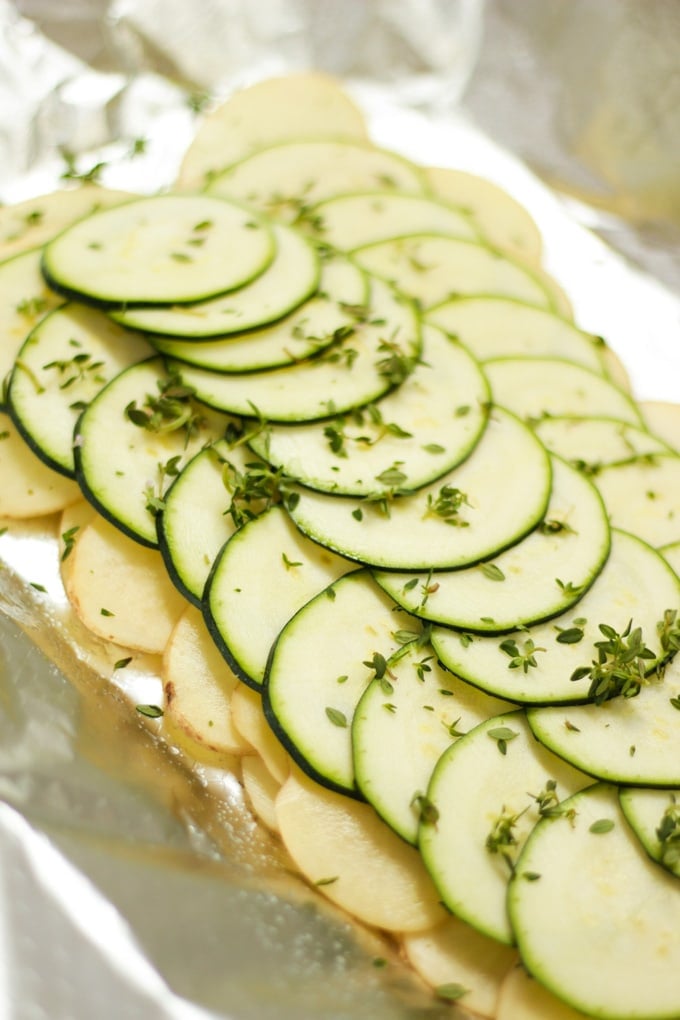 Now lay your four salmon fillets on top of the courgettes, space them evenly so everything has room to cook.
Place a slice of lemon on each salmon fillet, and sprinkle over the remaining thyme, and a drizzle of olive oil. Season with a little salt and pepper, and if you like a squeeze of the remaining lemon.
Wrap your tin foil parcel up, sealing it but making sure it doesn't touch the fish.
Bake the salmon fillets in the oven for around 20 minutes and serve when cooked through.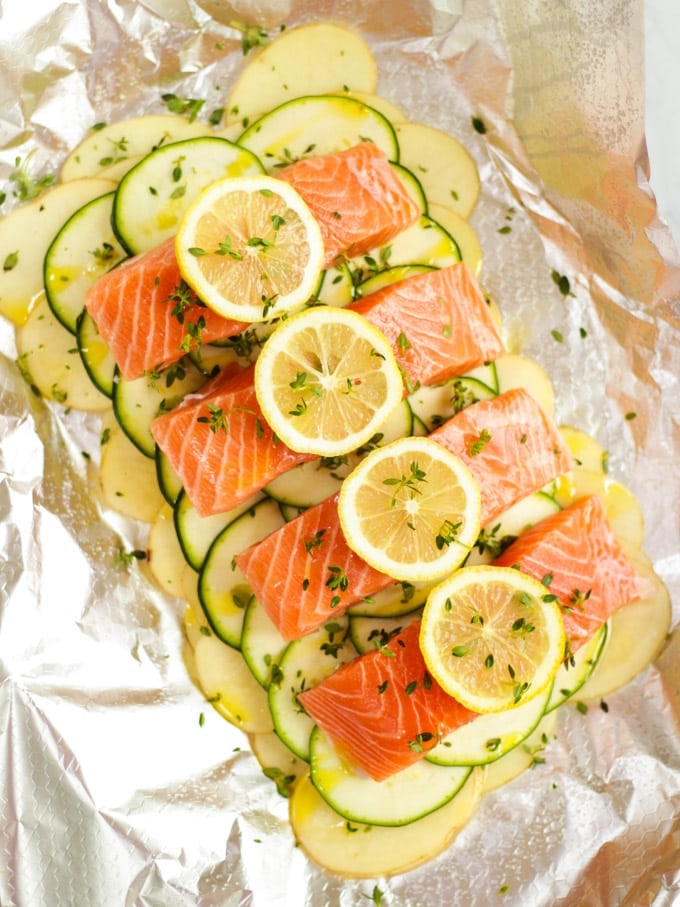 What to serve with Baked Salmon?
This is a complete meal, with carbs and veg, but you might like to add:
A good quality shop bought mayonnaise to serve.
A dollop of Creme Fraiche with lemon zest to serve.
Some leafy spinach added to the parcel 5 minutes before the end of cooking.
Some extra, cooked petit pois to serve.
More wedges of fresh lemon to serve.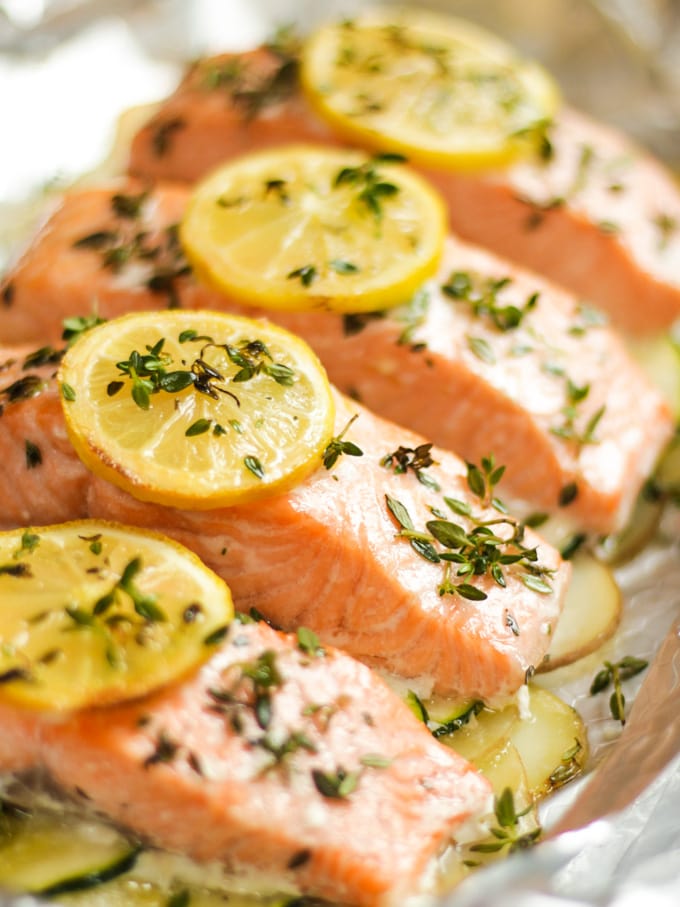 What I used to make this Baked Salmon Recipe:
Mandolin – as I said above these really are so useful! I use mine to make thick slices and then chop them up for making homemade chips too. Mine is ancient and not available any more, but the one I've links has excellent reviews.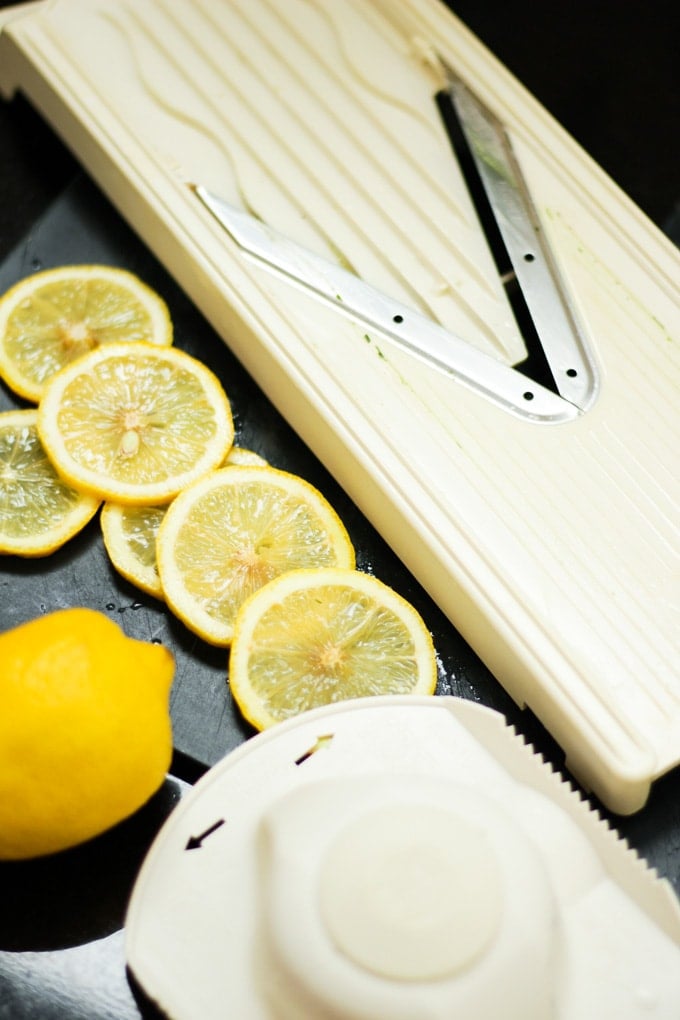 TIPS ON MAKING THIS OVEN BAKED SALMON RECIPE:
If you want to serve for more than four people it may be more economical to buy a side of salmon. If you do decide to do this then you can follow the recipe exactly as detained, however you should increase your cooking time to around 30 minutes.
This baked salmon recipe is really versatile and you can swap the salmon for cod, or another white fish if you'd prefer.
I used Lemon Thyme as I saw it in the supermarket and thought if would work well (it did!). Regular thyme works fine though.
Towards the end of the cooking time, say at 15 minutes, check inside your parcel. If you want the salmon to be a bit more coloured, leave the parcel open when you pop it back into the oven.
If you're following the Slimming World plan, just replace the oil with spray.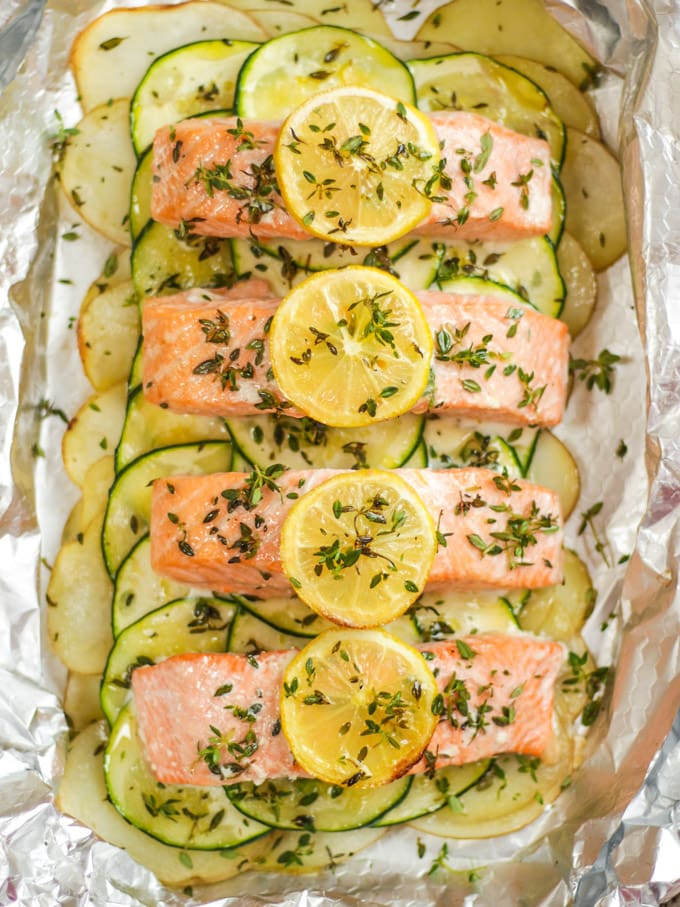 MORE SALMON DISHES…?
I hope you enjoy this recipe as much as we do. I'd love to know how you got on and what you thought of it if you make this Baked Salmon recipe. Please rate the recipe and leave me a comment below if you do.
If you enjoyed this recipe, subscribe to my newsletter for weekly meal plans, and follow me on Facebook, Instagram and Pinterest for lots of chat, recipes and life updates!
How to Make this Baked Fish Dish!
Baked Salmon - A healthy, oven baked salmon dish.
A simple and delicious healthy oven baked salmon dish. Moist salmon with potatoes and courgettes oven cooked in foil. A quick, healthy simple dish, perfect for lunches and midweek dinners.
Ingredients
4

Salmon fillets

3

Medium

Potatoes

3

Courgettes

(or 2 big ones)

20

g

Fresh thyme

2

Cloves

Garlic

Peeled and crushed

1

Lemon

Sliced

1

tbsp

Olive oil
Instructions
Preheat your oven to 180c.

Boil or microwave your potatoes (in their skins) for about 10 minutes to just soften.

Drain your potatoes and slice your potatoes and courgettes into approx 0.5 cm slices (or use a mandolin if you have one).

Now cut a piece of foil that is big enough to create a parcel to hold your food, You need enough excess to wrap across the top of the ingredients.

Spray of brush the foil with a little olive oil. Arrange the slices of partially cooked potato on the foil, over lapping them to fill the dish. Lay slices of courgette on top.

Once all of the courgette has been used up place the four salmon fillets on top, followed by a slice of lemon on each. Sprinkle with the fresh thyme, crushed garlic and a drizzle of oil.

Season with salt and pepper.

Wrap the foil over the top of the salmon. Cook for 20 minutes.
Notes
This is a really good recipe to scale down- if you want to cook for less people just reduce the recipe accordingly, it's the perfect supper for nights on your own. 
Be sure not to overcook the salmon, it shouldn't have that tell tale white residue coming from it. If you notice this on the fish, remove from the oven straight away.
Nutrition (per serving)
Calories:
367
kcal
Carbohydrates:
27
g
Protein:
39
g
Fat:
11
g
Saturated Fat:
1
g
Cholesterol:
93
mg
Sodium:
103
mg
Potassium:
1913
mg
Fiber:
6
g
Sugar:
4
g
Vitamin A:
360
IU
Vitamin C:
59.1
mg
Calcium:
99
mg
Iron:
7.2
mg
Made it? Tag me!
Tag @TamingTwins so we can admire your make ⭐️