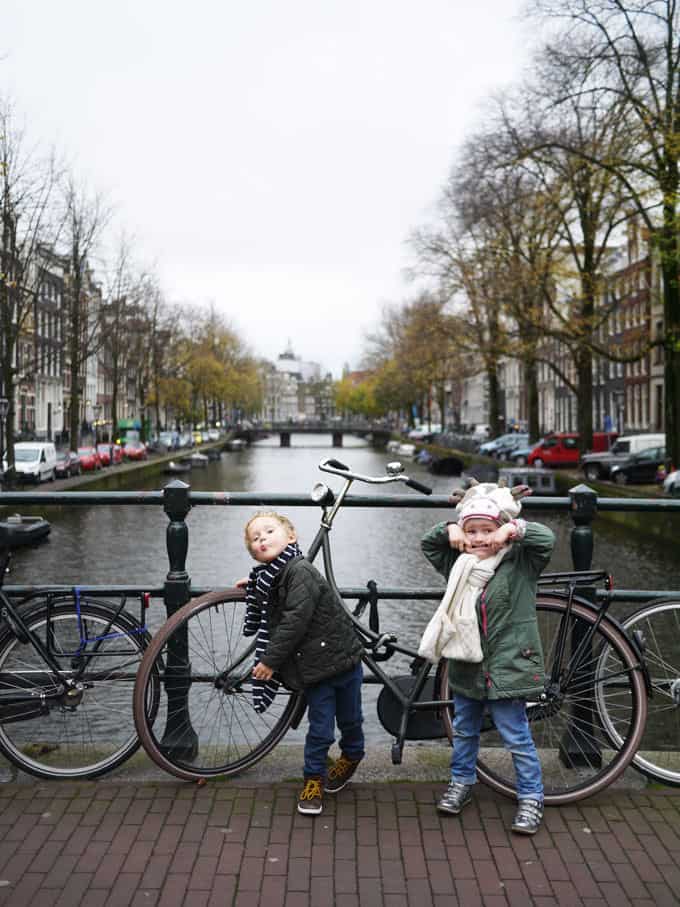 (Read Part One of our adventures with KLM in Amsterdam with children here:
48 Hours in Amsterdam – Part One.)
After a restful sleep in our home on the water for the weekend, we were up bright and early and ready to explore some more. (We've got toddlers, when aren't we up bright and early?!)
Our kind Airbnb hosts had left us a whole basket full of Hagelslag. Hagelslag are sprinkles used to top thick, white buttered bread as favourite Dutch breakfast. Yes, you heard me, sprinkles for breakfast. The dream. Dutch people are said to consume over 14 MILLION kilos of Hagelslag every year. Sadly I couldn't tempt my husband to join them, so off we went to find some brunch.

We made our way to Pancakes! another Amsterdam pancake favourite. They were so welcoming to the children, presenting them with crayons and colouring as soon as we arrived.
For me, Pancake Carousel just pipped them in the best pancake of the trip contest. G opted for poffertjes, little fluffy pancakes, topped with icing sugar and butter. I ordered him an adult portion in the hope of testing the leftovers. No such luck, they were a huge hit with our tots. Not exactly a balanced breakfast but some delicious super fresh, squeezed in front of us balanced things out a little.

We tumbled out, full of the warm glow of well fed children, and wandered around the area that Pancakes! is just on the edge of; The Nine Streets. It's a pretty shopping area, full of interesting shops and cafes. There was heaps to see and keep everyone interested as we wandered along the canals, peeking into pretty shops.
Just outside of The Nine Streets area at Elandsgracht 58 there's a lovely toy shop called Kleine Eland. Worth stopping in if you're nearby with children. Ours absolutely loved it in there and would happily have spent an hour or so totting up some dangerously long Christmas lists.

As you may know, I'm a Pinterest fiend, well, every time I searched for Amsterdam tips on Pinterest a photo of this one, amazing totally graffitied street appeared. (It's called Wijdesteeg and you can see that photo on my map below.) So I dragged the fam' along, just a short walk, to find it BUT… There was mostly just a hole in the ground left and this tiny section of wall. This made my husband chuckle a lot about my mad "as seen on Pinterest" moments.
Heyho, we still loved the little section of wall we did manage to find..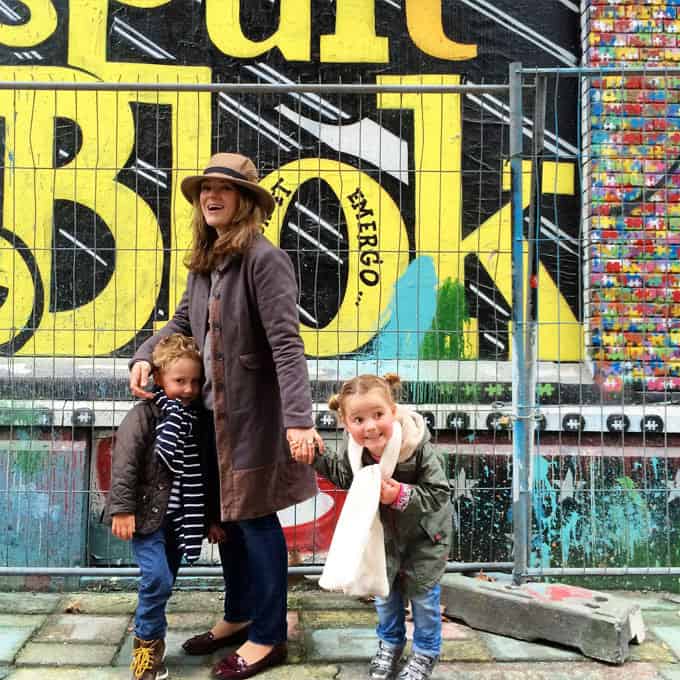 Next we decided to take the tram (as promised to G&H yesterday). They are really easy to use, just make sure you only enter the tram through the one marked door (the rest are exit only). Buy a single journey ticket, or a 24 or 48 hour ticket from the tram conductor who sits in a little booth by the entrance door. 1 Day is €7.50 and children under four travel free.
Using the tram was a highlight of the trip for our tiny two; toddlers are full of surprises aren't they? They loved seeing the world of Amsterdam whizz by, they tried counting all of the bikes they saw, held our tickets like precious artifacts and chatted to the elderly ladies on the seats next to us. If you're visiting the city with or without children, we'd definitely recommend using the trams to get around.

The last, but no means least, stop of our trip was Het Scheepvaartmuseum, The Amsterdam Maritime Museum. When planning our trip, I wasn't sure if this would be too old for our three year olds, but the idea of being able to run around and explore a life size replica of an 18th century ship swung it for us.
You enter the museum into the most amazing central courtyard. The space is magical somehow, light and strangely peaceful despite the visitors milling about. I could've sat there for hours and meditated or something, alas, no time for that as there was a ship to be explored and buccaneering waits for no man (or toddler).

We all absolutely loved exploring the ship. As you can see, it was pouring with rain, but that didn't stop us from swashbuckling around, learning to fire a cannon and pretending to be the captain.
Inside the museum, we followed a quiz to to learn about life on a ship. It was so well thought out, the children collect iPads (housed in buckets) and then answer questions suitable for their age, looking for clues on their way around.

Here's our map of the places we went (and those that were recommended and we didn't manage to squeeze in).

The next morning, we waved goodbye to the city before making our way to Schiphol airport. We left super early, as I'd heard that there's heaps there to do for children and it's almost an attraction in it's own right. We weren't disappointed..
First stop, the KLM check in/bag drop. It's an incredibly efficient, space age machine that gobbles up your bags in a matter of seconds leaving you ready to explore. We made our way up to the Panorama Terrace, an outside viewing platform with binoculars to watch the goings on below and keep an eye on the airport up close. It's also home to a KLM Cityhopper plane, modified to show you inside the cockpit, perfect for little explorers.

Just next to the Panorama Terrace, we stopped for snacks at the Touch Down restaurant. This is a brilliant family friendly place to spend some waiting time, there's a soft play section for children and a fantastic choice of freshly prepared food, including a super salad bar (antidote to all of those pancakes I'd been eating).
If that isn't enough to keep you going at Schiphol airport, there's also real sections of plane dotted around the concourse, another play area after security and for frazzled travellers, a beauty salon (sadly I didn't not manage to make time to test that out..).

Within just a couple of hours we were back home, remembering the highlights of our weekend.. And planning our next adventure.
I've spend a long time being everso slightly terrified of cities with two toddlers wandering off in different directions. The thought of juggling them both in crowds of people gives me the fear. This weekend though was such a fantastic adventure, and somehow, easy. It's given me heaps more confidence for us to take them to more European cities. Where shall we go next?!
Watch our adventure here:
With thanks to Nigel, Karina, Claudia, Samira, Jo and Louise for tips and advice.
Disclosure: Our travel was kindly provided by KLM. As always, all opinions are honest – we were super impressed.
Keep in touch on Facebook ¦
Chit chat on Twitter ¦
Never miss a trick on Bloglovin' ¦
Circle with me on Google+ ¦
Pinning like my life depends on it Pinterest ¦