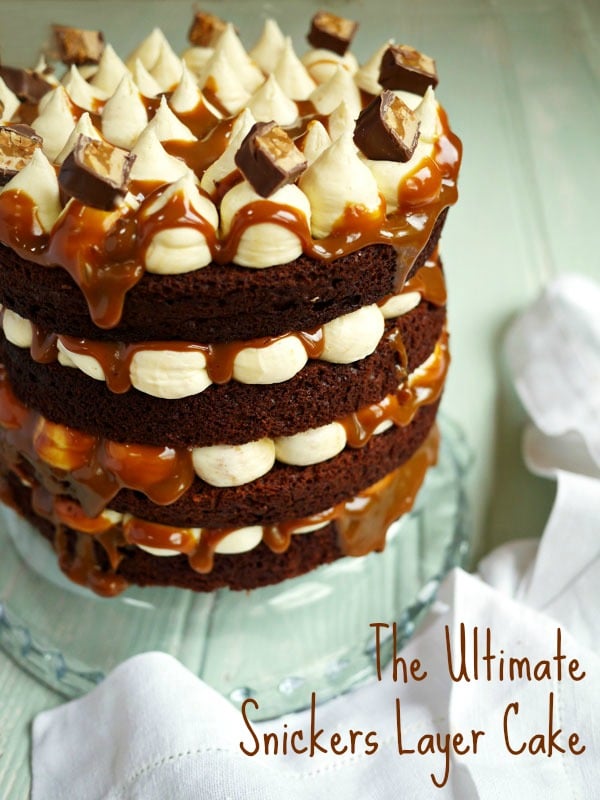 Sometimes, you've just got to go with the flow haven't you?
I was reminded of that this week. If you follow me on Instagram you might have seen a poor little spotty child. The week began with one twin with chickenpox, ousted from nursery (quite rightly) and me in a bit of a tizz with the logistics of this with work. So much to do and all I wanted to do was be able to help him feel better. (Peppa Pig and calamine cream = winner.)
I have to say, The Pox hasn't been half as bad as I'd imagined, just 2 really bad days of misery (for all of us). It could've been a lot worse. Although, having only one twin with it does give a looming cloud of nerves waiting for her to become more feisty than normal and then pow, more spots. What can you do though? Just wait, Calpol at the ready.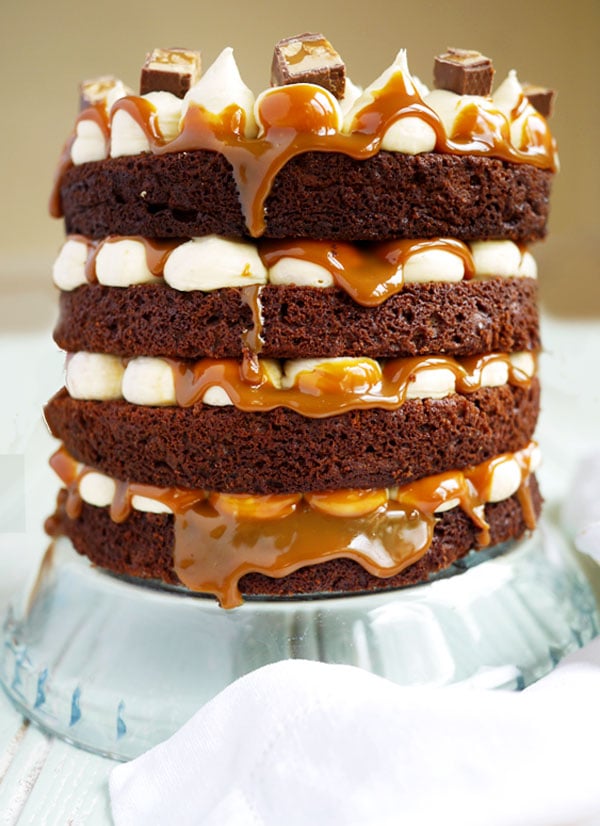 I'm also slightly twitchy about the fact that my Mum can't remember me ever having had it. Every time I get a sniff of an itch I am on edge, inspecting for a spot. What can I do? Got to go with the flow. Oh and bake a cake of course.
So, later in the week, two totally amazing things happened. Firstly, I made this whopper of a cake for a friend's birthday. In the style of active medication, it restored and calmed my sanity. Concentrating on mixing, baking, slicing, piping, I felt all at one with the world again. Or something.
(Ready for the money shot…?)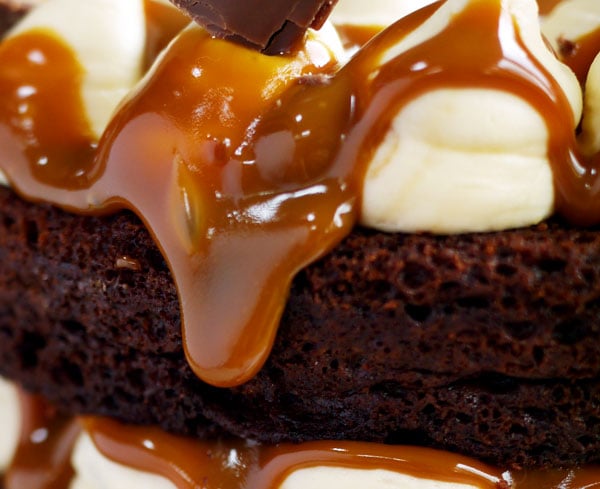 The second utterly amazing and kind of freaky thing to happen, was that this little blog got nominated in the Food category for this whopping great big Brilliance in Blogging Award. I'm wondering if someone is playing a joke on me. Anyway, if you nominated me, thank you so, so much. I'm totally overwhelmed and grateful.
I love writing this blog, it's a total struggle with time and juggling life, but it inspires me to be creative and record things I might otherwise forget. I've also met some amazing people because of it in the last 6 months. So anyway, thanks a bunch. I owe you good karma and a Peanut Butter Brownie.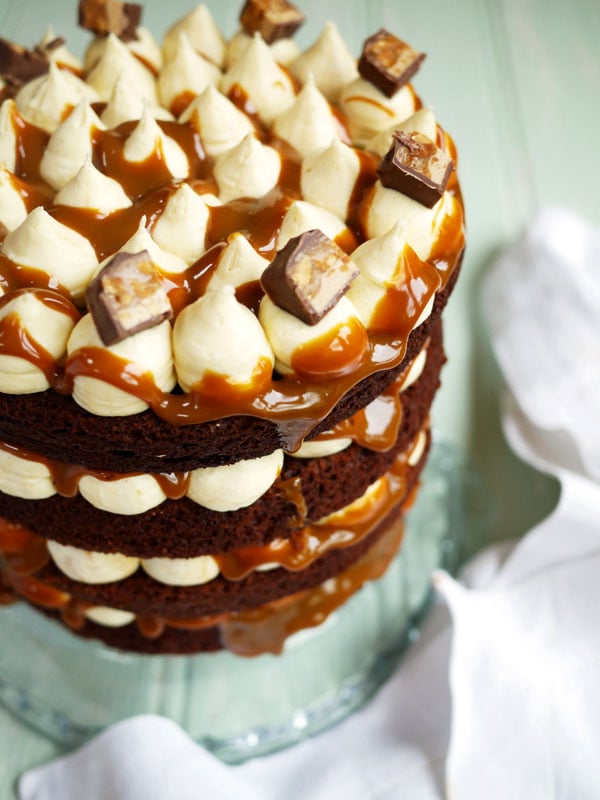 Anyway. On to the good stuff. Light airy cake, sandwiched with peanut, nougaty cream and finished with homemade caramel. Enough to brighten any week, yes?
The sponge is delicate, with lots of air bubbles that come from using yoghurt and baking soda. I'm not sure why, but it just felt right to have a different texture for recreating a chocolate bar as a cake.
The caramel I used is the one I showed you how to make here. I just beat it with a spoon before popping into a piping bag. This makes it runny enough to pipe. If yours is very stiff, you can warm it a little first. Just a tiny bit though or it will melt your icing.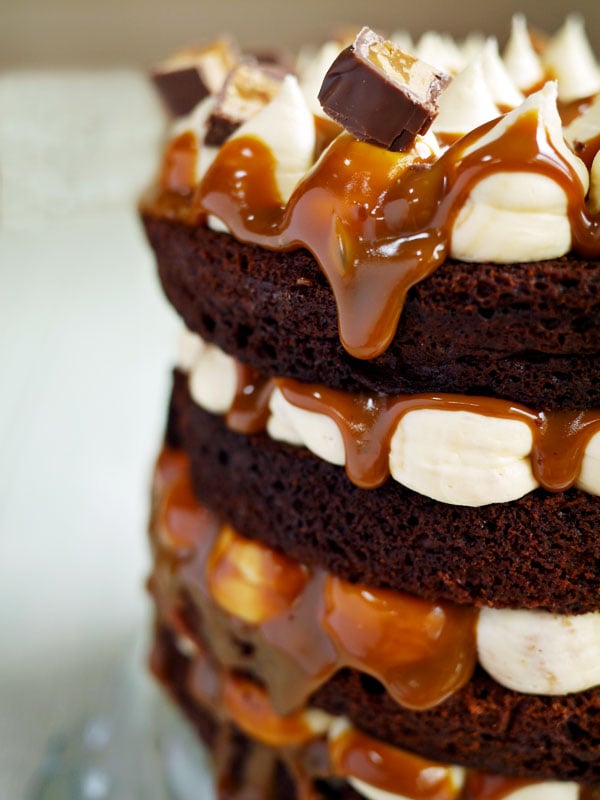 The Ultimate Snickers Layer Cake
The mother of all layer cakes for any snickers or nut and caramel fans. With caramel sauce, marshmallow fluff, buttercream and soft sponge - it's a winner!
Ingredients
400

g

Unsalted butter

200

g

Caster sugar

200

g

Soft light brown sugar

4

Medium free range eggs

415

g

Self raising flour

60

g

Good quality cocoa

like Green & Blacks

1

Tsp

Baking Powder

300

g

Full fat Greek yoghurt

1

Tsp

Vanilla extract
For the icing:
500

g

Unsalted butter

750

g

Icing sugar

213

g

Jar of Marshmallow Fluff

with the jams and spreads in the supermarket

100

g

Smooth peanut butter
For the sauce:
397

g

Jar of Carnation Caramel or a can made using my super simple recipe

see the note above
Instructions
Pre-heat the oven to 180C.

Prepare your cake tins. I baked this in 4 lined 7" tins. If you only have 2 tins, just bake the batter in 2. It will take a little longer to cook, then slice each layer into 2 when cool.

Cream your butter and both sugars until pale, light and fluffy.

Add your eggs one at a time, beating well in between each addition. (Don't worry if it looks a little curdled.

In a separate bowl, sift together your flour, cocoa powder and baking powder. (I never used to listen when a recipe told me to do this, please do it! I promise it's worth it as it means the baking powder is really evenly distributed through the cake.)

Gently stir in your flour to the rest of the batter until just combined.

Finally, stir in your yoghurt and vanilla extract.

Share between either 2 or 4 tins. If using 4 tins and you want to make each one even, there should be about 375g of batter in each tin.

Don't make this batter and leave it hanging around before putting into the oven. The baking powder will begin to react straight away, so whip it into the oven quickly.

Bake for about 20-25 minutes in 4 tins, or 35-40 minutes in 2 tins. This will really vary a lot though depending on your oven. So just check regularly towards the end of the cooking time. As soon as the cake 'pulls' away from the side of the tin, is springy to the touch and a skewer comes out clean, it's done.
Make your icing
Beat your butter until very pale and then add your icing sugar and beat for at least 5 full minutes if you're using a stand mixer, or 10 minutes if you're beating by hand. (Sorry, good for the muscles though.)

Beat in the marshmallow fluff.

Stir through the peanut butter, I like to not quite mix it all in, so that you get a bit of a marbled effect.
Assemble the cake
When the cake is completely cold, level each cake with a serrated knife. (Just slice the top off.) This is really important, I promise it's not a waste of cake. With a whopper this size, if each layer isn't level there's no chance of it staying upright.

Snip about 2cm off the end of your piping bag and holding the bag full of icing about 3cm above the cake, pipe teardrop shapes.

Put your caramel into another piping bag, snip about 0.5cm off the end and drizzle over and around the icing.

Repeat for each layer. For the top layer, always use an uncut side of sponge facing up so it doesn't dry out.

Finish off with slices of snickers bar.
Nutrition (per serving)
Calories:
982
kcal
Carbohydrates:
127
g
Protein:
8
g
Fat:
52
g
Saturated Fat:
31
g
Cholesterol:
165
mg
Sodium:
173
mg
Potassium:
274
mg
Fiber:
2
g
Sugar:
83
g
Vitamin A:
1515
IU
Vitamin C:
0.2
mg
Calcium:
97
mg
Iron:
1.3
mg
Made it? Tag me!
Tag @TamingTwins so we can admire your make ⭐️
So have you and yours had chickenpox? Any top tips other than cake and TLC? Does cake baking help your stress levels too or just cake eating?
Sarah x
Let's be friends
Keep in touch on Facebook ¦
Chit chat on Twitter ¦
¦
Pinning like my life depends on it Pinterest ¦