Savoury pancakes with ham, cheese and egg filling. The most delicious savoury crepes you can eat. So simple and easy to make these ham and cheese pancakes are perfect for breakfast, lunch, Shrove Tuesday or dinner.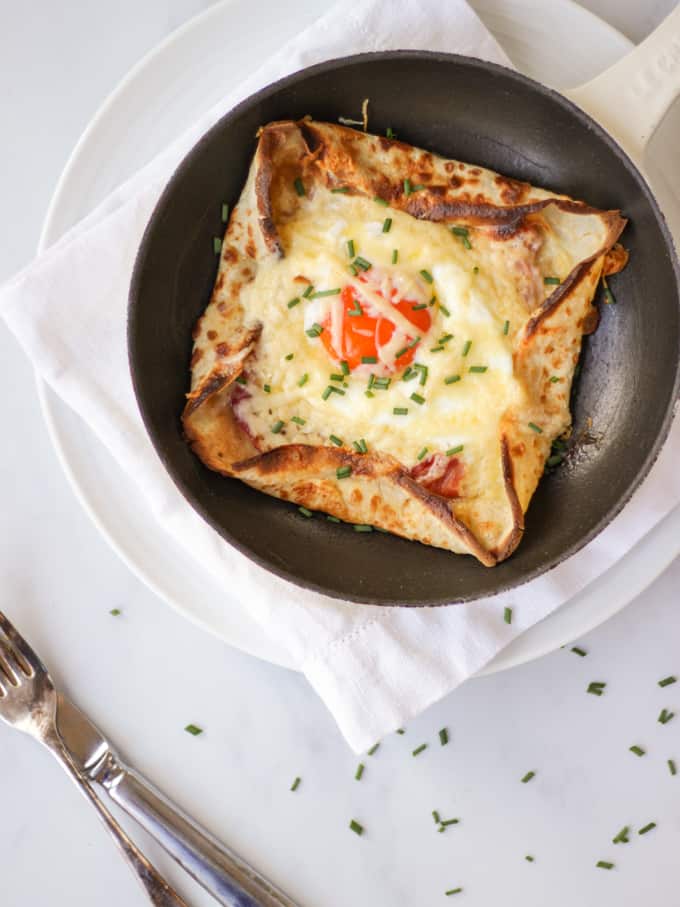 Some simple things in life are totally satisfyingly without any explanation aren't they? These include, but are not limited to; popping bubble wrap, cracking a creme bruleé, opening a new jar of Nutella and flipping pancakes.
That moment where it places perfectly in the pan and you catch sight of it's golden, slightly crispy bottom. Oh yes. The secret to a good flip is cook it for longer than you think on the first side, it should be unstuck if you give it a shuffle.
It's Shrove Tuesday in a few weeks. Big news in this household. Not least of all because flipping pancakes is so darned fun. It means it's the start of lent, which means that we are on the home run to Easter, which means THE best baking time of the year (hello Creme Egg Cheesecake).
This Savoury Pancake with Ham, Egg and Cheese will be supper for us on Pancake Day, I'm super excited to share pancake making with G&H.
How to make savoury pancakes?
A savoury pancake is made exactly like a normal pancake, just a basic simple batter of flour, eggs and milk. The French call them crepes, whether they are savoury or sweet and sometimes they use buckwheat flour. The recipe for the pancakes below is super simple and easy peasy.
This thin type of pancake (or crepe) is very European and particularly British. In the US they tend to refer to pancakes as the thick fluffy stacks, made with self raising flour. These are a slightly more delicate affair, but no less delicious.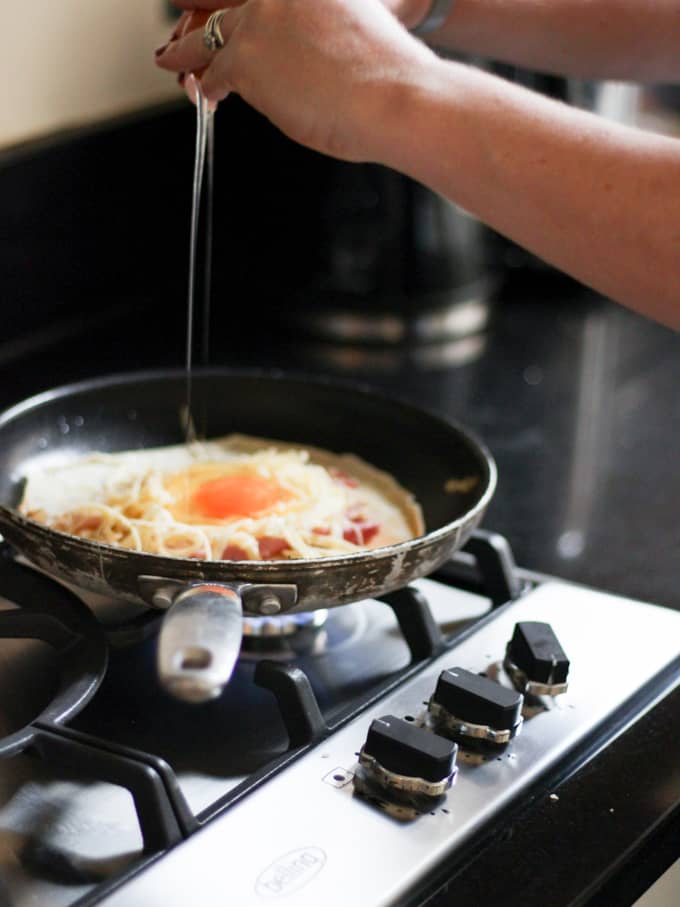 What can I put in my pancakes?
What toppings you put on your pancakes if entirely up to you, go wild. Here I've used grated cheddar cheese (delicious tang), some good quality carved ham and a free range egg.
You could fill your savoury pancakes with whatever you fancy, we like tuna, cheese and red onion too. Or how about chicken and sweetcorn? Or if you fancy getting a bit spicy, how about a batch of my delicious Lamb Keema rolled up in a savoury pancake?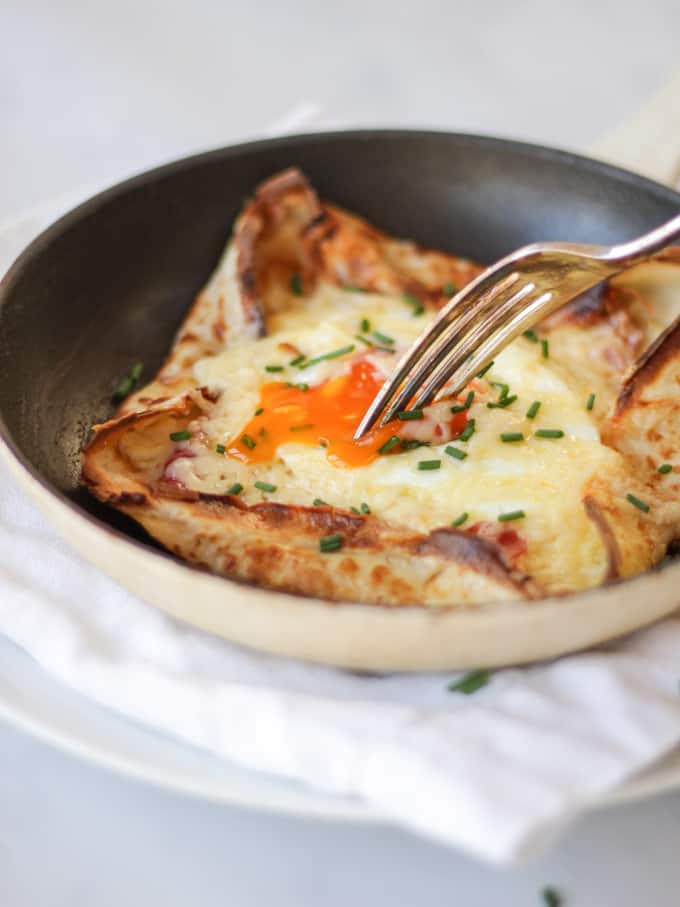 Tips for making the perfect Savoury Pancakes with Ham, Egg and Cheese:
You can make your batter ahead of time if you want to have it ready, just keep it in the fridge.
In fact, you can make your pancakes ahead of time. Fry them off one at a time and pop on a plate separated with small squares of baking paper. Just pop in the pan and let them heat through when you're ready.
When frying your pancakes be sure your pan is well heated and ready but not smoking hot.
Brush the pan with oil using a silicone brush for the best possible results. This gives a very thin and even coating of oil so no sticking and also not too greasy.
Pour in only the thinest layer possible, too thick and they will be stodgy.
I really like using a heavy, good quality pan for making pancakes. I think it makes a big difference. This is my favourite pan for pancakes and about a million other little frying jobs: OXO Good Grips Non-Stick Frying Pan, Stainless Steel, 24 cm
I finish these savoury pancakes off under the grill (or broil if you're in the US) but you could also flip them over and just cook through that way. Your egg yolk would just be a little less runny.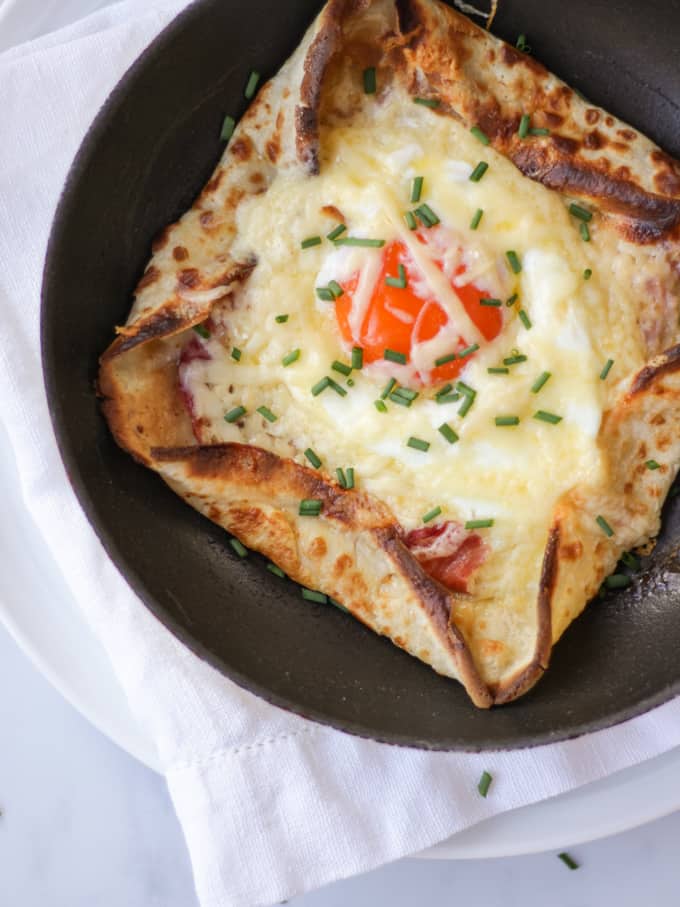 This recipe has everything a good meal should have, carbs, cheese, ham and rich, velvety sauce of the egg yolk. Try this and tell me it's not the best pancake meal you've ever had?!
I'd love to know how you got on and what you thought of the recipe if you make these Savoury Pancakes with Ham, Egg and Cheese. Please rate the recipe and leave me a comment below if you do.
Also, if you fancy showing me a photo by tagging me on Instagram (@tamingtwins) I LOVE to see your creations.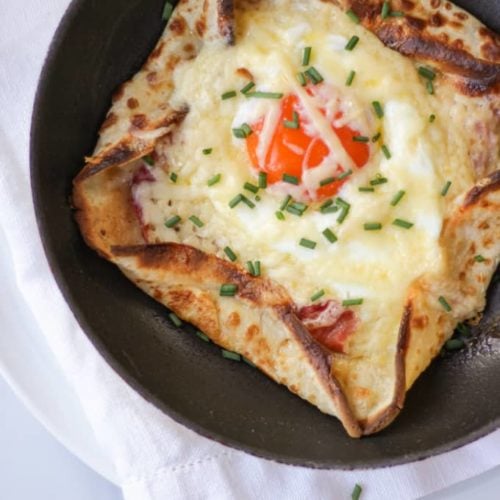 Savoury Pancakes with Ham, Egg and Cheese
Savoury pancakes with ham, cheese and egg filling. The most delicious savoury crepes you can eat. So simple and easy to make these ham and cheese pancakes are perfect for breakfast, lunch, Shrove Tuesday or dinner on the table in 10 minutes.
Ingredients
For the pancakes:
50

g

Plain flour

1

Free range egg

150ml

Milk

Semi skimmed or whichever you have

1

tbsp

Olive oil
For the filling:
40

g

Cheddar cheese grated

40

g

Good quality smoked ham

1

Free range egg

10

g

Chives

to serve
Instructions
Beat all of the pancake ingredients (apart from the oil) into a smooth batter.

Heat your frying pan over a medium heat and brush the pan with a little of the olive oil

When it's hot, gently pour in enough of the batter to coat the pan, swirling the pan around to get an even coating.

Flip when the pancake is moveable and brown underneath.

When the next side is almost done, put the ham on top, then the cheese.

Fold in each side to make a square.

Break your egg into the space left.

Squish the sides down with your spatula to seal as the cheese melts.

Cook for 3 or 4 minutes until the egg is turning white.

Pop under the grill (or broiler if you're in the US) for a further 4 or 5 minutes until the yolk is just starting to cook, or however you like it.

I like to sprinkle with chopped chives before serving.
Notes
This recipe makes either two very large pancakes or 4 much smaller ones. Of course if you wanted 4 you'd need to arg 2 more eggs for full effect!
Nutrition (per serving)
Calories:
315
kcal
Carbohydrates:
23
g
Protein:
20
g
Fat:
15
g
Saturated Fat:
6
g
Cholesterol:
198
mg
Sodium:
518
mg
Potassium:
281
mg
Sugar:
4
g
Vitamin A:
810
IU
Vitamin C:
2.9
mg
Calcium:
260
mg
Iron:
2.2
mg
Made it? Tag me!
Tag @TamingTwins so we can admire your make ⭐️