This post may contain affiliate links.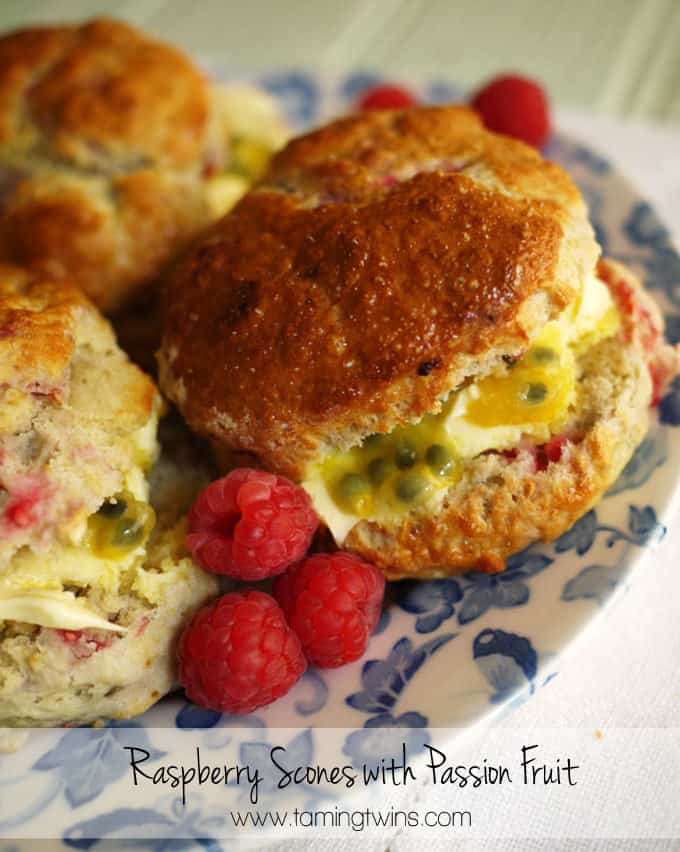 It's been a beautifully, blissfully hot weekend here. Bright blue skies, the sound of grass being cut in suburban gardens all around and everyone firing up their barbeques can't help but put you in a good mood can it? After our run in with chickenpox over the last few weeks, this weekend felt like karma saying "well done for surviving".
During the summer I feel compelled to usher us all outside to eat every single day. Come British summer rain or shine, we should make the most of the season and eat in the garden. Coats optional. Of course this weekend there was only suncream and no coats, hurrah!
What better to sit outside and eat than scones and clotted cream? I'll tell you what. Raspberry scones, sandwiched with clotted cream and a dribble of passionfruit.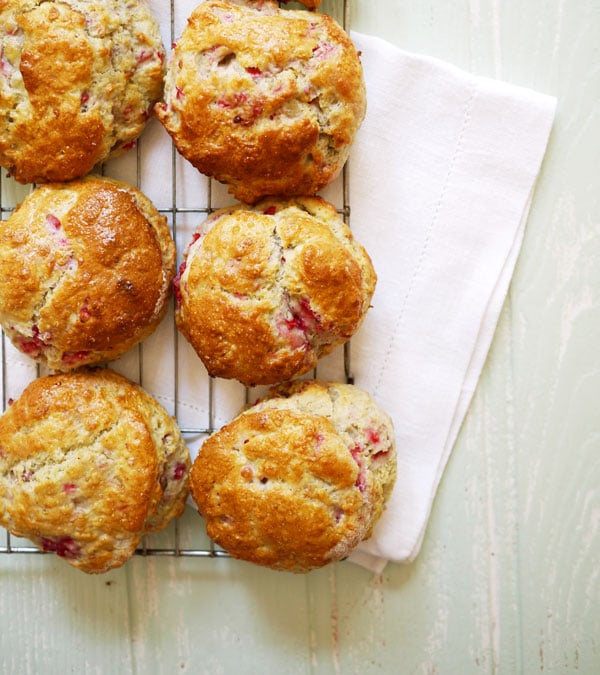 Scones are the ultimate busy Mums bake. Mixed in 5 minutes and baked in 10, they are so simple but when eaten fresh, they always impress.
This is my adaption of an original recipe by Queen Nigella, from one of my favourite ever baking books How To Be A Domestic Goddess: Baking and the Art of Comfort Cooking (If you only buy one baking book, make it that one.) I like my sweet scones a touch sweeter than Nigella and I've added the raspberries because I stumbled on the first British ones of the year I'd seen in the shops. The passion fruit adds texture and a touch of sharp bite through the clotted cream.
This scone recipe is fairly unique as it uses lots of Cream of Tartar. It makes eating them fresh out of the oven something like I imagine eating a heavenly cloud might be. As a quite pleasing side effect (pleasing to me anyway) it gives them this lumpy, bumpy 'rustic' look.

Any circle cutter (or even an upturned glass) will be fine for cutting these out but if you want to cut like a pro, you'll need a set of circular cutters with fluted edges. I once got told off by a Women's Institute judge for making savoury scones with a fluted edge. Anarchy at the village show that day. Remember bakers, fluted for sweet scones, plain for savoury!
A couple of top scone tips:
Handle the dough as little as possible. Mix the liquid in until it's only just formed a dough.
Roll out really lightly, until it's just the height you want, don't squish it too much, you'll lose the light texture.
Talking of height, give yourself a helping hand with the rise, don't roll them too thin. I go for 3cm ish.
This dough is wet because of the raspberries, don't worry, just sprinkle with enough flour to allow you to handle it.
These scones need to be eaten on the day they are made really. (As if they'd hang around..)
If you're an American here, I think a scone is something like a sweet American biscuit. Who cares what they are called when they are this good?
Raspberry Scones with Passion Fruit and Clotted Cream
Delicious raspberry scones served with Passion Fruit and clotted cream.
Ingredients
500

g

plain flour

1

teaspoon

fine salt

35

g

caster sugar

2

teaspoons

bicarbonate of soda

4.5

teaspoons

cream of tartar

75

g

cold unsalted butter

100

g

fresh

,

or defrosted raspberries

300

ml

full fat milk

1

medium free range egg
To serve:
6

passion fruit

227

g

pot of clotted cream
Instructions
Pre-heat the oven to 220C.

Put the flour, salt, caster sugar, bicarbonate of soda and cream of tartar into a bowl and mix.

Add the butter and rub it in until there are no lumps left (this is much easier in a mixer if you have one - my Granny would've killed me for saying that).

Add the raspberries and mix until some are a little bit squashed and some are still whole.

Pour in all of the milk and stir either in the mixer or with a spoon until the dough just comes together.

Roll out gently (using the tips above) and cut out your scones.

Place them onto a baking sheet lined with baking paper.

Brush the tops of them with the beaten egg. Try not to let too much dribble down the sides as it can stop them from rising.

Bake for 10 minutes or until they are golden on top. You might need to turn them at 8 minutes if your oven doesn't cook evenly.
To serve:
When they are totally cold, split them and serve with a dollop of clotted cream and a scoop of passion fruit puree.
Nutrition
Calories:
389
kcal
Carbohydrates:
48
g
Protein:
7
g
Fat:
19
g
Saturated Fat:
11
g
Cholesterol:
59
mg
Sodium:
408
mg
Potassium:
479
mg
Fiber:
6
g
Sugar:
9
g
Vitamin A:
1185
IU
Vitamin C:
15.4
mg
Calcium:
74
mg
Iron:
3.2
mg
Nutrition information is automatically calculated, so should only be used as an approximation.
Let's be friends
Keep in touch on Facebook ¦
Chit chat on Twitter ¦
Pinning like my life depends on it Pinterest ¦