Knowing how to make Onion Gravy is a rite of passage. Once you have it perfected, you'll always have it up your sleeve.
This is a simple and quick red onion gravy recipe that you'll hopefully turn to time and time again, adding delicious comforting richness to your Toad in the Hole, your Sunday Roasts or your Shepherd's Pies.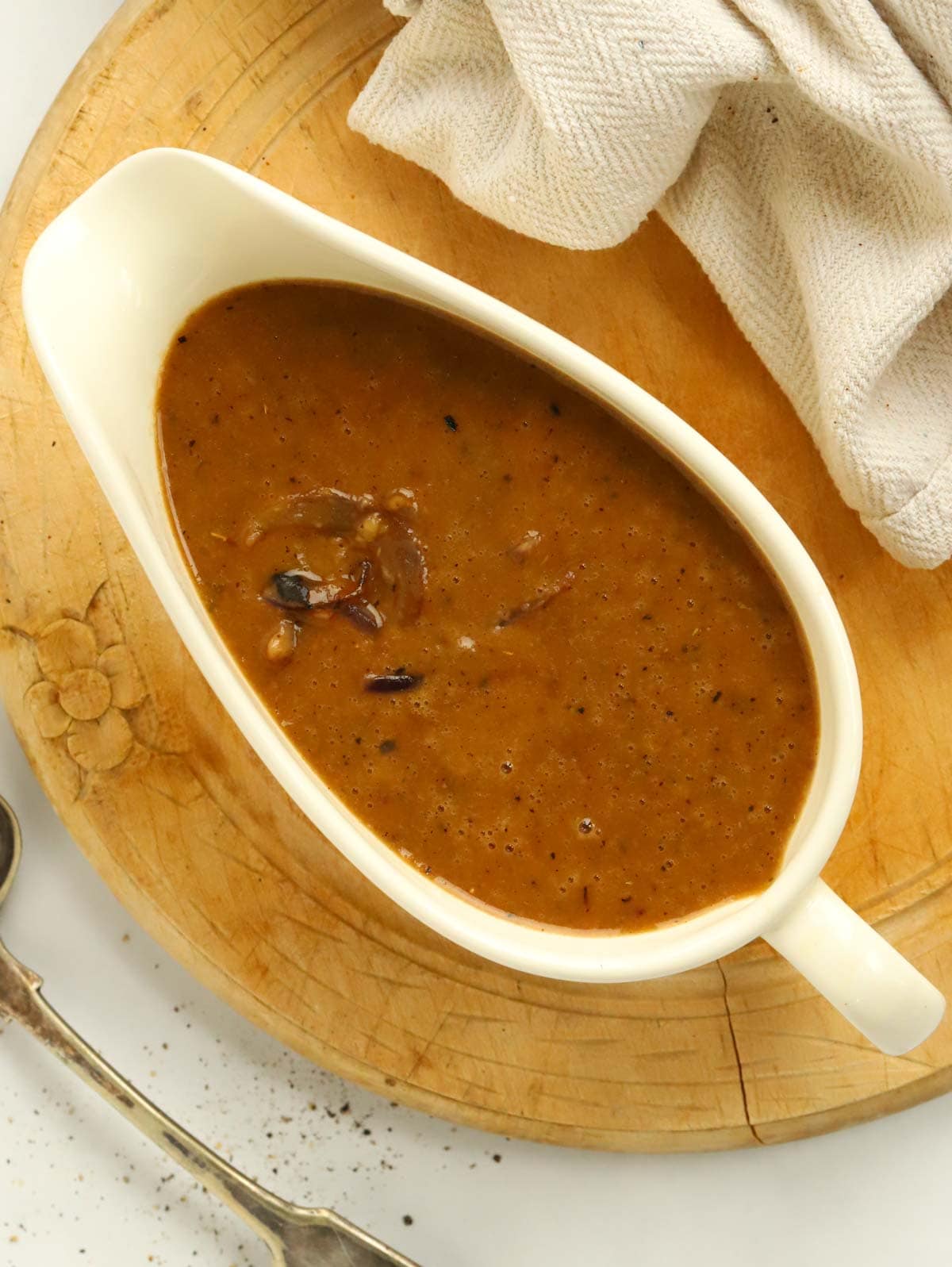 I would say getting your gravy just right probably takes about 20-30 minutes, but bear in mind that while it's cooking, usually there's a main dish being cooked at the same time, so it's not really much of a stretch.
That said, you could always make a big batch of onion gravy ahead of time and freeze portions for when you need it, which would be perfect for those meals you've defrosted alongside them for a midweek win, or maybe if you're having a pre-prepared dish like a pie, for example.
Here I will show you how to make Onion Gravy that's super simple but also has a little something extra.
---
Why you'll love this Onion Gravy recipe
⭐️ Full of rich flavour
⭐️ Easy and quick
⭐️ Can be made ahead
---
Ingredients for Onion Gravy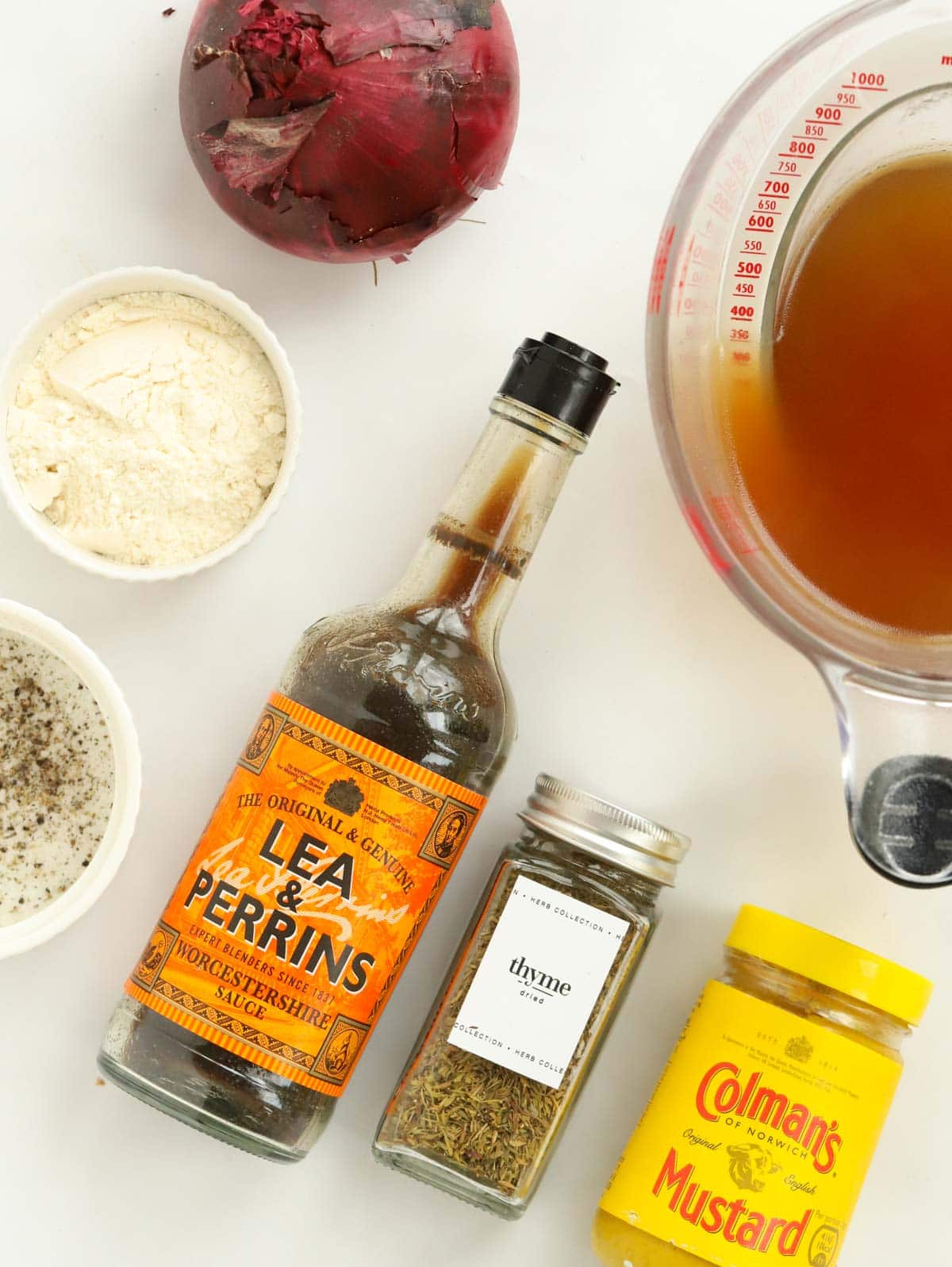 Sunflower oil – Or vegetable oil
Red onion – Use frozen if you like
Plain flour – Regular baking plain flour
Beef stock – Pre-made using a cube is fine
Mustard – I used English but Dijon (French) would be fine
Dried thyme – Fresh would also work but you would need to increase the amount
Salt and pepper – Don't be shy with this
---
How to make Onion Gravy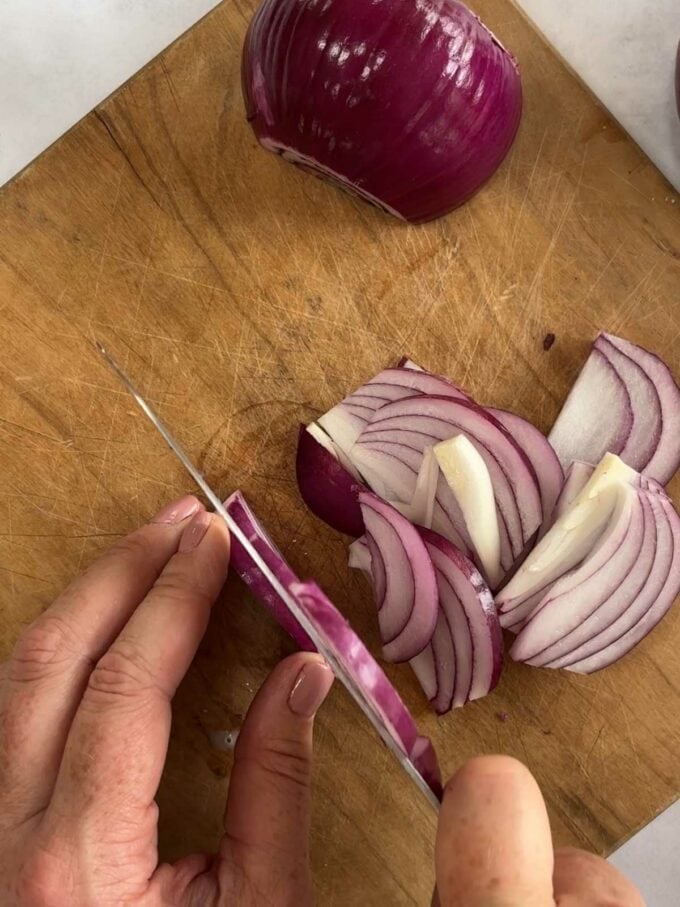 Chop the onion into half moons.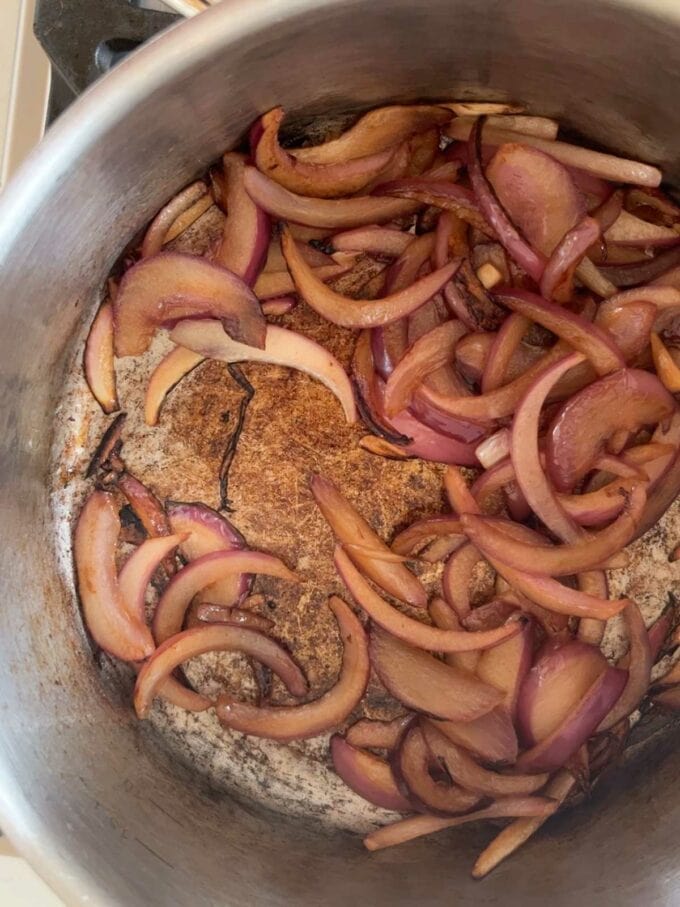 2. Heat oil in a pan and fry the onions on low for 5-6 minutes until soft.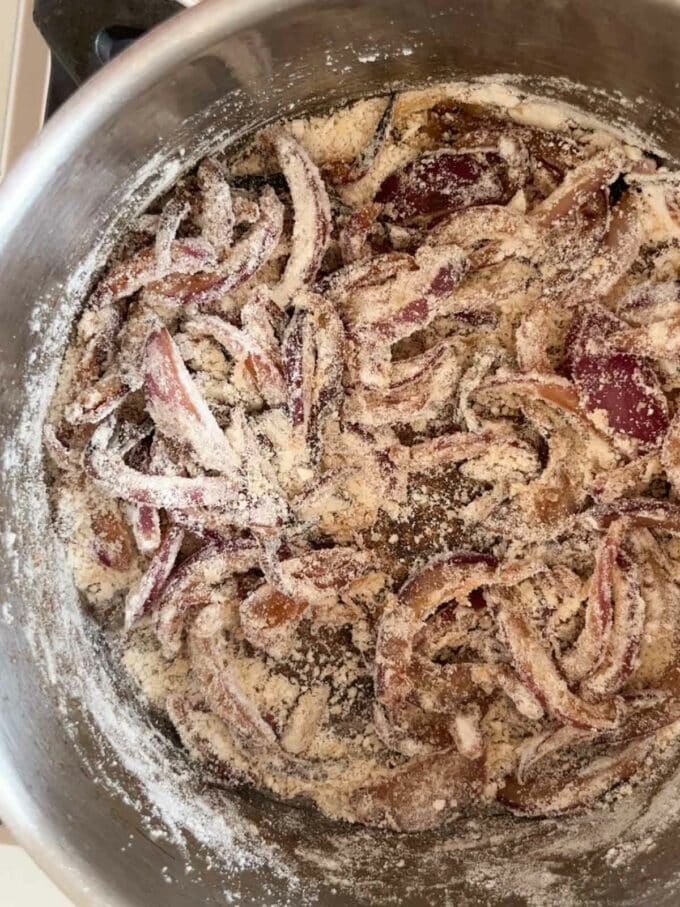 3. Add flour and stir for a minute.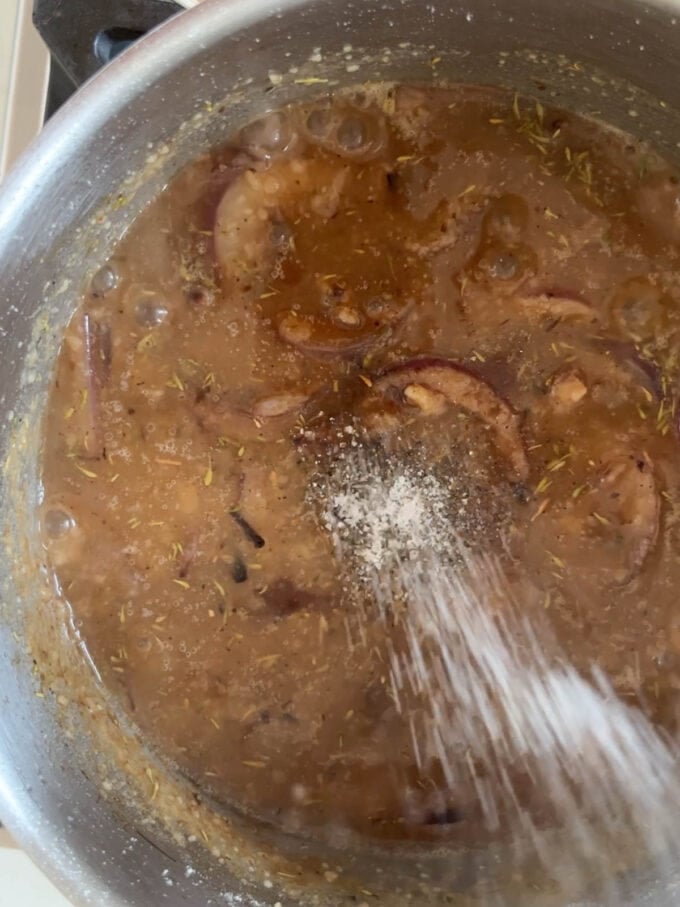 4. Turn up the heat and slowly add the beef stock, stirring continuously. Add the rest of the ingredients and simmer until thickened.
---
Substitutions
White onions – These are fine to use if you prefer, I quite like the sweetness from red onions. White onions will become sweet but you may need to cook them a little longer.
Gravy leftovers
In the fridge You can keep this recipe in the fridge for 3 days. Reheat fully in the microwave or hob before serving.
In the freezer This recipe freezes well. Just wait until it's totally cold and then put into a freezer proof container in portions and freeze for up to 3 months. Defrost thoroughly before reheating in the microwave or on the hob.
Top tips for making Onion Gravy
Consistency
Feel free to blend this with a handheld blender like this one if you'd prefer a smooth texture.
Onion chunks
If you want the onions to stay in nice neat pieces as they cook, cut them in half moons root to tip (like in my prep photo). If you cut them the opposite way, they tend to disintegrate more.
What dishes this gravy works well with:
Simple Onion Gravy FAQs
What is the secret to good gravy?
As well as getting a good, easy recipe that you'll remember, make sure the seasoning, texture and thickness is to your liking before serving.

Once you've done this a few times you'll be perfecting it without thinking. And always make sure you've heated it up until it's piping hot.
My gravy is lumpy – help!
This is perhaps because you haven't stirred in the liquid to the flour slowly enough, so lumps have formed and they're difficult to get rid of.

Make sure you add the stock a little at a time while constantly stirring. If all else fails, blend the gravy as I usually do!
Can I add anything to this gravy recipe?
If the dish calls for it, you could always add any juices from the meat you're cooking or a splash of wine. You can try any preferred herbs, garlic, or even a little cream.
Let me know how you got on and what you thought of these recipes. Please rate the recipe using the ⭐️ below.
Also I'd LOVE to see your cooking creations. If you'd like to share yours with me, you can tag me on Instagram (@tamingtwins).
Simple Onion Gravy
If you want to learn how to make Onion Gravy for those classic homemade comfort dishes, here is a simple and quick recipe you can turn to time and time again.
Ingredients
1

tbsp

Sunflower oil

1

Onion

Peeled and sliced

2

tsp

Plain flour

400

ml

Beef stock

1

tsp

Mustard

1

tsp

Dried thyme

3

tbsp

Worcestershire sauce

Salt and pepper
Instructions
Heat the oil in a saucepan and add the onion. Stir over a low heat for 5-6 minutes until soft. (Cook on low for longer if you have time).

Add the flour and stir for 1 minute until the onions are coated.

Turn the heat up a little to medium and slowly add the beef stock, stirring all the time.

Add the mustard, thyme, Worcestershire sauce and salt and pepper and simmer for 10 minutes until thickened.

If you have a hand blender, blend until smooth.
Notes
Onions If you want the onions to stay in nice neat pieces as they cook, cut them in half moons root to tip (like in my prep photo). If you cut them the opposite way, they tend to disintegrate more.
No lumps Add the stock slowly to the flour and onions and stir continuously to avoid lumps forming.
Texture Use a hand blender for a smooth consistency.
Nutrition (per serving)
Calories:
70
kcal
Carbohydrates:
7
g
Protein:
2
g
Fat:
4
g
Saturated Fat:
0.4
g
Polyunsaturated Fat:
0.2
g
Monounsaturated Fat:
3
g
Sodium:
382
mg
Potassium:
335
mg
Fiber:
1
g
Sugar:
3
g
Vitamin A:
21
IU
Vitamin C:
4
mg
Calcium:
34
mg
Iron:
1
mg
Made it? Tag me!
Tag @TamingTwins so we can admire your make ⭐️