I am not even going to apologise for my total over excitement about the fact that we are now officially on the run up to Easter. I know, blah blah, loads of stuff before then, weeks away, yadda yadda yadda. Starts earlier every year? Oh YES it does!

Let's consider the evidence:
1. No pressure to buy charming, thoughtful (but on budget) gifts for every man and his dog like at Christmas.
2. Family time without the pressure to see everyone you've ever met and have enforced fun.
3. Absolutely no last minute shopping nightmares.
4. Four uninterrupted days off, not long enough to get bored and annoy each other but long enough to eat loads, watch rubbish TV and lounge around.
5. It is celebrated with CHOCOLATE for goodness sake.
Really, need I say more?

What better way to kick off the Easter baking than with a good brownie? Each to their own, but I like them slim and fudgey. The key is to take them out of the oven when they are just very slightly under-done. I bake mine in 2 small tins as they cook more quickly and there's less risk of over-cooking them.
It's fine to use one large or different shaped tin, but the brownies will be thicker so will need longer cooking (even up to double the time if you use just one baking tin). Just keep checking them.

This recipe is a hybrid of a BBC Good Food one from a magazine years ago and The Hummingbird Bakery Cookbook one. I love the fact that it's so easy to mix up, one saucepan, washing up done.
Ok. Now onto the best bit. I use 300g of mixed mini chocolate eggs. This time I used Cadbury's Mini-Eggs, Milky Bar Mini-Eggs (white chocolate) and mini Cadbury's Creme Eggs. If you're using eggs with the soft centres, like Creme Eggs or Caramel Eggs, pop them in the freezer for a couple of hours or overnight, before unwrapping and using in the brownies. This will stop them from collapsing completely when baked.
Fancy some other Easter treats?:
Hope you enjoy this recipe. I'd love to know how you got on and what you thought of it if you make this recipe. Please rate the recipe using the ⭐️ below!
Also, if you fancy showing me a photo by tagging me on Instagram (@tamingtwins) I LOVE to see your creations and try and share as many of them as I can.
How to make Filthy Fudgy Easter Brownies: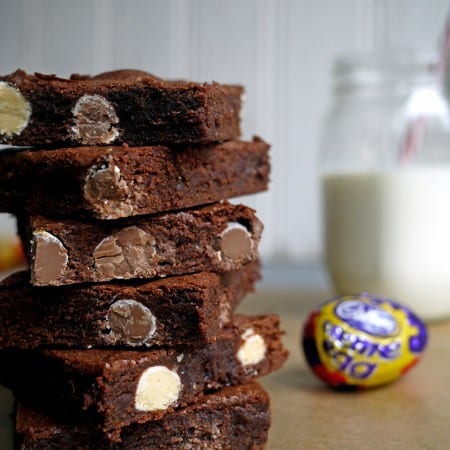 Filthy Fudgy Easter Brownies
Knock yourself out with these family favourites using any combination of mini chocolate eggs that you and your family love.
Ingredients
200

g

70% Dark chocolate

100

g

Milk chocolate

250

g

Salted butter

you can use unsalted if it's all you have, just add a pinch of salt, it helps to bring out the chocolate flavours

300

g

Soft light brown sugar

4

Large eggs

175

g

Plain flour

300

g

Mixed Easter mini eggs

see my note above about freezing the soft ones
Instructions
Pre-heat the oven to 180C.

Line 2, 25cm x 25cm tins with baking paper.

Melt the chocolates, butter and sugar together over a low heat.

Once they are melted, remove from the heat and leave to cool for 5 or 10 minutes.

Beat in each egg, one by one.

Stir in the flour.

Put enough of the batter in each of the tins to cover the base. (Probably about a quarter of the whole mixture into each of them.)

Spread your mini eggs over this batter evenly, so you get an egg in each bite.

Share the rest of the batter out between the two tins to cover the eggs.

Smooth out with a spatula.

Bake for about 20 minutes. A skewer should come out only just clean. You could test at 17 minutes and again at 20 minutes just in case.

As always, remember that depending on your oven it could take up to 10 minutes longer, but please please try not to overcook them. Brownies are always better under-done than over.
Nutrition (per serving)
Calories:
368
kcal
Carbohydrates:
39
g
Protein:
4
g
Fat:
22
g
Saturated Fat:
13
g
Cholesterol:
69
mg
Sodium:
136
mg
Potassium:
138
mg
Fiber:
1
g
Sugar:
28
g
Vitamin A:
460
IU
Vitamin C:
0.5
mg
Calcium:
72
mg
Iron:
2.2
mg
Made it? Tag me!
Tag @TamingTwins so we can admire your make ⭐️