I'm often being told off for apologising too much. I once had a showdown with a colleague who told me to stop apologising. I found it bloody patronising to be told that my politeness is a sign of weakness. I told him that I'd rather have too many manners than not enough LIKE SOME PEOPLE.
(Before I apologised, or course.)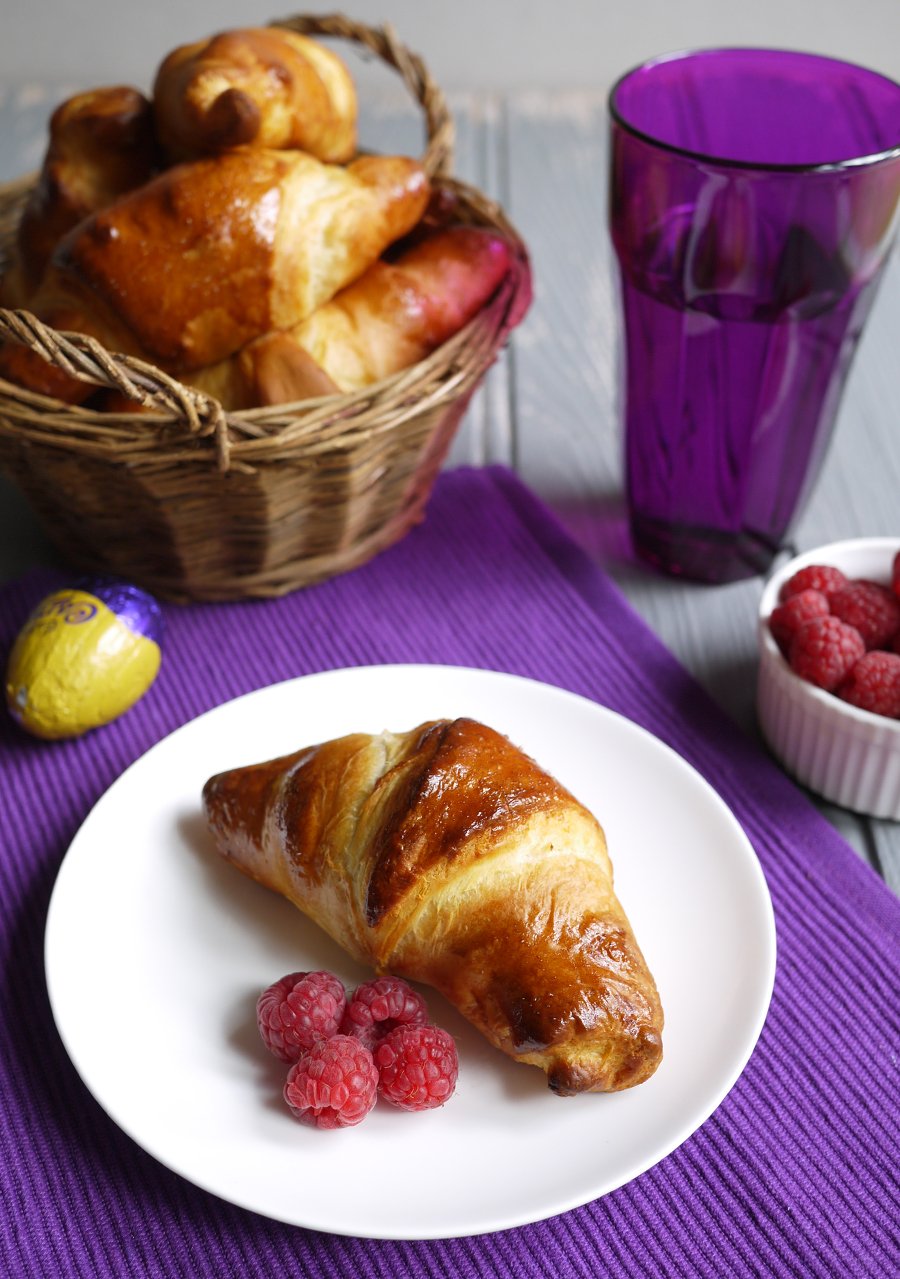 Now I'm no longer gainfully employed in a proper job, I'll apologise until my heart's content. I find it cathartic when I've made a mistake or cocked up. It goes some way to putting things right doesn't it?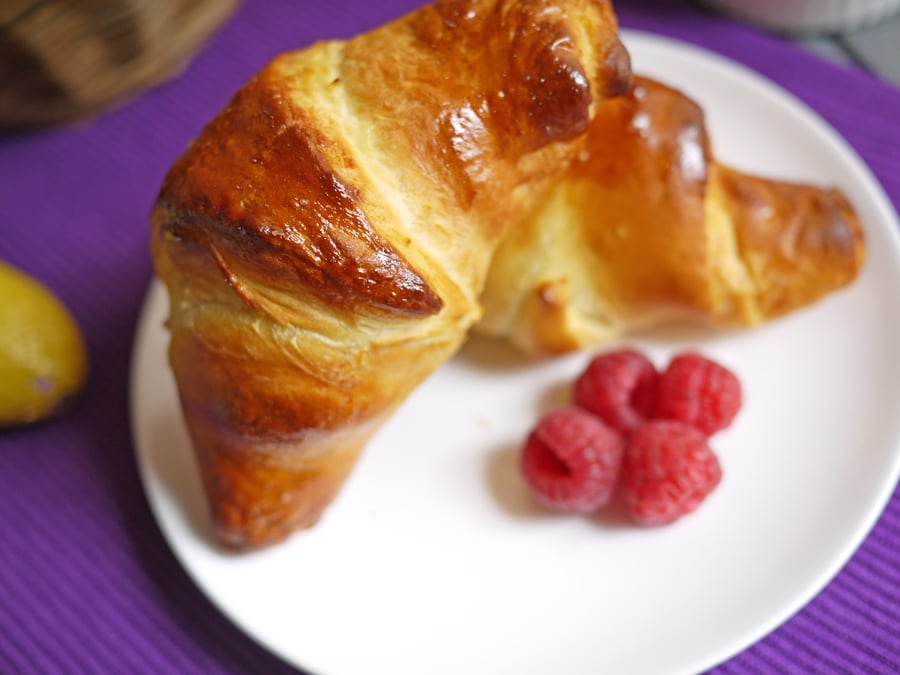 Well my friends. Let me apologise for what I'm about to bring into your life. Yes. I put a Cadbury's Caramel Egg into a croissant. It's filthy. I'm sorry, I'm sorry, I'm sorry.
Actually, this time I'm not really sorry. They are too good.
Here's what needs to happen, first go hunter gathering for your ingredients..

Pop open your tube of dough.. (Added bonus to this recipe – it's as satisfying as bubble-wrap popping.)

Roll out and stuff with frozen caramel eggs..

Bake and boom, eat with caramel dribbling down your chin.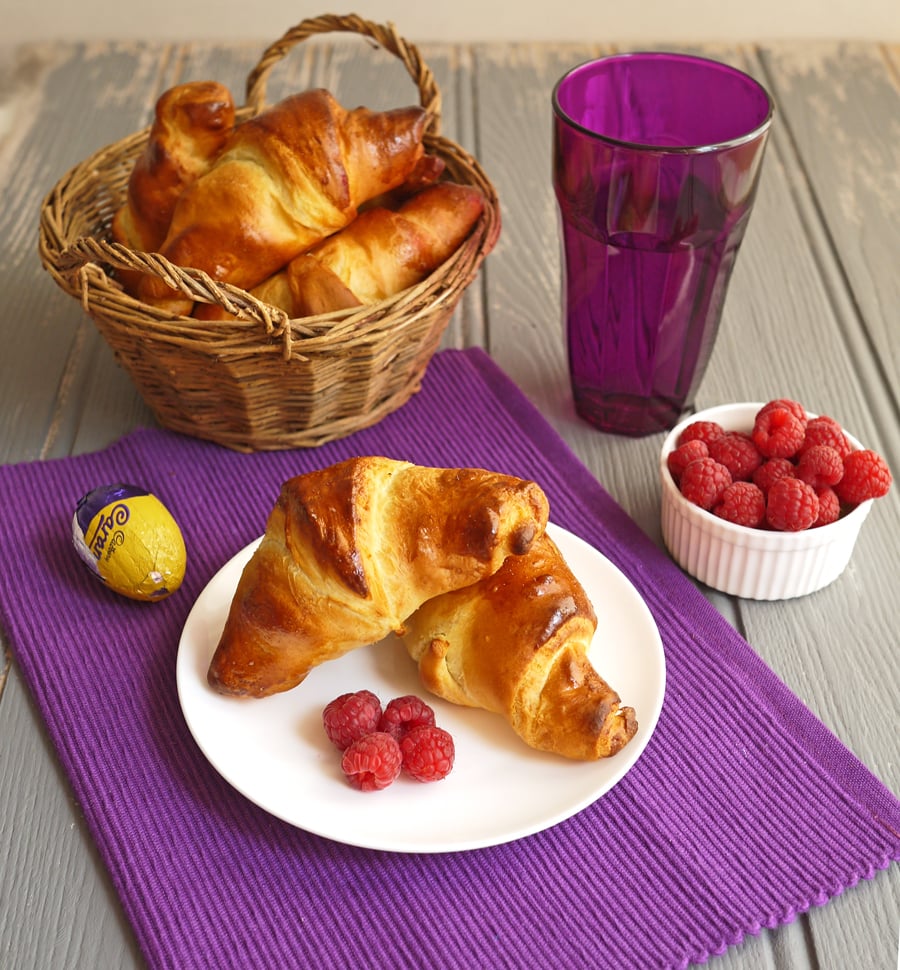 Are you ready for the money shot?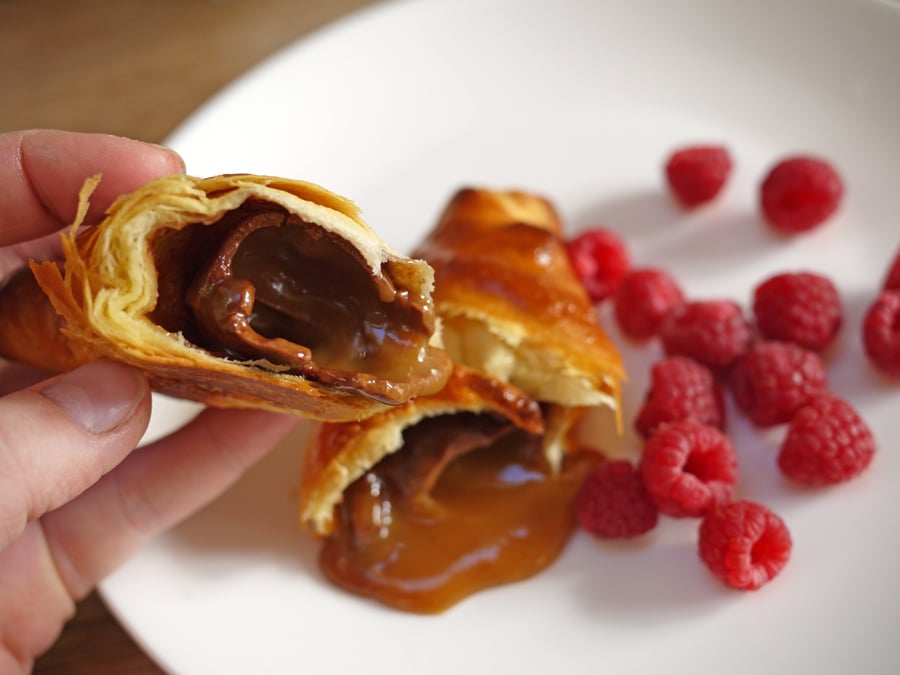 They were a resounding success in this house. (Don't worry, this isn't their normal breakfast, obviously and raspberries cancel out the sugar anyway, doh.)
FANCY MORE EASY EASTER RECIPES?
Hope you enjoy this recipe as much as we do. I'd love to know how you got on and what you thought of it if you make this recipe. Please rate the recipe using the ⭐️ by the recipe.
Also, if you'd like to show me a photo by tagging me on Instagram (
@tamingtwins
) I LOVE to see your creations.
How to make Caramel Egg Stuffed Croissants: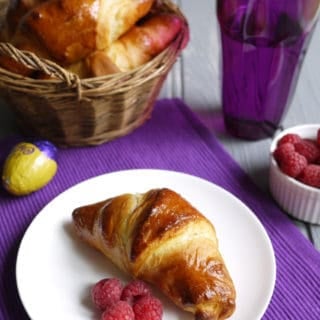 Caramel Egg Stuffed Croissants
An indulgent breakfast surprise! A gooey chocolate caramel croissant with a twist that will make your Easter go oh so well!
Ingredients
Pack of ready to pop croissant dough

6

Cadbury's Caramel Eggs

1

Egg

beaten
Instructions
Freeze your Caramel Eggs overnight.

When you're ready to bake, preheat the oven to 200C.

Open out your croissant dough and cut along the markings to make 6 triangles.

Brush with beaten egg.

Unwrap your Caramel eggs and lay one on each croissant triangle at the wide side and roll up into a croissant shape. (Who'd've thought it?!)

Try to squish the dough a little bit around the egg so that the dough sticks together and there's no open gaps in the dough.

Lay on a baking sheet lined with baking parchment and brush with more beaten egg.

Bake in the pre-heated oven for about 10 minutes or until golden.

Leave for about 5 or 10 minutes before eating.
Nutrition (per serving)
Calories:
383
kcal
Carbohydrates:
43
g
Protein:
6
g
Fat:
22
g
Saturated Fat:
12
g
Cholesterol:
65
mg
Sodium:
281
mg
Potassium:
158
mg
Fiber:
3
g
Sugar:
20
g
Vitamin A:
465
IU
Calcium:
32
mg
Iron:
2.1
mg
Made it? Tag me!
Tag @TamingTwins so we can admire your make ⭐️