As you may know if you've ever wandered into my kitchen, I have a little team of kitchen gadgets lining one work surface. Not piles of unused, cast aside rice cookers or similar. Oh no, these are carefully chosen and used almost every day. There's my Magixmix, my KitchenAid and the Dualit toaster. I really believe that it something is going to last you for years you should buy well and buy to last. As they are on display and I spend most of my days loitering around the kitchen, I also think they should be easy on the eye.
There's toast in the Dualit (of course), coleslaw, salads, chopped vegetables in the Magimix and cakes, meringues and dough in the beloved KitchenAid. Well, we have a new daily use machine in the line up. The Froothie has joined us.
The Froothie is a super power blender. I discovered green smoothies a couple of years ago when I took part in the Green Smoothie challenge with Simple Green Smoothies and I've drunk them ever since. As you may have noticed around here, I like cake. A LOT. I feel that some good stuff every day in my diet balances this out a bit. So, I've been blending smoothies for a while, but with my, ready for this? £5 Blender from Tesco. I didn't invest much when I started in case smoothies were a fad for me.

(That pleasing moment when your nail polish matches your smoothie.)
So, I was over the moon when Froothie asked me to try their blender and join their team of UK ambassadors. I can honestly say, this machine is a beast. I had no idea how different smoothies would be when made in a power blender rather than my very basic blender. They are smooth, silky, much more like thick juices than the slightly gloopy, grainy smoothies I was used to. The children adore these juices too, it's brilliant to see how fascinated they are with the blending process and then totally amused by the naturally nearly neon colours we've made. Why is it that children are happy to eat or drink anything, as long as it's a lurid colour?!
Anyway.. Froothie, you've won my heart and I can't wait to see what adventures are ahead.. Aside from the obviously amazing, totally smooth drinks and soups, my favourite points (so far) of the Froothie Optimum 9200 are:
Using ice in smoothies, it blends it like a dream.
The timer buttons, when the children are running around, I just press one button and it blends for a set time period – so handy.
The tool to press down and stray bits that are getting blended. SO useful.
The ease of cleaning. You just add some water, pop the blender on for a few seconds and you're done.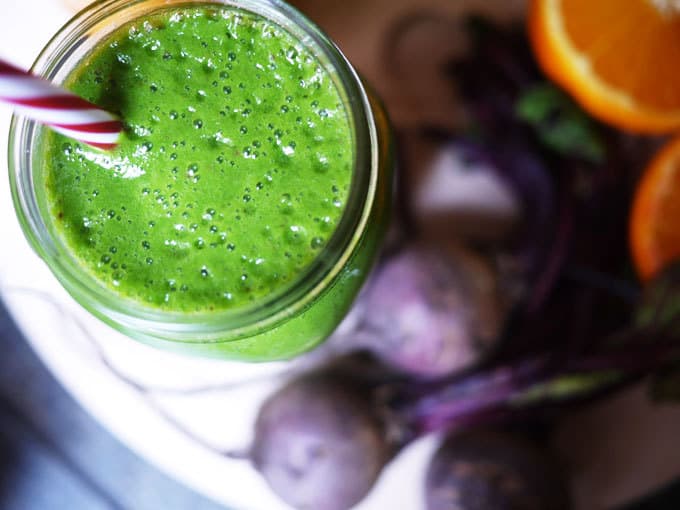 I've long dreamed of a Vitamix in my kitchen, here is how the Froothie compares:

I feel I should offer some negative points to make this a balanced and fair review but I really don't have any about the machine itself. It is, dare I say it, life changing. The only set-back of the machine is that it's not cheap at £379 (currently on offer from £429). I have to say though, I paid a similar amount years ago for my KitchenAid and it has never failed me, even after daily use. Also, by way of comparison, in line with the chart above, the Vitamix Pro 500 is £599! I really believe that paying for quality, and in this case, something that is key to a healthier lifestyle to us, is the right choice if you're able to.

Here are the recipes for 3 of my favourite smoothies at the moment. I've never been a fan of vegetables in smoothies before as in my old blender they were something like lumpy, cold soup (sorry old faithful £5 blender). In a power blender they are completely different. A great way of getting an extra portion of raw veg in before I've even started the day.
Orange Tiger Smoothie (named by George)
A delicious and refreshing orange smoothie to start your day with.
Ingredients
1

Orange

peeled

2

Carrots

chopped

1

tbsp

of fresh raw ginger

peeled (I store mine in the freezer and use straight from there)

1

Apple

chopped

1

cup

Almond Milk
Instructions
Blend until smooth and serve over ice.

(I like heaps of ginger, you may like to try it with less.)
Nutrition Facts
Orange Tiger Smoothie (named by George)
Amount per Serving
% Daily Value*
* Percent Daily Values are based on a 2000 calorie diet.
Superhero Smoothie
A smoothie packed full of spinach to give you healthy boost
Ingredients
1

cup

Spinach

I keep this in the freezer and use it fresh from there

1

cup

Water

1

Apple

chopped

1

Banana

peeled
Instructions
Blend the water and spinach for about 30 seconds until like green liquid.

Add the other ingredients and blend until smooth.
Nutrition Facts
Superhero Smoothie
Amount per Serving
% Daily Value*
* Percent Daily Values are based on a 2000 calorie diet.
Beetroot Berry Burst
Beetroot in a smoothie is a fabulous way to start the day with this fruit-based breakfast smoothie
Ingredients
3

small Beetroot

raw, peeled

Handful of raspberries

I use frozen

1

Banana

peeled

2

cups

Almond milk
Instructions
Blend until smooth.

I like to garnish with some extra frozen berries.
Nutrition Facts
Beetroot Berry Burst
Amount per Serving
% Daily Value*
* Percent Daily Values are based on a 2000 calorie diet.

Are you a blender fan? How do you squeeze extra fruit and veg into your diet? Do you think smoothies cancel out cake?
Sarah x
I'm very happy to be a Froothie ambassador. That means that I am provided with a Froothie blender free of charge and I also receive a small commission if you buy a blender through my site. I am not obliged to provide a positive review though and all opinions are my own and truthful.
Let's be friends..
Keep in touch on Facebook ¦
Chit chat on Twitter ¦
Never miss a trick on Bloglovin' ¦
Circle with me on Google+ ¦
Pinning like my life depends on it Pinterest ¦