A quick and simple Savoury Muffins recipe. Packed with Cheese and Sweetcorn, these vegetarian bakes make a brilliant lunchbox filler, picnic pack up or breakfast for kids and grown ups too.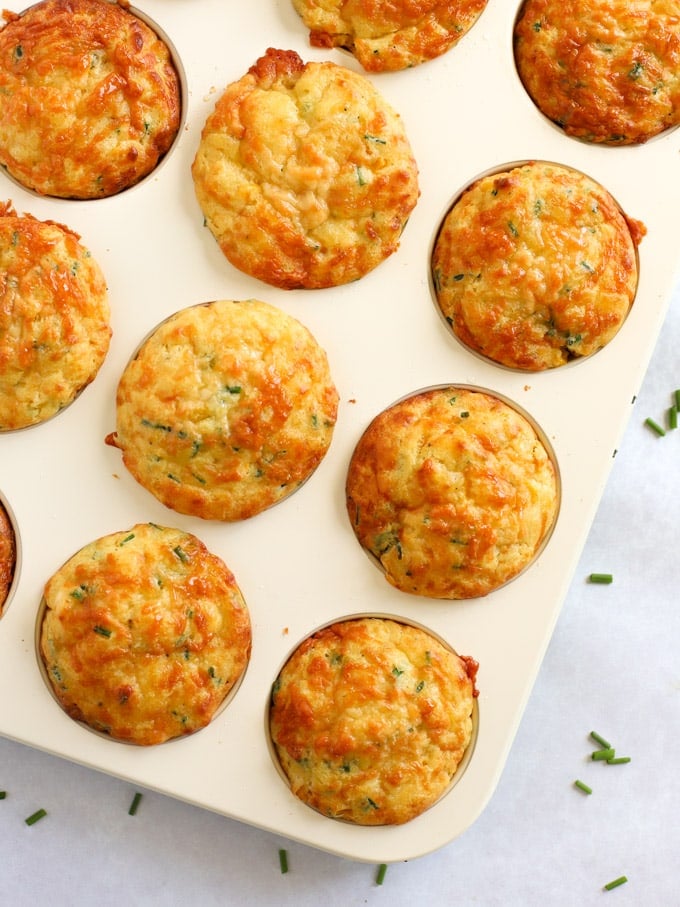 Never have I EVER tested a recipe as many times before posting it as I have done with these Cheese & Sweet Corn Savoury Muffins. It's a hard job, but someone has to do it, right?
I knew that they had the promise of being something wonderful. A pocket of sweet, salty, cheese goodness, waiting to be eaten warm with a hunk of butter. It took a lot of tries but HERE WE ARE MY FRIENDS. Finally, what I think, is the BEST Savoury Muffin recipe.
Let this be a lesson to us all. If at first you don't succeed aim for more cheese.
Here's why I think you'll love them:
✅ Really easy to pull together batter.
✅ The freeze brilliantly, perfect to pull out for packed lunches, picnics or breakfasts.
✅ Kids LOVE them.
Ready for the next photo..? YESSSS. Everything is better with butter.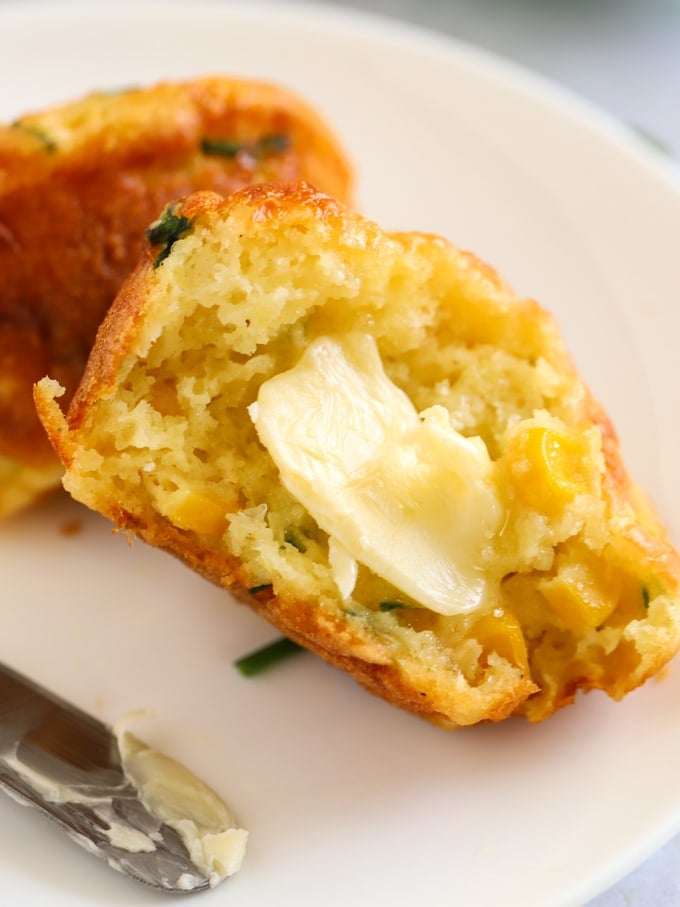 So in this recipe, I've kept the Savoury Muffins vegetarian and packed them with corn and cheese. There's heaps of other options though:
Variations on the recipe:
Bacon and Cheese Muffins – Add pieces of fried bacon.
Savoury Muffins for Kids – If these are for very young children you can omit the salt. (They will be a little bland though, so do leave in if adults are eating these.)
Spanakopita Muffins – Use spinach and feta in place of sweetcorn and cheddar.
Cheese and Tomato Muffins – Add halved cherry tomatoes.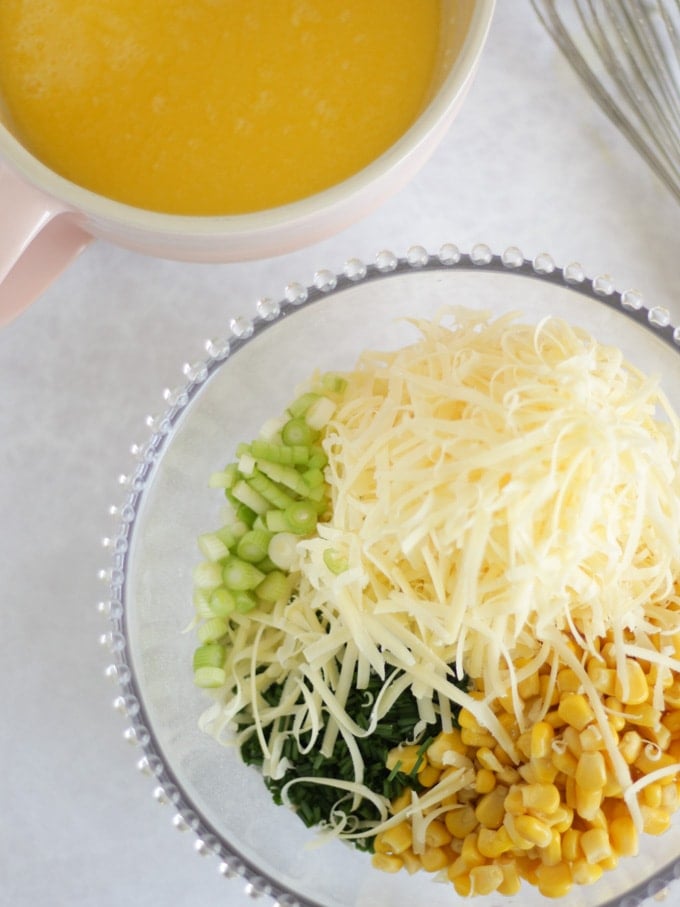 How to make these Savoury Muffins:
Mix your dry ingredients together in one bowl, and your wet ingredients in another.
Combine it all together, mix until totally combined and scoop into an oiled muffin tray.
Bake for about 20 minutes until golden and DELICIOUS smelling.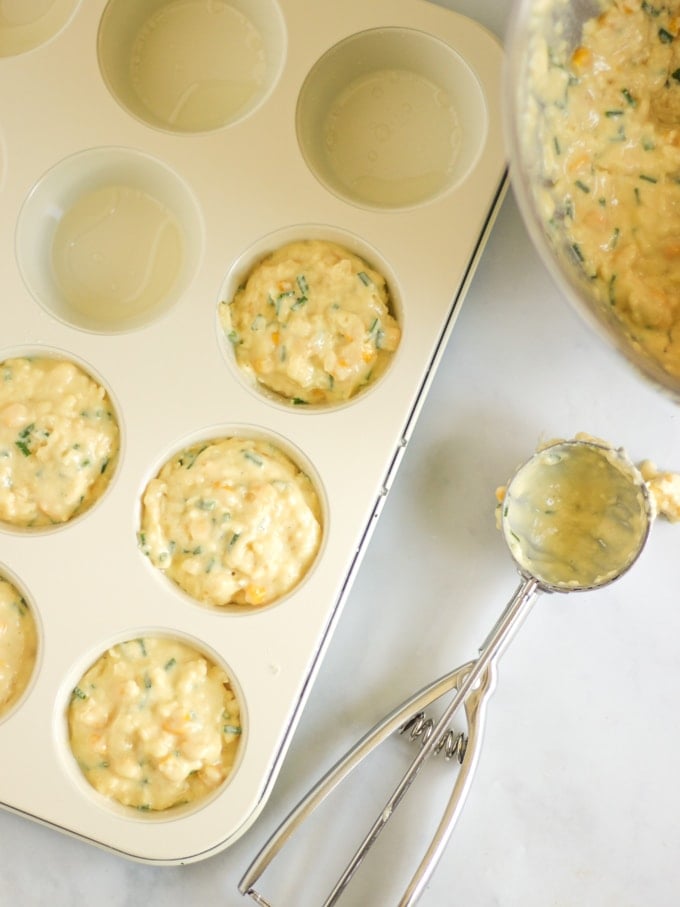 What can I do with these DELICIOUS Savoury Cheese Muffins?
Cool them and pack into Tupperware or a sandwich bag and freeze for another day.
Serve in packed lunch boxes.
Have warmed in the microwave for 30 seconds, with a dollop of butter as an afternoon snack (my PERSONAL fave)
Take on a picnic instead of soggy sandwiches.
Serve as a breakfast on the go.
Top tips for making these muffins:
Do use strong cheese, it gives all of the flavour.
Allow the muffins to cool on a rack if you have one, it will stop them going soggy.
I tend to store in the fridge, as they are quite dairy heavy. They are more tasty to eat at room temperature or BEST warm, blast them for 30 seconds in the microwave if possible.
If you don't have fresh chives, you can substitute in a finely chopped onion.
You can use muffin cases in the tin, but I find that as long as I oil and use a non stick muffin tin, they come out fine. Getting them out of paper muffin cases is much harder!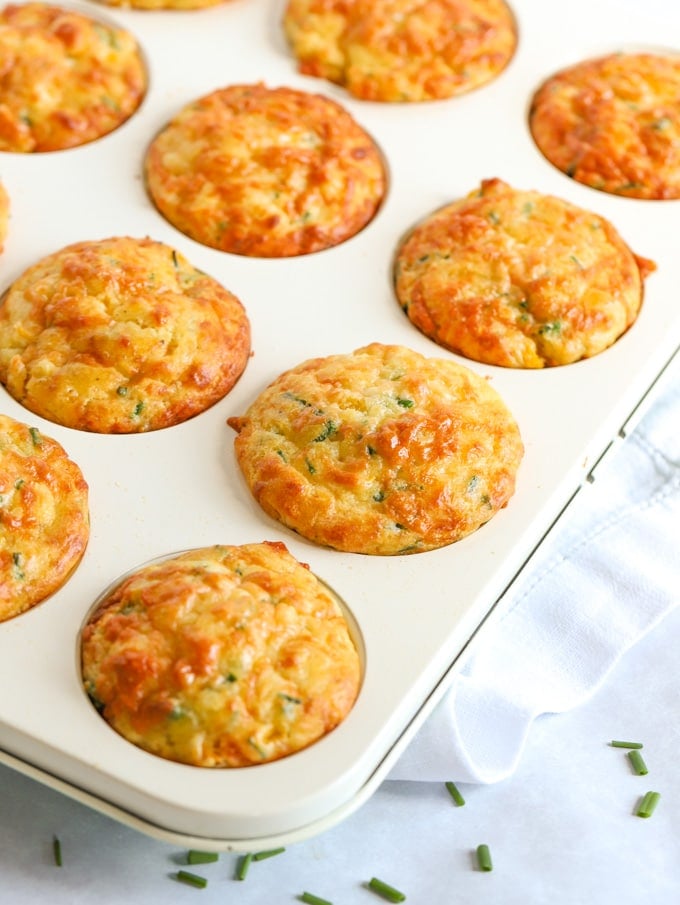 What to use to make the Muffins:
Muffin Tin – Any 12 hole, fairly deep muffin tin (as opposed to a short, fairy cake type tin) is fine. The one in these photos is a ceramic muffin tin, which I really rate as NOTHING seems to stick to it. Here is a similar one on Amazon: Ceramic Non Stick Muffin Tray.
Ice Cream Scoop – You don't need one, but I love using an old fashioned type ice cream scoop for muffins and cupcakes, to quickly and cleaning fill the tins. Here's a set (ideal for cookies/muffins/cupcakes) on Amazon: 3 Ice Cream Scoops Set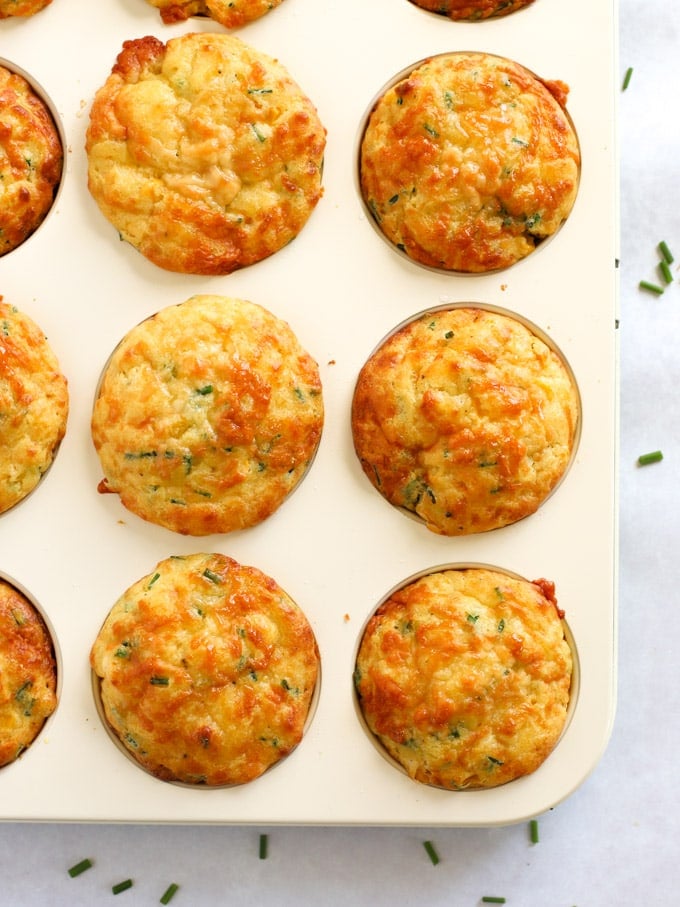 In need of some more packed lunch inspiration?
George definitely approves of the muffins (and al fresco snack type dinners) 😍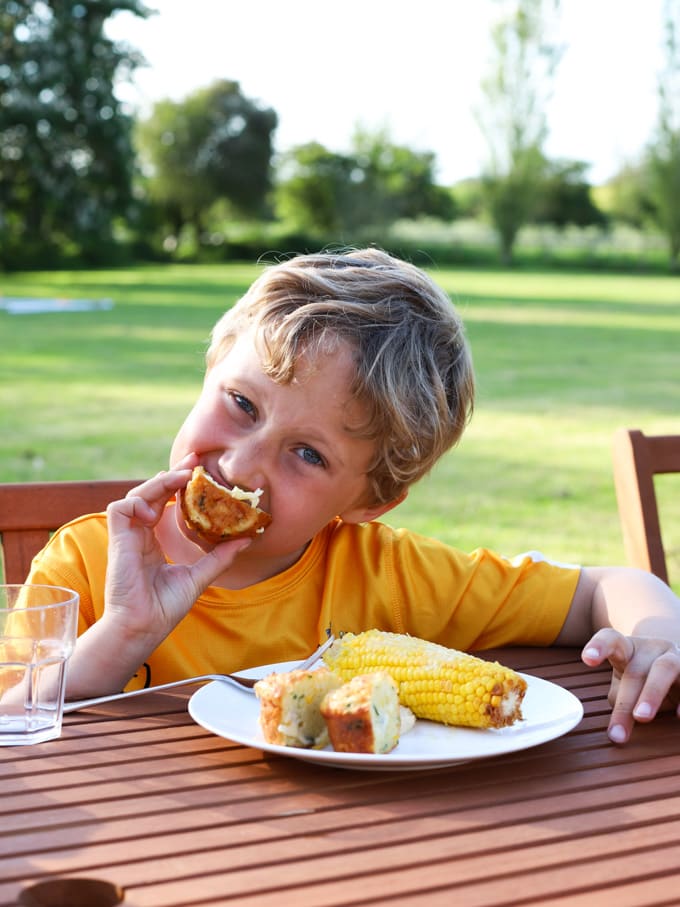 Hope you enjoy this recipe as much as we do. I'd love to know how you got on and what you thought of it if you make this Savoury Muffins recipe. Please rate the recipe using the ⭐️ below!
Also, if you fancy showing me a photo by tagging me on Instagram (@tamingtwins) I LOVE to see your creations and try and share as many of them as I can.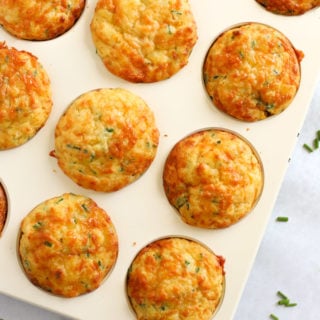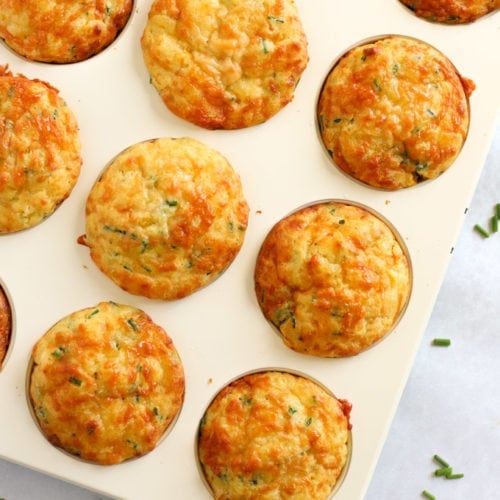 Savoury Muffins with Cheese and Sweetcorn
A quick and simple Savoury Muffins recipe. Packed with Cheese and Sweetcorn, these vegetarian bakes make a brilliant lunchbox filler, picnic pack up or breakfast for kids and grown ups too.
Ingredients
Dry ingredients
250

g

Self raising flour

1

tsp

Baking powder

1

tsp

Salt

200

g

Grated cheese

160

g

Can of Tinned Sweetcorn

Drained

25

g

Fresh chives

Chopped finely
Wet ingredients
2

Eggs

Beaten

100

ml

Oil

Sunflower or vegetable

250

ml

Milk

Semi skimmed or whole milk
Also
1

tbsp

Oil to brush the tin
Optional
Spring onions (green onions/scallions), red onion, cooked bacon, peppers, spinach
Instructions
Preheat the oven to 200C.

Brush the inside of a muffin tin well with oil.

Mix all of the dry ingredients in one bowl.

Mix all of the wet ingredients in a bowl or jug, and stir until well mixed.

Plop the wet mixture into the dry and mix until totally combined. (Don't over mix, but do check thoroughly as there are often pockets of dry flour hiding!)

Scoop into the 12 muffin holes and bake for 20 - 25 minutes or until golden brown.
Notes
Be sure to use a STRONG cheese, I use an Extra Mature Cheddar. These muffins really need this to give flavour. (Parmesan would work really well too.)
I like to reserve a handful of cheese from the main mixture and sprinkle on top of the scooped muffins.
You can use muffin cases if you prefer but as these muffins don't have a huge amount of oil in the mixture, they can stick a little to the paper. 
Use a quite bland oil like sunflower or vegetable oil. I wouldn't recommend olive oil as the taste will be very strong.
Do try to buy fresh chives, they really make the taste of this. If you don't have them, you can substitute a small, finely chopped red or white onion.
Nutrition (per serving)
Calories:
247
kcal
Carbohydrates:
19
g
Protein:
8
g
Fat:
15
g
Saturated Fat:
4
g
Cholesterol:
45
mg
Sodium:
317
mg
Potassium:
157
mg
Sugar:
1
g
Vitamin A:
375
IU
Vitamin C:
2
mg
Calcium:
173
mg
Iron:
0.6
mg
Made it? Tag me!
Tag @TamingTwins so we can admire your make ⭐️