A little girl's pink and mint green bedroom tour. Inspiration and decoration ideas for a perfect room for a four year old girl.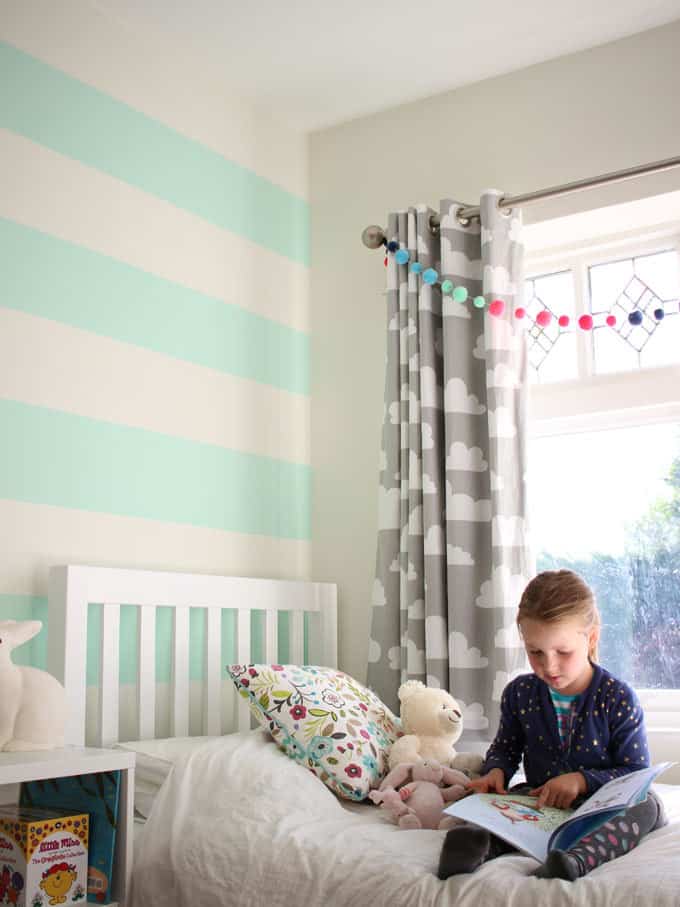 G&H had always shared the same bedroom, an airy room at the front of the house, painted a soft baby yellow colour. I remember being in that room, my giant tummy and I squeezed into a nursing chair, directing as Barnsey hung bunting for the soon to arrive babies. I felt such an overwhelming sense of gratitude that the moment and that room is seared into my mind.
But, they are four now and it somehow felt like the right time to move them to their own rooms. I suggested it, they were super excited and so we went for it.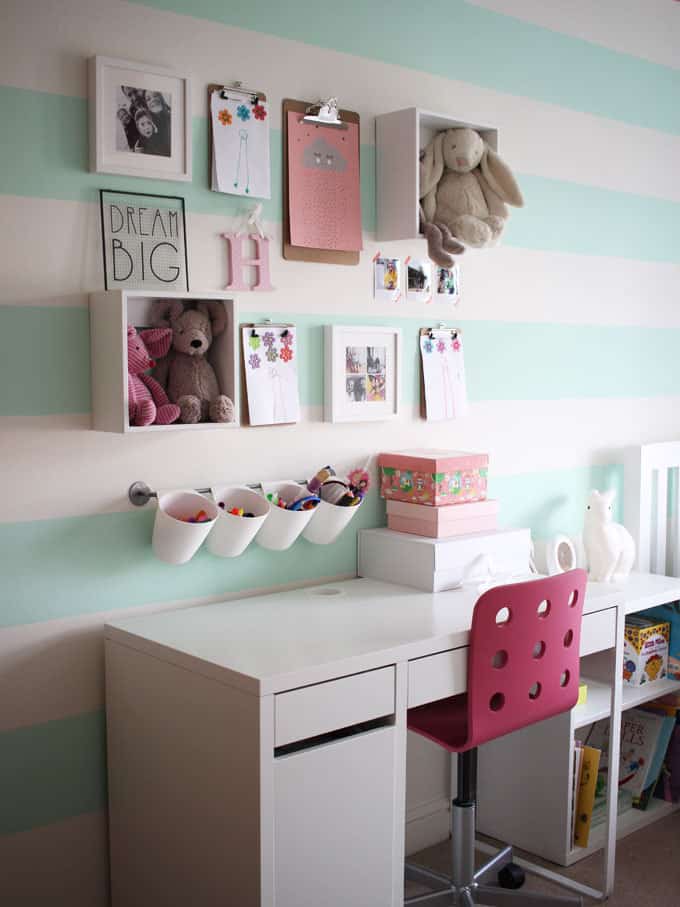 This is H's room, we talked lots about her 'big girl' room and how she'd like it to look. She was very keen on A LOT of pink (annoyingly conforming to gender stereotypes..) but I suggested using some other colours, as I think she would have got bored of that very quickly.
We settled on this idea and she loves how it turned out – hurrah!
You can watch the full tour here:
That first night in their new rooms, I had a quiet little sob, remembering that baby yellow room, gone forever. They really are growing up. They on the other hand, kissed each other goodnight and tripped off to bed in their own rooms without a backward glance. Who'd have thought I would turn into an over emotional parent because of some paint?!
Anyway, here are some snaps of the room along with links to buy all of the products.
We used Ikea frame shelves to display some books, I'd seen this a lot on Pinterest and I thought it was a great way to bring some colour to that long wall and also see the books to choose them each night.
Hopefully the end result is pretty, but not terribly girly, with lots to look at and space to get creative.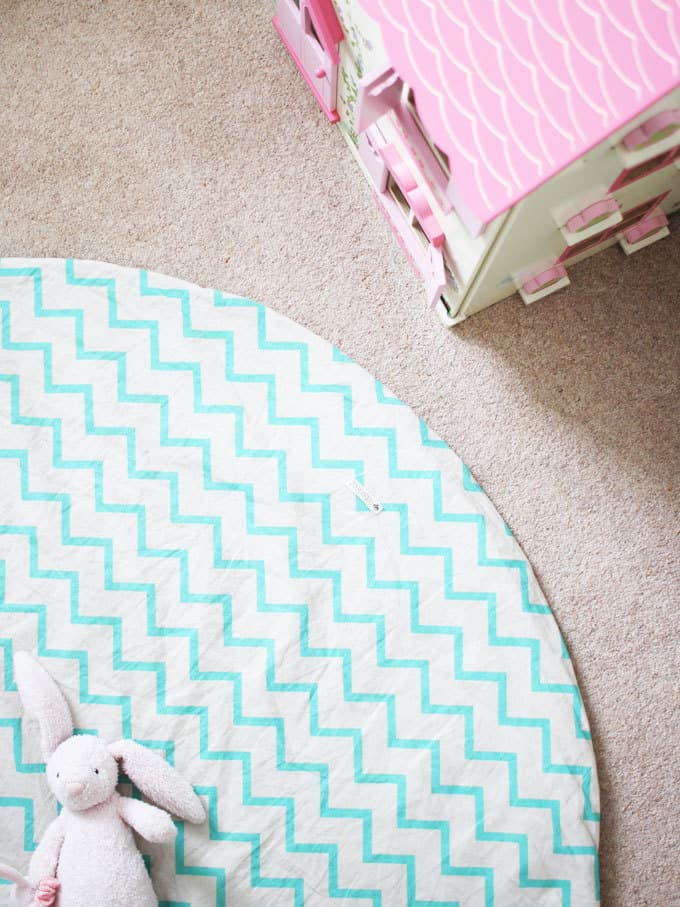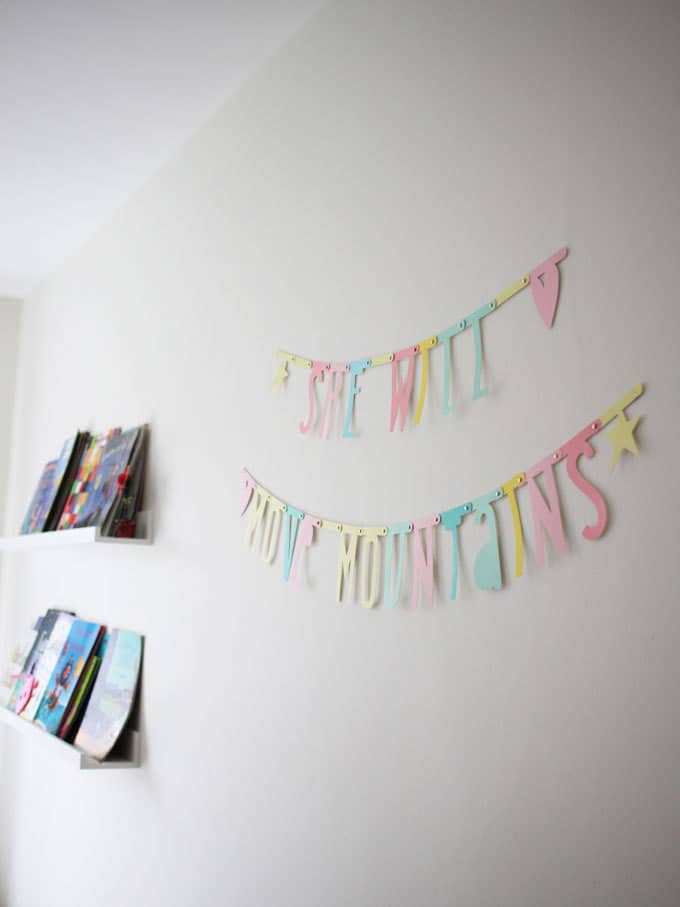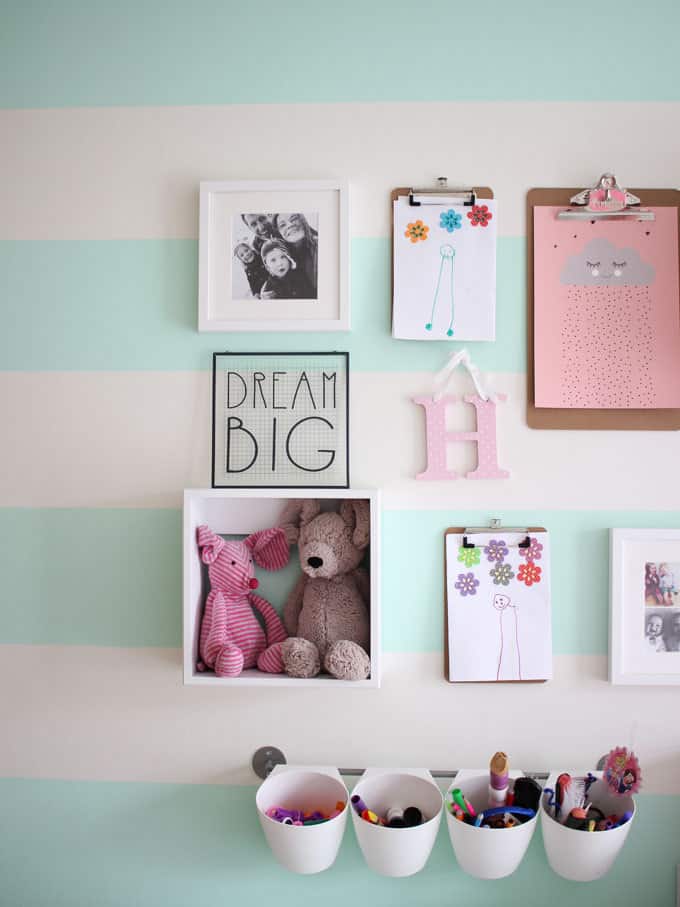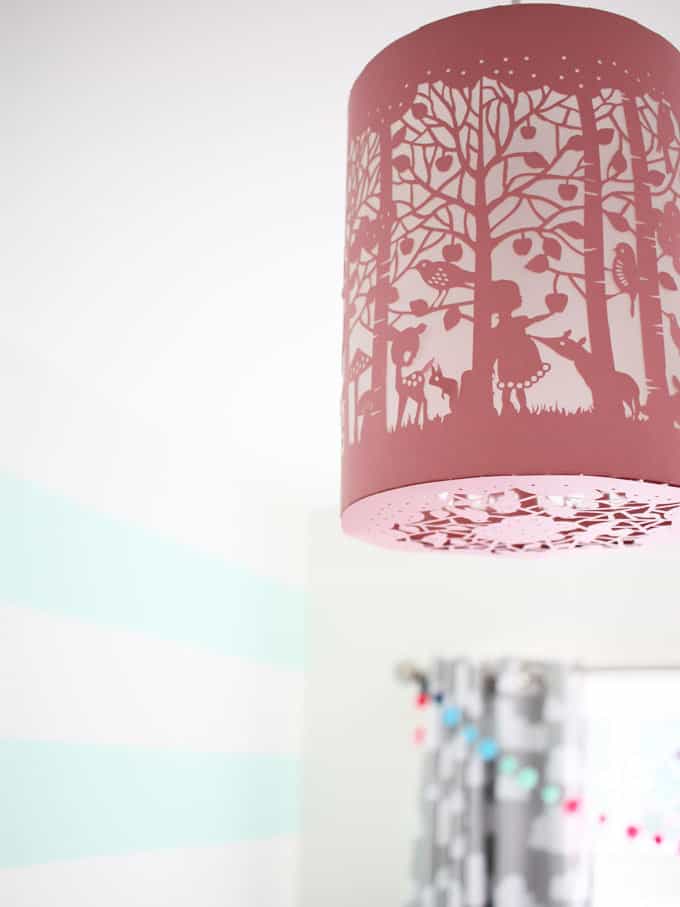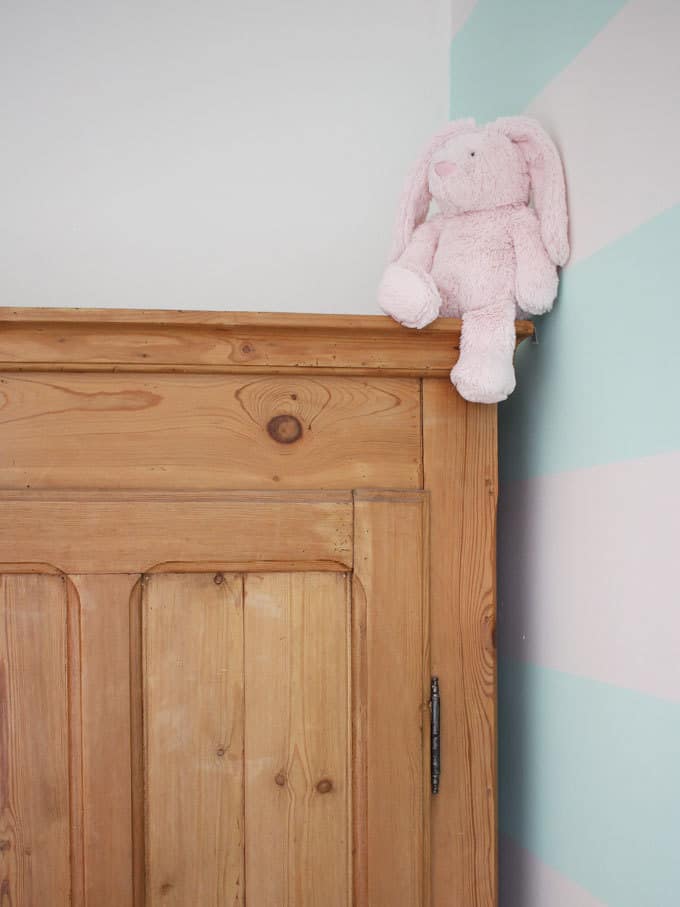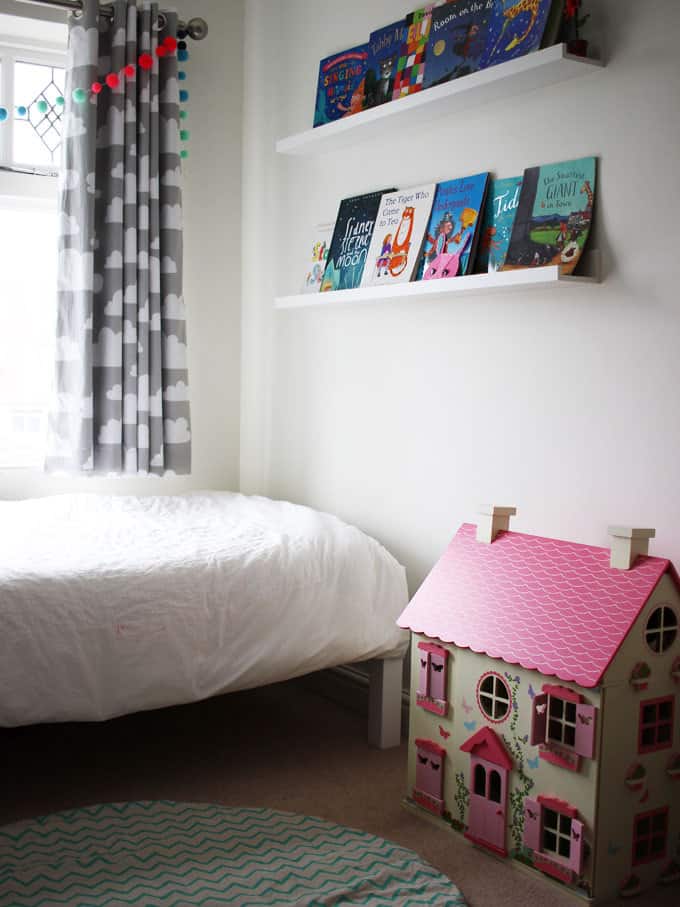 Items in the Mint Green Bedroom:
Paint Colour Valspar 'Wooly Mint'
IKEA Micke Desk – £60
IKEA Jules Desk Chair – £25
Great Little Trading Company Wall Shelf Boxes – £25
Sleepy Cloud Print – £17.95
Large A4 Clipboard (Pack of 5) – £7.42
Small A5 Clipboards – £1.95
Nobodinoz Chevron Mint Green Play Mat (Small) – £37.50
ASDA Dolls House – £35
Pom Pom Bunting – £16
Letter Garland (Pastel) – £10
Cheerz Photo Prints – £various
IKEA Frame Shelves (used for books) – £6
IKEA Bedside bookshelf STUVA – £35
Bunny Lamp – £32.95
GroClock – £29.99
GroLight – £17.99
Cushion on the bed was from HomeSense
Curtains were made by a local lady

Disclosure: This post contains affiliate links, that means, that if you click through and buy using one of the links, I get receive a very small commission, at no cost to you. I would never, ever recommend something I didn't genuinely love. Thanks for your support. We were sent the GroClock and GroLight which we love!
Keep in touch on Facebook ¦
Chit chat on Twitter ¦
Never miss a trick on Bloglovin' ¦
Circle with me on Google+ ¦
Pinning like my life depends on it Pinterest