This Easy Meatballs Recipe is perfect for a quick supper. This Italian classic recipe is a family friendly dinner that everyone will enjoy. Made with Beef and Pork, in a tomato sauce, this homemade Meatball Recipe is also great for batch cooking and freezes really well.
We LOVE meatballs in this house. There's something about the fact that they are basically spaghetti bolognese but with a crunchy outside that ticks all of the boxes for George and Harriet.
I used to always avoid making meatballs as that rolling blah blah felt a bit like a bore. But I've realised that actually there's something quite calming and.. relaxing (?!) about those slow and slightly mind numbing kitchen tasks. I tend to just save it for a weekend, or a night where I have a bit more time to cook without the house being total chaos!
In this meatball recipe, I've simplified all of the bits and bobs surrounding the dish (pre chopped veg HELLO) to save the time for rolling these little beauts. Hope you like it!
How do you make meatballs?
The first thing you do when making this easy meatballs recipe is to form your meatballs. You can buy ready made meatballs, but I have to admit that every time I buy them I am always disappointed. I genuinely think this is one kitchen job worth the time and effort. SO, I make my meatballs myself and save time in other ways.
I also use both pork and beef mince as this is the traditional Italian recipe.
Firstly you combine your mince with chopped garlic, parsley, breadcrumbs and egg. It is best to do this using your hands, really get stuck in. Once everything is combined you need shape the mixture into 12 equally sized meatballs (these will be about the size of a walnut in the shell) OR 24 smaller (hazelnut in a shell sized) meatballs.
The meatball size is personal preference, but smaller meatballs may need slightly less cooking time.
Once the meatballs are made you should pan fry them to brown them separately to your sauce.
Whilst they can cook in the sauce, browning them before hand gives a better colour and texture to your dish. Soft grey looking meatballs just aren't as exciting!
Simply heat some olive oil and fry your meatballs in a heavy bottomed pan. You should fry them until they are evenly browned.
Depending on the size of your pan you may need to do this in a few batches. Once all of the meatballs are done you should remove them from the pan and set them aside.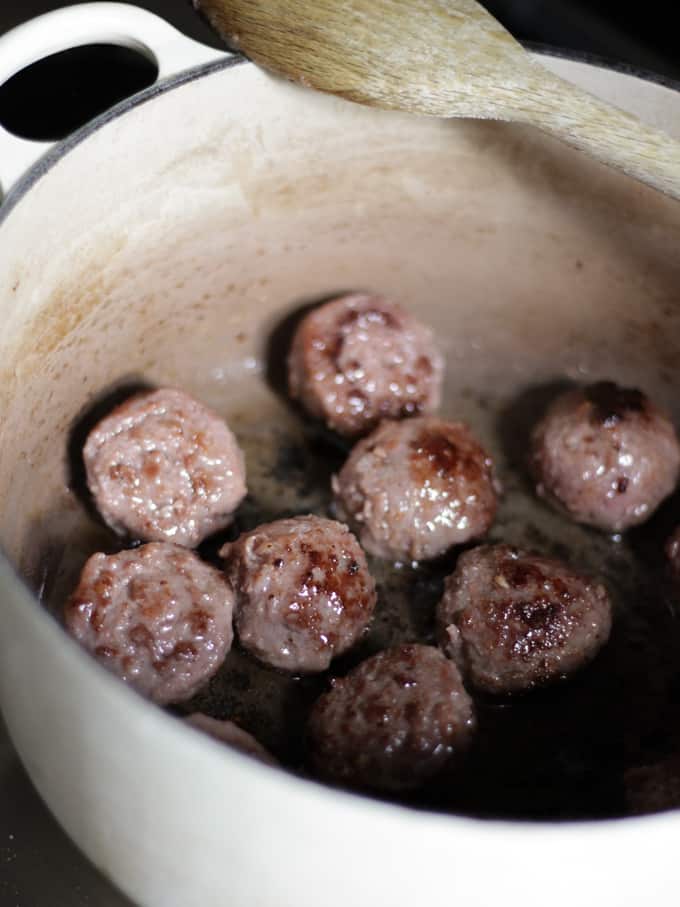 How do I make the sauce for this easy Meatball Recipe?
Firstly you should chop carrots, celery, garlic and red onion. I'll be honest I've started using a ready chopped vegetable mix from Waitrose (which I'm borderline obsessed by). It's red onions, carrots and celery and it's a life saver for busy days: Cooks' Soffritto Mix 400g. If you have more time, a mini food chopper also helps to get a really fine texture to your sauce.
There should be some residue meat juice from the meatballs in your pan but if not add a splash of olive oil and heat. Then add your chopped vegetables, thyme, oregano and salt and pepper.  Fry for a few minutes until everything is softened.
Add the tinned tomatoes, passata, tomato puree and balsamic vinegar to the pan, give it a good stir and add your meatballs back in. Cook on a low heat for around 25 minutes, or longer if you have time.
What did I use for this Easy Meatball Recipe?
How do you freeze meatballs?
I ALWAYS make a double batch of this meatballs recipe, as if you're mixing once, why not do twice and have dinner from the freezer another night?
Just make double the recipe (minus the pasta) and freeze in freezer safe containers (like these containers on Amazon which I LOVE for this purpose).
Then just allow to thaw and reheat fully before serving over freshly cooked pasta.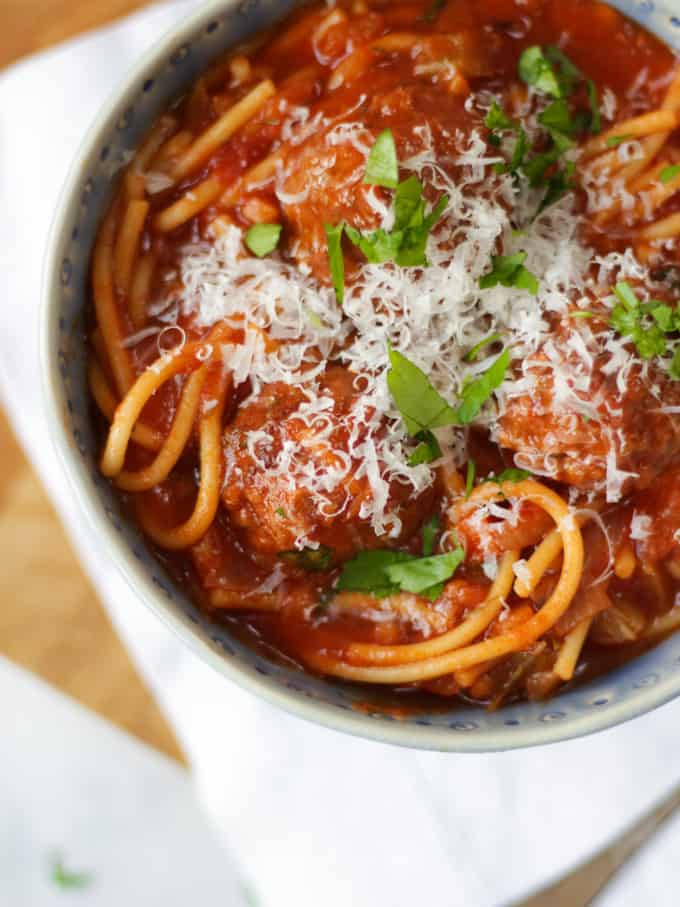 TIPS FOR MAKING THIS EASY MEATBALLS RECIPE:
It really does make a huge difference to the texture of this sauce recipe to chop the vegetables quite finely. I would recommend the Domu mini food chopper. It really is a fab little piece of kit.
Use really good quality tinned tomatoes, passata and puree for this meatball recipe. I promise it really improves the flavour of the finished product.
This Easy Meatball Recipe freezes so well.  When it is totally cold, I package up in these dishes, label and freeze. Just be sure to not refreeze once thawed. You may need to add a splash more liquid when it is defrosted.
Need more midweek meal inspiration? How about my Marmalade Sticky Sausages or my Fruity Chicken Curry recipe?
I'd love to know how you got on and what you thought of the recipe if you make this Easy Meatballs Recipe. Please rate the recipe and leave me a comment below if you do.
Also, if you fancy showing me a photo by tagging me on Instagram (@tamingtwins) I LOVE to see your creations.

How to make this Easy Meatballs Recipe:
Easy Meatballs Recipe
This Easy Meatballs Recipe is perfect for a quick supper. This Italian classic recipe is a family friendly dinner that everyone will enjoy. It's also great for batch cooking and freezes really well.
Ingredients
For the meatballs
250

g

Minced beef

About 10% fat

250

g

Pork Mince

Lean

2

Cloves of garlic

Peeled and crushed

10

g

Flat leaf parsley

chopped

2

tbsp

Breadcrumbs

1

Egg

1

tbsp

Olive oil
For the Tomato Sauce:
100

g

Red onion

Peeled and chopped, about 1 large onion

150

g

Carrots

Peeled and chopped into small chunks

150

g

Celery

Chopped into small chunks

4

Cloves of garlic

Peeled and crushed

1

tbsp

Dried thyme

1

tbsp

Dried oregano

Salt and pepper

400

g

Tinned tomatoes

350

g

Passata

3

tbsp

Tomato puree

2

tbsp

Balsamic vinegar

20

g

Fresh parsley

Chopped

20

g

Fresh basil

Chopped
To Serve:
300

g

Spaghetti

(As a guide its 75g per person)

50

g

Parmesan
Instructions
To make the meatballs:
Combine the meatball ingredients (apart from the oil) and squish very well with clean hands. Shape into 12 balls.

Heat the oil in a heavy saucepan and gently fry the meatballs in batches until browned all over. Remove from the pan and move to one side.
To make the sauce:
Add to your pan (it should still have some fat in the bottom from the meatballs, if not add a splash more oil) the onion, carrot, celery, garlic, thyme, oregano, salt and pepper. Fry for about 10 minutes until starting to soften.

Add the tinned tomatoes, passata, tomato puree, and balsamic vinegar. Stir well and then add your meatballs back in. Pop a lid on and bubble away over a low heat for 25 minutes.

Whilst the meatballs are cooking away, cook your spaghetti.

Stir through the fresh herbs and serve topped with grated Parmesan.
Nutrition Facts
Easy Meatballs Recipe
Amount per Serving
% Daily Value*
* Percent Daily Values are based on a 2000 calorie diet.