This easy, family friendly vegetarian Dahl recipe makes the perfect one pan midweek dinner. With red lentils, spinach and butternut squash it's delicious creamy texture makes it so comforting. It is a low cost dish, and can be batch cooked and frozen.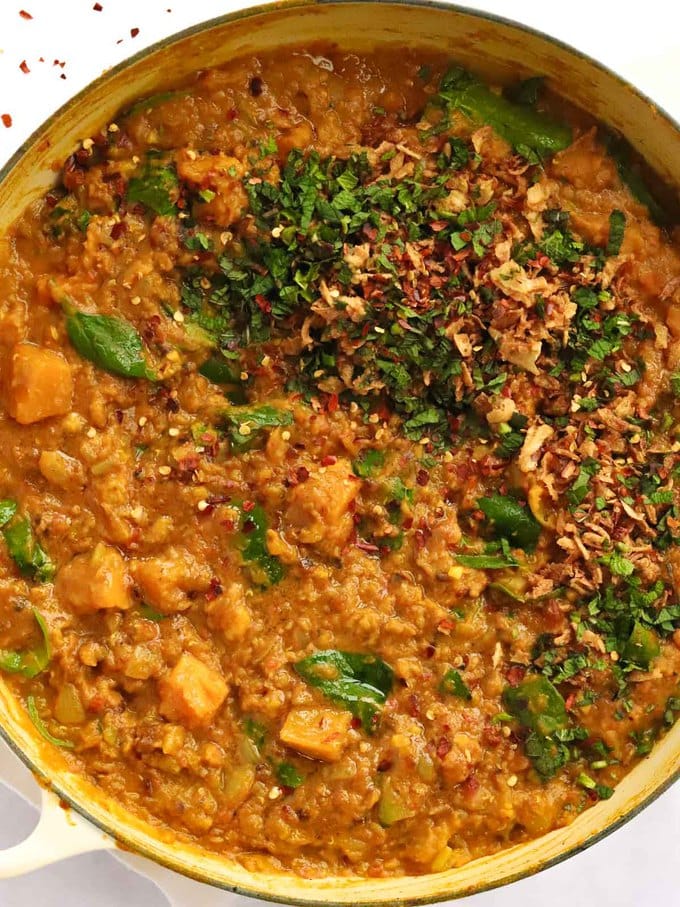 I asked on Instagram this week, what type of recipes you'd like to see more of here, what you wish you could cook but didn't quite ever seem to manage. How I could help make your foodie dreams come true.
HEAPS of you said vegetarian recipes.. SOOOO I thought I'd choose the most unappealing looking veggie dish I could find for my first one, OKAY? Oh. Am I failing at the first?! Hang in their friends. Give me a second.
Look, Dahl (or dhal, or daal or dal?) is not going to win any beauty competitions but I promise you, it's like Indian comfort food in a bowl. Let's consider the evidence:
It's quick.
It's cheap.
It's easy.
It's a store cupboard standby.
Honestly, that would be enough to tickle my pickles and make it's way onto our meal plan, but added advantage, this Red Lentil Dahl recipe happens to be totally delicious. It's spicy, creamy and surprisingly child friendly, as mine seem to like the easy to scoop and eat texture.
I used to make this when I first moved into my own home and could not BELIEVE that you had to pay for things like running water?! Who knew. I needed to make some savings and this simple Dahl recipe was a money saver then and still is now.
I hope you can see past this Dahl's unglamorous looks and give it a try. Let me know what you think please!
What to serve with this Red Lentil Dahl:
A dahl is often considered a meal by itself. However, if you are super hungry then serve it with:
Rice – TIME SAVING TIP: I often use microwaveable rice packs for when we need a small amount of rice.
Naan Breads – or my homemade Easy Flatbreads these are perfect for mopping up the sauce.
The roasted onion slices mentioned above.
Poppadoms – The crunch with the creamy Dahl is THE BEST. Plus my children will eat anything when served with poppadoms.
I also dolloped some natural yoghurt on top and sprinkled with fresh coriander and chillies, but this isn't mandatory.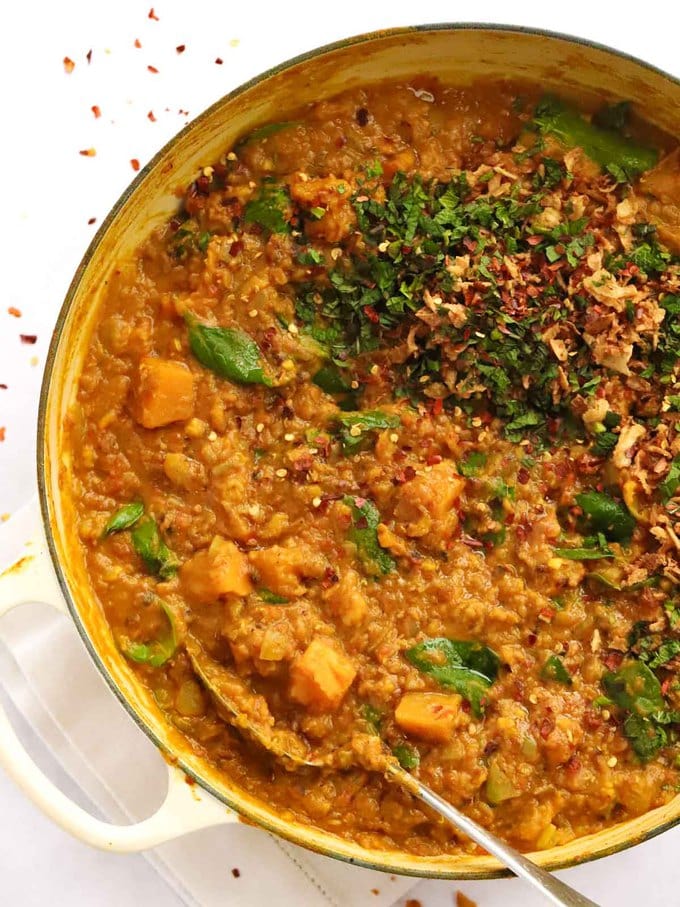 What I used to make this Dahl recipe:
Freezer tubs – if you're making a bigger batch, perfect for freezing portions in.
My favourite 'spoon-atula' – I use this every single day (I have a few of them). Perfect for scraping sauces from pans and getting the last bits out of bowls. Oh and LOOK AT THE COLOURS!
The pan in this photo is one of the most expensive kitchen items I own, but it's been used every day for 10 years and I still love it as much as I did when I unboxed it for the first time!
Tips for making this Dahl Recipe:
This dahl recipe is suitable for gluten free, vegetarian and vegan diets.
You can also make a dahl in a slow cooker (or Crock Pot) simply add all of your ingredients to your slow cooker, cover with the lid and cook on HIGH for four hours or LOW for six. Add your spinach just before the end, so it only just wilts.
If you are serving this dahl for very small children you may wish to find a low salt stock, or just add the same quantity of water in place of stock.
A dahl is a perfect make ahead meal if you are meal planning – once cooked cool the dahl before refrigerating, it will keep fresh in air tight containers for 3-5 days, and even better will freeze cooked for 6 months.
More easy vegetarian meals:
I hope you enjoy this recipe as much as we do. I'd love to know how you got on and what you thought of it if you make this Dahl recipe. Please rate the recipe and leave me a comment below if you do.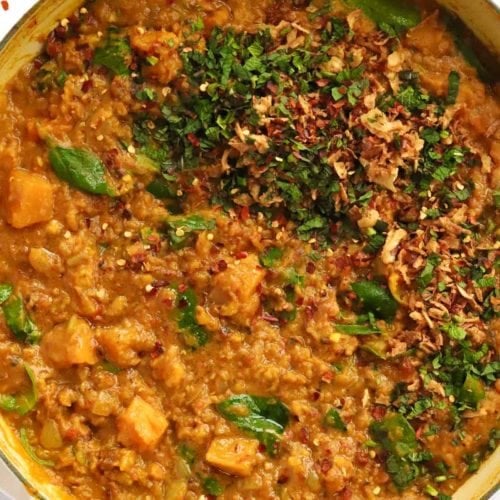 Dahl - with red lentils, butternut squash and spinach.
This easy, family friendly vegetarian Dahl recipe makes the perfect one pan midweek dinner. Cooked in around 40 minutes with red lentils, spinach and butternut squash it's delicious creamy texture makes it so comforting. It is a low cost dish, and can be batch cooked and frozen, perfect!
Ingredients
1

tsp

Olive oil

2

Onions

Alternatively, 250g Frozen Chopped Onions

3

Cloves

Garlic

Alternatively, 3 tbsp Frozen Chopped Garlic

2

tbsp

Ginger

Fresh or preprepared (see note above)

1

tbsp

Ground cumin

3

tbsp

Medium curry powder

250

g

Red lentils

400

ml

Reduced fat Coconut Milk

400

g

Tinned chopped tomatoes

300

g

Butternut Squash cubes, peeled

Fresh or frozen is fine

300

ml

Vegetable stock

80

g

Spinach
To serve:
Natural yoghurt

Coriander

Chopped chilli
Instructions
Heat the oil in a large saucepan. Add the onions, garlic, ginger, ground cumin and curry powder.

Cook over a medium heat until the onions have softened and you can smell the curry powder cooking.

Add the lentils, coconut milk, tomatoes, butternut squash, vegetable stock and salt. Stir well, cover and cook over a medium heat for about 30 minutes. (It may need 5 - 10 minutes longer, depending on the consistency you'd like and if you're using fresh or frozen butternut squash. You may also need to add an additional splash of stock..)

Add the spinach just before serving to wilt.
Notes
This recipe serves 6 people. If you are cooking for fewer people you can either reduce the recipe, or (my preference) make the same amount and use for further meals or freeze. Future dinners ready in the freezer - win!
Nutrition (per serving)
Calories:
311
kcal
Carbohydrates:
50
g
Protein:
14
g
Fat:
6
g
Saturated Fat:
4
g
Sodium:
365
mg
Potassium:
1052
mg
Fiber:
17
g
Sugar:
9
g
Vitamin A:
6875
IU
Vitamin C:
29.5
mg
Calcium:
130
mg
Iron:
6.5
mg
Made it? Tag me!
Tag @TamingTwins so we can admire your make ⭐️