This post may contain affiliate links.

Oh Summer, I love you so.
We've dipped our toes in the English channel, climbed trees, there's been potty training (another post for another day), new bikes and picnics galore. We've played outside every day, we've sniffed flowers and splashed a lot. We've had grown up parties with paella and pizza cooked in the garden and lots of laughs.
I feel like I started the summer with two tiny tots and now I have two chattering, amazing, slightly crazed, hilarious little people.
Summer, please don't go. I'm not quite ready for Autumn.. Come on, just one or two last weekend flings between you and I? One last bottle of suncream and a glass or two of Pimms?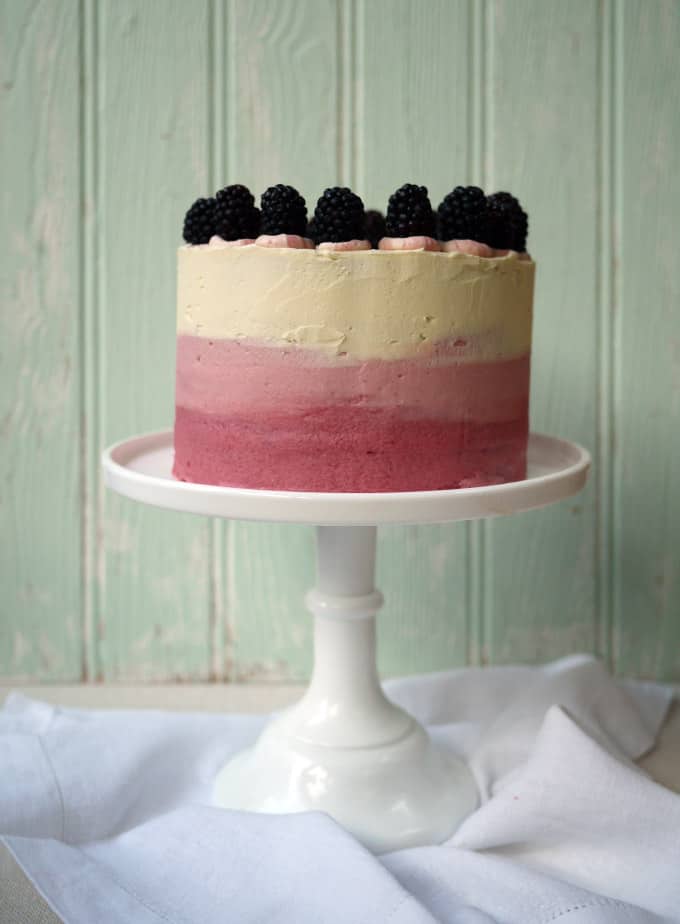 This cake tastes like the last days of summer to me. A transition into happy hedgerow searches and not worrying about buttercream melting into oblivion.
It was Mr TT's birthday, what better way to celebrate than with a giant pink cake?
Even if you're not a big Pimms fan (I'm not) for goodness sake, do yourself a favour and try this Special Edition Blackberry Pimms. It's. So. Bloomin'. Good. It was kind of inevitable that it would end up in a cake at some point in this house.

This is a basic, no fail sponge mixture, with blackberries added and some fancy schmancy ombré icing. The icing takes a bit of practise but actually is much more simple to achieve than it looks.
What I used to ice this later cake:
A good side scraper (seriously, best cake buy ever)
A palette knife will make all the difference and are a great cake making investment.
The trick is to put plenty of icing on to start with and then scrape a good top layer of it off, to achieve a smooth rainbow finish without any crumbs.
This buttercream with the added syrup does have a tendency to split, just be gentle with it and add a little at a time. It can always be rescued with more icing sugar if needed.
Marvel at your pretty creation and enjoy with a glass of Pimms, obviously.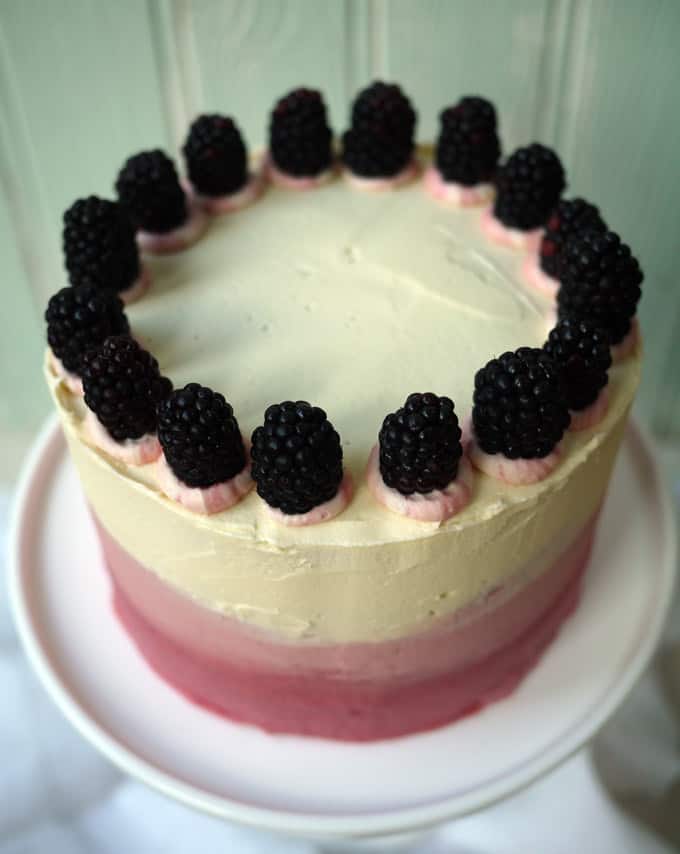 Hope you enjoy this recipe as much as we do. I'd love to know how you got on and what you thought of it if you make this recipe. Please rate the recipe using the ⭐️ by the recipe.
Also, if you'd like to show me a photo by tagging me on Instagram (@tamingtwins) I LOVE to see your creations.
How to make a Blackberry and Elderflower Pimms Layer Cake: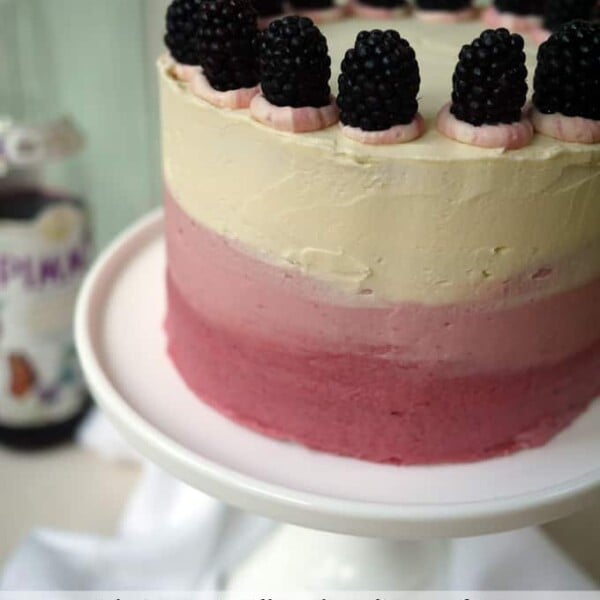 Blackberry & Elderflower Pimms Layer Cake
A delicious layer cake recipe for the late summer with a hint of the love Pimms.
Ingredients
350

g

Unsalted butter

350

g

Caster sugar

6

Free range eggs

350

g

Self raising flour

150

g

Blackberries
For the syrup:
200

g

Blackberries

75

ml

Blackberry & Elderflower Pimms

50

g

Caster sugar
For the icing:
350

g

Unsalted butter

700

g

Icing sugar
Instructions
Grease 3 x 7″ round sandwich tins (or 2 x 8″).

Preheat the oven to 180C.

Cream your room temperature butter with your sugar until it's pale, light and fluffy.

Mix in the eggs, one at a time, beating really well after each egg. Don't worry if it starts to look a bit curdled, it'll all come good.

Mix in your flour. If you've been using a mixer, do this bit by hand. It helps to keep the sponge light.

Stir in 150g of blackberries. Kind of squish them a little with your spoon as you mix so that some break up a bit and the juice of some starts to come out. Stop stirring before it's quite combined. I like the slightly swirly effect of some of the juice.

Spoon into a your tins, smooth out with the back of a spoon. Make a bit of a dip in the middle to account for rising.

Bake for about 30 minutes or until a skewer comes out clean. You might need to adjust the time by 5 minutes either way depending on your oven.
Make the syrup:
Reserve 16 blackberries and put the rest with, the Pimms and sugar in a small pan and heat until the sugar is dissolved and the blackberries have broken down. (You may need to press them a bit with your spoon.

Strain the syrup through a sieve, making sure you squash out as much juice as possible.
Make and colour your icing:
Beat your butter until it's pale, light and fluffy.

Beat in your icing sugar, beating for at leave 5 or 10 minutes until very fluffy and pale.

Split the icing into 3 bowls. Use a teaspoon at a time of cold syrup to colour one of the bowls of icing deep pink and one light pink. Be careful to not add too much liquid or the icing will split. (If this happens, add a spoonful or 2 of extra icing sugar.) If the white icing is quite stiff, add a little boiling water to soften it.
Put it together:
When your cakes are completely cold, use a carving knife to level them. Just trim the top crust off. This is important, it's not a waste of cake (taste testing compulsory). If you don't do this, with a cake this size it will be wonky.

Drizzle any remaining syrup over the cakes (there won't be loads, but a few drops here and there is just enough.)

Sandwich each layer together with some of your buttercream (I alternated colours) and a layer white buttercream on top.

Next, using a palette knife, cover the outside of the cake, up to a third of the way up the cake with the deepest pink icing. (Reserve a little of this icing.)

Then, cover another third up the cake with a good layer of the lighter pink icing.

Finally, finish the final third of the outside edge of the cake with the white icing.

Now run a clean, smooth scraper or palette knife around the cake, smoothing and slightly blending the 3 icings.

Pipe 16 spots of the remaining coloured icing around the top of the cake and pop a blackberry in each one.
Nutrition
Calories:
937
kcal
Carbohydrates:
115
g
Protein:
7
g
Fat:
50
g
Saturated Fat:
30
g
Cholesterol:
207
mg
Sodium:
40
mg
Potassium:
120
mg
Fiber:
2
g
Sugar:
91
g
Vitamin A:
1640
IU
Vitamin C:
6.1
mg
Calcium:
39
mg
Iron:
0.9
mg
Nutrition information is automatically calculated, so should only be used as an approximation.