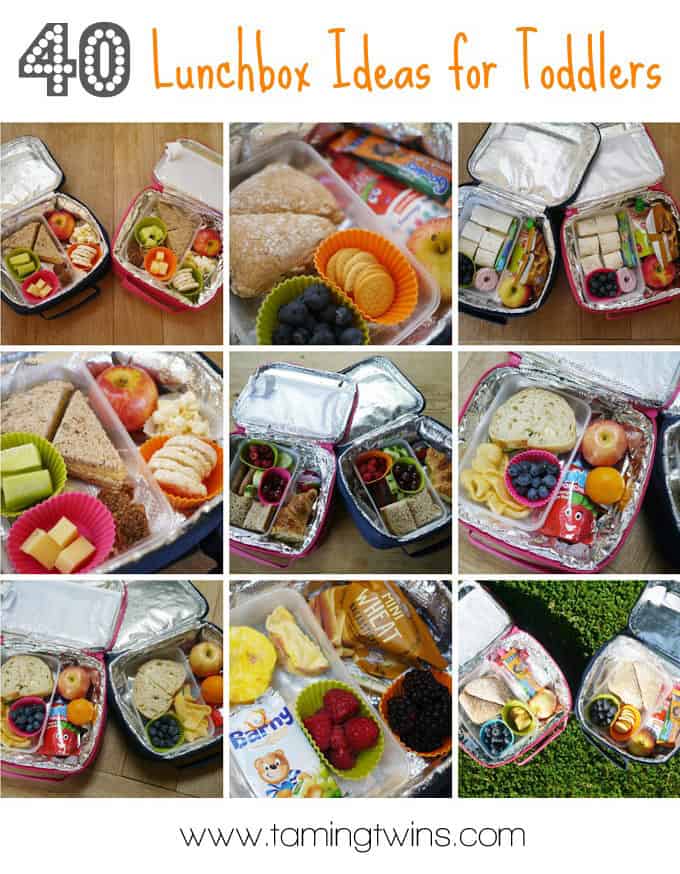 When Stuck On You got in touch with us and asked us to review some of their products (and offer a giveaway to you – hurrah!), I spotted the lunchboxes and knew we needed them in our lives.
Stuck On You's website is stuffed full of inspiring, colourful and unique finds. You choose a product, personalise it by choosing the colour you'd like, then add one of 26 original cartoon designs and finally add the name and font. Sounds simple, but it is so addictive! You can see your choices right there on screen and there's something for any child.

We went for Lunchpacks including a personalised water bottled and the lunchbags. When they arrived we weren't disappointed. The bags are thick and sturdy with reliably chunky zips, perfect for toddler fingers. The images and printing on the front are high quality and despite weeks of battering and use from us they haven't shown any sign of wear. These bags aren't cheap at £18.99 each but they are an investment purchase that we are a bit in love with. I wouldn't hesitate to recommend them.
The 500ml bottles are a great size to last a whole day out, they are metal so BPA free. As the bottles are metal, they can show some wear and tear with knocks and bashes. They might be suitable for slightly older children who (hopefully) aren't going to throw them around quite so much as toddlers.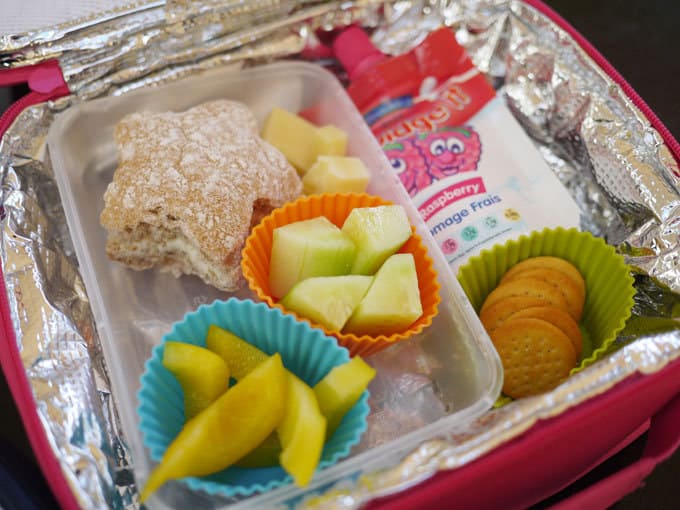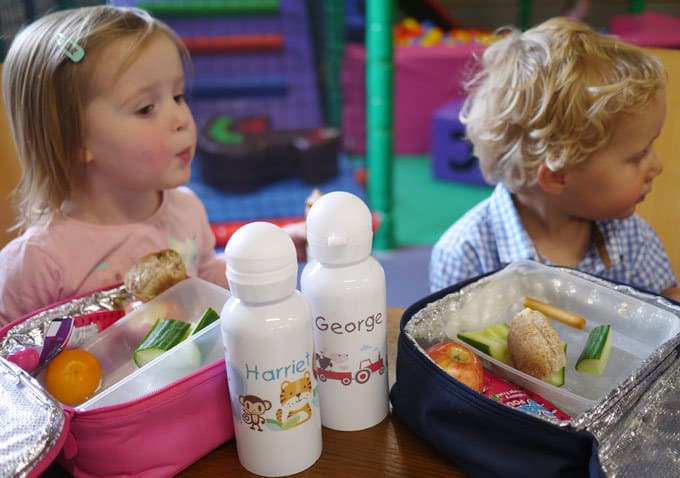 So we set about filling these lovely lunch boxes. This has been the summer that I've learned to make an excellent packed lunch. I realised early on in being a twin toddler Mum that mini picnics for days out have a lot of advantages. Money saving, no waiting around for food to arrive with a pack of angry toddlers waiting and often more healthy than the choices in restaurants (they wouldn't complain about fishfingers and chips EVERY meal but I'm not sure that's the best choice for a varied diet).
I use plastic take-away containers (that I buy on eBay to use for freezer meals) to keep sandwiches safe. I also use some silicone muffin cases to keep little fruits and bits and bobs separate.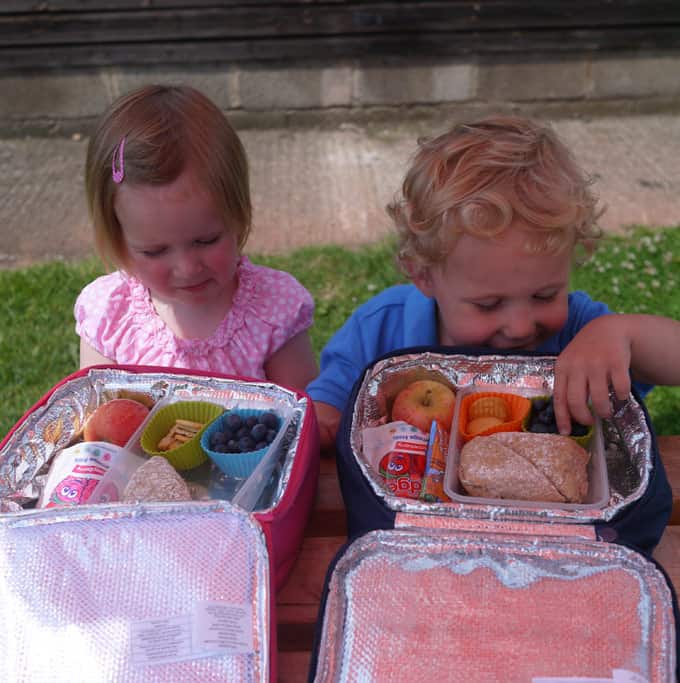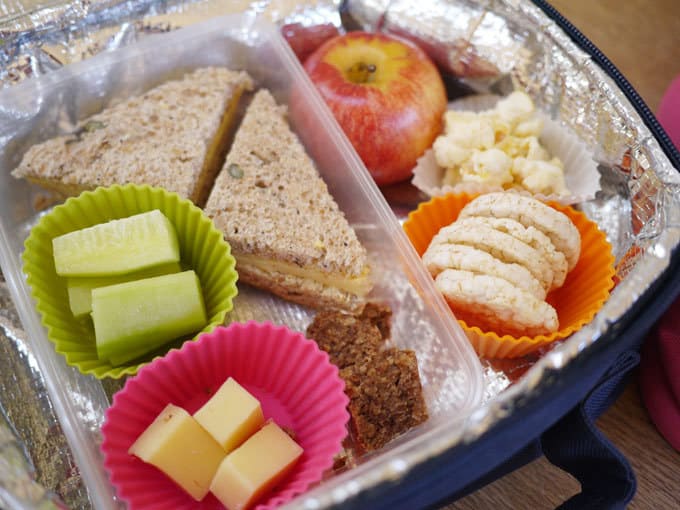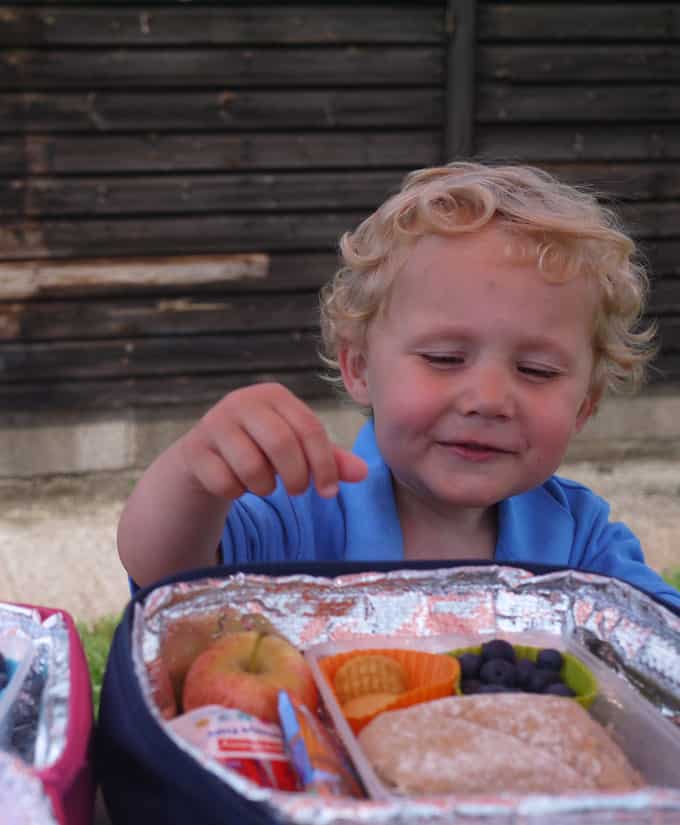 Trying to keep the lunchbox picnics varied has kept me on my toes, here's some suggestions that work for me and don't require a cupboard full of strange equipment or ingredients..
Carbs, Protein and Calcium
Sandwiches cut into shapes using cookie cutters.
Triangle sandwiches.
Wraps filled and cut into pinwheels. (I tend to use cream cheese in these to keep them held together.)
Breadsticks. (Tesco do mini bags of wholemeal ones, which go down very well.)
Mini omelettes made in muffin tins and cooled.
Cold cooked sausages.
Strips of ham.
Croissant pieces.
Rice cakes.
Cold pasta with sauce or pesto.
Chunks of cheese.
Pots of grated cheese.
Yoghurt pouches or tubes.
Babybel cheeses.
Mini bagels with fillings.
Wraps sandwiched with fillings and cut into triangles.
Chunks of cooked chicken.
Pots of hummus with vegetable sticks to dip.
Hard boiled egg pieces.
Potato salad.
Fruit and Veg
Strips of peppers.
Strips of cucumber.
Blueberries.
Raspberries.
Grapes.
Boxes of raisins.
Small apples.
Cold cooked vegetables. (Weirdly my children seem to prefer them like this to on their plate at dinner time.)
Pots of 'tinned' peaches or pears.
Cherry tomatoes.
Treats
Flapjacks.
Mini cheddars.
Quavers.
Barny cakes. (These are supposed to be a healthy cake, my two just love them as 1. they are in the shape of a bear and 2. they come in a packet!)
Popcorn.
Malt loaf (we LOVE Soren.)
Scones (sweet or savoury.)
Pots of jelly.
Mini muffins.
Pots of rice pudding.
Now, you want to know how to win one of these awesome box and bottles sets right? Follow the instructions below and you could win a £50 voucher to use on Stuck on You. Good luck!
Sarah x

We were sent Lunchpacks for review but all opinions are our own.
Let's be friends..
Keep in touch on Facebook ¦
Chit chat on Twitter ¦
Never miss a trick on Bloglovin' ¦
Circle with me on Google+ ¦
Pinning like my life depends on it Pinterest ¦