Leftover Turkey Curry Recipe – The perfect post Christmas dish, easy, quick, deliciously tasty. This wholesome turkey curry has added lentils, butternut squash and spinach for a dose of extra veg. It uses the cold, cooked turkey from your roast for a really special curry.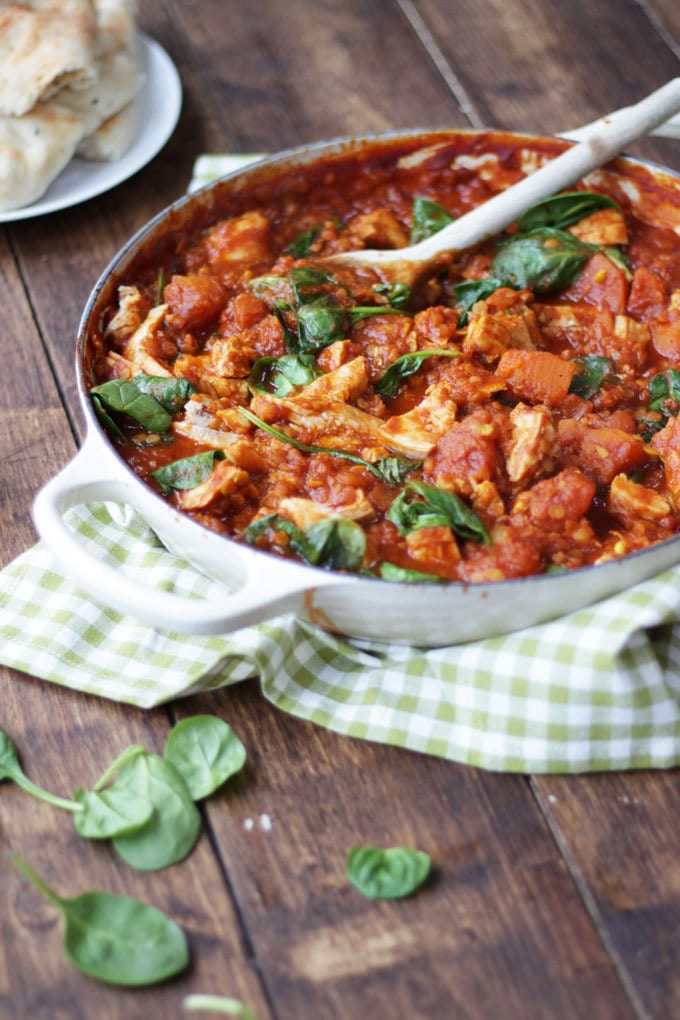 I love Christmas food, but surely, one of the best bits is the leftovers isn't it? Cold meats, (leftover turkey obviously), sausages, delicious desserts and cheese. This is the meal that keeps on giving.
We feast for a good few days on Christmas lunch leftovers. There's something incredibly comforting and reassuring about delving into the fridge and happening upon leftover treasure in there.
Apart from bubble and squeak, one of my favourite Christmas dishes is this Leftover Turkey Curry.  It's easy, quick, healthy (no cream!) and packed with veg, for a dose of goodness after all of those mince pies.
First things first though, would you look at this dish. (SWOON.) I've been lusting after this Le Creuset Almond Shallow Casserole Dish for, I kid you not, about 5 years. I have a few pieces of almond coloured Le Creuset, from when we got married. It is so satisfyingly hefty, it feels like anything you cook in it should be taken seriously, savoured, cooked slowly.
Steamer Trading Cookshop got in touch and asked me if I'd like to test out their service online. I have loved their Witney, in Oxfordshire shop for years. Quietly engineering reasons to be in the area, to admire the Kitchen Aid mixers and dream of new knived.
So, I knew, now was the time for my long sought after casserole dish and I to be introduced. And what a way to christen it, but with our favourite of the festive leftover dishes.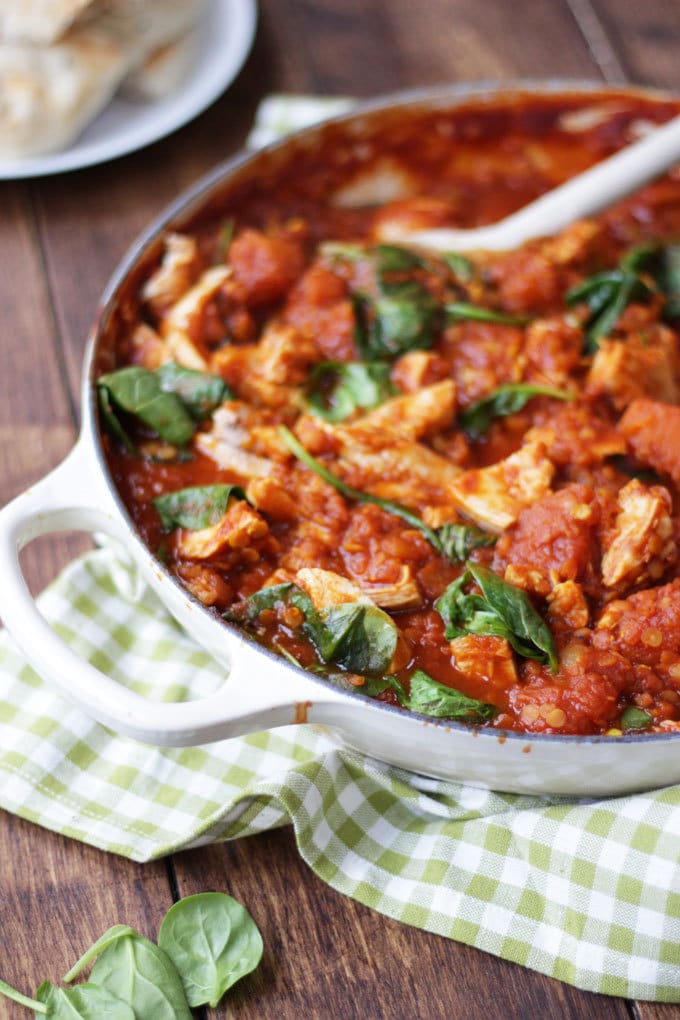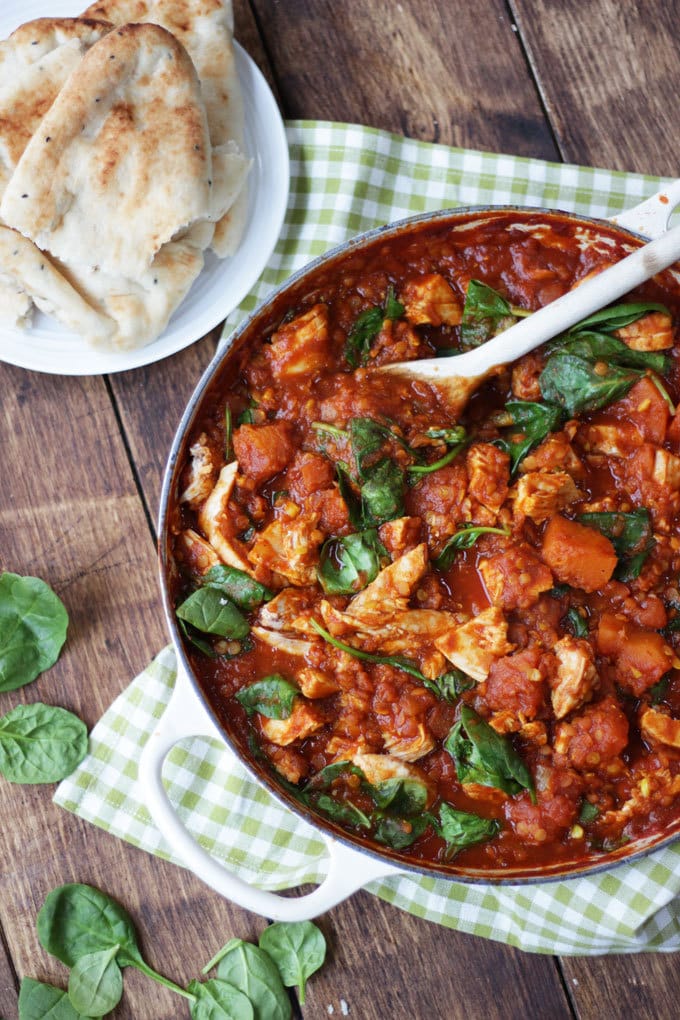 Please tell me it's not just me that gets this excited about leftovers or kitchen wares for that matter?!
How to make the Leftover Turkey Curry Recipe:
Leftover Turkey Curry Recipe
Ingredients
2 teaspoons Olive Oil
250g Chopped onions (I cheated and used frozen for speed, if using fresh this will be about 2 medium onions)
1 tablespoon Chopped garlic (again I used frozen, this would be about 3 gloves)
1 tablespoon Grated ginger (again I used frozen, this would be about a 1 inch piece of fresh)
1 teaspoon Tumeric powder
6 teaspoons Medium curry powder
500g Butternut squash, cubed (again, I used frozen!)
700ml Passata
Approx 500ml Stock (made with boiling water and Marigold boullion powder)
100g Red lentils
500g Leftover, cooked, turkey cut into large chunks
4 tablespoons Mango chutney
200g Baby spinach
To Serve:
Rice, poppadoms, more mango chutney.
Instructions
Heat the oil in a large pan over a low heat.
Add the onions, garlic, ginger, tumeric and curry powder and cook gently for about 15 minutes until sticky and meltingly soft.
Add the butternut squash, passata and about half of the stock. Add the lentils, stir well and pop a lid on. Leave to cook down for about 15 minutes. Stir occasionally and add more of the stock as and when needed.
When the lentils and butternut squash are soft and cooked through, add in the turkey and mango chutney. Cook for a further 5 - 10 minutes, again, adding a splash more stock when needed.
Turn off the heat, add the spinach and pop the pan lid on for 5 minutes until wilted.
Serve with rice, poppadoms and more mango chutney. (You could garnish with coriander if you're that way inclined.)
Pin the Leftover Turkey Curry Recipe for later:

Disclosure: I received the gorgeous casserole dish free of charge from Steamer Trading Cookshop in return for a feature within a recipe.
Keep in touch on Facebook ¦
Chit chat on Twitter ¦
Never miss a trick on Bloglovin' ¦
Circle with me on Google+ ¦
Pinning like my life depends on it Pinterest